Customer loyalty: It's something we, as marketers, speak about often. But what do consumers think about loyalty? How do they choose which brands are worthy of their loyalty? And what do they want marketers to know when it comes to earning their loyalty?
In August 2022, Emarsys sought to answer these questions and more, so we asked 11,066 general consumers all about loyalty. We wanted to find out how, from a consumer's perspective, marketers can drive loyalty in 2023 and beyond — and they delivered.
Our Customer Loyalty Index 2022 contains the results of these inquiries, and it tells us a lot about what loyalty looks like in today's world of digital-first retail, always-on commerce, and increasingly in-control consumers. It also reveals how the past few turbulent years have impacted which brands consumers are loyal to, and how they demonstrate their loyalty.
Loyalty Is Shifting
Last year, we conducted our first Customer Loyalty Index and identified five key types of customer loyalty (i.e., the different ways customers are loyal):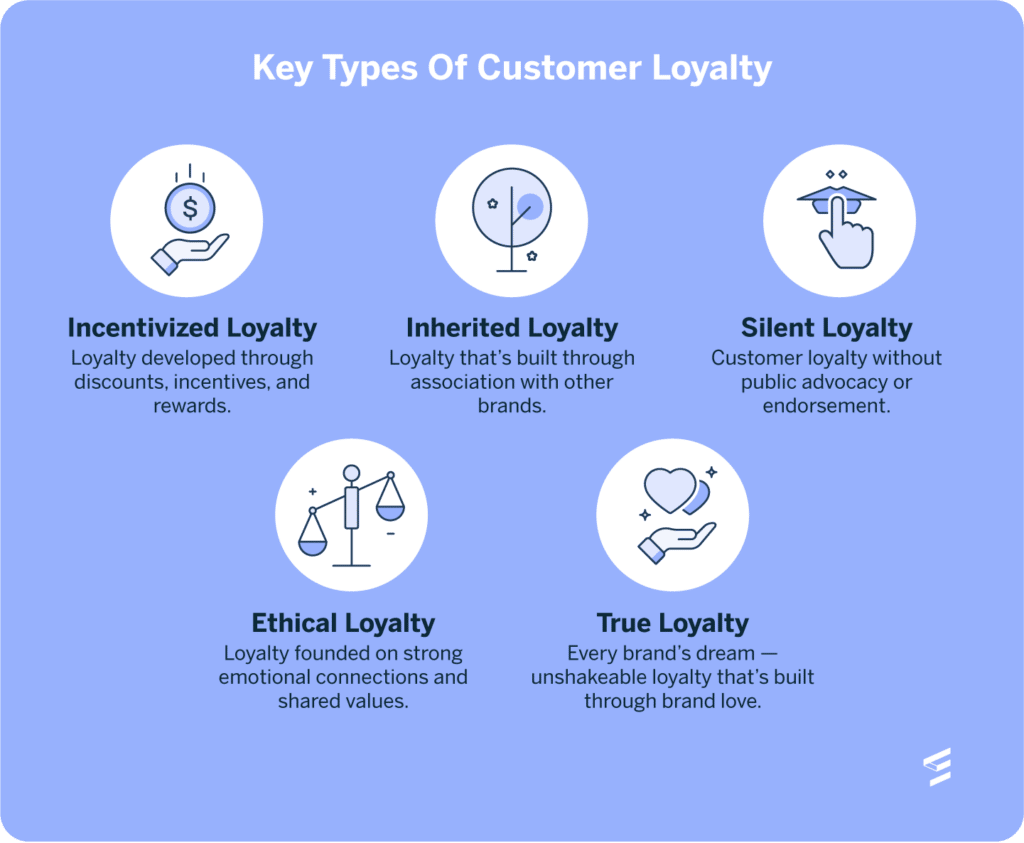 But following a year of pandemic recovery that led to global inflation and increased cost of living around the world, the way customers express their loyalty is shifting.
A Global View: Loyalty In 2022
Amidst the uncertainty of the past year, loyalty has skyrocketed across the globe. As of 2022, 76% of consumers around the world consider themselves loyal to one or more brands — an increase of 9% from 67% in 2021.
But the ways in which consumers are loyal, as well as the brands they offer their loyal to, has changed.
Interestingly, Incentivized Loyalty — loyalty won through discounts, incentives, and rewards — has fallen in the past year. 45% of consumers in 2021 stayed loyal to their favorite brands due to regular discounts, incentives, and rewards, compared to just 39% in 2022. This suggests that, as consumers become savvier about spending and more selective about irrelevant discounts, retailers have an opportunity to better foster loyalty by targeting consumers with the right discount and message at the right time.
Inherited Loyalty — loyalty that's built through association with other brands — has also fallen, going from 27% in 2021 to 21% in 2022.
Ethical Loyalty — when people are loyal to brands due to strong ethical reasons, i.e., the brand's stance on issues like sustainability, diversity and equality — has also dropped. In an era of greenwashing, just 14% of consumers in 2022 are loyal to brands for strong ethical reasons, a notable drop compared to 19% in 2021.
Perhaps this drop in ethical loyalty, alongside an increase in cost of living, is the reason Silent Loyalty has largely remained the same, with 53% (2021) vs 52% (in 2022) of consumers regularly buying from brands that they would not endorse publicly.
Interestingly, True Loyalty has remained consistent, with 23% of consumers in both 2021 and 2022 saying they have a brand they are unwaveringly loyal to, simply because they love and trust that particular brand.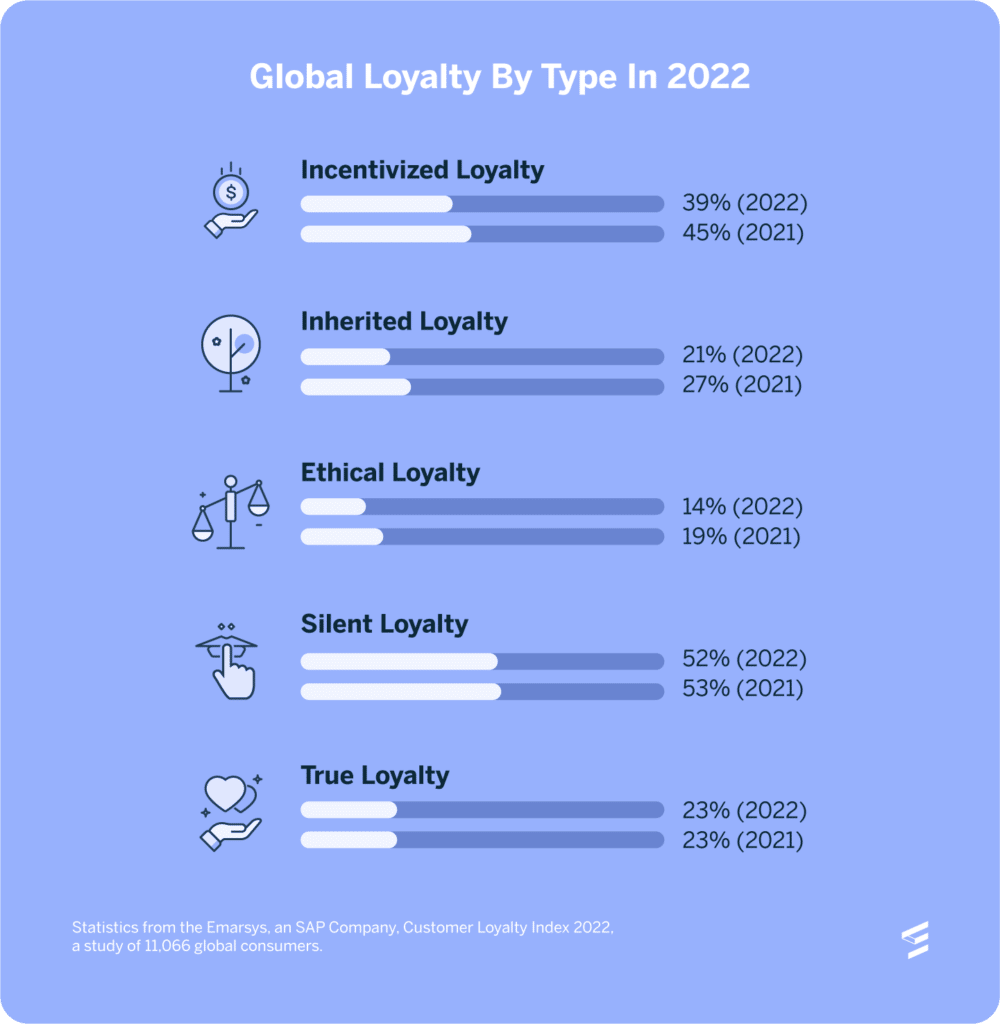 Why do consumers stay loyal to their favorite brands?
Despite changes in the overarching types of loyalty, consumers mentioned certain key drivers as the reason they stay loyal to their favorite brands.
Loyalty Key Drivers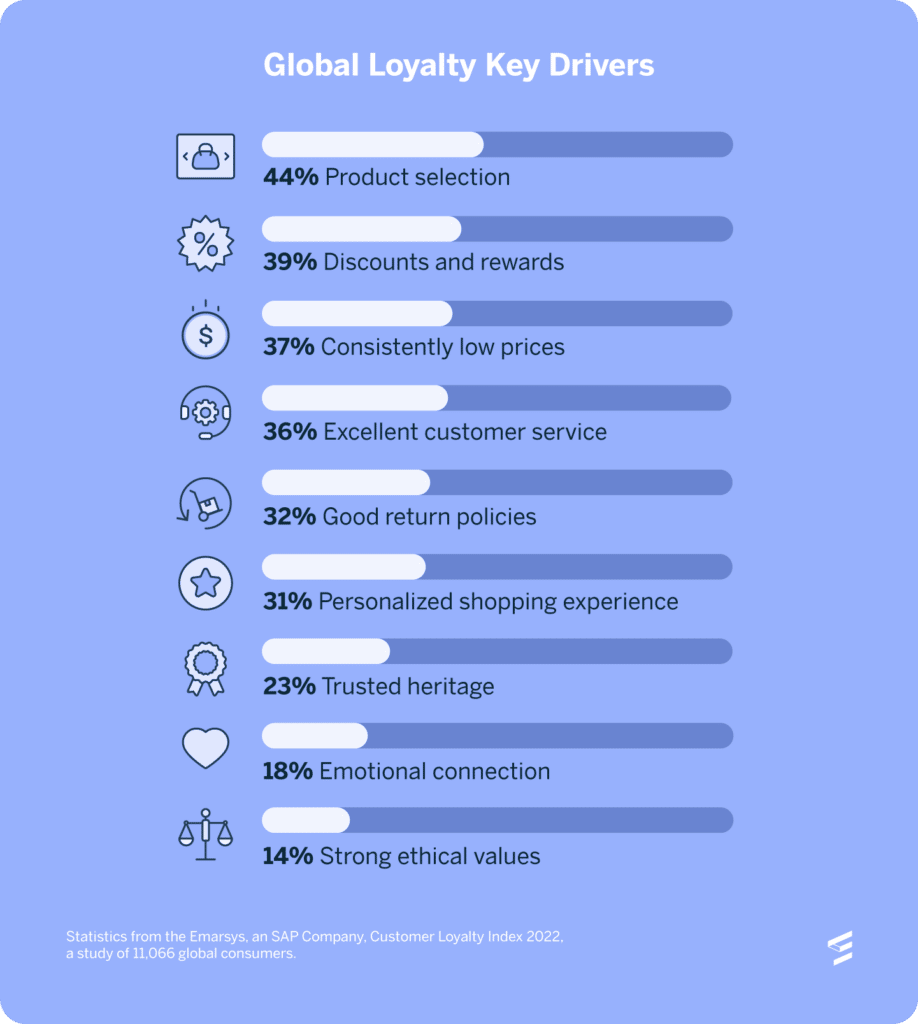 Based on the survey results, we can also see which sectors drive the most consumer loyalty.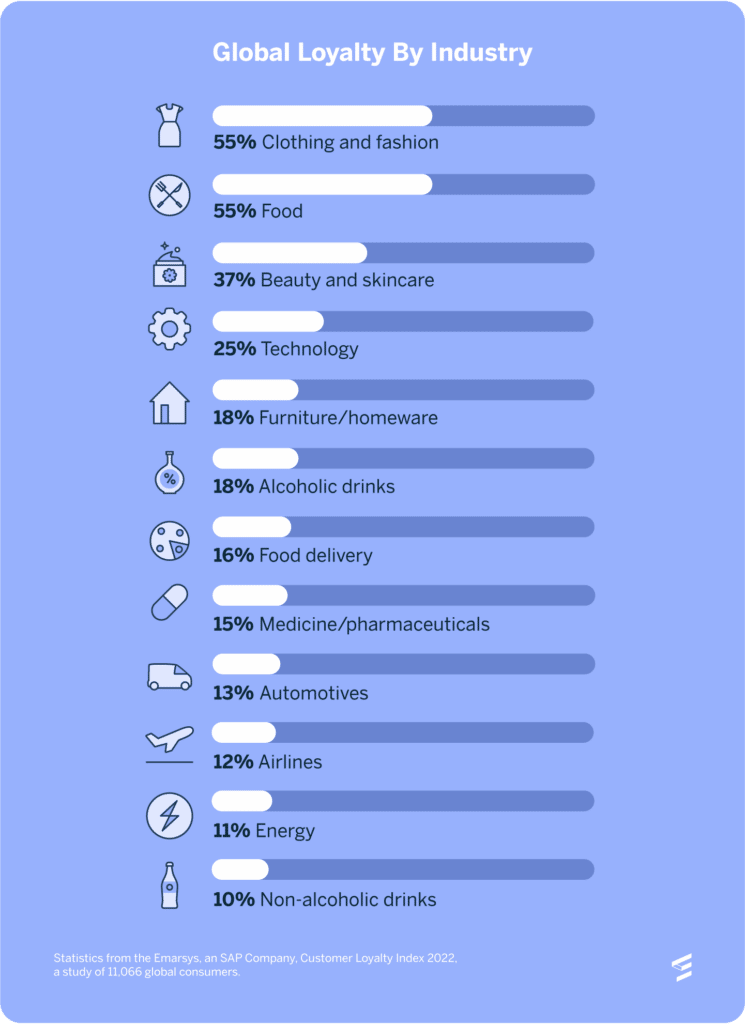 What This Means For Marketers
It's never been more important to understand your customers and what drives them. Moreover, customers have never been more in control of their relationships with brands — they want to feel heard and understood. In response, marketers want the customer to know that they're listening, and that they care.
The way to do that is through personalization marketing — which, in a marketing sense, is about delivering highly relevant, uniquely tailored content and experiences. But on a deeper level, it's about connecting with customers as individuals and creating trusted relationships. It's about listening to the customer, learning their behaviors, and using that knowledge to deliver messages they want to receive, when they want to receive it.
When personalization is used to build trusted, loyal relationships, we — as marketers — win, and, most importantly, so do our customers.
Loyalty In Different Countries
Click below to find out what loyalty looks like for consumers in different countries, including breakdowns for the USA, UK, France, Germany and Australia.
The Omnichannel Difference
As we continue to dive deep into customer loyalty research, one thing is clear: To drive customer loyalty, it's not enough for brands to be customer centric — they must be customer obsessed.
In May 2022, Emarsys commissioned Forrester Consulting to research which companies were using omnichannel strategies to effectively deepen customer relationships to drive business growth. The results and insights are revealed in The Omnichannel Difference: How the Most Customer Focused Companies Deliver The Value of Omnichannel, where you will learn all about customer-obsessed companies, and how to put the customer at the center of your business.
Statistics from Emarsys (an SAP Company) Customer Loyalty Index 2022, a study of 11,066 global consumers.
The Emarsys Customer Loyalty Index, in its second year, is based on a survey of 11,066 globally representative respondents in between August 26th and August 31st, 2022. The survey was conducted by Opinion Matters, which abides by and employs members of the Market Research Society, based on the ESOMAR principles