Omnichannel Marketing Automation Platform
Launch integrated campaigns across channels with speed and agility
Our customers use more channels than any other omnichannel marketing automation platform provider. Emarsys empowers marketers to execute simple, single-channel campaigns, or create sophisticated, omnichannel journeys at scale.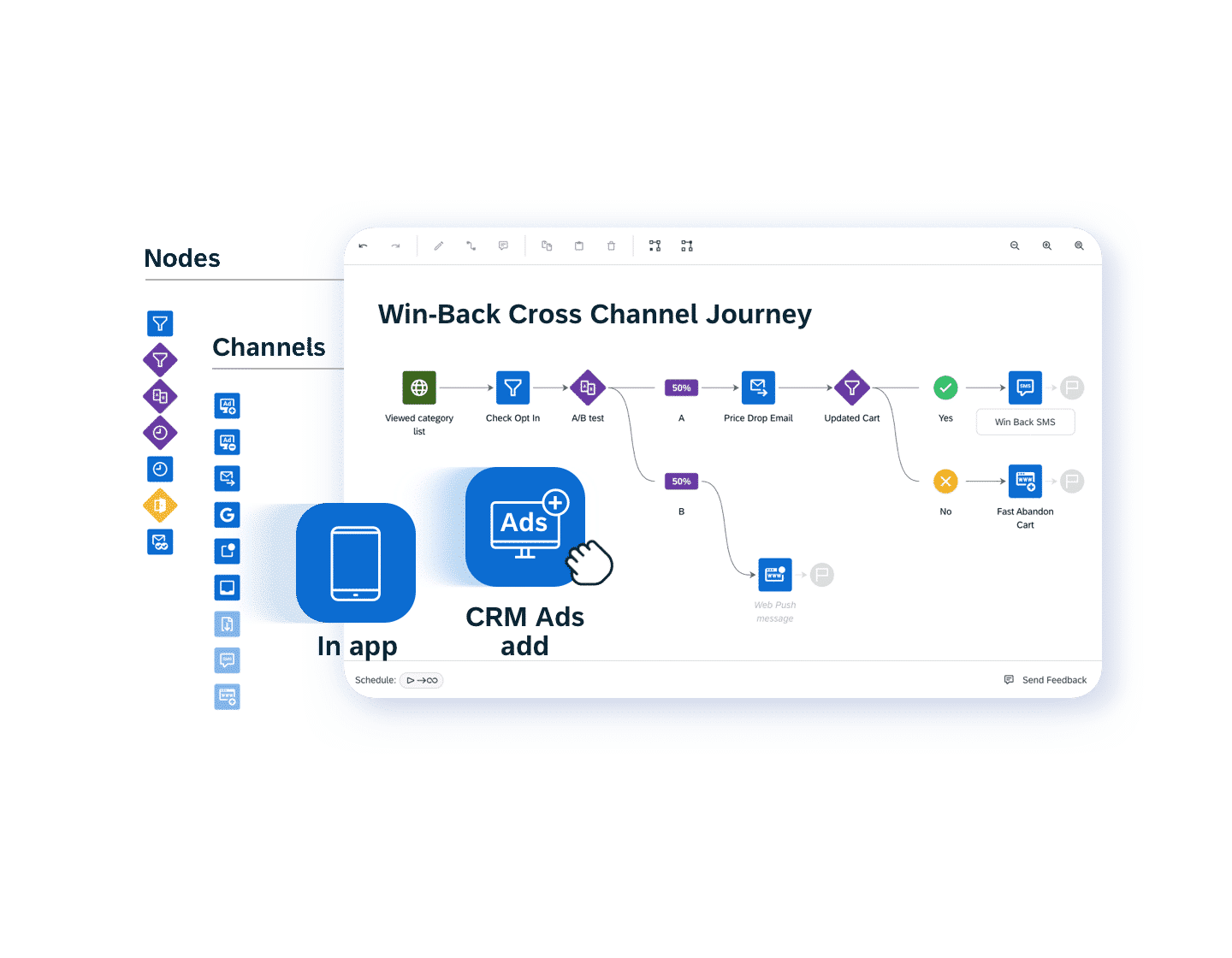 From personalized campaigns to triggering events in real time, easily deploy automations across every channel with our omnichannel marketing automation platform

Executing omnichannel marketing easily, from within a single omnichannel marketing platform, without extensive services engagement and IT resources, is rare. The Emarsys platform makes it easy to integrate data, set up messaging across channels, and deploy personalized campaigns at scale.
Use customer data and AI to power personalized, cross-channel campaigns
Seamlessly connect & automate multiple marketing channels
Deploy best practice, out-the-box automations to help you hit revenue targets
Unlock agile marketing & commerce automation
Through quick and easy setup, Emarsys integrates with all your existing marketing and commerce channels, giving you the ability to rapidly launch omnichannel campaigns, and the agility to change your approach when needed so you can optimize performance.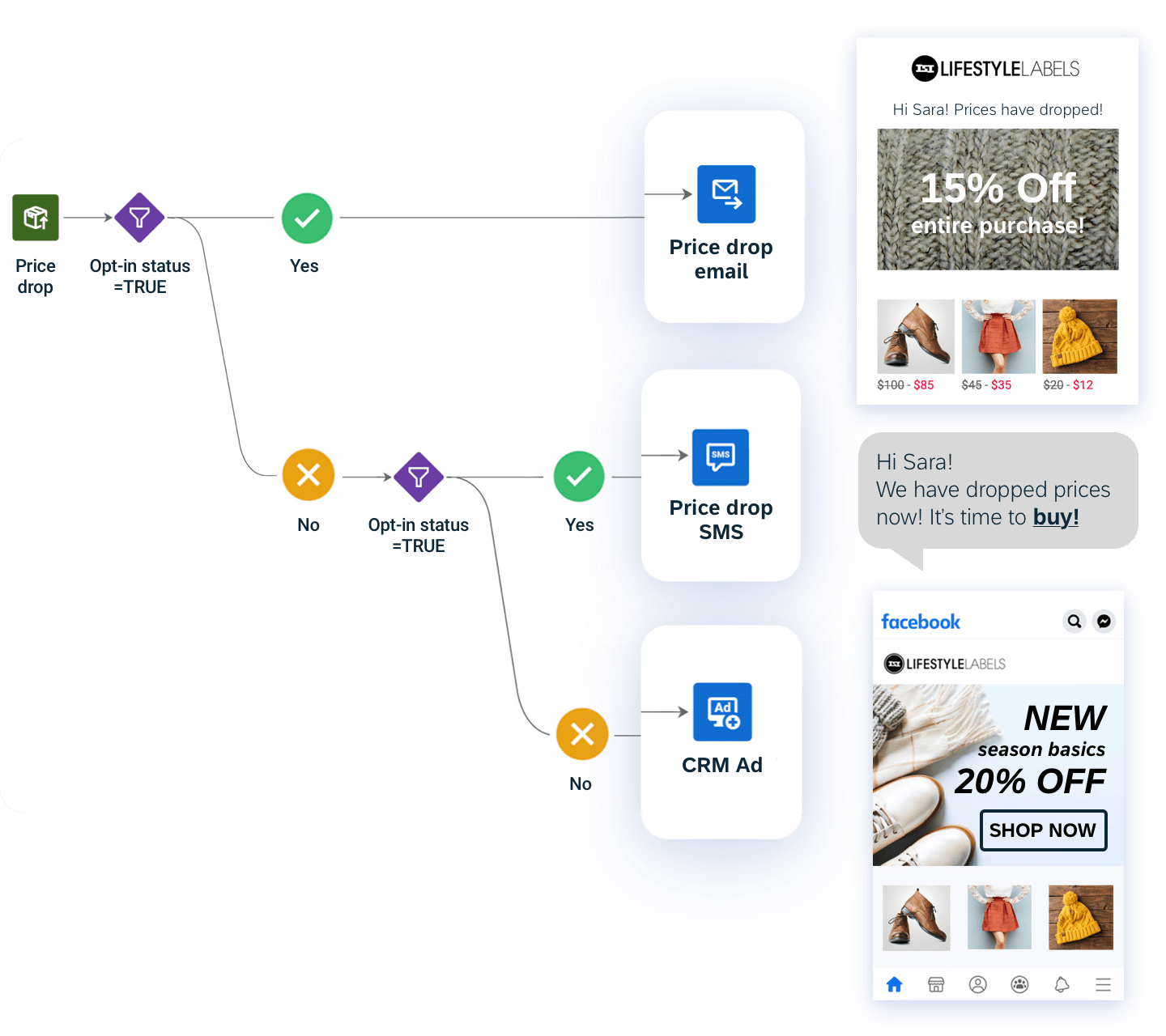 Orchestrate cross-channel campaigns at scale
With Emarsys, channels are natively built into the B2C marketing platform, which means journey orchestration isn't about integrating siloed products across the same stack. (But if you want to use a different channel provider, we can easily bring them on, too).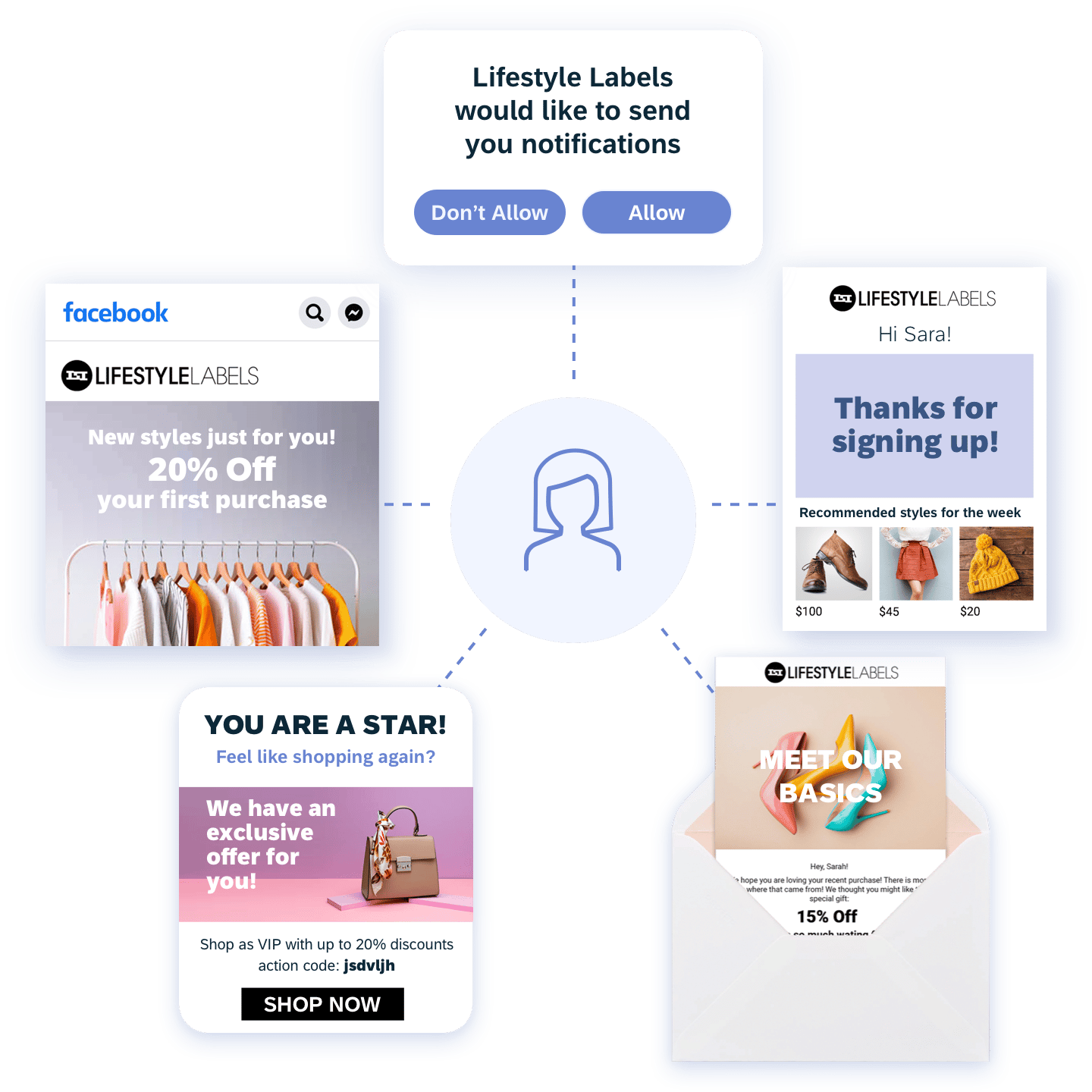 Reach customers in the moments that matter with real-time automated triggers
What are the most critical times to interact with your customers? You decide, and then Emarsys makes it easy to listen for those actions and respond with the right message. Product back in stock? Item dropped in price? Need to win back an at-risk defector? Say "Thank You" for stopping by? In just a few clicks, Emarsys lets you reach customers across any channel before the moment passes you by.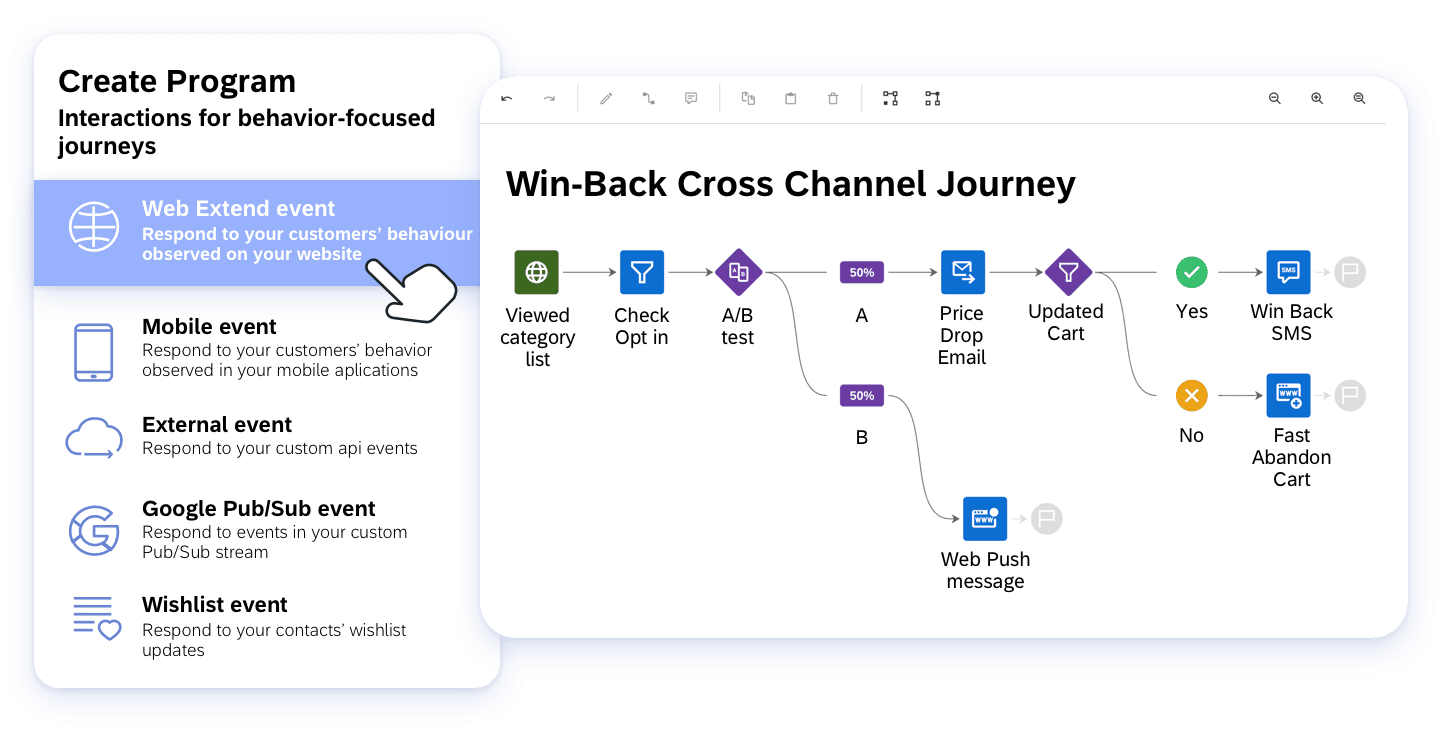 Build automations based on customer lifecycle stage
Start creating engagements that customers remember for all the right reasons. Speak differently to a first-time customer and a customer-for-life. Emarsys combines your historical and real-time customer data, allowing you to create personalized engagements tailored to the customer based on where they are at in their relationship with your brand.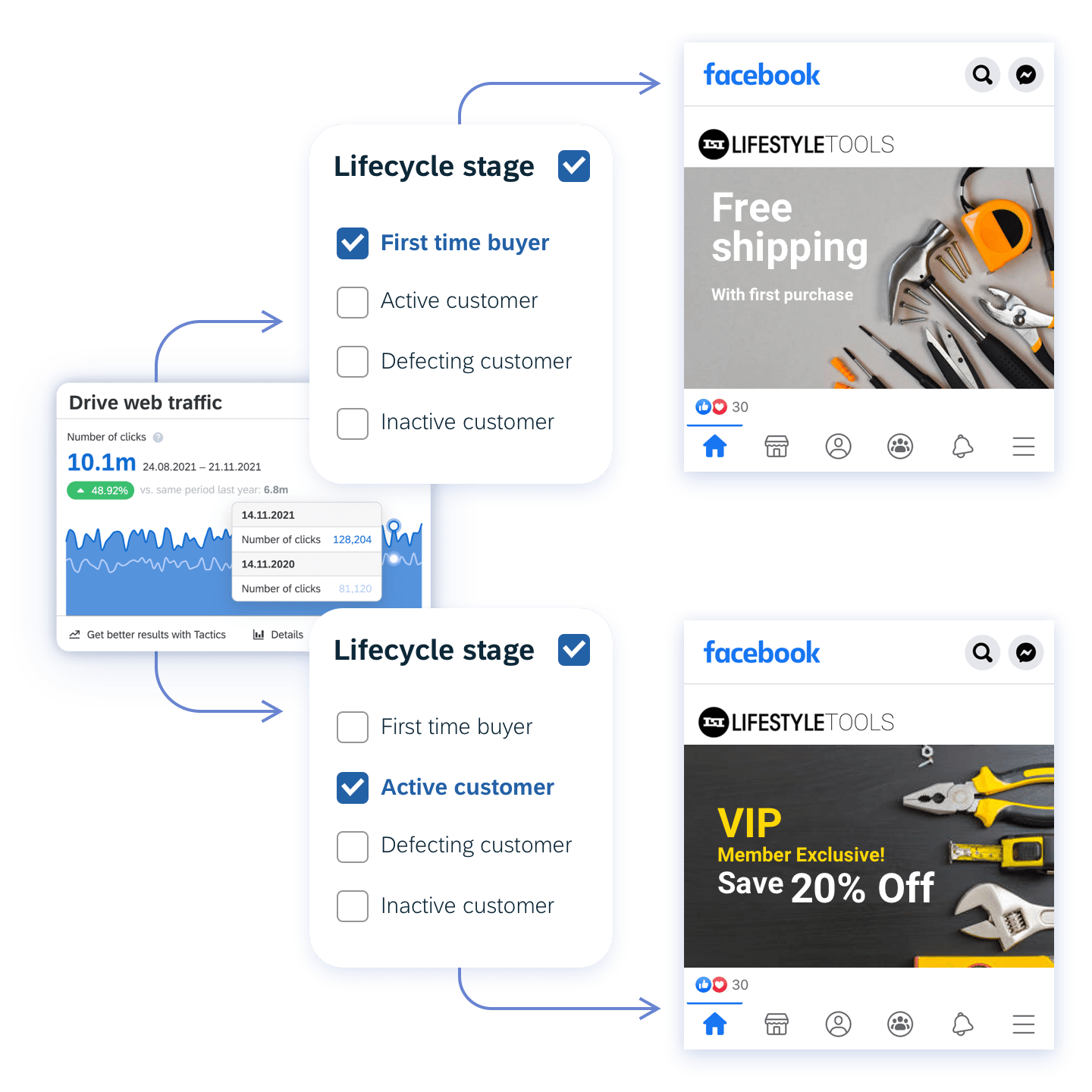 Deploy out-of-the-box tactics to quickly launch campaigns
We've worked with thousands of customers to understand what audience segments and channel combinations drive success, and then we built them into the platform so you can get up and running fast. You can also start with the best practice and customize. With integrated personalization across the channels, campaigns are tailored to your customer, no matter how you go about it.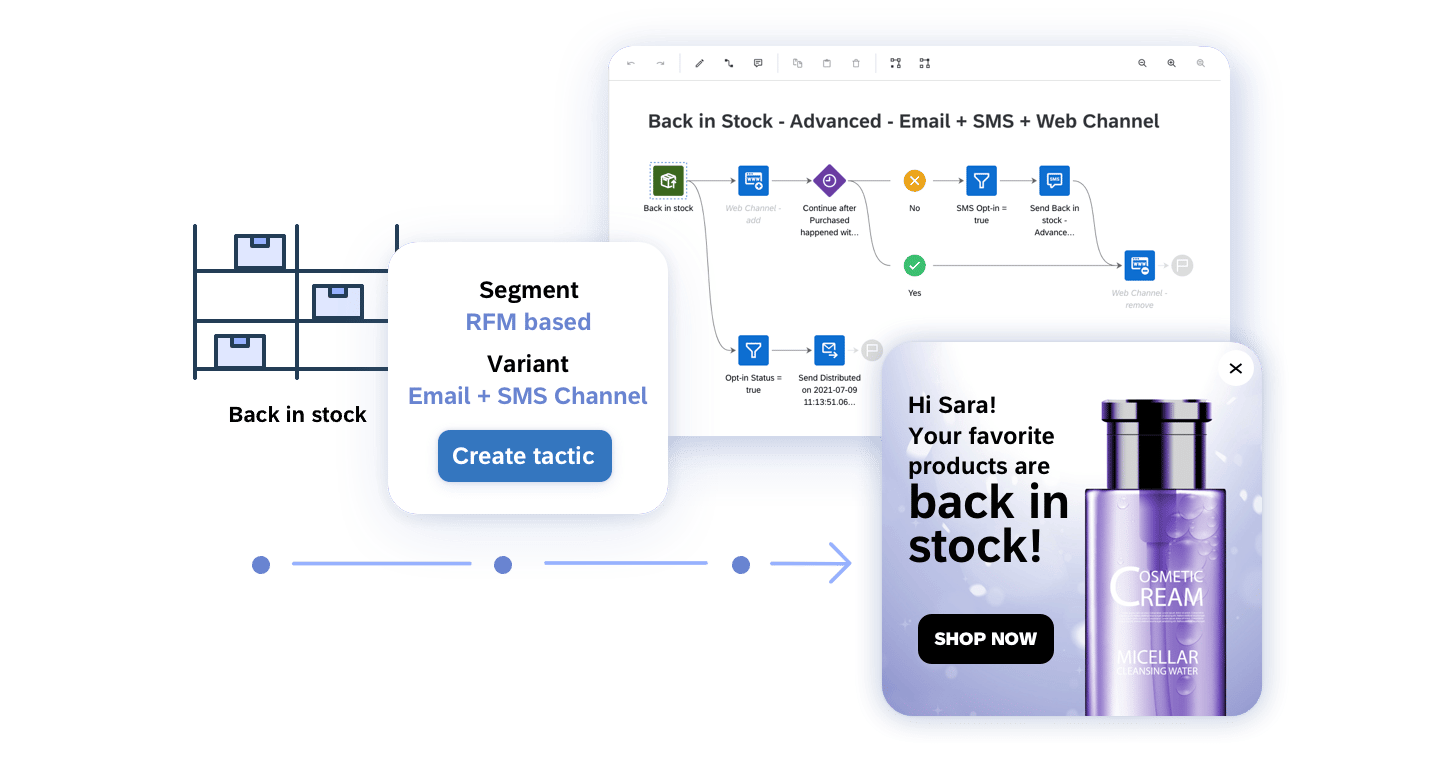 Gibson and Emarsys
Orchestrating Omnichannel Customer Journeys
In this tell-all video, you'll explore how companies like Gibson Brands are approaching personalization, optimizing customer journeys, and driving lifelong customer loyalty
12 minutes
Measure business impact across automated programs and campaigns
Understand how your team's marketing activities are contributing to business results with Emarsys's Revenue Analytics. See which automated B2C programs and campaigns have the most significant impact on your customers, and quickly access revenue attribution throughout key areas of the platform, so you'll always know how your marketing is impacting growth and revenue.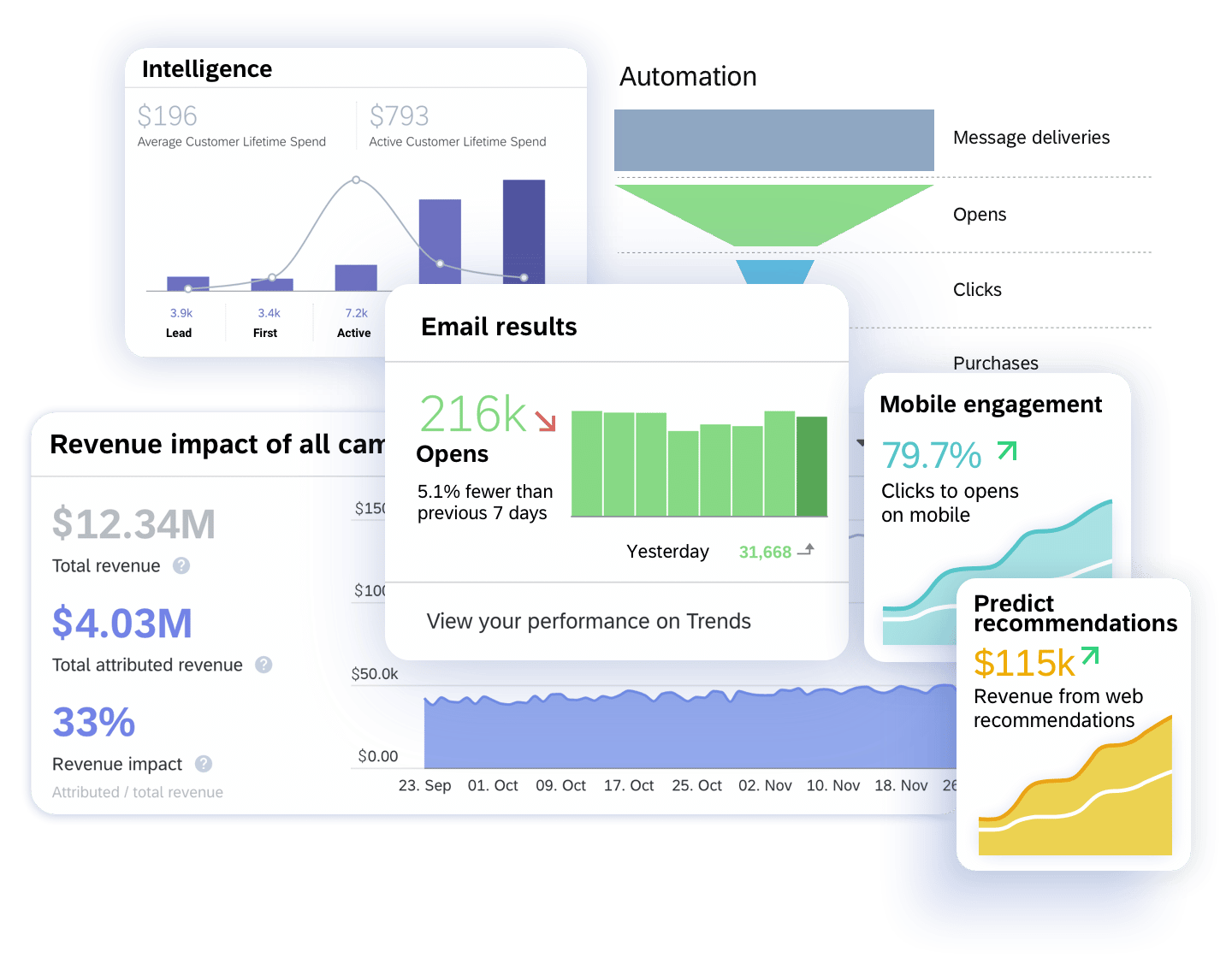 Choose the leading omnichannel marketing automation technology
Emarsys platform is ranked a leader for personalization, cross-channel campaign management and marketing automation.
Hear it from our customers
Leaving linear flows behind and prioritizing customer interactions with dynamic email automations
Hear their story
"We needed to understand customer behavior and the lifecycle stages they were in. We needed to utilize data to drive decisions and priorities instead of going off a gut feeling. And we needed to migrate to a platform that would automate this for us."
Securing 25% revenue growth with consolidated data and automated omnichannel experiences
Hear their story
"Salling Group used their offline purchase data to drive online sales, by using automated audiences when running omnichannel campaigns. This resulted in 25% revenue growth within 5 weeks."
Using automations to engage 1.5 million customers 1:1 — with a 70% retention rate.
Hear their story
"We wanted to create complex user journeys that are simplified through technology, and Emarsys' automation platform allows that to happen. I love it."
Learn more about how omnichannel marketing automation fits into our wider customer engagement platform
DISCOVER MORE
More on omnichannel marketing automation
Featured content