Engage contacts with digital advertising
Personalize advertising across display, search, and social to drive cross-channel revenue
Use CRM data to engage with contacts in real-time using automated, data-driven digital advertising campaigns.
Unleash the power of CRM data for search, display, and social advertising

Marketers face increasing pressure to drive more sales with less spend — all with fewer tracking and retargeting capabilities. Emarsys unlocks your first-party CRM data, helping you to segment key customers, create valuable lookalike audiences, and target the right customers with the right content during the right stage of their journey.
Use CRM data to refine segments
Create audiences based on contact behavior
Integrate advertising into your cross-channel mix
See the revenue impact of advertising campaigns
Increase conversions with hyper-personalized advertising
Use Emarsys' sophisticated segmentation to create specific micro-segments based on first-party data insights. Deliver ads with highly personalized content tailored to customer lifecycle stage, email responses, and purchase and browsing history that can be integrated into omnichannel automation flows.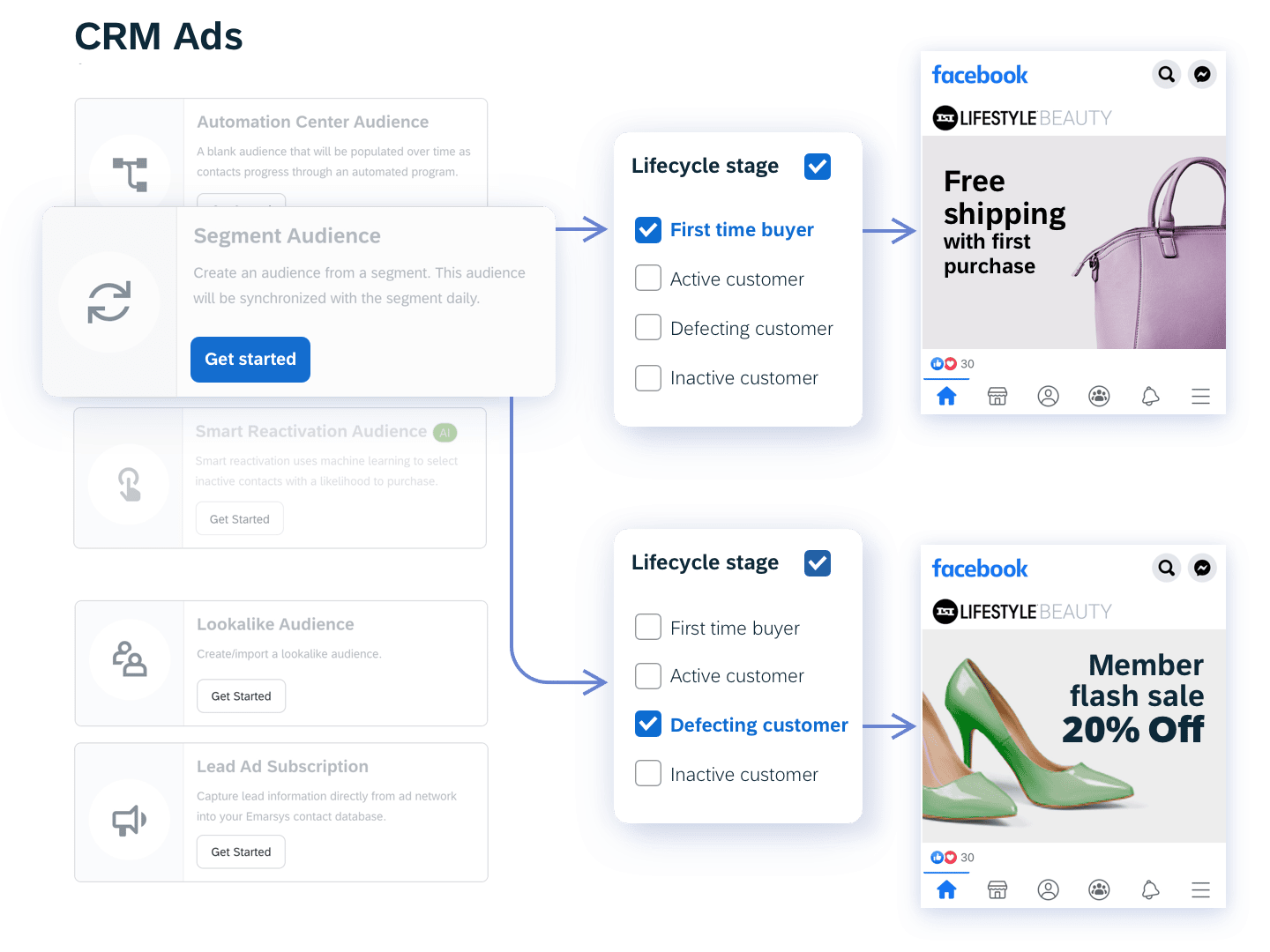 Acquire more valuable leads with lookalike audiences
Find new, high-value customers that share the preferences, browsing habits, and purchase history of your most valuable customers. Create lookalike audiences in social networks from source segments based on mobile, web, or email behavior, as well as customer lifecycle data and predicted behavior.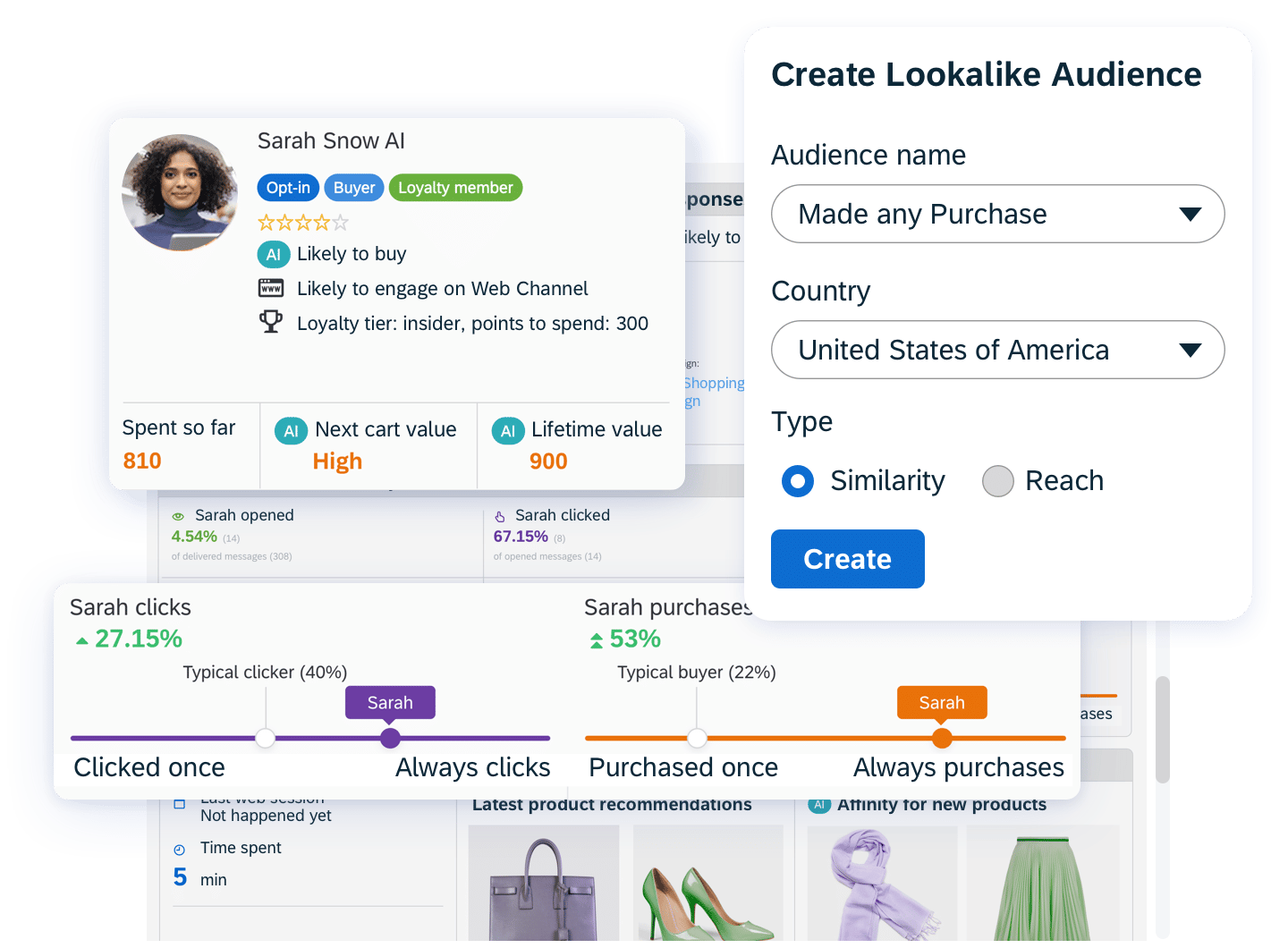 See Emarsys for yourself in
just 3 minutes
Discover why thousands of marketers trust Emarsys to drive customer engagement and accelerate business outcomes.
Optimize media spend with dynamic audience journeys
Automation Center audiences populate when contacts arrive at a certain point in an automated program. Dynamically add and remove contacts from the audience via Automation Center nodes. Eliminate wasted spend by ensuring the right ads reach the right audiences at the right time.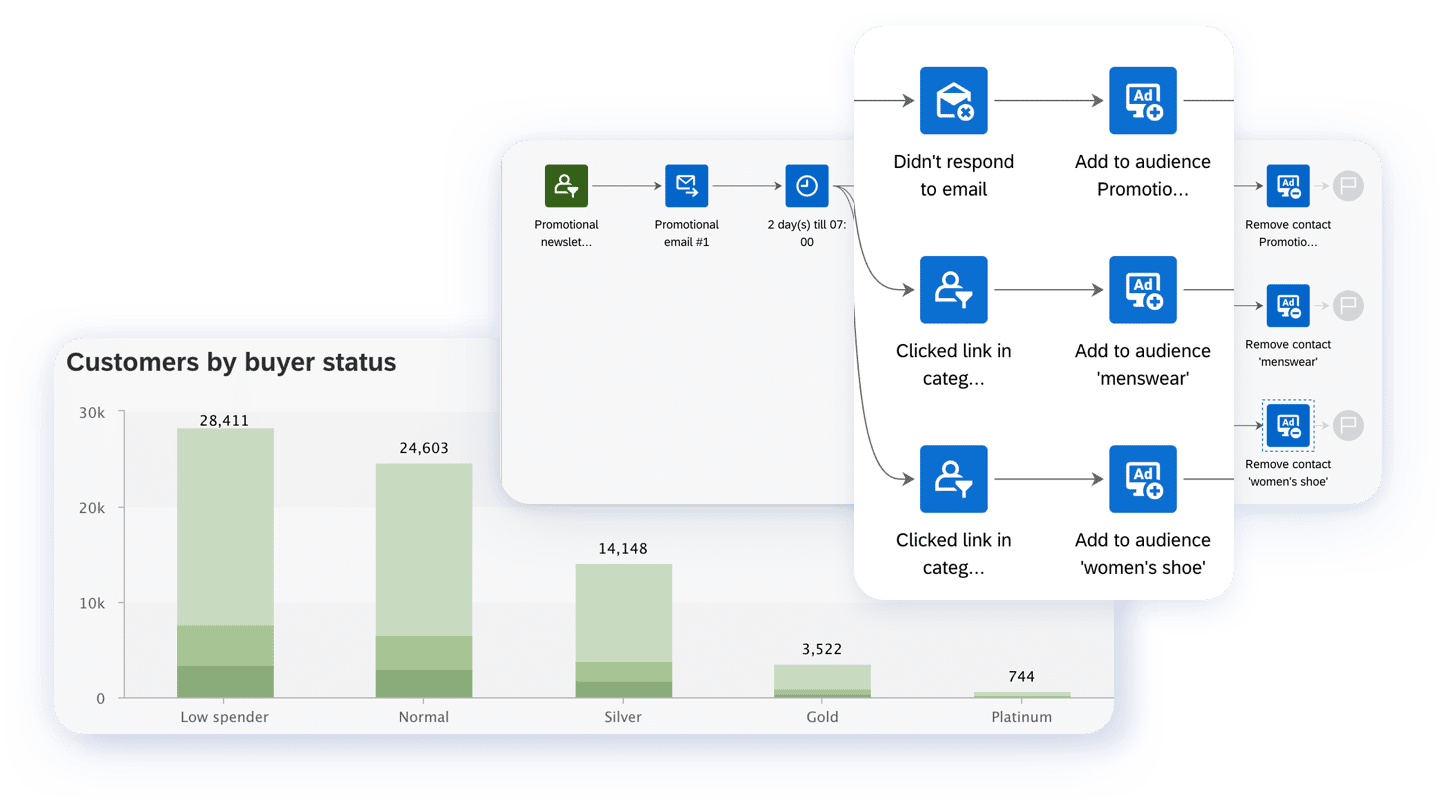 Extend the reach of existing campaigns
Scale the impact of your advertising by connecting existing campaigns with your cross-channel mix. Connect your ads channels to web, mobile, direct mail, and more, and offer a clear, concise 1:1 personalized cross-channel journey.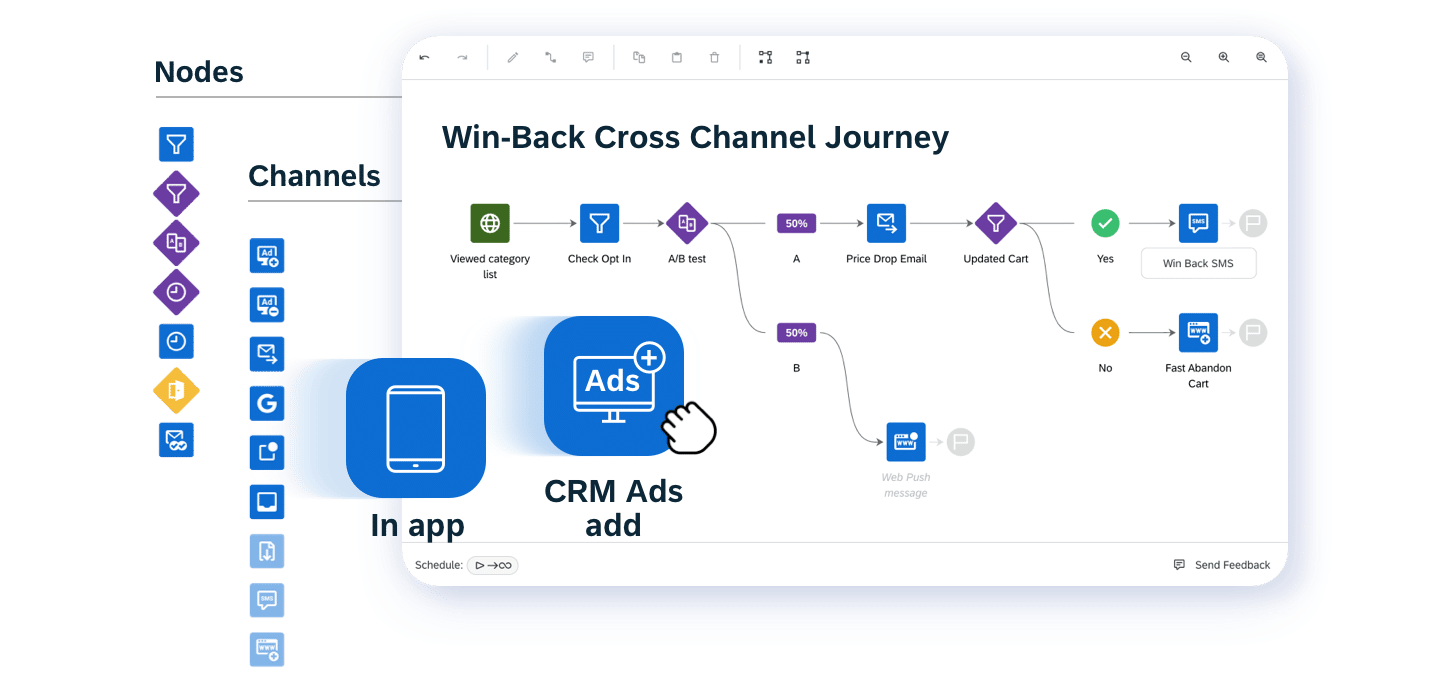 Hear it from our customers
Using actionable AI to scale personalization, reduce churn, and optimize results
Hear their story
"What AI did was to tell us when to communicate with [our customers]. Having a 1:1 conversation, having that freedom of actually reaching customers in that really great moment in time… it has delivered us a lot more revenue."
Increasing ROAS and customer engagement with personalized omnichannel experiences
Hear their story

"Emarsys has enabled us to create automated personalized customer journeys across email, on-site, and paid channels. Their automation capability has powered our rigorous A/B testing."
Serving personalized content with real-time triggers across devices, channels, and apps
Hear their story
"We now serve our community through a mobile-first approach by delivering millions of personalized messages every day — all within a single platform."
Learn more about how digital ads fits into our wider customer engagement platform
DISCOVER MORE
More on digital advertising
Featured Content
Deliver the


predictable, profitable

outcomes that your business demands with our consumer goods marketing solution
Request a Demo