Intelligence & Analytics
AI-powered analytics. Exponentially impactful marketing.
Measure the revenue impact of your marketing campaigns, predict campaign outcomes, and effortlessly optimize future performance — without a dedicated data team.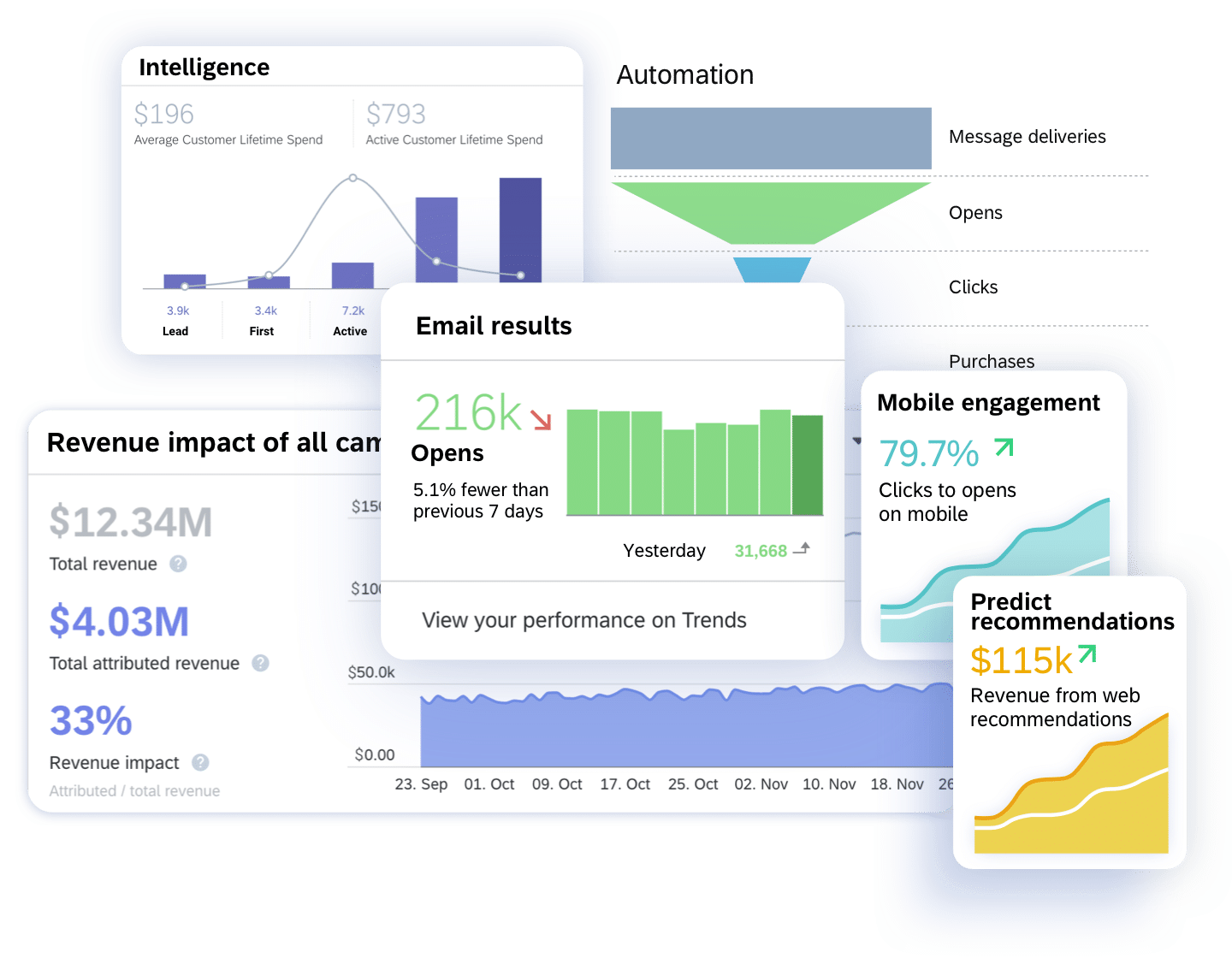 Get the analytics to know what's working now and the AI to predict what will work next

Disconnected tech stacks and siloed data can make it difficult to get a full picture of your marketing analytics, let alone trust that they are accurate. And then to predict the future based on them… you'd need a team of data gymnasts. From customer insights to revenue impact, Emarsys gives you full visibility into your marketing and your customers, and suggests ways to proactively engage so you can drive the most impact.
Accurately measure marketing and commercial impact
Make smarter optimization decisions
Forecast campaign performance to drive the best outcomes
Drive the revenue metrics that matter
Strategic dashboards are where it all comes together. Gain full visibility over everything from repeat purchase to average order value and in-store sales, plus many more integral KPIs. But beyond just reporting on the state of the business, Emarsys lets you act quickly to change underperforming areas using pre-built strategies and tactics proven to improve areas of the business.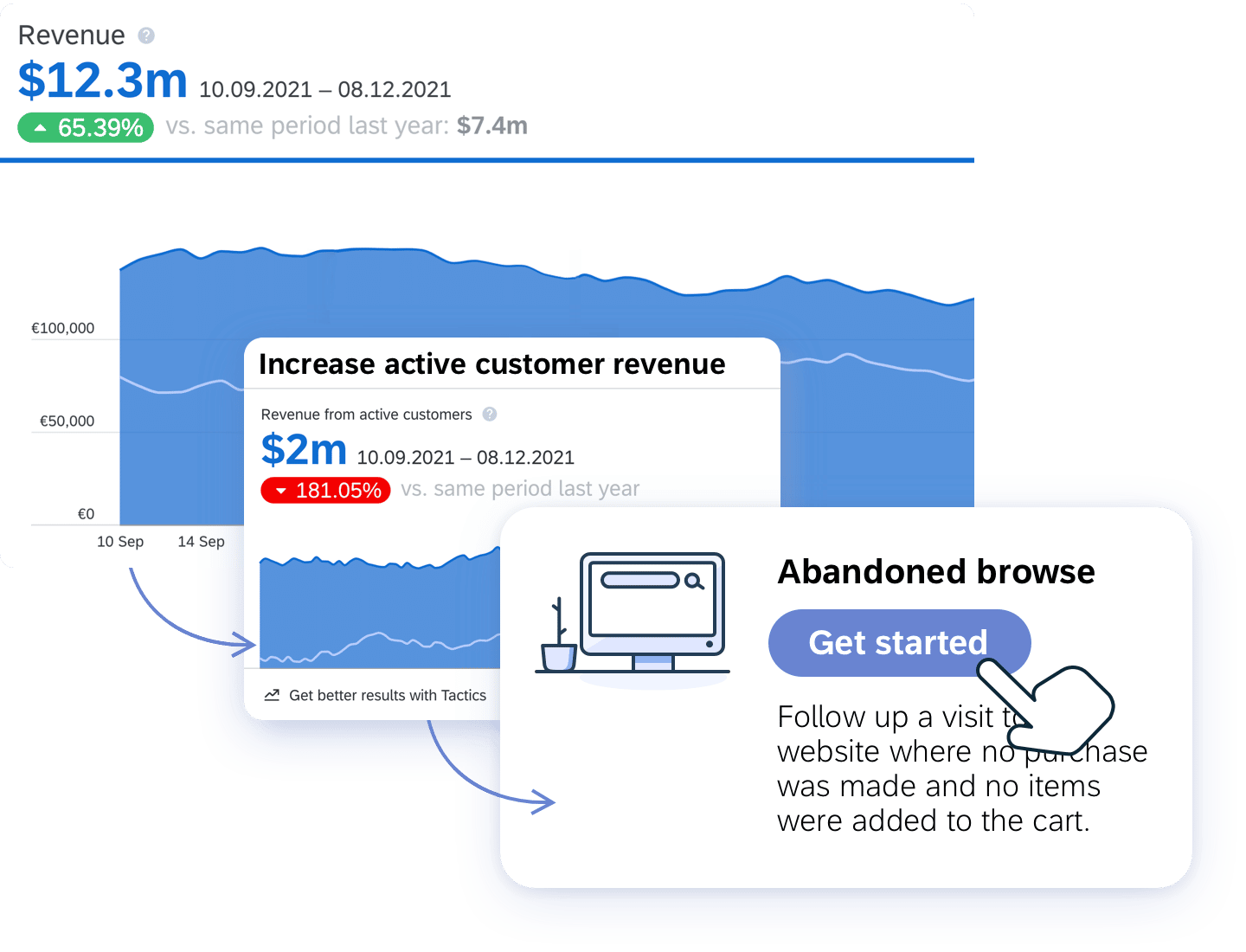 Identify opportunities in your customer lifecycle
How many of your customers are first-time buyers? How many are defecting? Do you have issues in your funnel? If so, what are the most effective tactics to fix them? Emarsys answers these questions for you and identifies opportunities to drive revenue at any point across your customer lifecycle.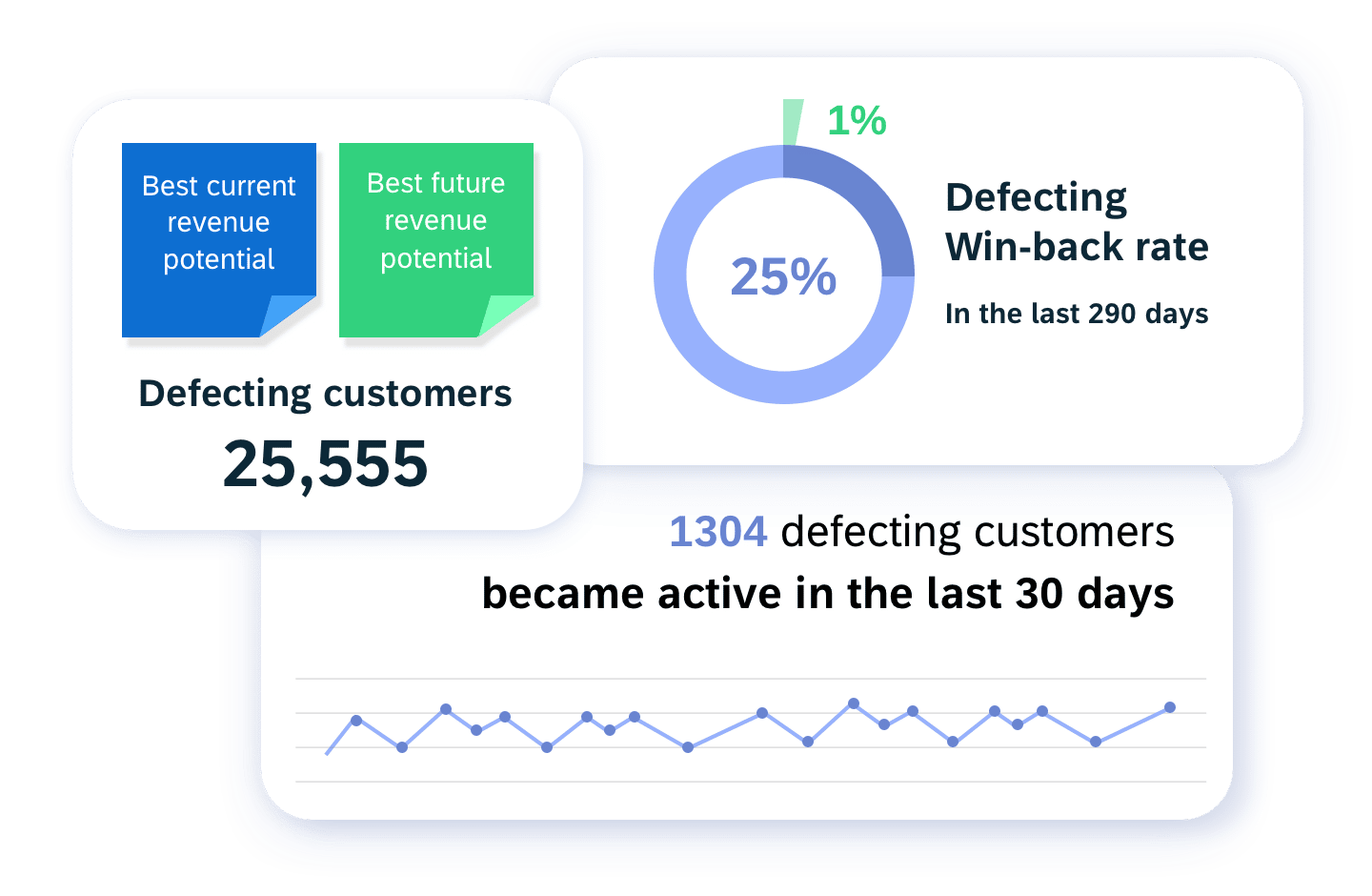 Know which channels are working and why
The beauty of using Emarsys to build and deploy everything from email and web to social and SMS campaigns is that you can view them side-by-side to see how their performance compares. Our built-in channel analytics & reporting allows you to effectively measure and improve channel impact.
Answer the marketing revenue impact question
How much revenue are your marketing campaigns generating for your business? Emarsys can show the effect your marketing efforts have on not only revenue but also customer acquisition, purchase frequency, average order value, first purchase, store sales, retention, and loyalty.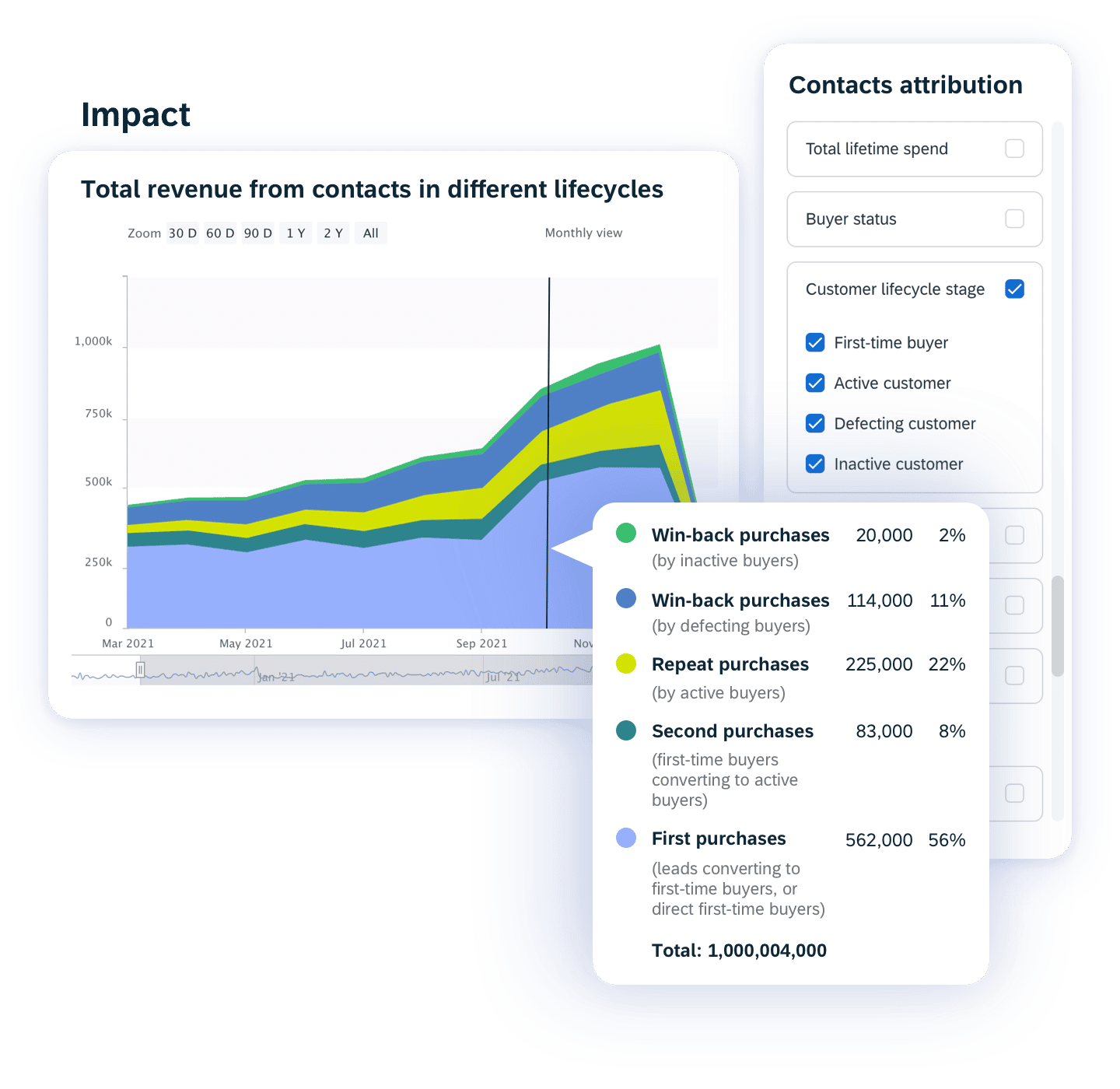 Gibson and Emarsys
Orchestrating Omnichannel Customer Journeys
In this tell-all video, you'll explore how companies like Gibson Brands are approaching personalization, optimizing customer journeys, and driving lifelong customer loyalty
12 minutes
Harness the power of AI and predictive analytics
All it takes is one purchase and our AI starts predicting what your customers will buy next, when they'll buy it, which channels they'll use, and how much they'll spend. Our AI continuously optimizes customer engagements to make them more relevant, timely, and personalized for each individual customer.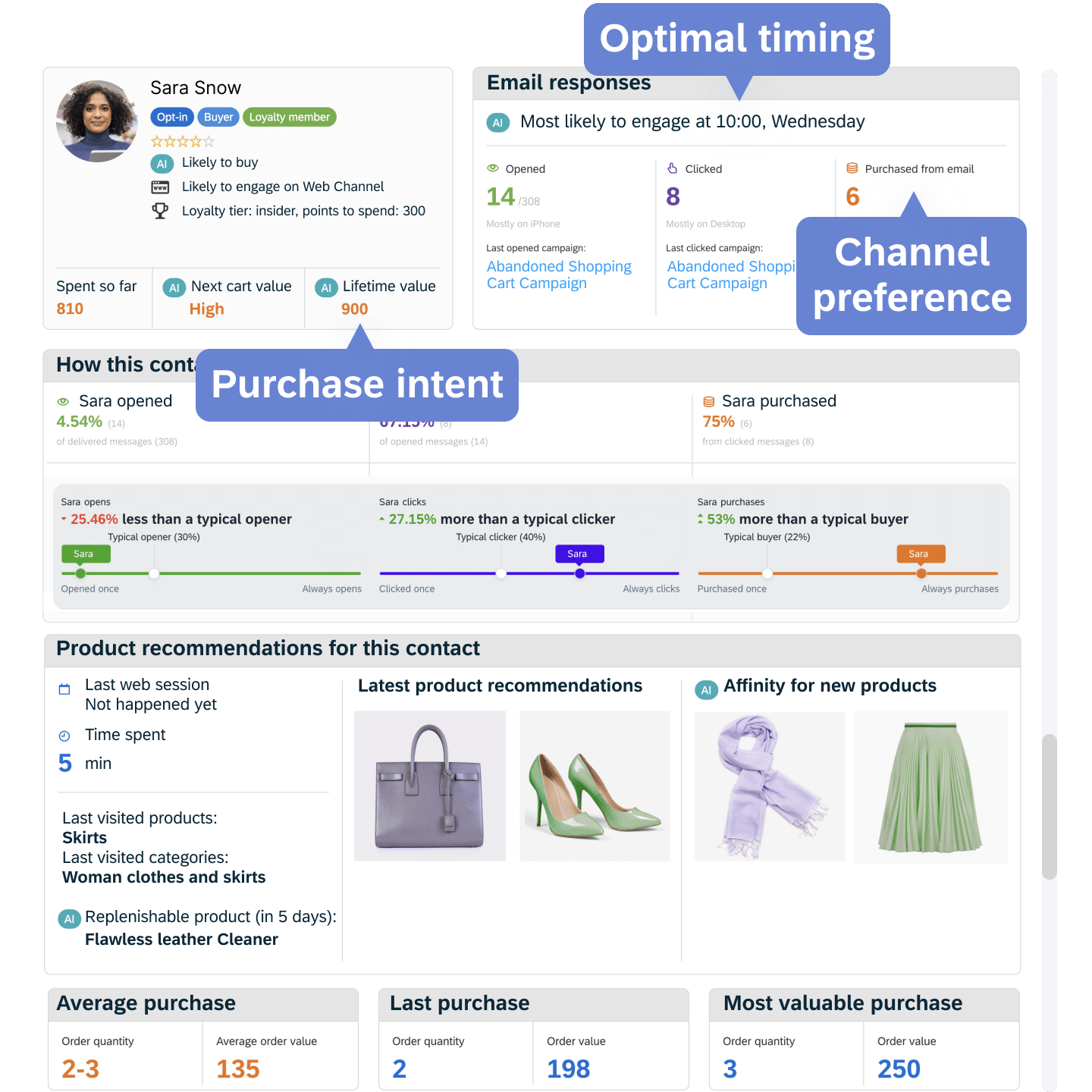 Learn more about how intelligence & analytics fits into our wider customer engagement platform
DISCOVER MORE
Hear it from our customers
Increasing AOV and winning back 24% of defecting customers with proactive marketing
Hear their story
"What AI did was to tell us when to communicate with those people, having a 1:1 conversation, having that freedom of actually reaching customers in that really great moment in time… it has delivered us a lot more revenue."
Using the power of predictive analytics to increase customer lifetime value
Hear their story
"Test, test, test. I can't emphasize it enough. I think that's one thing I love about what we're doing at the company right now is that [for] everything we do, we're running tests. We're seeing the impacts."
Actionable AI to Scale 1:1 Personalization and Optimize Results
Hear their story
"We wanted a single marketing solution that could scale up with our business. Emarsys helped us join the dots across an increasingly complex customer journey with touchpoints from stores to website to customer service interactions."
More on marketing and revenue analytics
Featured Content