Omnichannel Consumer Goods Marketing Solution
Build and retain a database of active, engaged, high-value consumers
Collect and activate first-party data across every channel in a single platform. Create connected personalized engagements that drive future purchases, deeper loyalty, and higher CLTV.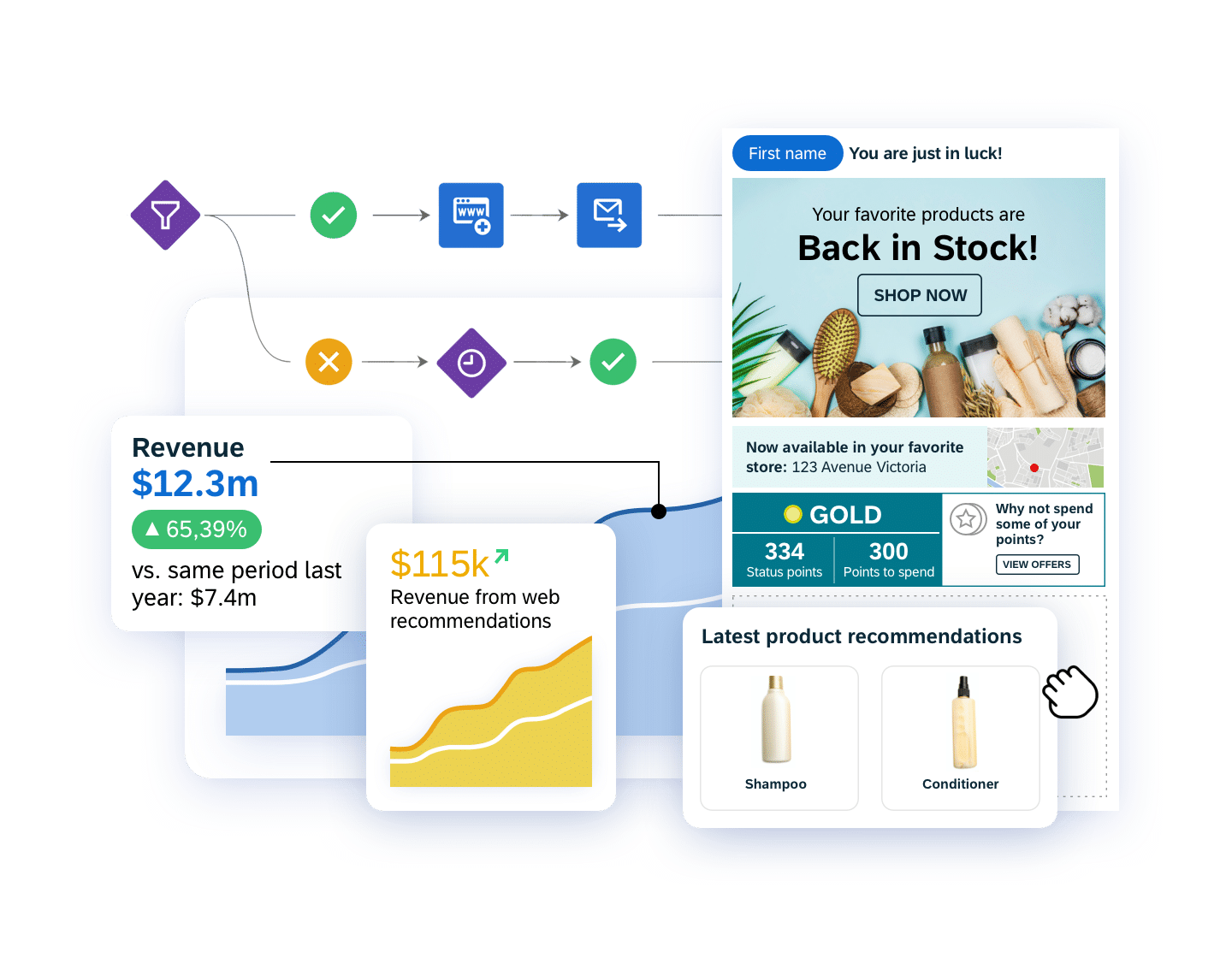 The omnichannel customer engagement platform of choice for leading consumer products brands
Attract, convert, and retain consumers with 1:1 personalization and AI-powered consumer goods marketing automation
Unify your product, sales, and customer data
Build a single view of your customer and create relevant, 1:1 personalized engagements.
Attract more consumers, faster
Turn your most loyal customers into brand advocates and grow CLTV
Reduce wasted ad spend on unprofitable audiences
Target high-value audiences and optimize your ad spend with ease.
Grow first-party data, drive latent revenue, and acquire new consumers
Build a database of engaged, high-value consumers and capitalize on the missed revenue opportunities with your siloed data. By combining your product, sales, and customer data, Emarsys helps consumer products marketers convert new customers, win back old ones, and drive predictable, profitable database growth.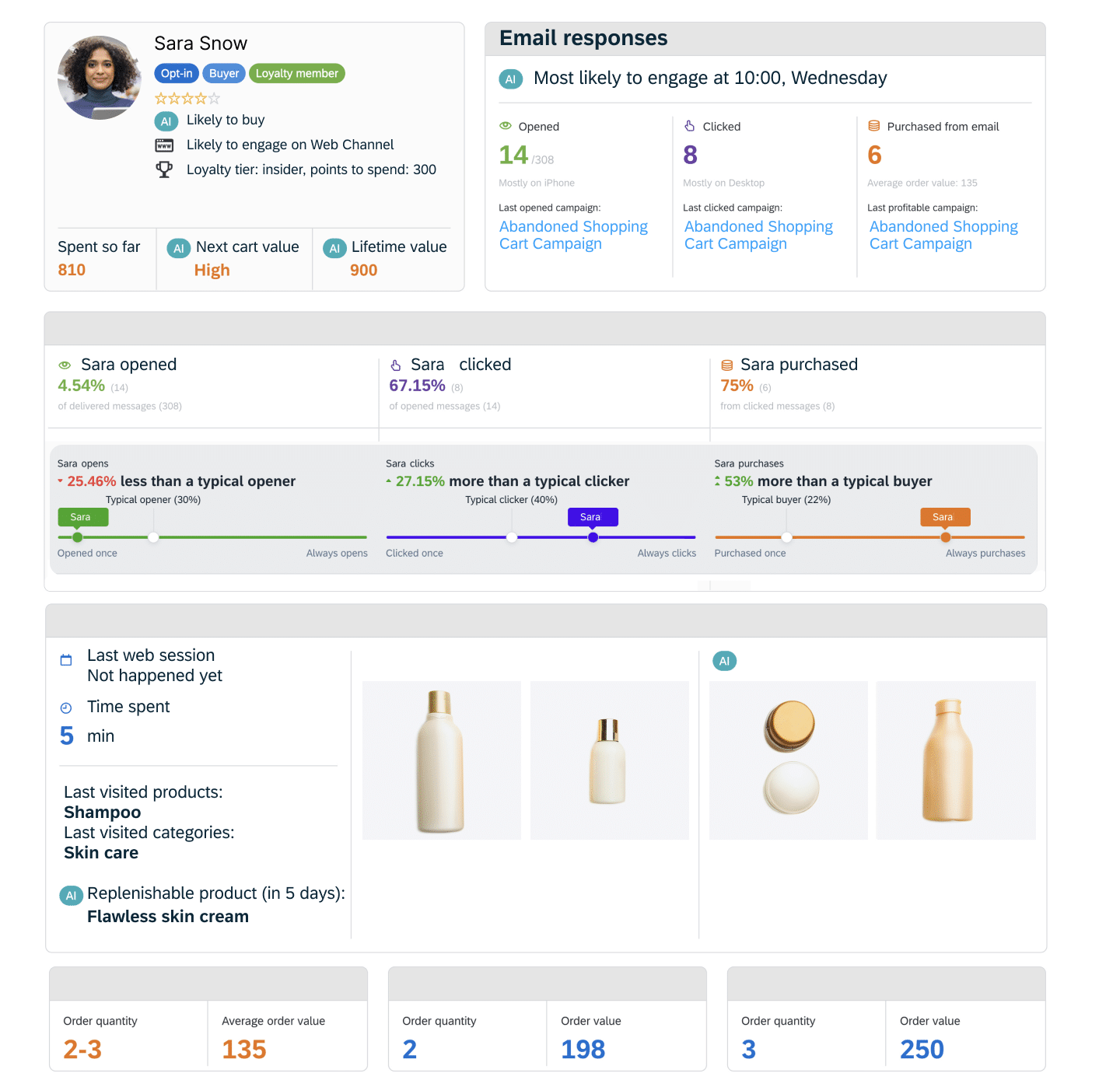 Reduce revenue loss with dynamic segmentation
Segment consumers based on lifecycle stage, real-time online behavior, and historical data to deliver 1:1 personalized content and offers that anticipate their needs, reduce churn, and boost sales. Use your most profitable segments to uncover a constant stream of new consumers with Smart Ad Targeting.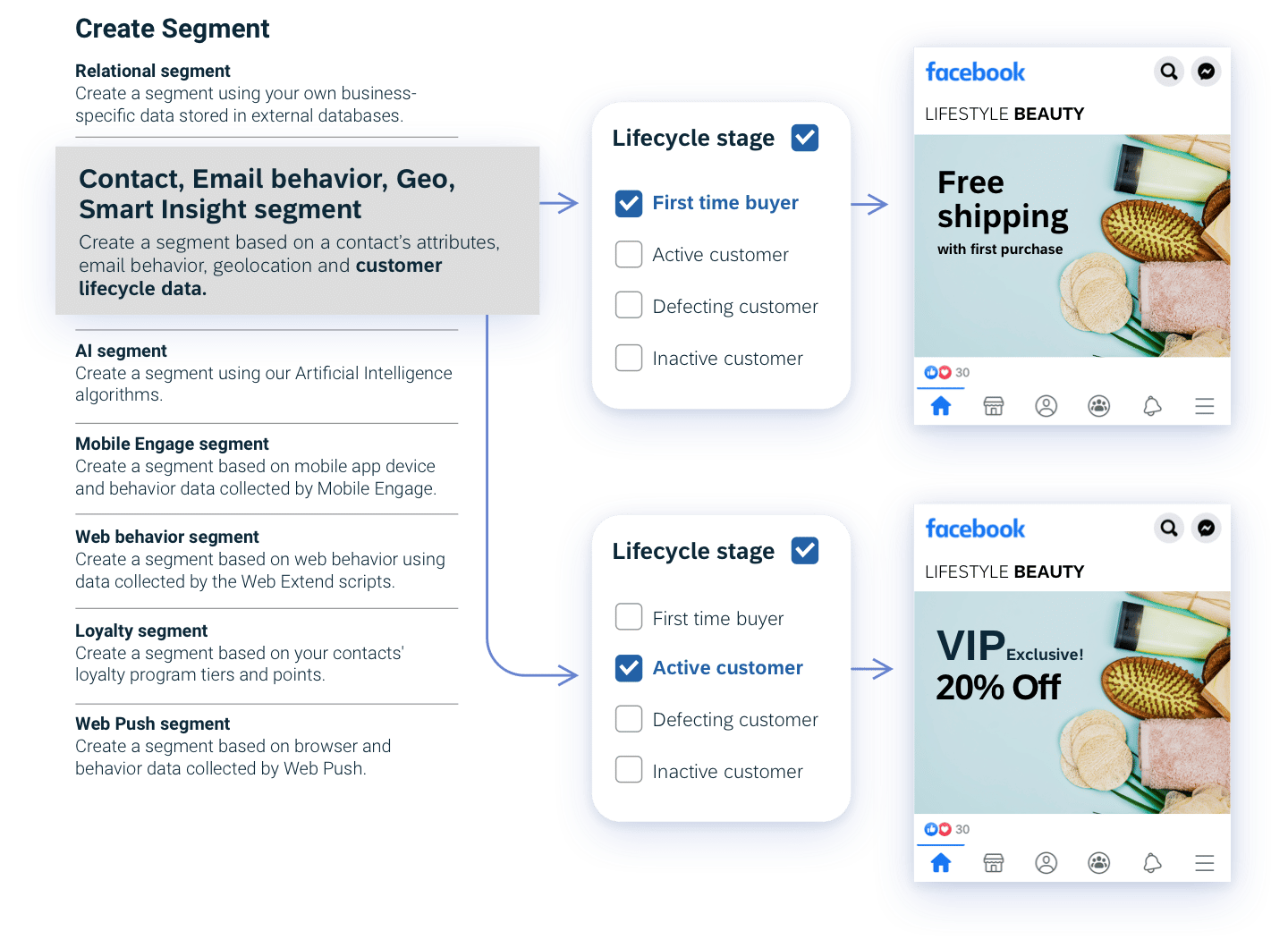 See Emarsys for yourself in
just 3 minutes
Discover why thousands of marketers trust Emarsys's consumer goods marketing solution to drive customer engagement and accelerate business outcomes.
Improve efficiency and impact with cross-channel marketing automation
Easily target all of your consumers across multiple channels and geographies with out-of-the-box marketing and transactional automations, ready to launch in just a few clicks. Encourage first purchases, win the second purchase, and increase lifetime value with flexible AI-powered automations that deliver the content consumers want, when they want it.
Turn first-time customers to loyal, repeat buyers with 1:1 personalization
Create and execute 1:1 personalized campaigns that capture engagement, drive repeat purchases, and grow customer loyalty. Emarsys gives consumer products marketers the power to build sophisticated and scalable cross-channel customer journeys to power experiences across the customer lifecycle, from initial customer engagements to post-purchase transactional interactions.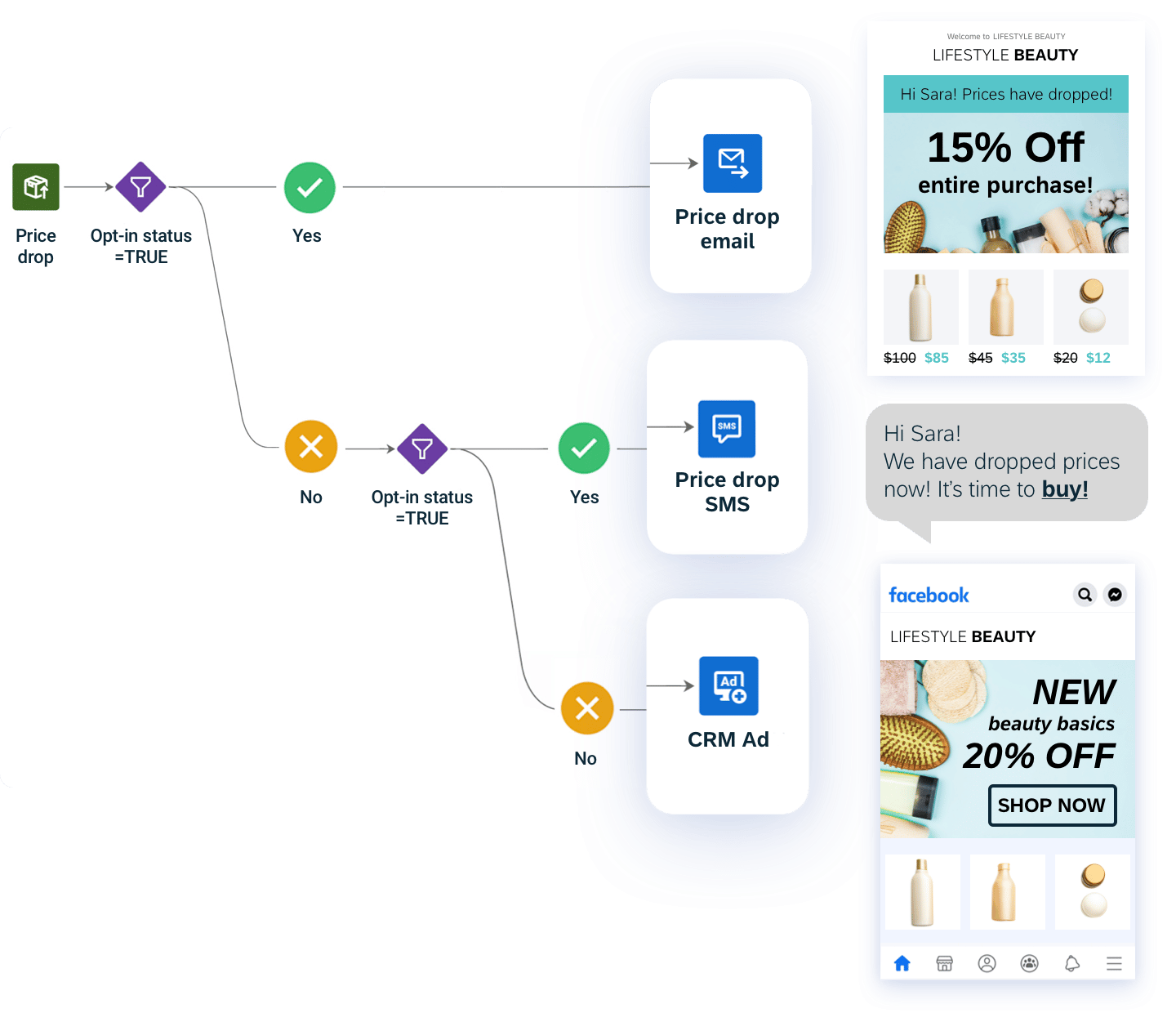 Gibson and Emarsys
Orchestrating Omnichannel Customer Journeys
In this tell-all video, you'll explore Gibson's approach to personalization, optimizing customer journeys, and driving lifelong customer loyalty
12 minutes
Demonstrate the revenue impact of your marketing activities
Prove the revenue contribution of your campaign personalization efforts with a dedicated Strategic Dashboard. Track campaign performance down to specific lifecycle stages and customer segments, and get data-backed guidance on campaign optimization with AI-powered insights and analytics.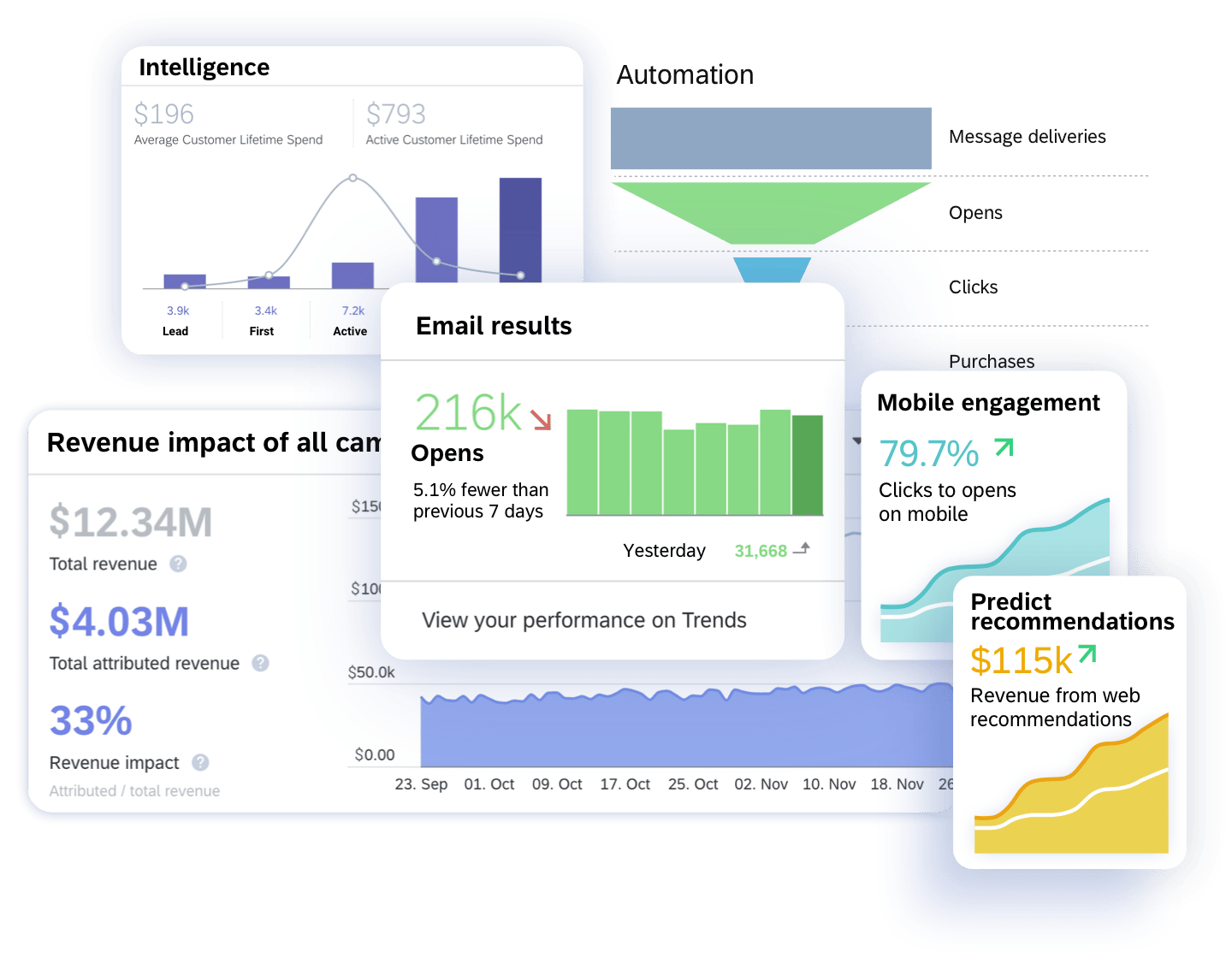 Accelerate time to value with dedicated consumer goods marketing strategies and tactics
Our crowd-sourced knowledge is built into the platform. Choose from 60+ prebuilt tactics to quickly deploy personalized campaigns at scale.
Refer a friend (Loyalty)
Let your members know about your referral program and reward them when they successfully refer a friend.
Product registration
Offer consumers the opportunity to register a product they bought offline in order to capture their data.
Progressive profiling
Capture data from your consumers by keeping them engaged over time, without making them feel you're asking for information.
Convert active buyers
Identify the active buyers who are likely to purchase more frequently and make them your most valuable consumers.
Post-purchase category cross-sell
Follow up on a purchase with cross-promotion of products in the same category to increase cart value and customer lifetime value.
Join loyalty
Ask new customers to join the loyalty program by highlighting its advantages.
Quality trade-up
Remind your customers to try a more advanced version of products they are buying on a regular basis.
Post-purchase warranty cross-sell
Follow up on a purchase with cross-promotion of a complementary service like insurance or product warranty.
Download retail app
Ask your contacts who purchased online to download your app to gather push opt-in.
Hear it from our customers
More on consumer goods marketing
Featured Content
Deliver the


predictable, profitable

outcomes that your business demands with our omnichannel marketing solution
Request a Demo