Connect In-Store and Digital Marketing
Unlock and activate omnichannel data to deliver 1:1 personalization.
Deliver a connected, consistent customer experience from online to in-store and back with unified first-party data and AI-powered marketing automations.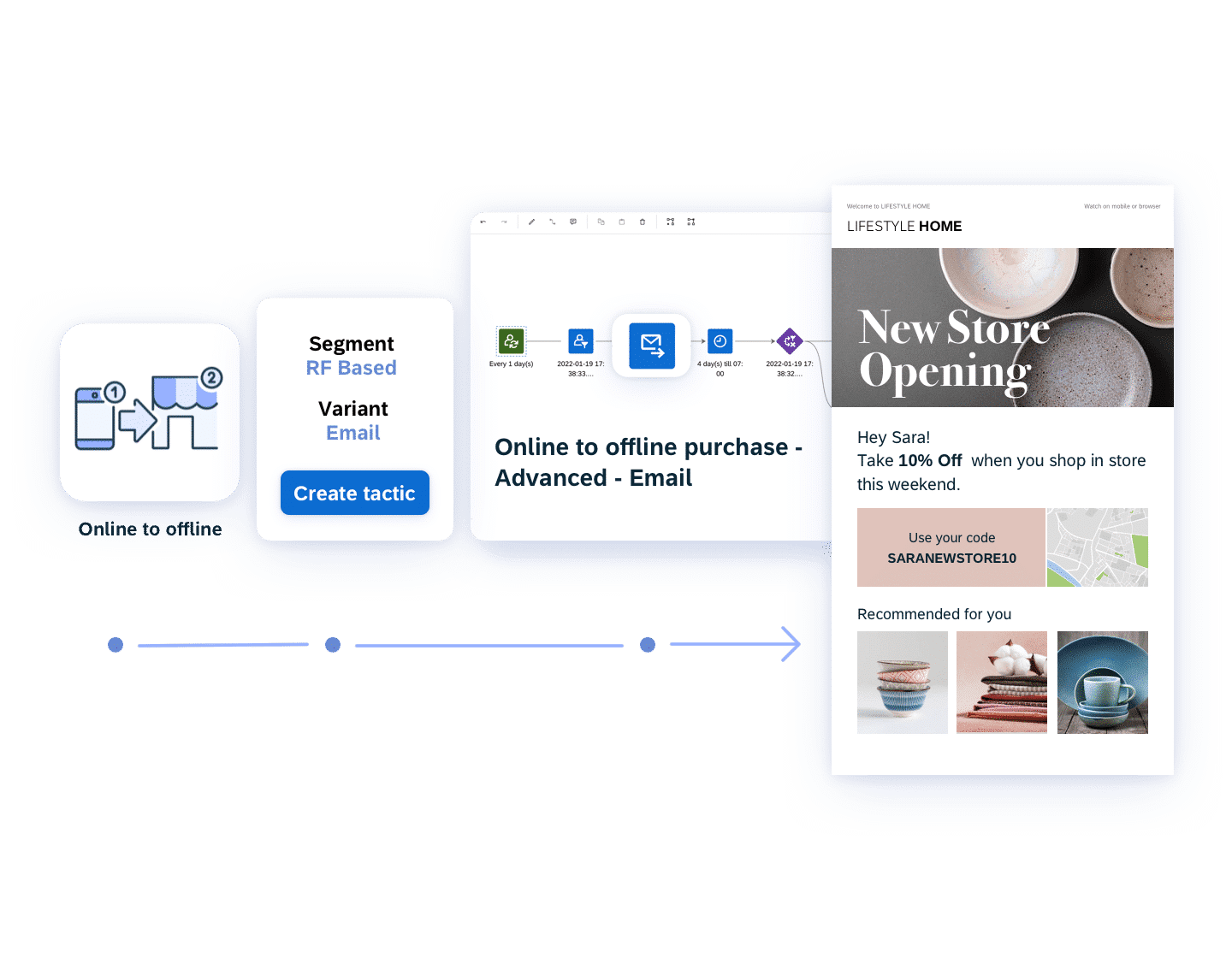 Do more in-store with 1:1 personalized shopping experiences, powered by cross-channel data

In the ever-changing world of commerce, customers expect personalized experiences. If you want to meet those ever-increasing expectations, your stores can't exist as silos. By integrating with your commerce channels, Emarsys bridges the gap between online and offline, creating a two-way flow of data that connects businesses and consumers — driving 1:1 personalization at scale.
Capture first-party data and drive repeat purchases
Integrate online loyalty programs in-store
Track performance with a dedicated store dashboard
Promote in-store shopping with geofenced push
Make data-backed decisions with a dedicated store dashboard and detailed performance analytics
Demonstrate the true ROI of your digital marketing activities and loyalty programs with dedicated store dashboards. Emarsys Store Reporting tracks and analyzes marketing impact down to country, city, store, and even specific product categories, giving you data-driven insights on where to find your next growth opportunity.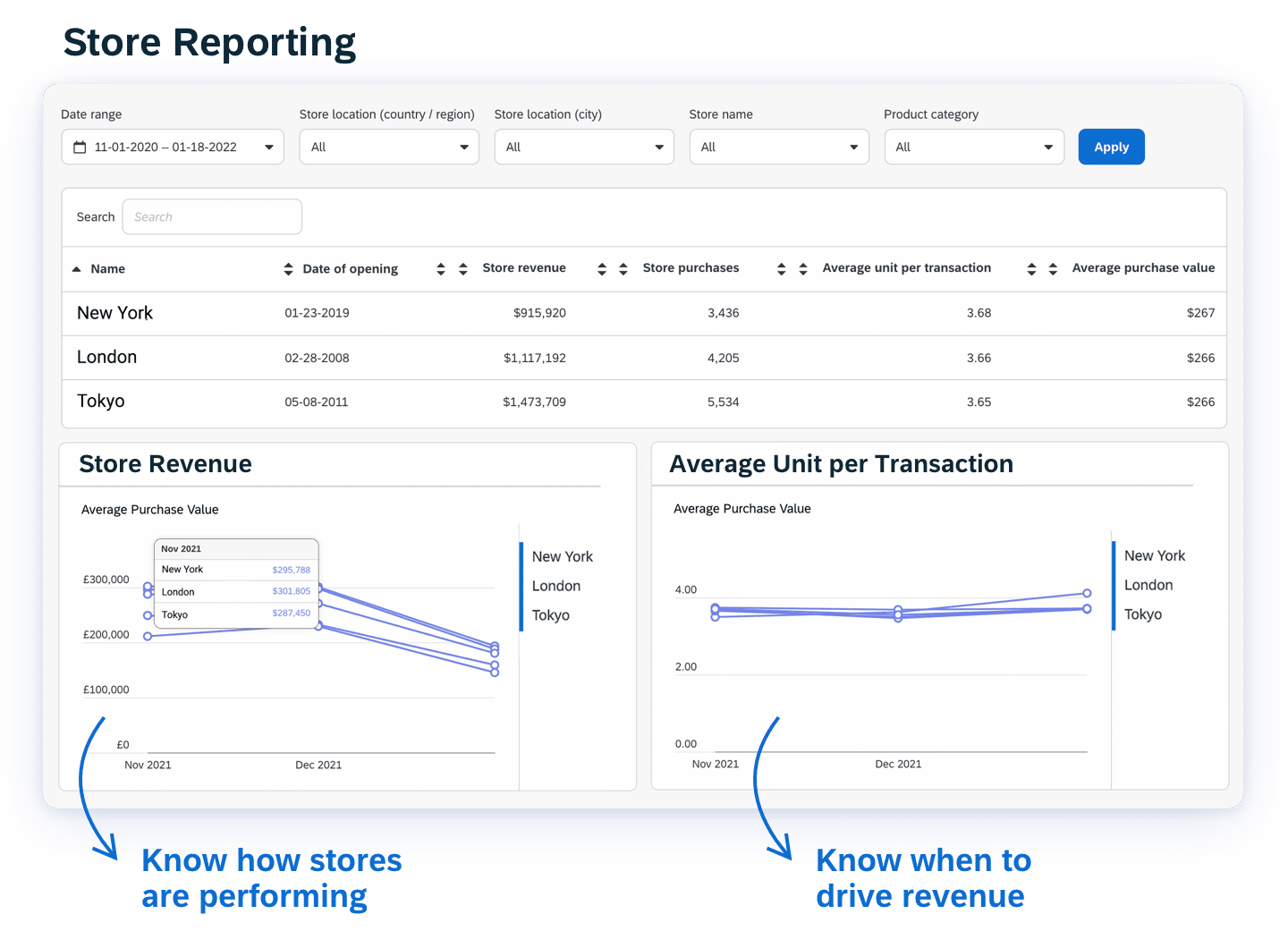 Connect in-store and online purchase data to uncover true CLTV
Identify previously unknown in-store customers by collecting email addresses at point of sale. The Emarsys Integrated Data Layer automatically connects your in-store customers to your in-platform Customer Data Layer, giving you the analytics you need to uncover their true lifetime value.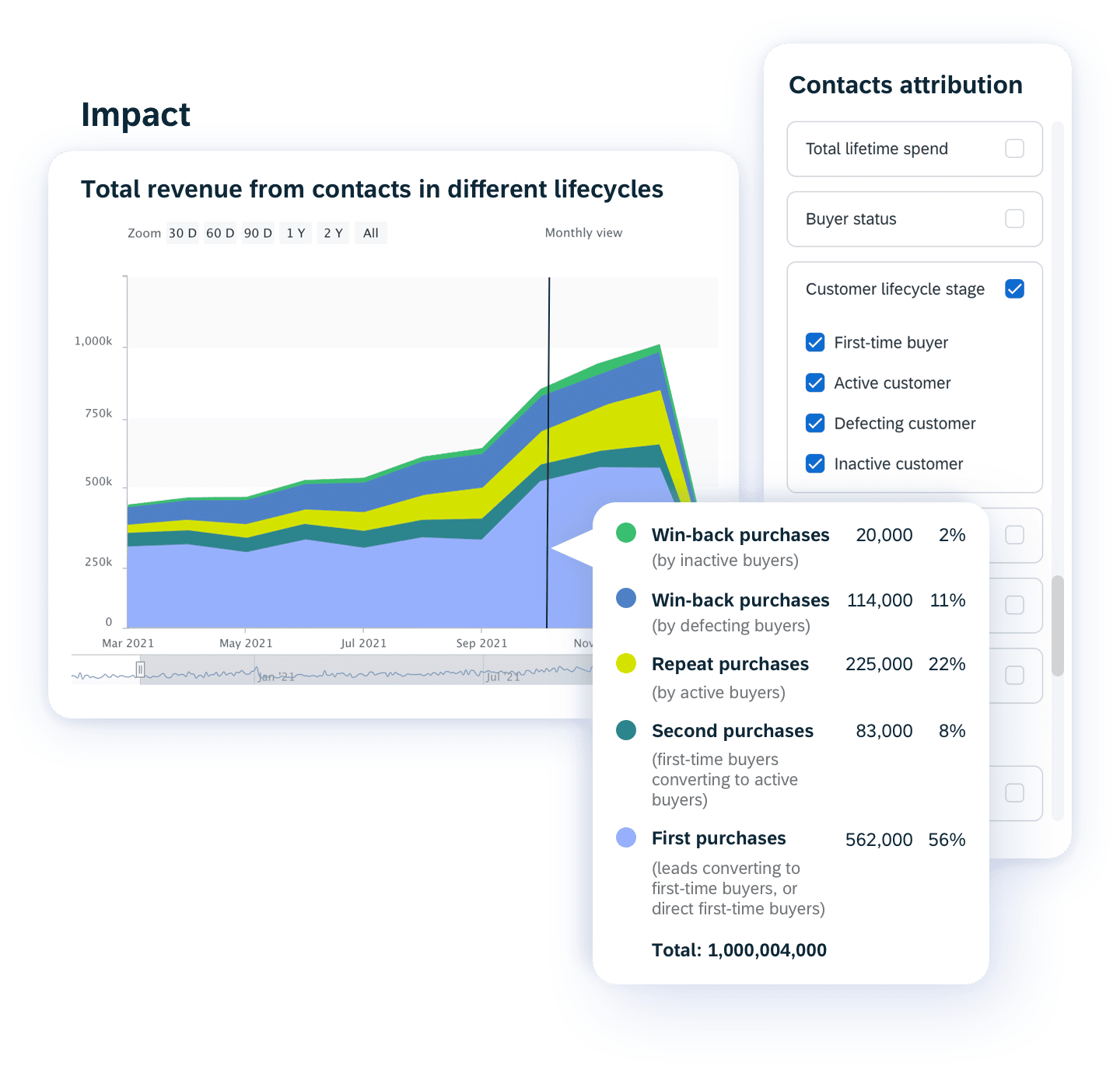 See Emarsys for yourself in
just 3 minutes
Discover why thousands of marketers trust Emarsys's in-store channel to drive customer engagement and accelerate business outcomes.
Turn POS into a digital revenue stream
Use your consolidated in-store and online first-party data to monetize point of sale with 1:1 personalized product recommendations. By gathering customer email addresses during a purchase, you can enrich e-receipts with targeted recommendations based on in-store purchases, online shopping behavior, and product affinity.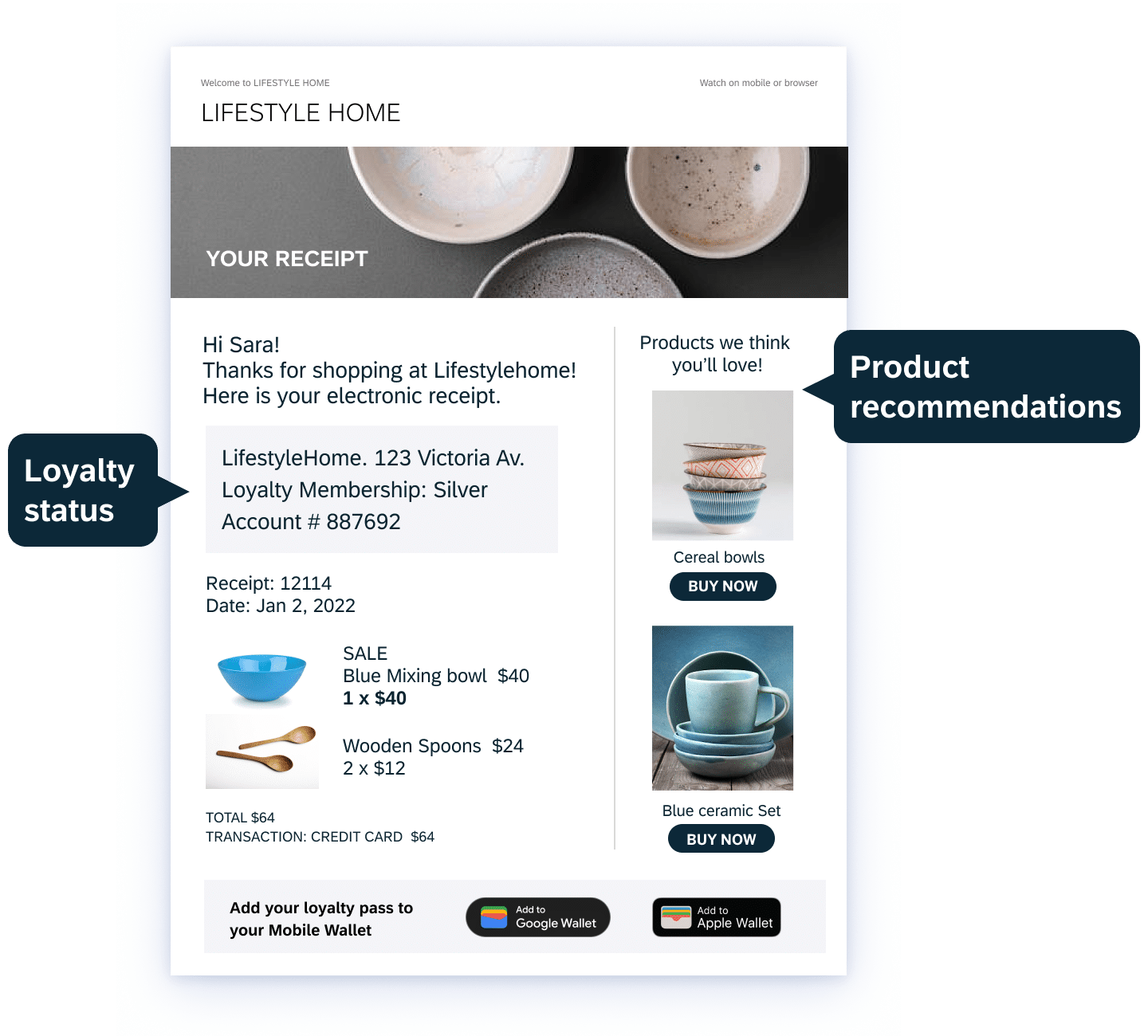 Increase AOV and CLTV with AI marketing automations
Take marketing impact beyond your in-store customer interactions with sophisticated, AI-powered marketing automations that reduce churn and drive repeat business. Nudge customers towards that all-important second purchase, upsell buyers collecting orders from your stores with recommendations for products in-stock at that location, and much more.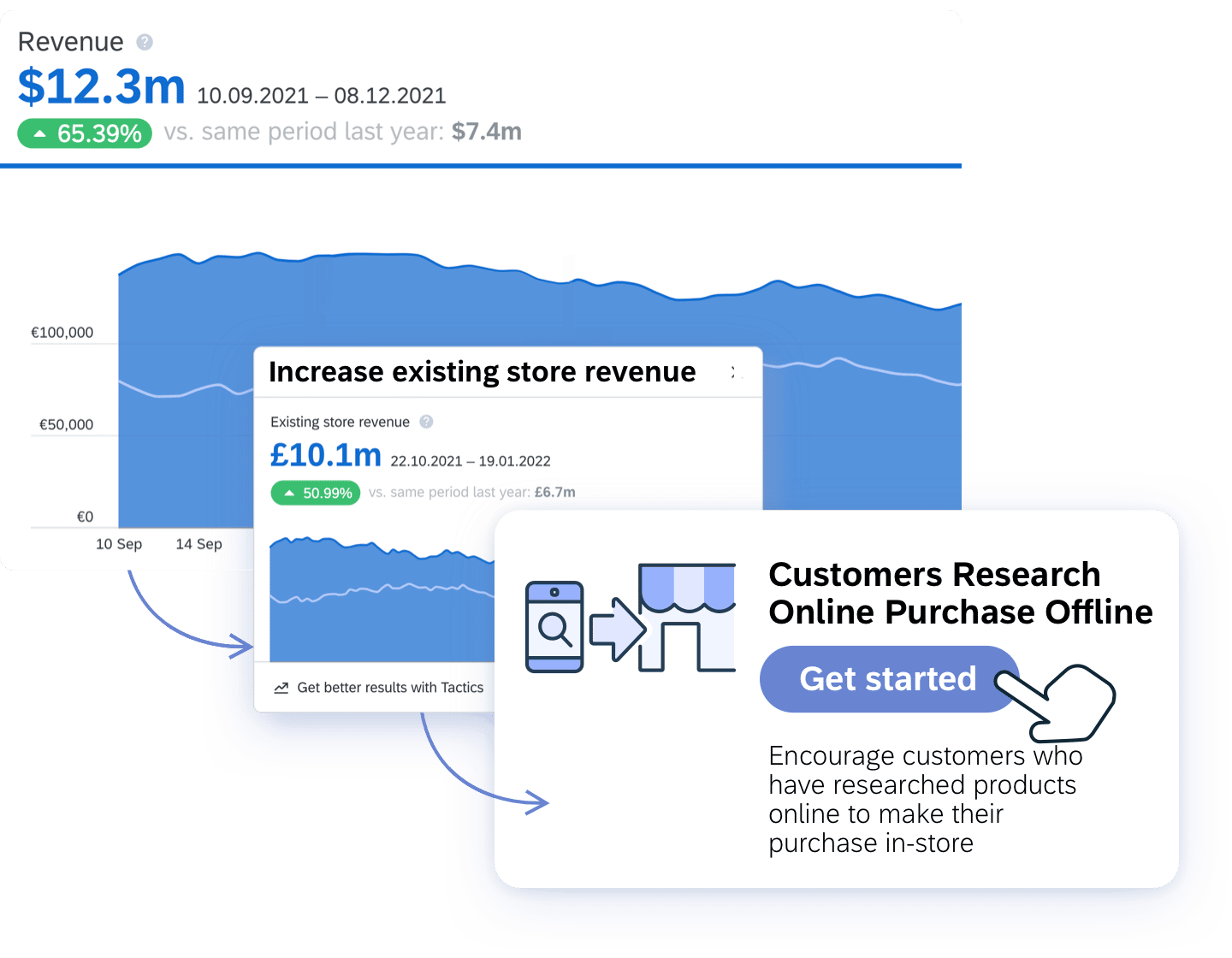 Gibson and Emarsys
Orchestrating Omnichannel Customer Journeys
In this tell-all video, you'll explore Gibson's approach to personalization, optimizing customer journeys, and driving lifelong customer loyalty
12 minutes
Drive foot traffic and enhance the in-store experience with mobile
Create a frictionless in-store experience with dedicated mobile strategies. Use real-time geofencing to deliver personalized push offers that entice customers into nearby stores. Use SMS wait time reminders so customers can still browse your store while waiting in line to make a return. Increase mobile loyalty program sign-ups with in-store signage.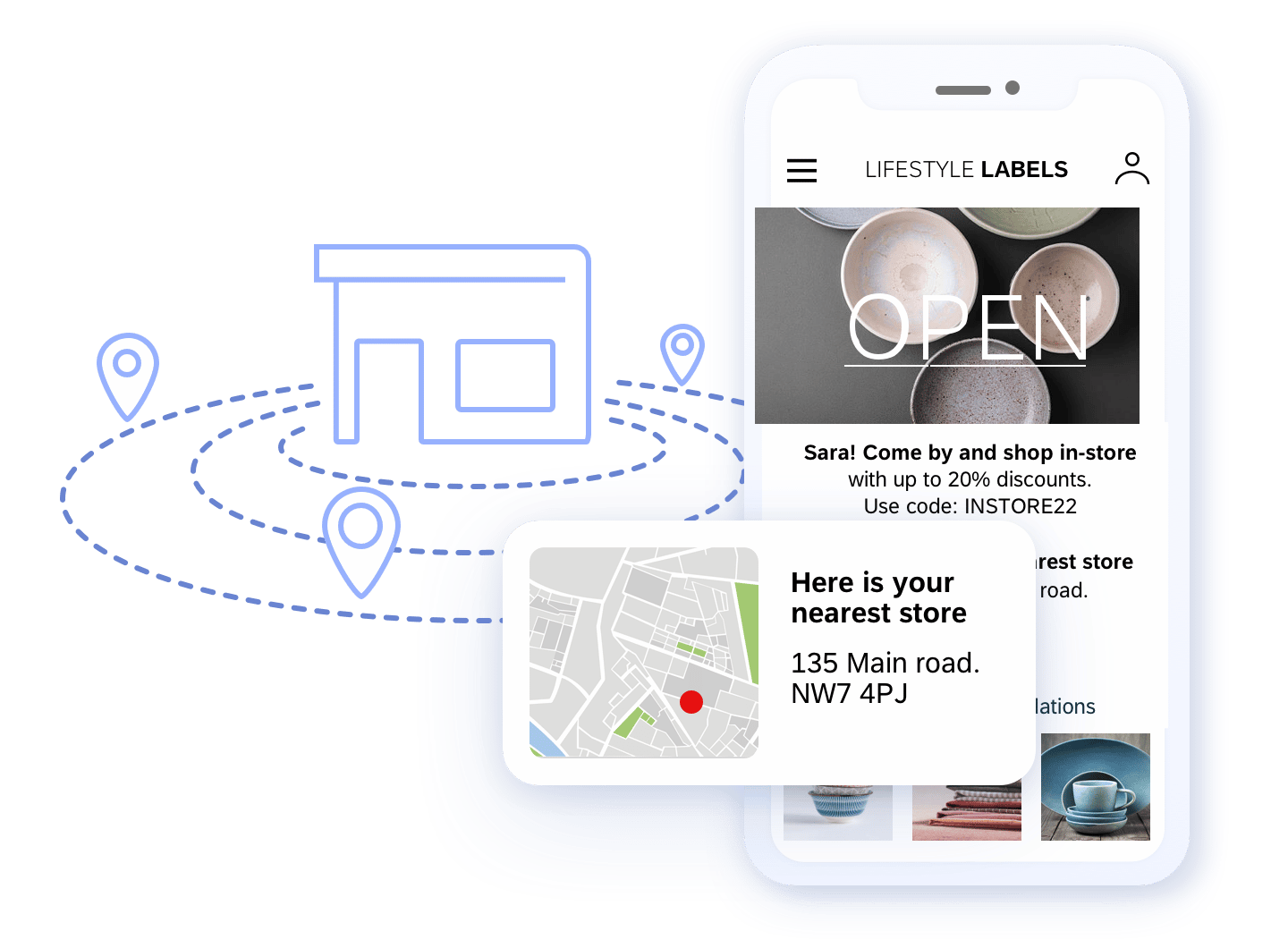 Hear it from our customers
Transforming the in-store customer experience through sustainable fashion
Hear their story
"We've started to introduce a lot more personalized email marketing around our customers' journey, and this shift has expanded, helping us […] to be value additive."
Creating innovative in-store and online experiences with first-party data
Hear their story
"We were able to analyze the data we had, bring it together in one place so it's no longer siloed, [and then] make use of all the technology that Emarsys has in terms of recommendations."
Increasing order value 5-6x with a best-in-class hybrid customer experience
Hear their story
"Being able to implement these customer experiences really comes down to the foundations we had in place with a unified e-commerce solution, and its ability to execute marketing automation across all touchpoints."
Learn more about how in-store fits into our wider customer engagement platform
DISCOVER MORE
More on in-store personalization
Featured Content
Deliver the


predictable, profitable

outcomes that your business demands with our omnichannel marketing solution
Request a Demo