Omnichannel customer engagement for sports and entertainment
Fill more seats and secure lifelong fans with data-powered personalization.
Unlock your customer data to create 1:1 personalized fan experiences that increase engagement, sell tickets, and secure lasting loyalty.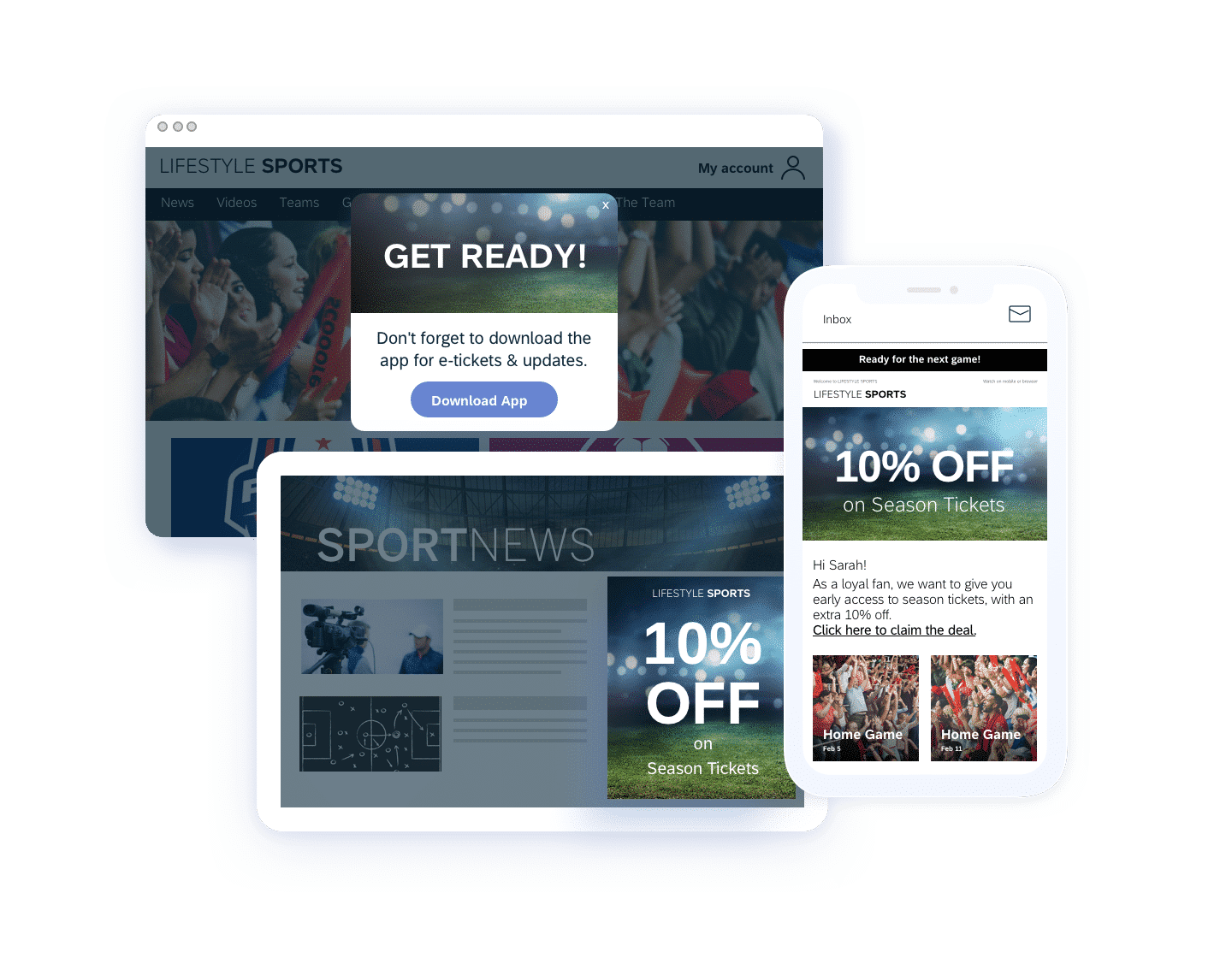 The omnichannel customer engagement platform of choice for leading sports and entertainment organizations
Fuel the fan experience with 1:1 personalized omnichannel engagements that drive business outcomes
Drive profitable year-round revenue
Create and automate revenue-driving upsell campaigns.
Turn first-time ticketholders into loyal fans
Create personalized lifecycle campaigns that promote repeat purchases.
Fill more seats, faster
Optimize your advertising performance with Smart Ad Targeting.
Connect your data across digital and physical locations
Develop an in-depth understanding of your fans, no matter where they engage with you. Drive new business and create ultimate fan experiences that maximize existing revenue opportunities.
Identify and re-engage lapsed ticketholders with dynamic segmentation
Unlock endless database revenue opportunities with dynamic segmentation, powered by AI. Automatically group ticketholders by lifecycle stage and real-time behavior to trigger personalized engagements that win back lapsed or defecting fans.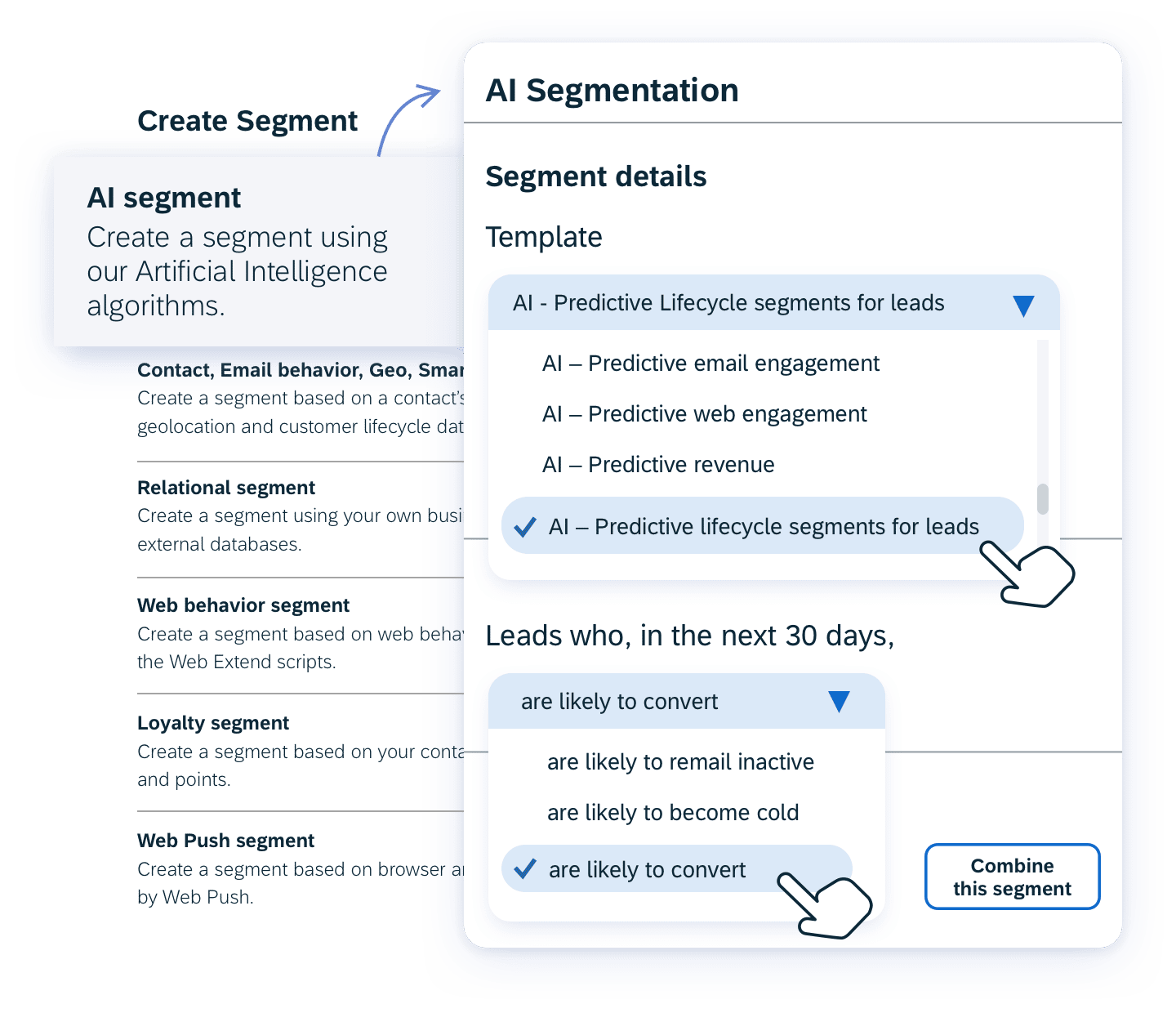 Drive cross-sell and upsell revenue at scale with AI-powered automations
Easily scale automated campaigns across multiple channels, languages, and geographies from within a single platform — without IT support or costly professional services. Let AI handle the decision making and determine the best channel, timing, and offer for each ticketholder to deliver the highest revenue opportunities.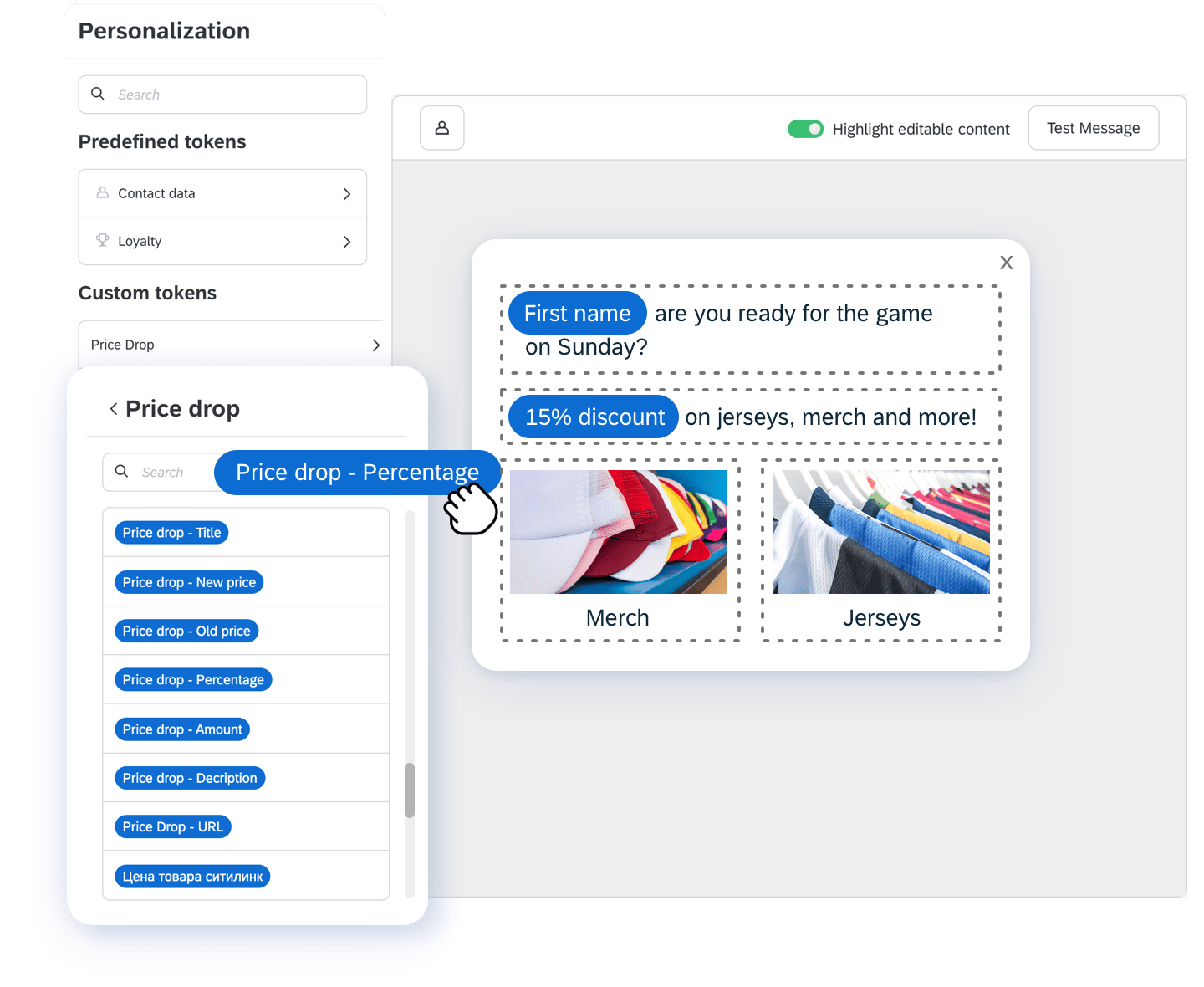 Enhance the fan experience with 1:1 cross-channel personalization
The lines between channels are blurring and ticketholders expect a consistent experience no matter where they engage — whether on a desktop or their mobile device. Build personalized content once, then use that content across email, SMS, push, and web, and deliver based on each fan's unique channel-preference, interests, and affinities.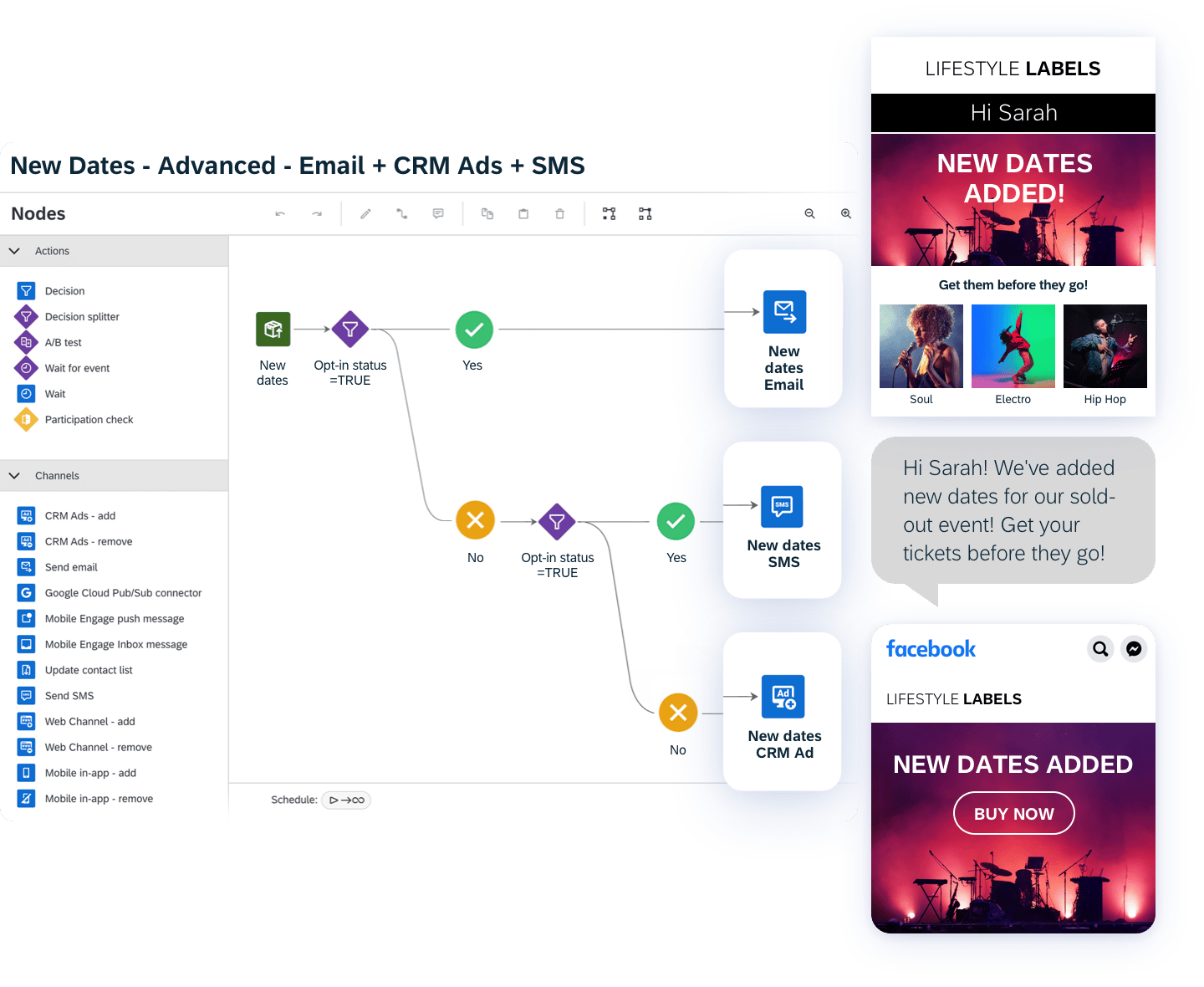 Enable real-time, data-driven decision making
Personalized lifecycle campaigns encourage repeat purchases and upsells by targeting fans based on whether they are a lead, first-time buyer, active customer, defecting customer, or inactive. Emarsys surfaces the best current and future revenue opportunities across the customer lifecycle, helping you work smarter, not harder.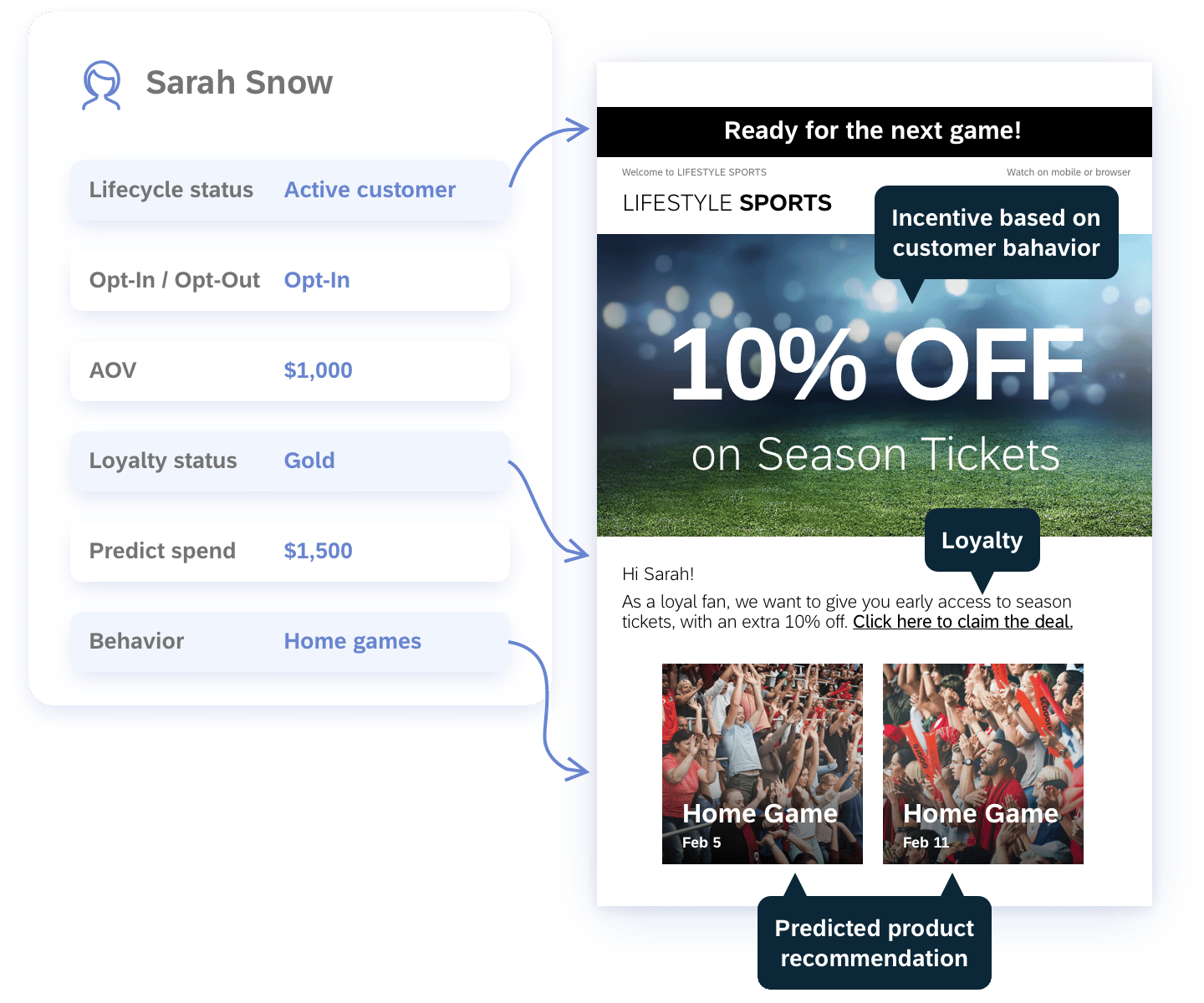 Reach your fans wherever they are
Whether fans are gearing up for a big event, experiencing it live, or reminiscing post-event, you can engage them at every touchpoint. SMS messages break through the noise to offer time-sensitive information, while relevant push notifications help seal the deal to create loyal fans for life and keep them coming back to your app.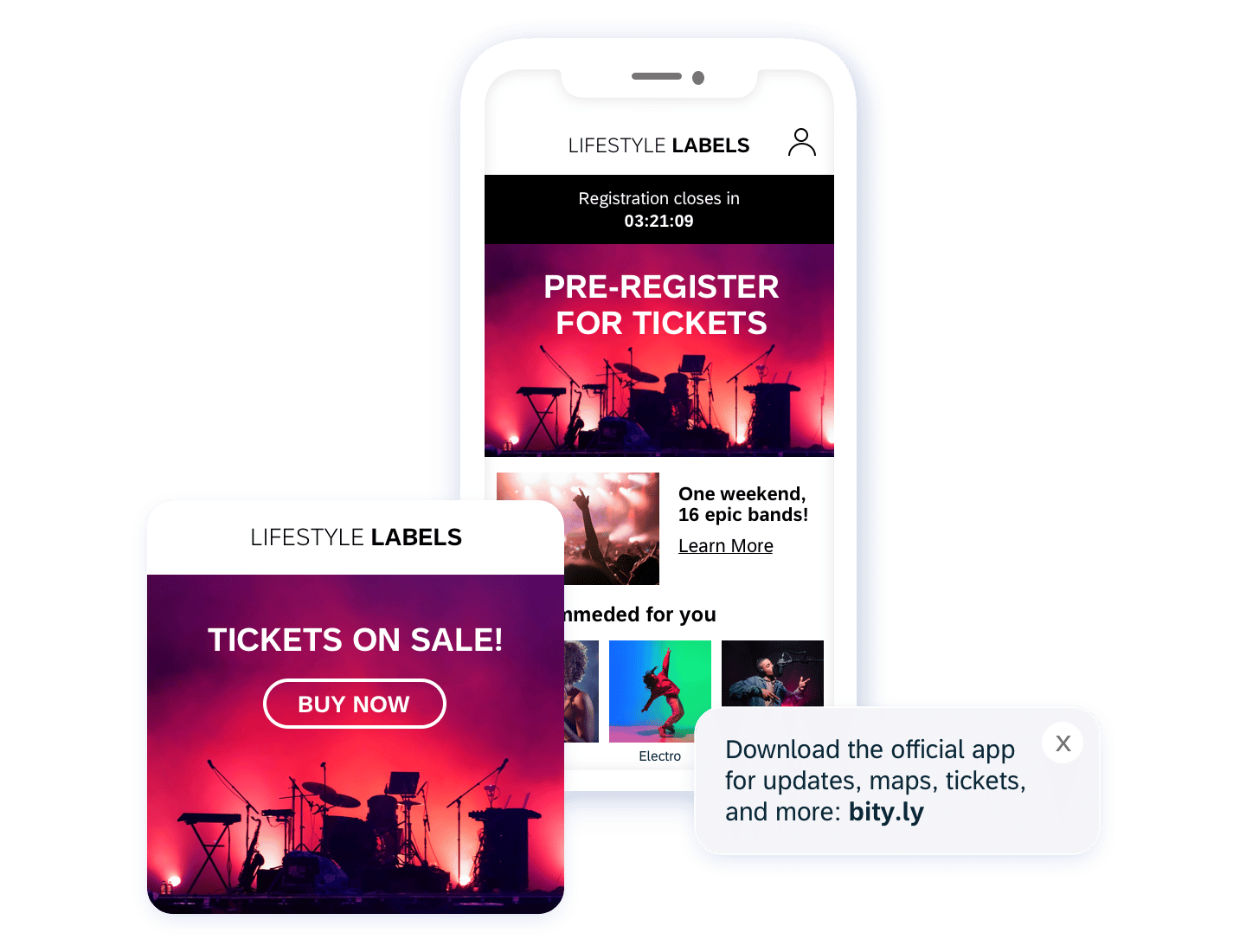 See Emarsys for yourself in
just 3 minutes
Discover why thousands of marketers trust Emarsys's sports & entertainment solution to drive customer engagement and accelerate business outcomes.
Accelerate time-to-value with strategies and tactics
Our crowd-sourced knowledge is built into the platform. Choose from 60+ prebuilt tactics to quickly deploy personalized campaigns at scale.
First time to repeat buyer
Identify the first-time buyers who are likely to purchase more frequently, and target them directly.
Post-purchase upsell
Follow up on a first-time buyer and drive them to a second purchase.
Geolocation
Use geolocation to identify contacts that are near a location and send them an omnichannel personalized offer.
Enhance customer data
Ask for further CRM data to ensure better personalization and give an incentive in return.
Re-purchase
Remind your customers to re-buy on a regular basis.
New-in alert
Alert your customers of new products or events they could be interested in.
Download app
Ask customers who purchased online to download your app to gather push opt-in.
Post-purchase feedback
Create promoters with a post-purchase review SMS campaign to drive satisfaction and repeat purchase.
Win Back Defecting Customers
Catch defecting customers before they become inactive and drive them to make another purchase.
Hear it from our customers
Delivering 1:1 personalized content using real-time triggers
Hear their story

"With Emarsys, we have been able to address business challenges within our organization by gaining deeper insights on our customers."
Automating customer engagement in just two months with omnichannel journeys
Hear their story

"We had all our lifecycle campaigns automated right from the launch. In such a short time and with so little human effort, I think that's a very impressive result."
More on customer engagement & loyalty
Featured Content
Deliver the


predictable, profitable

outcomes that your business demands with our multi-channel marketing platform.
Request a Demo