Omnichannel customer engagement for media and communications
Create relevant, personalized engagements that grow monthly recurring revenue.
Unlock the power of first-party data to create personalized cross-channel engagements that improve consumer experience, foster loyalty, and maximize monthly recurring revenue.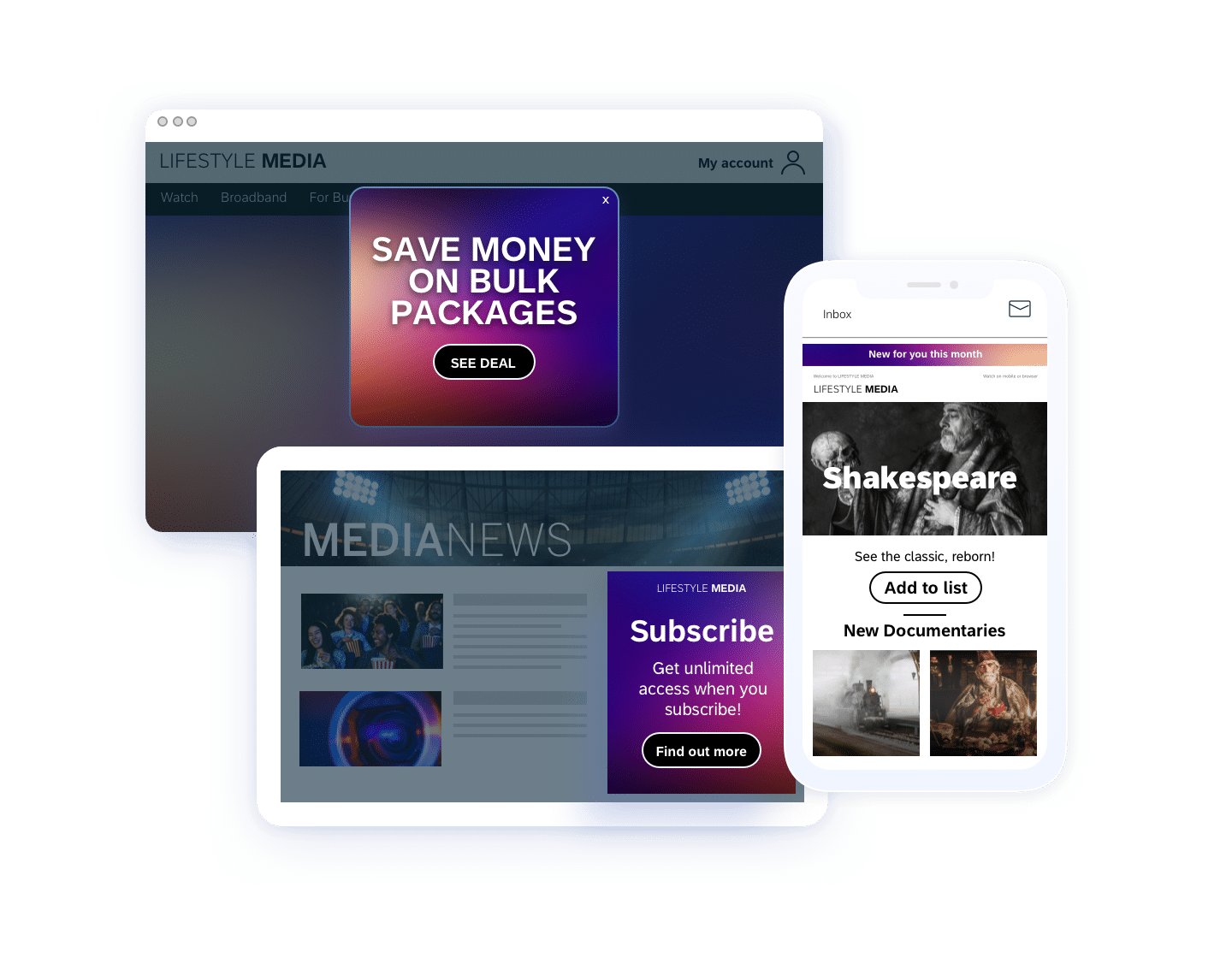 The omnichannel customer engagement platform of choice for leading media and communications businesses
Win the loyalty of consumers and grow monthly recurring revenue with 1:1 personalization at scale
Meet rising customer demands and tightening industry regulations
Deliver the hyper-relevant engagements that your customers expect with 1:1 personalization at scale.
Identify upsell opportunities to grow MRR
Use dynamic segmentation to identify and capitalize on monthly recurring revenue opportunities.
Grow loyalty with omnichannel customer service
Deliver frictionless support by integrating customer service across web, email, SMS, and mobile app.
Connect your first-party data to effectively engage consumers and subscribers
Unify your data and gain clarity on why your subscribers renew, upgrade, or downgrade their plans. Leverage that data to build dynamic segments and create engaging, personalized content and offers that deliver on your key business outcomes.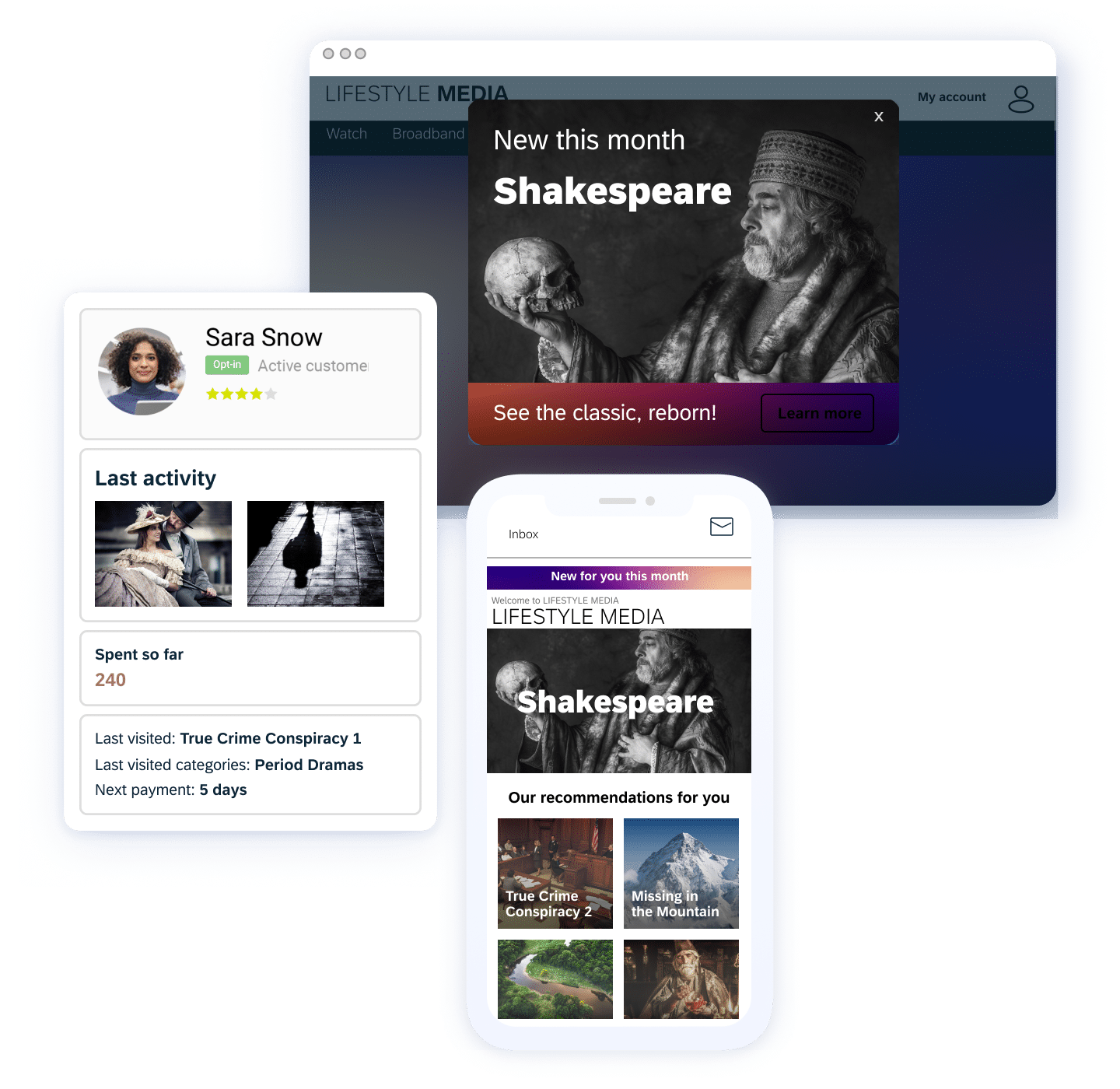 Improve consumer engagement by connecting your customer support
Reduce customer service friction and ensure subscribers receive a smooth support experience. Emarsys combines customer service and marketing automation, allowing you to turn tickets into triggers that activate both pre-built and customizable cross-channel automations.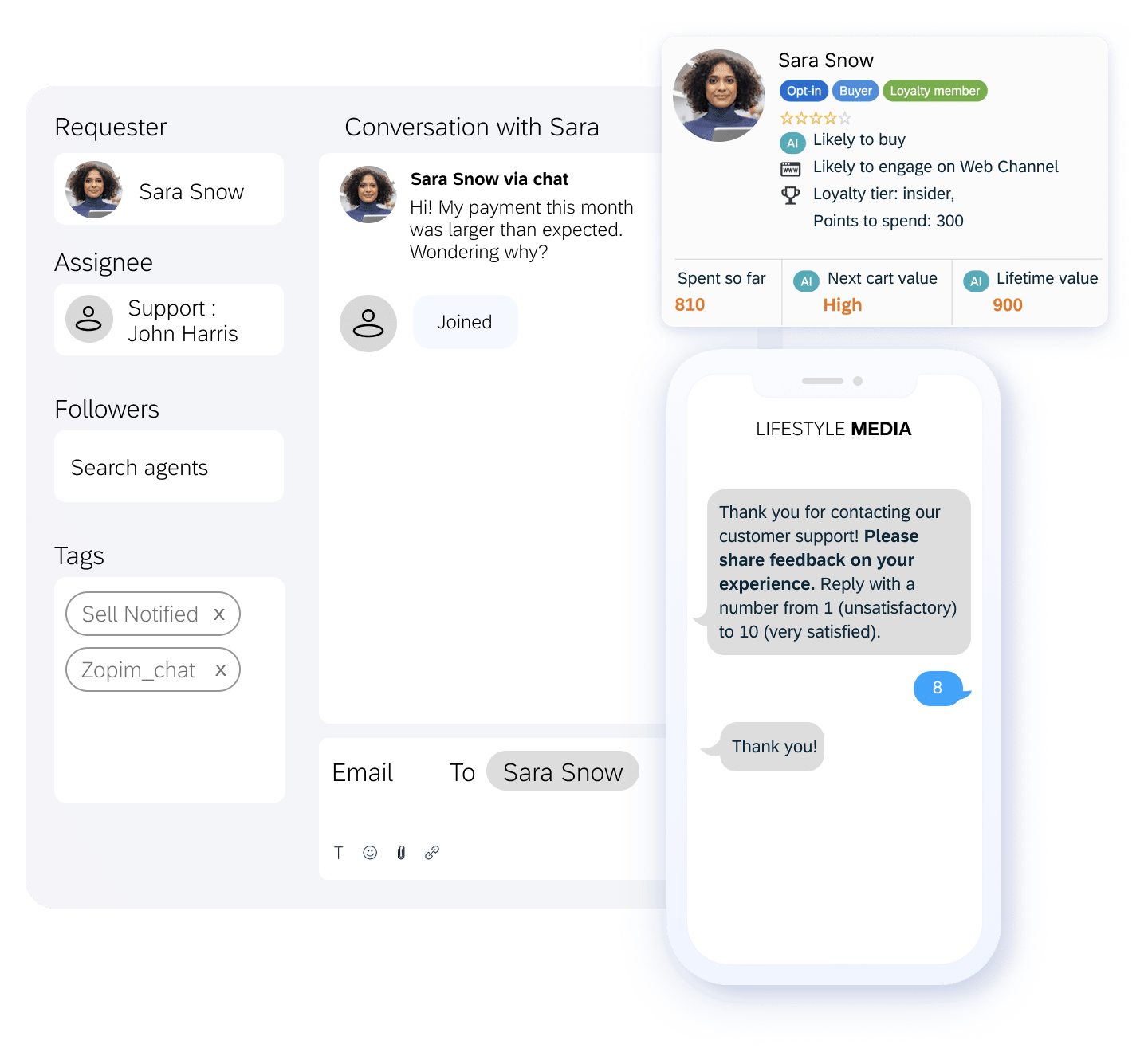 Drive subscription tier revenue with AI automations
Surface and react to early signs of consumer dissatisfaction, and encourage subscription tier upgrades at key stages of the customer lifecycle. Create dynamic, cross-channel AI-powered automations that work at scale to effectively reduce consumer churn and increase monthly recurring revenue.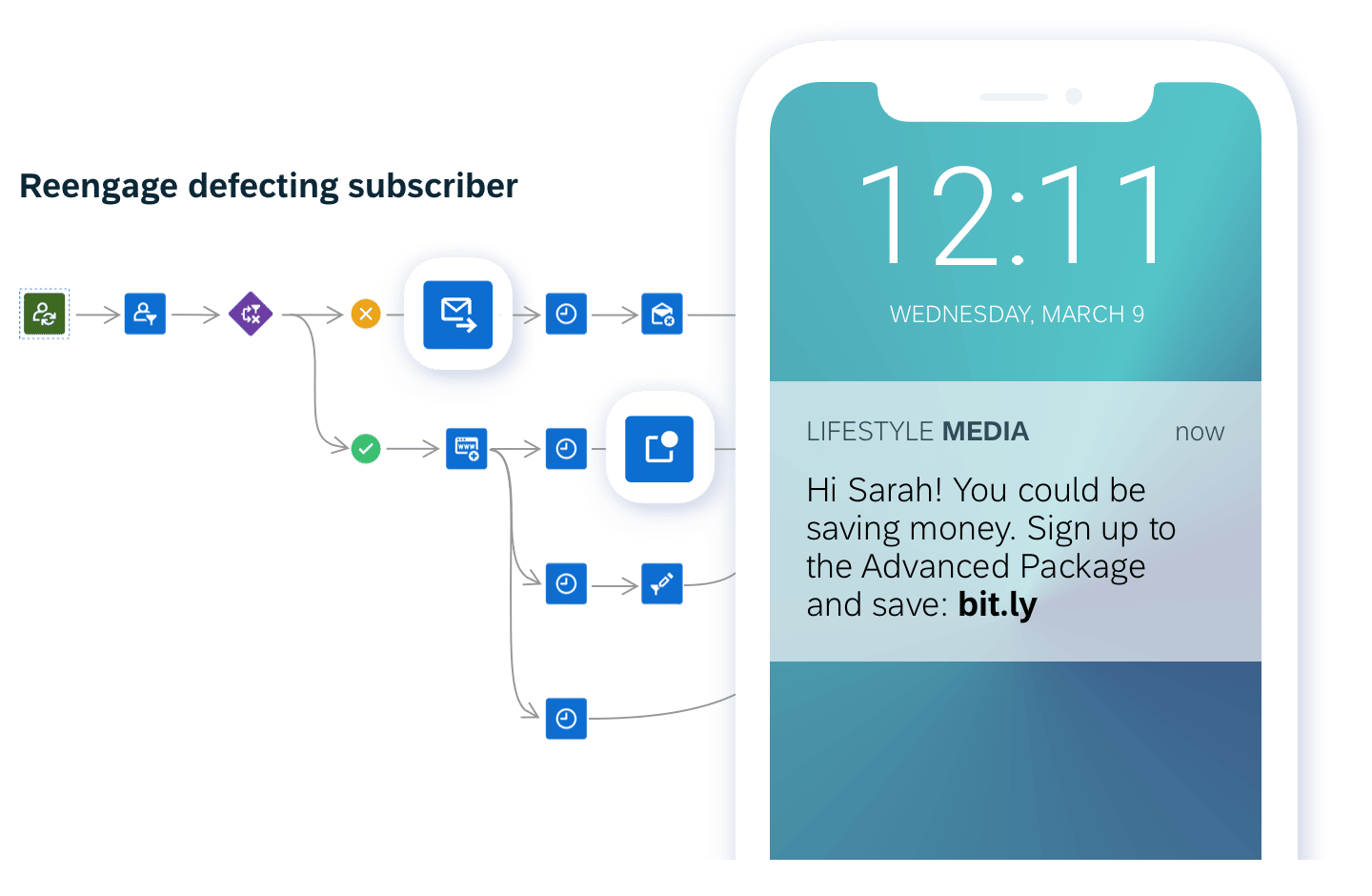 Personalize engagements to maximize relevancy, revenue, and CX
Rise to the challenge of heightening consumer expectations by delivering hyper-relevant, 1:1 personalized experiences at scale. Use individual subscriber interests, real-time viewing data, and much more to deliver personalized content recommendations and cross-channel engagements that accelerate business outcomes.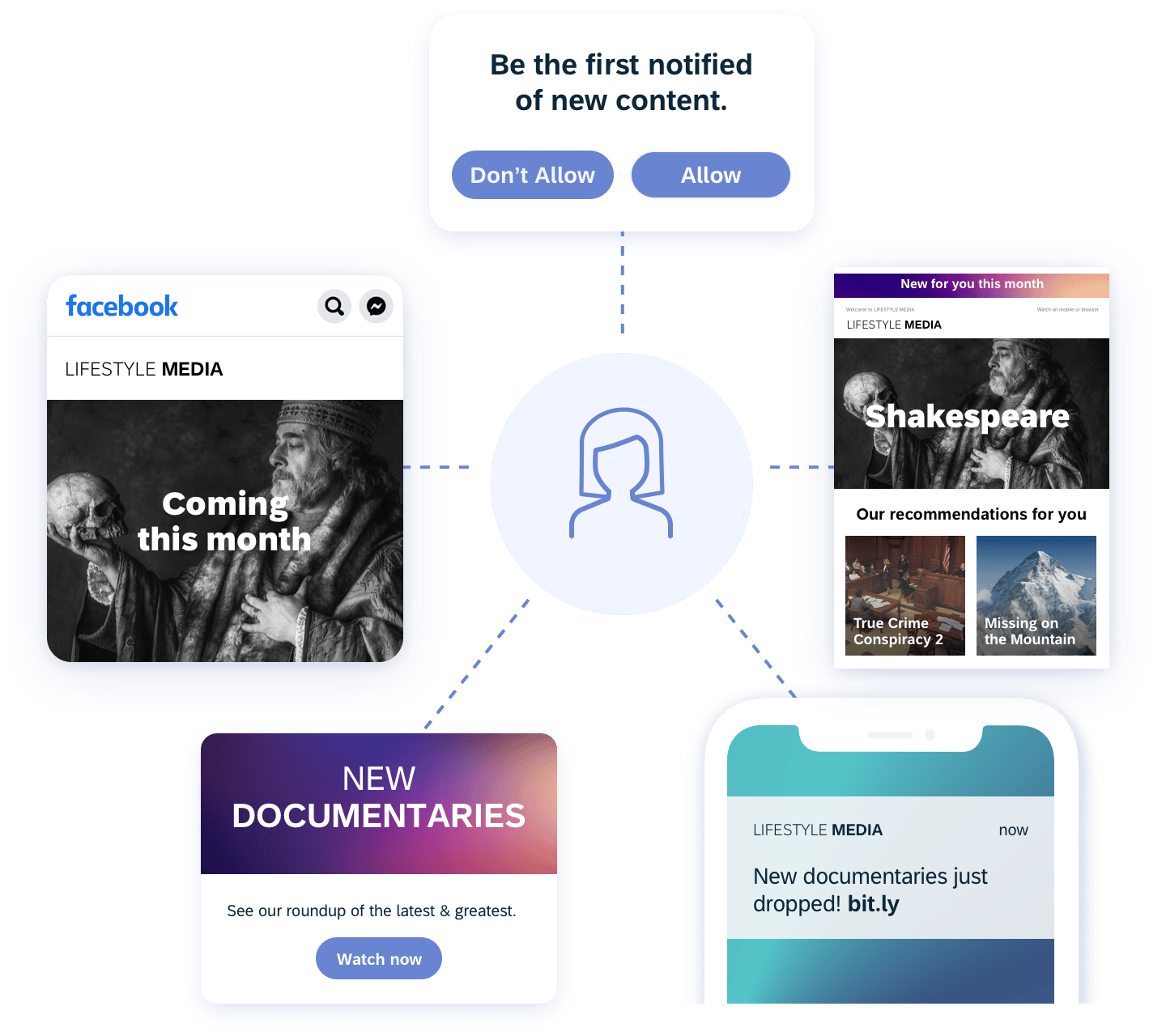 Gibson and Emarsys
Orchestrating Omnichannel Customer Journeys
In this tell-all video, discover how companies like Gibson Brands are approaching personalization, optimizing customer journeys, and driving lifelong loyalty
12 minutes
Drive additional revenue with insights and analytics
Make smart, quick decisions with AI-driven insights and analytics, and confidently demonstrate the revenue impact of your marketing activities. View marketing performance down to specific lifecycle stages and campaigns, complete with clear guidance on how to optimize and drive additional revenue.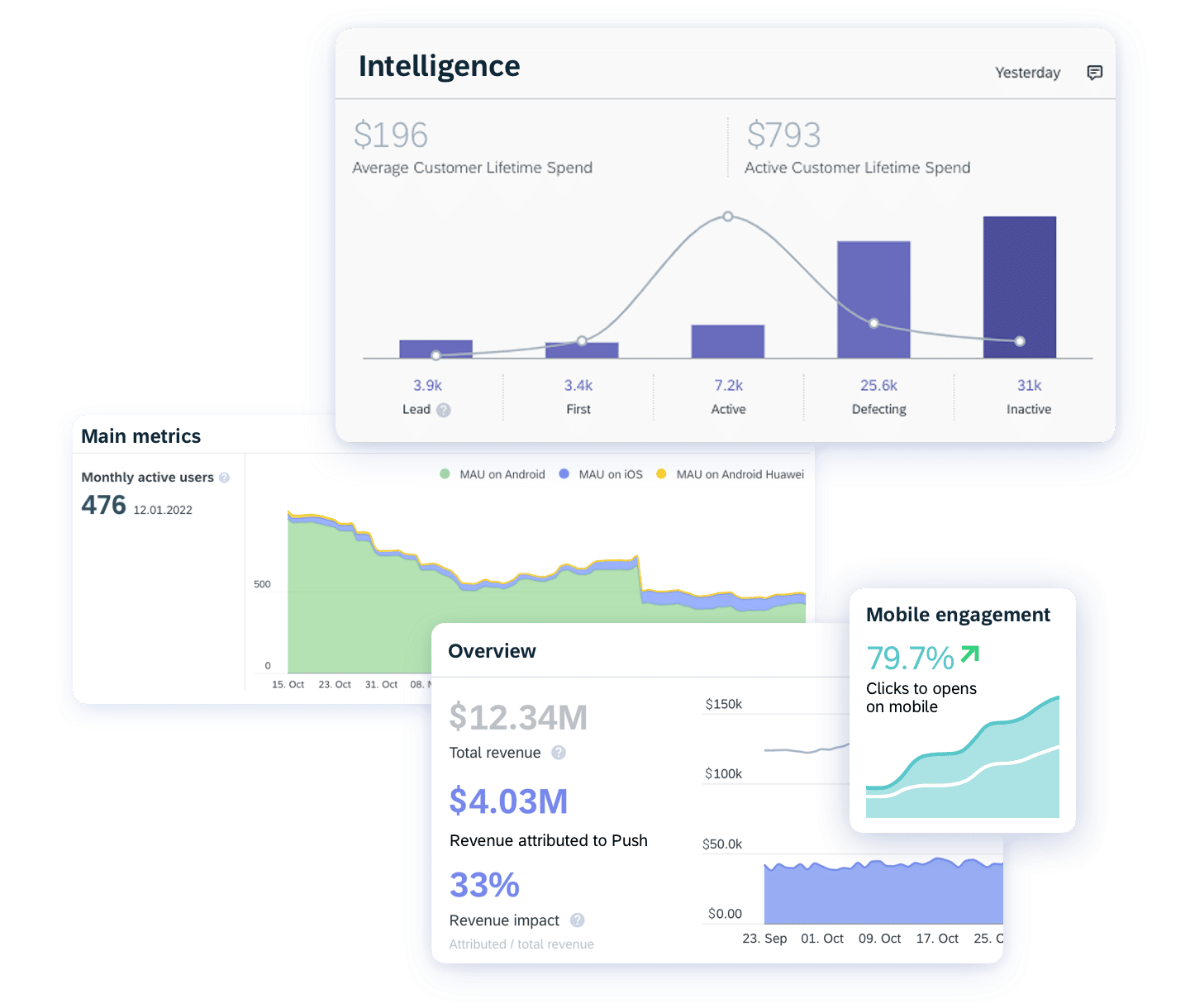 Accelerate time-to-value with strategies and tactics
Our crowd-sourced knowledge is built into the platform. Choose from 60+ prebuilt tactics to quickly deploy personalized campaigns at scale.
Refer a friend
Let your members know about your referral program and reward them when they successfully refer a friend.
Welcome new contacts
Welcome your newest contacts and make a great first impression.
Lead re-engagement
Drive inactive leads to their first purchase.
Download app
Ask your contacts who purchased online to download your app to gather push opt-in.
Progressive profiling – mobile
Capture the mobile telephone number of a customer after a purchase to keep them engaged over time.
Registration anniversary
Engage customers on the anniversary of their registration to drive revenue and reward loyalty.
In-session upsell
Increase average order value by displaying a timely website overlay.
Enhance customer data
Ask for further CRM data (i.e., date of birth) to ensure better personalization and give an incentive in return.
New in alert
Inform your customers of new products they might be interested in.
Hear it from our clients
Creating automated, personalized experiences for 10m+ users
Hear their story

"We want to personalize the whole product experience. Eventually, no two people who enter [our] bubble should have the exact same experience if they use the product differently."
Increasing relevance and revenue with the power of behavioral data
Hear their story

"Through our partnership with Emarsys, we reached a solid increase in our revenues and dramatically increased the relevancy of all our communication going out by bringing in data."
More on customer engagement & loyalty
Featured Content
Deliver the


predictable, profitable

outcomes that your business demands with our omnichannel marketing solution
Request a Demo