The Business
Gibson Brands is a world leading, iconic musical instrument brand that has been shaping the sound of music for generations. Founded in 1894 by Orville Gibson, Gibson is built on a foundation of innovation, world-class quality, and craftsmanship. The Gibson Brands portfolio includes Gibson, Epiphone, Kramer, Steinberger, Tobias, Mesa/Boogie, Maestro and KRK, with each brand holding a unique identity, a compelling story, and a shared mission: to own the largest share of sound.
Retail & E-commerce, Lifestyle and Entertainment
Nashville, Tennessee
Shaping sound since 1894
The Challenge
Increase engagement across channels
Convert single-channel customers to multi-channel customers
Build stronger customer relationships and loyalty
Understand customers through data
Before partnering with SAP Emarsys, Gibson Brands mostly relied on partner sellers to drive revenue for the business, like Guitar Center, Sweetwater, or Long & McQuade. However, they were looking for ways to expand their direct to consumer capabilities. This meant setting up retail channels and engagement tactics from the ground up while working with retail partners to help support their B2B2C strategy.
With a customer base that ranges from beginners to renowned music artists, they needed a solution that would enable them to deliver each individual with relevant content to make purchase decisions right for them. They also wanted to be able to grow with their customers throughout their Gibson Brands journey with value-added content along the way.
"We were fairly basic in the CRM world until we started working with Emarsys. We were immediately able to utilize data to help us identify different personas. This allowed us to reach different types of fans in the different ways that we know that they are wanting us to connect with them."
The Solution
Gibson Brands needed to connect with Gibson fans across all levels of expertise, and across different purchasing channels. To do that, they were looking for a solution to consolidate their engagement channels so they could not only learn more about their customers, but also engage consistently and thoughtfully across each customer's preferred channel.
Using storytelling to drive cross-channel engagement
With such a rich musical history, Gibson decided to use that to drive engagement with storytelling. They created media devoted to every aspect of guitars, ranging from tips for hobbyists to discussions with celebrities. Their goal was to provide customers with stories that resonate rather than create boring, easily forgotten content.
To support their focus on building engagement, they launched the Gibson App. It quickly became the #1 guitar learning app, where Gibson fans can use the app to learn guitar, explore content, and play new songs. It also provided Gibson with a new revenue stream. With app users being synced into Emarsys, Gibson gains a better understanding of what stage the customer may be at and can deliver better recommendations.
"The goal is to get a single channel fan to interact with our brands in a multiple channel way. So anything that we can do to get them further down that funnel, whether it's to make a purchase, whether it's how they want to learn how to play guitar even better, whatever their goal is…we want to make it as easy and simplistic as possible for them to actually get to that content to make that decision."
Setting up D2C: Using automation to drive the right products to different personas, from beginners to loyal enthusiasts
With help from the Emarsys team and pre-built tactics providing a baseline, they were able to personalize foundational automation journeys to each Gibson Persona, driving stable revenue growth. Automation enabled Gibson to drive engagement with their content. One of Gibson's most successful automation campaigns is their welcome series, which enables them to build a relationship with a customer from the very beginning. Their post-purchase series enables them to engage buyers with maintenance tips and content to continue their relationship post purchase with loyalty-driving content, including recommended items that complement their recent purchase.
Gibson and Emarsys
Orchestrating Omnichannel Customer Journeys
In this tell-all video, you'll explore Gibson's approach to personalization, optimizing customer journeys, and driving lifelong customer loyalty
12 minutes
Bringing Together Digital with In-person at the Gibson Garage
Gibson Brand's flagship store, Gibson Garage, in Nashville, Tennessee, culminates the ultimate fan experience into a physical presence. Gibson Garage holds core merch, as well as a vast selection of guitars, including the ability to design custom instruments. With a goal of inviting people together into a physical space, it's devoted to supporting customers by being a home to everything from live concerts to guitar experts to provide advice on any purchase — even through third-party sellers. With the help of Emarsys, Gibson is integrating data from in-store visits for a more holistic experience for visitors to Gibson Garage.
Connecting data sources with Emarsys' Integrated Data Layer

We're feeding a couple of different data sources into Emarsys: Our purchase data from .com, web behavior data, our app, and we're working on integrating data from the Gibson Garage so we can get a more omnichannel view of how people are shopping. That helps us paint that customer picture in a way that we weren't doing before.
Jon Martz, CRM Manager, Gibson Brands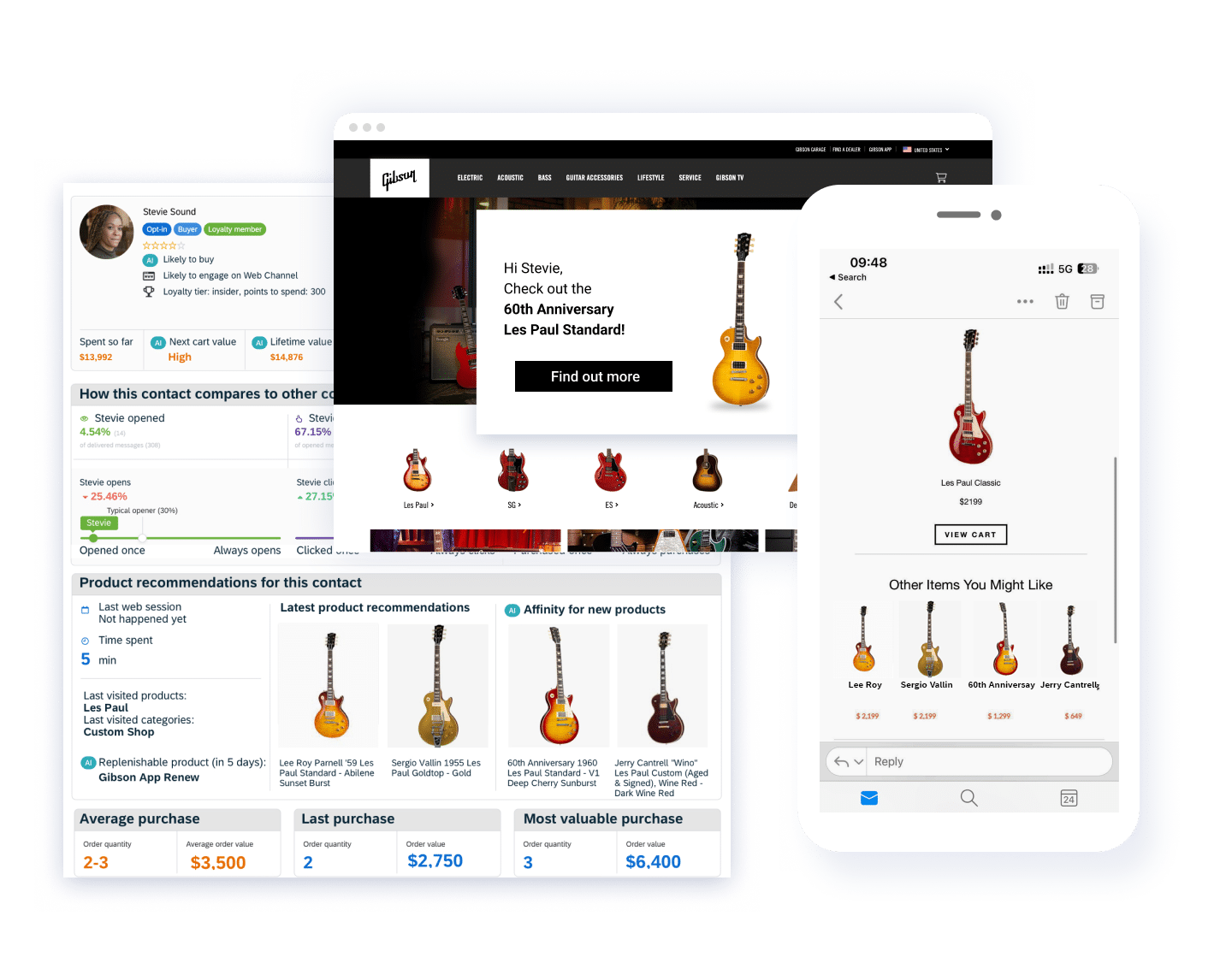 Scaling personalization with automation
With unified data, Gibson was able to scale personalization by triggering meaningful and personalized campaigns to different customer segments, like welcome, abandoned cart, back-in-stock, and post-purchase journeys. Using tokens and block targeting, and product recommendations, Gibson can ensure each email is tailored effectively for the recipient.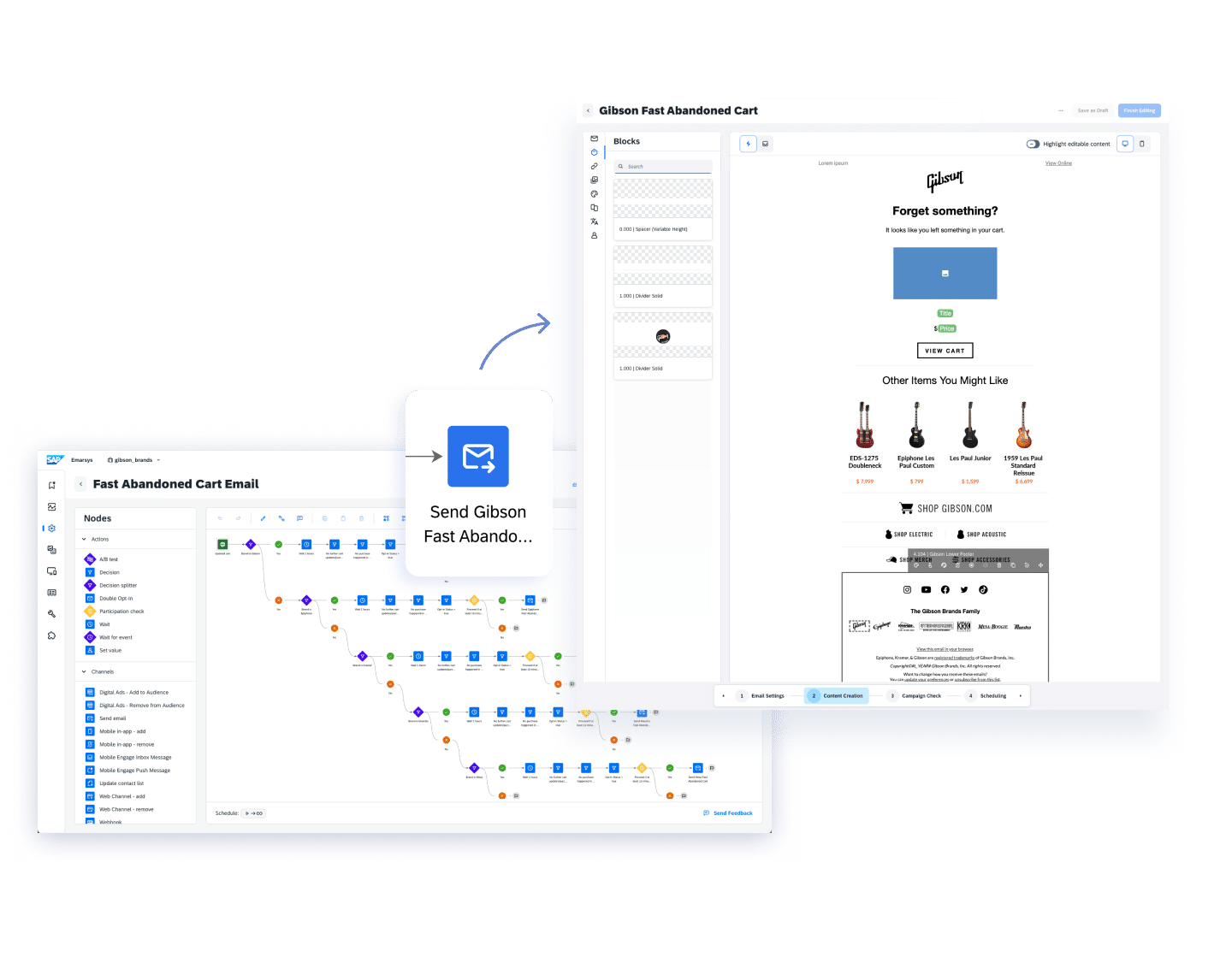 Driving stable revenue with abandoned cart
"Abandoned cart has been really successful for us. It's one of those, you make it and you leave it, and it's driving passive revenue in the background."
Jon Martz, CRM Manager, Gibson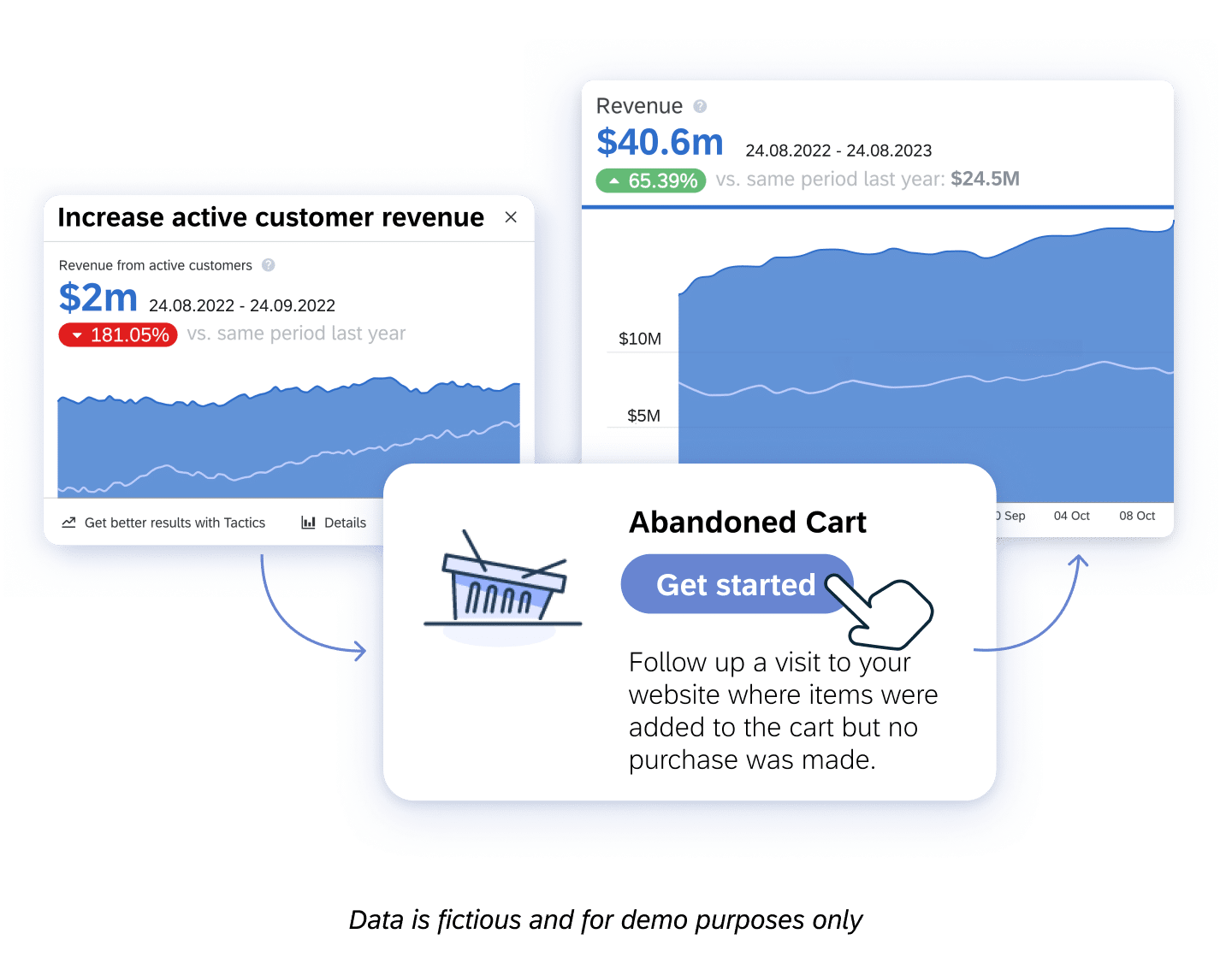 Connected mobile app to power content
The Gibson App, the #1 guitar learning app, enables Gibson fans to learn guitar, explore content, and learn to play new songs.
With the app integrated with Emarsys, Gibson can leverage data from across channels and devices to deliver a consistent, personalized experience.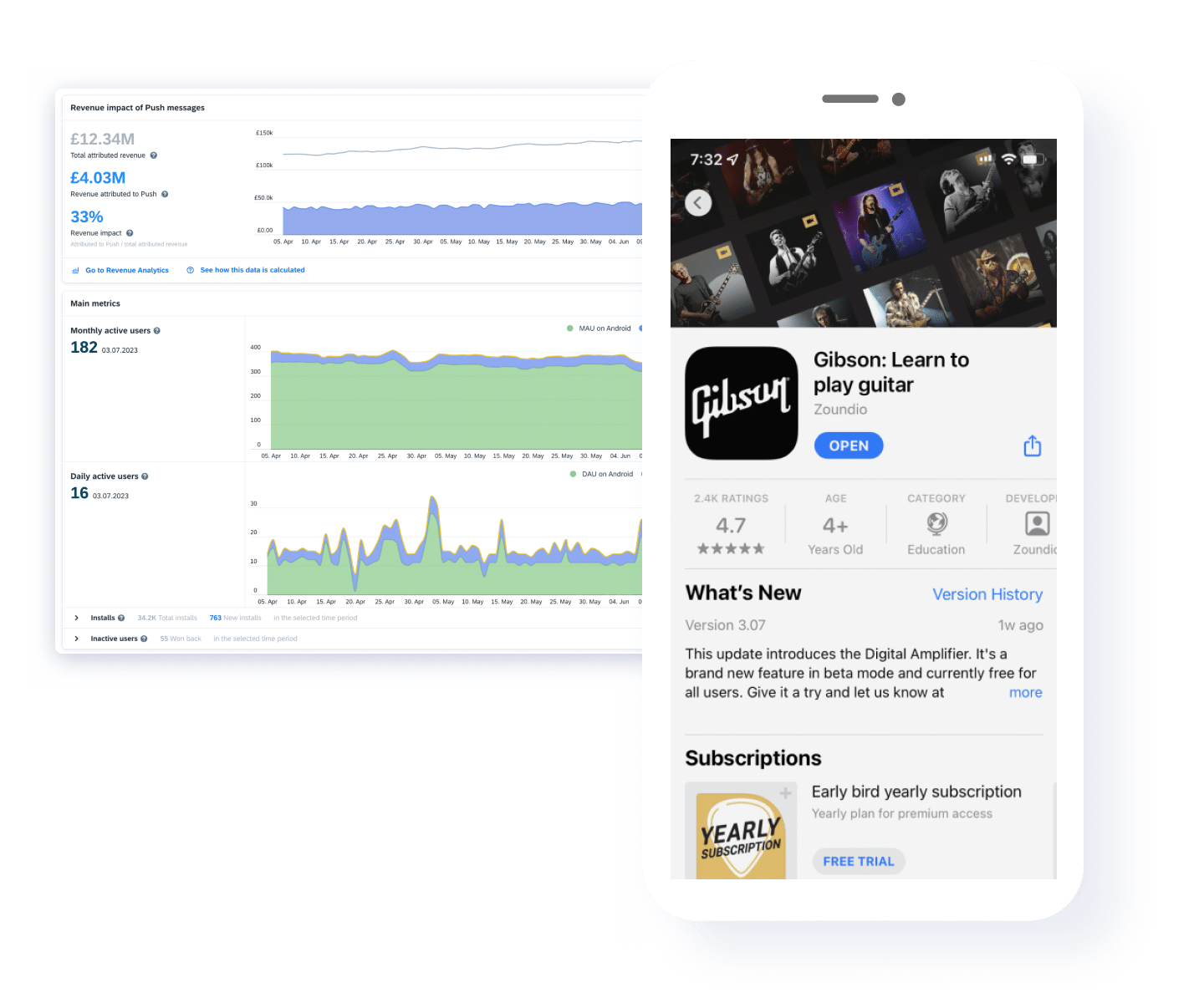 Connecting online and offline behavior
We're really excited to take the data that we are able to get and start to have a more engaged relationship with our fans that come into the Gibson Garage. That's where Emarsys is coming into play. It's just another area to say, 'YOU, the FAN, has experienced that Gibson here. Now how can we take it to the next level?
Josh Ehren, Global Head of Direct to Consumer, Gibson Brands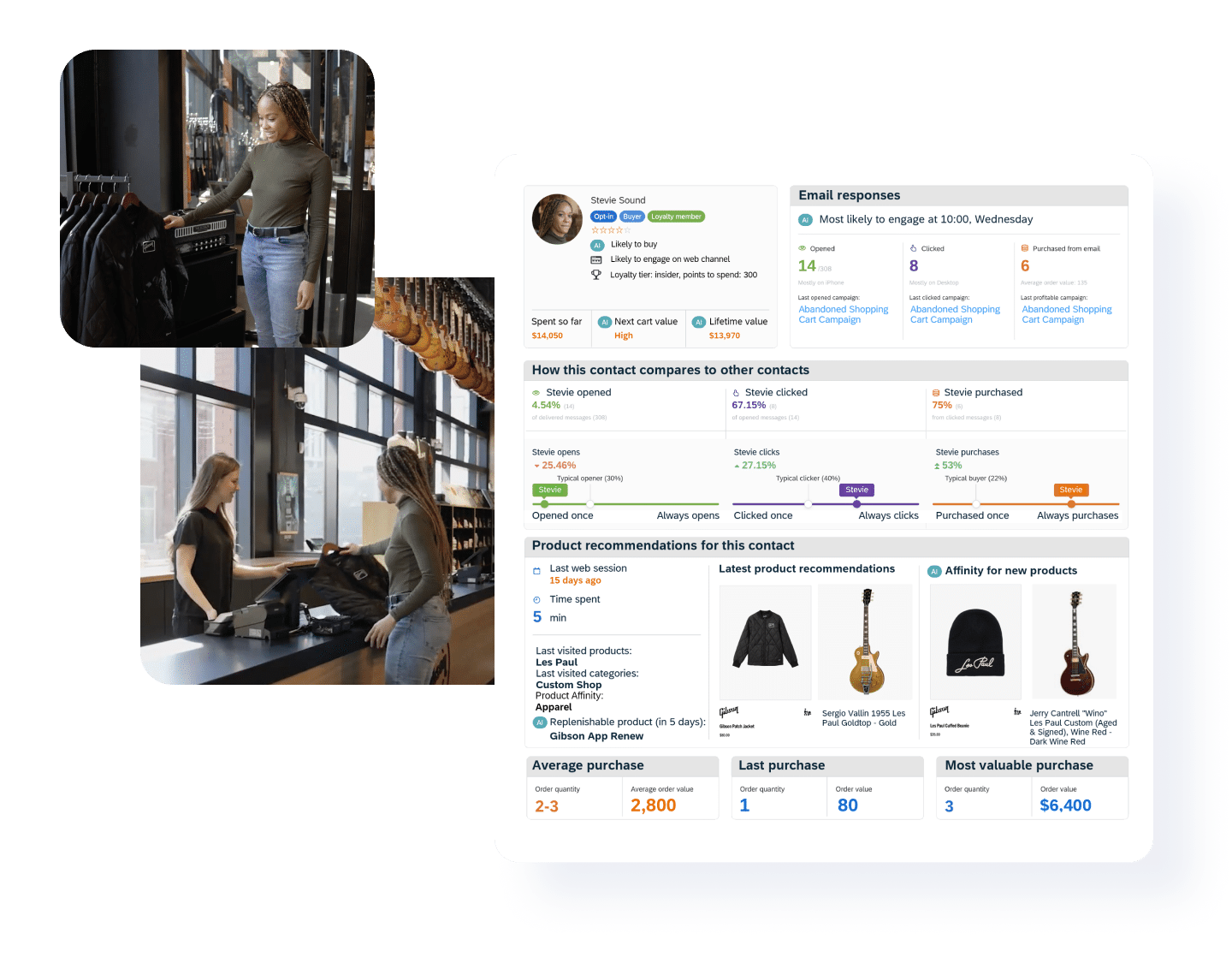 The Impact
With Emarsys in place, Gibson is able to connect all its engagement channels for a more holistic customer experience. By starting with email as their main engagement channel, Gibson is able to leverage first-party data to drive personalization across other channels, communicating with customers where they are to drive awareness, purchase, and loyalty.
Their next step is to continue driving better connections and experiences between environments, sellers, brands as well as continue expanding to new channels. Their plan is to continue to enhance foundational automation to drive better journeys to increase loyalty. They also plan to explore how to improve loyalty further with a connected, integrated loyalty program, powered by Emarsys.
50% growth in email revenue in the first year
since using Emarsys
27%
increase in email impact on the business overall
2x
email engagement since using Emarsys
10%
of revenue driven by automation in 2022
"If we do right by our fans, that's where we are all going to win and ultimately the fans will win. We really want to take the data and understand what they need next.

We want to understand how we can connect individual fans based on where they are and how they want to interact with us. And that's where Emarsys has continually come into play with us. I am very thrilled to just keep that relationship going because it's been extremely fruitful so far."
Deliver the


predictable, profitable

outcomes that your business demands with our omnichannel marketing solution
Request a Demo