The Business
Retail / Foodservice
UK franchisee-owned huts
Total countries of operation
As one of the largest global pizza chains in the world, Pizza Hut has spent the last few years developing its cross-channel digital media strategy to drive sales across 380 franchisee-owned Pizza Hut delivery huts. Pizza Hut's strategy in the competitive UK market is all about being relevant, easy, and distinctive in everything they do, from developing campaigns to delivering pizza to outer space.
The Challenge
Siloed data
Fostering loyalty and increased retention
Driving purchase frequency
Measuring ROI
The UK pizza delivery market is competitive, and one bad experience can send a customer to a competitor. In the past, Pizza Hut sent generic batch-and-blast emails with undifferentiated discounts. To nurture loyalty, Pizza Hut had to better understand its customers and deliver a consistently exceptional experience throughout the customer lifecycle while keeping up with emerging trends and changing demands.
To do that, Pizza Hut needed the guidance of data insights so they could understand which customers to focus their attention on. But bringing data together in a tangible way was overwhelming and labor-intensive. Pizza Hut also lacked the ability to see if marketing efforts are contributing positively to ROI, leaving them less confident that they were on the right track.
Catriona Woodward
Head of Digital Marketing, Pizza Hut
"Our strategy at Pizza Hut is all about being relevant, easy, and distinctive. We're driven not only by delivering a functionally frictionless experience but also by building meaningful relationships with our customers. Delivering customers the right message at the right time via the right channel is paramount to that goal."
The Solution
Pizza Hut needed support to align the right technology with the right strategy — one that they could scale and optimize over time.
With support from Emarsys, Pizza Hut improved their data capture, setting the foundation for creating personalized campaigns. By using self-reported data paired with real-time customer engagement behavior data, Pizza Hut gained clear insights and actions to grow revenue. By connecting their behavioral segments and custom scoring to Emarsys, they were able to create differentiated journeys based on lifecycle stages and loyalty status. Agile automation then enabled them to scale relevant 1:1 communications to customers through personalized post-purchase and lifecycle campaigns, which improved loyalty, revenue, and margins.
Driving Revenue with BAU Lifecycle Automations
Pizza Hut's marketing team gained the ability to fully leverage their data to create critical lifecycle campaigns such as Welcome, Abandoned Cart, Abandoned Browse, and Lapsing Win-Back. As a result, they saw quicker time to value and boosted their CLTV and loyalty.
In their Welcome campaign, Pizza Hut gained first-party customer data by incentivizing customers to share their dining preferences, dietary restrictions, and party size. This information gave Pizza Hut the opportunity to segment customers and nurture them through various customer journeys, tailoring discounts and content to ensure relevancy.
Increasing Purchase Frequency of Loyalty Customers
Pizza Hut increased repeat purchases through their custom loyalty program by nudging loyalty contacts to unlock their next reward, and informing them of the number of slices of pizza they have earned from their returning orders.
The brand increased signups to their loyalty program by launching an A/B tested, interactive campaign that gave customers the option to choose a free pizza instead of just getting a free side.
Data Capture in Welcome Journey
The welcome journey was designed to incentivize customers with a discount in order to gain first-party data necessary for personalization. Based on customer-shared insights such as dietary preferences and party size, images and offers were tailored to deliver a better, more relevant experience.
If customers didn't engage with the welcome journey, an SMS would then be triggered to re-engage the customer through another channel.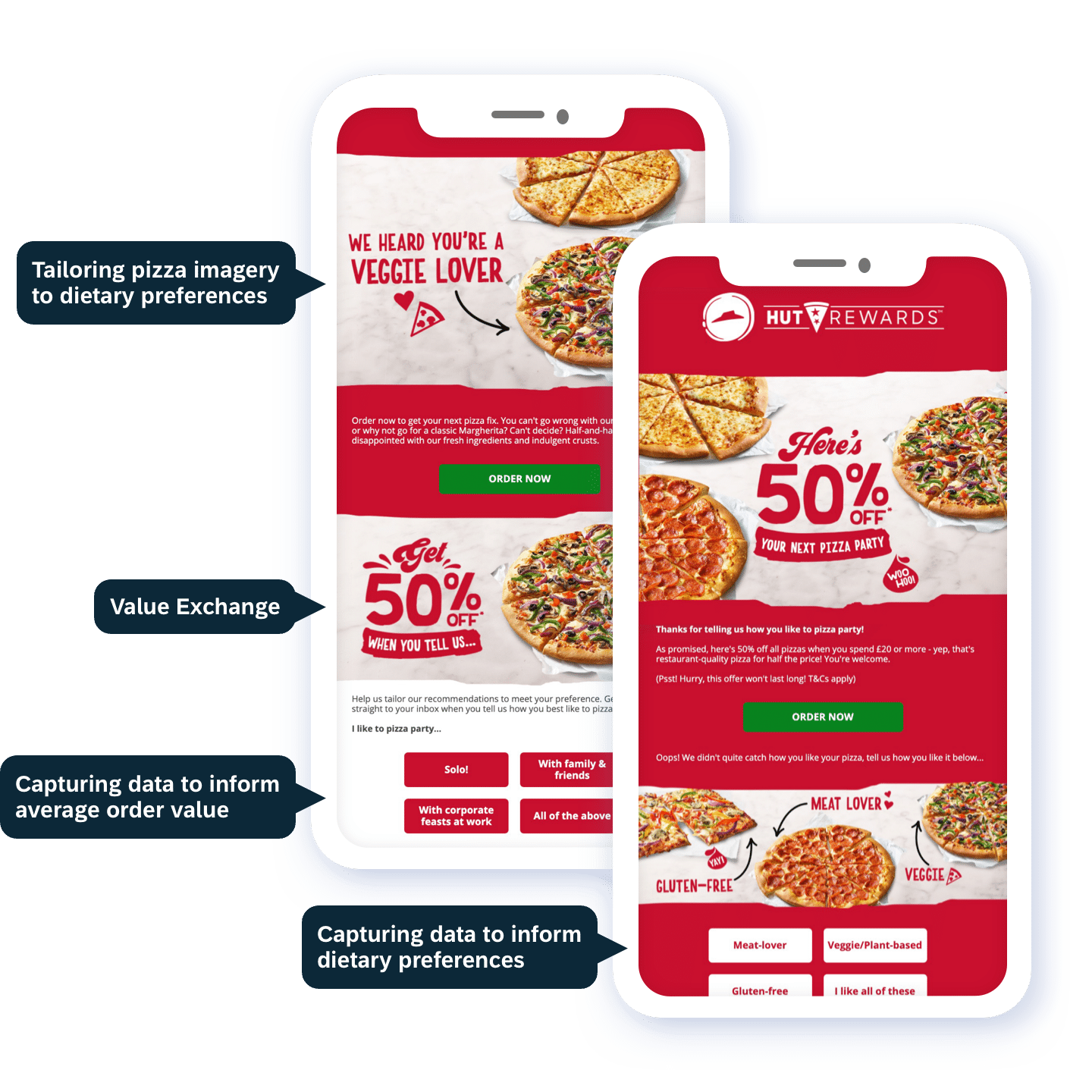 Data Driving Differentiated Discounting
Discounts were tailored based on the expected Average Order Value. If the customer identified themselves as someone ordering for their family, they were more likely to spend £30 or more and, thus, would benefit the most from a personalized discount bracket targeting a higher spending amount.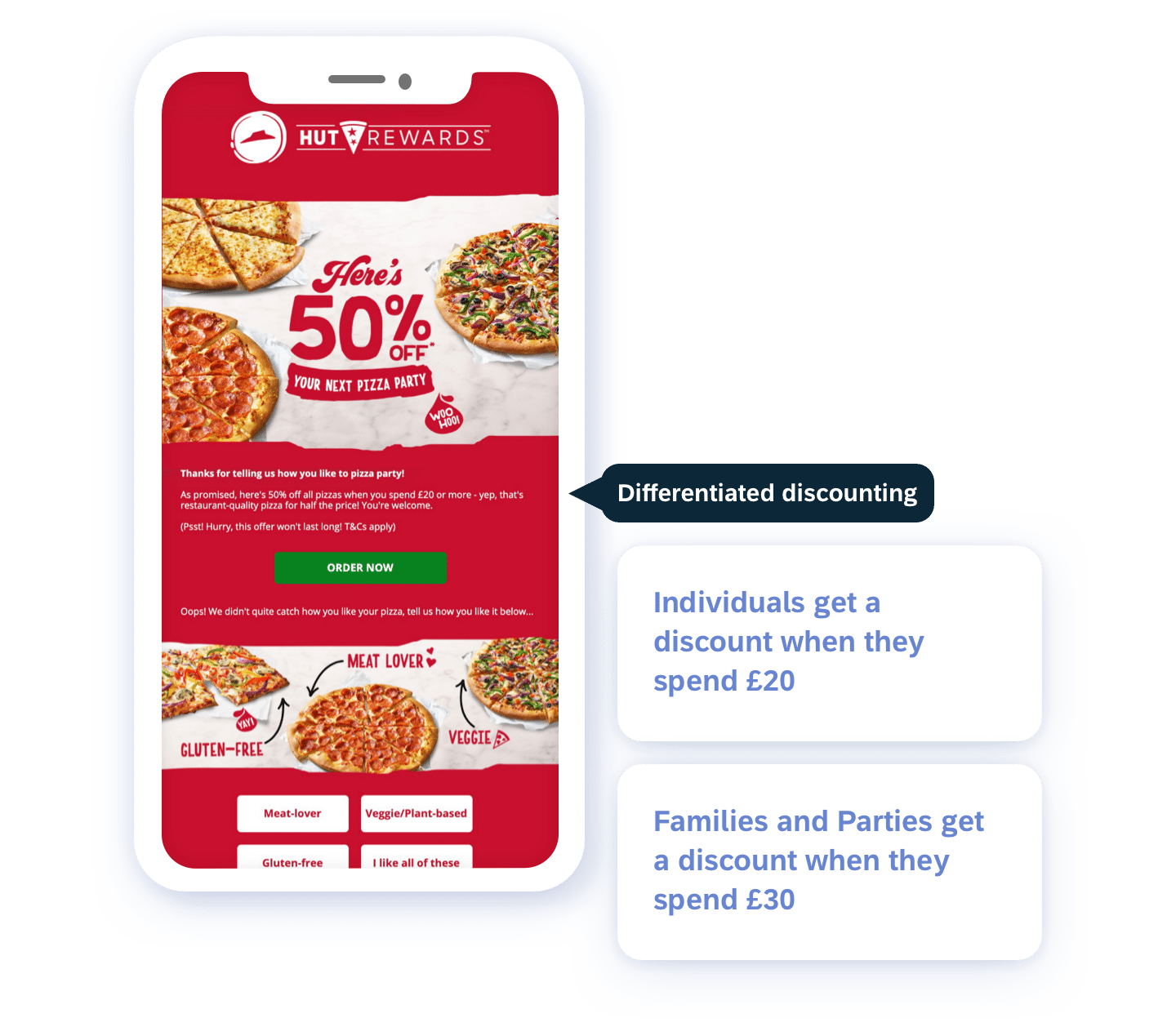 A/B Testing on Loyalty Acquisition
In partnership with Emarsys, Pizza Hut gained insight to understand which value exchange would be a more appealing motivator for getting a customer to join their loyalty program. Through email interactivity, marketing messages were tested, leading to the loyalty scheme being introduced in a new way, with the follow-up being based on the customer's response.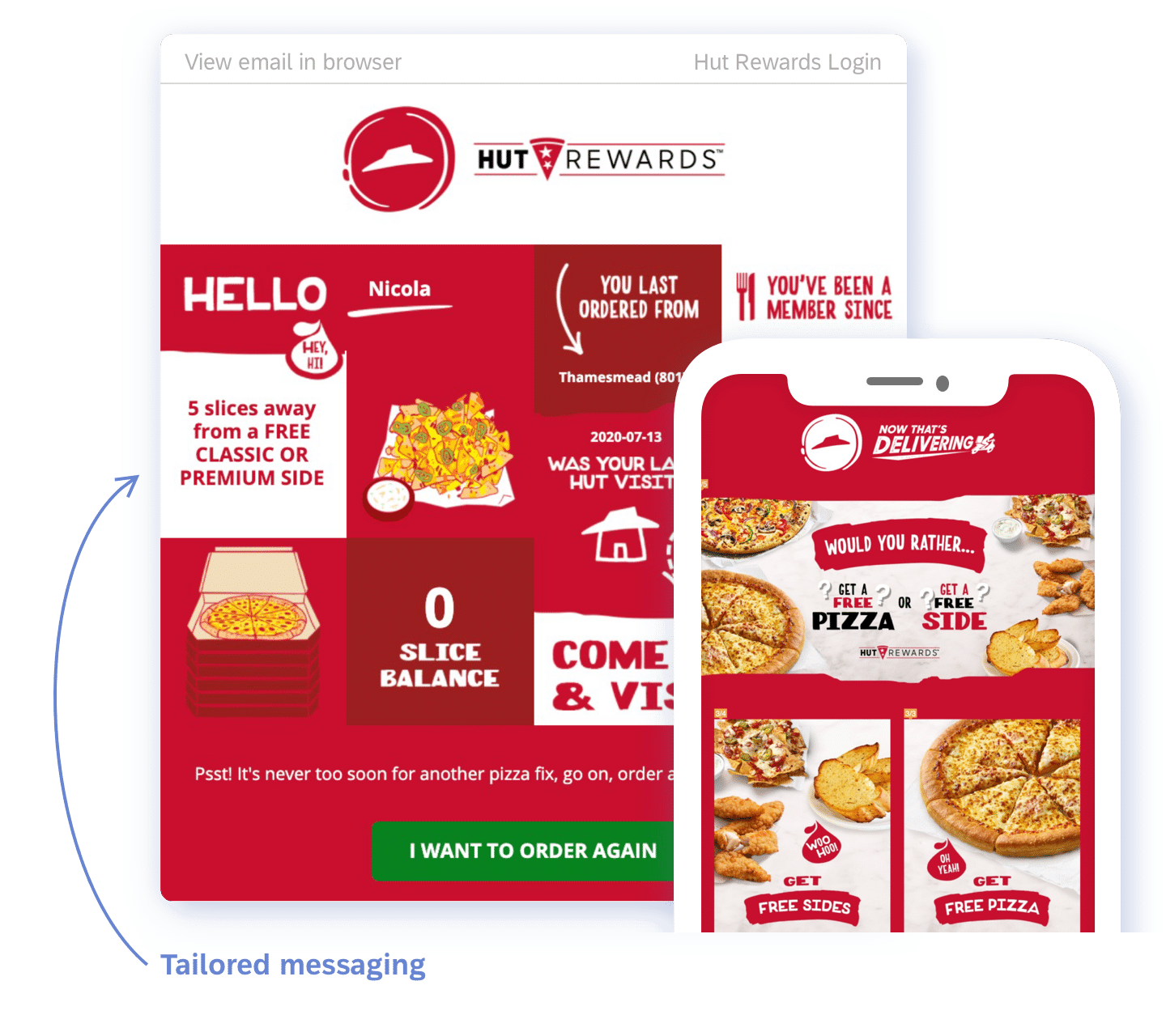 Real-Time Abandoned Browse/Cart Interactions
Pizza Hut used Emarsys' behavioral signals to send customers automated emails that encouraged them to purchase. These super-fast reminders were sent within three minutes of the basket or browser being abandoned. These instant reminders catch orders before the customer switches to a competitor.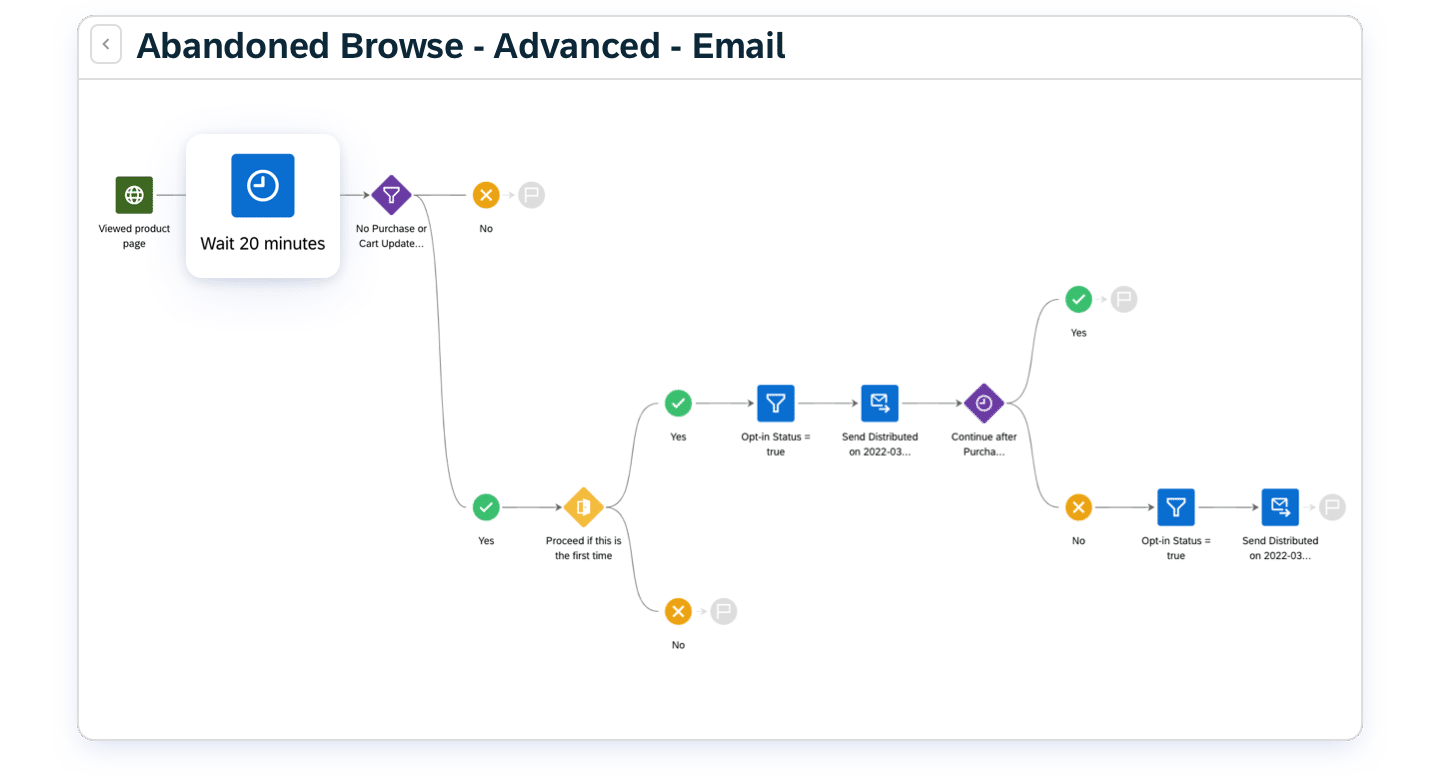 The Impact
Pizza Hut was able to capture data that was crucial in identifying the right incentives for its customers. Their results are a testament to their strong understanding of differentiated discounting and a commitment to learning more about customers.
2x
higher conversion rate month-over-month from differentiated Welcome journeys, fueled by enriched self-reported data.
3x
increase in conversion rates in 30 days after implementing real-time signals for basket or browser abandons, as opposed to general reminders sent on the same day.
15%
onboarding conversion for those who received mobile communications, along with email, within 24 hours of signing up.
33.8%
engagement increase from their custom loyalty program, as well as a 0.4% re-conversion rate within 24 hours from the initial purchase.
195%
increase in loyalty program signups from A/B experiments within interactive campaigns.
"Using data and personalization, Emarsys enables us to keep our customers at the heart of everything we do, powering vital lifecycle and loyalty campaigns that drive conversions, retention, and relevancy. We look forward to continuing to scale these programs through the Emarsys platform to deliver better experiences to our customers."
Deliver the


predictable, profitable

outcomes that your business demands with our omnichannel marketing solution
Request a Demo