AI-Powered SMS marketing
Achieve faster results with personalized SMS
Connect with customers on and offline with personalized, contextually relevant SMS campaigns and automations.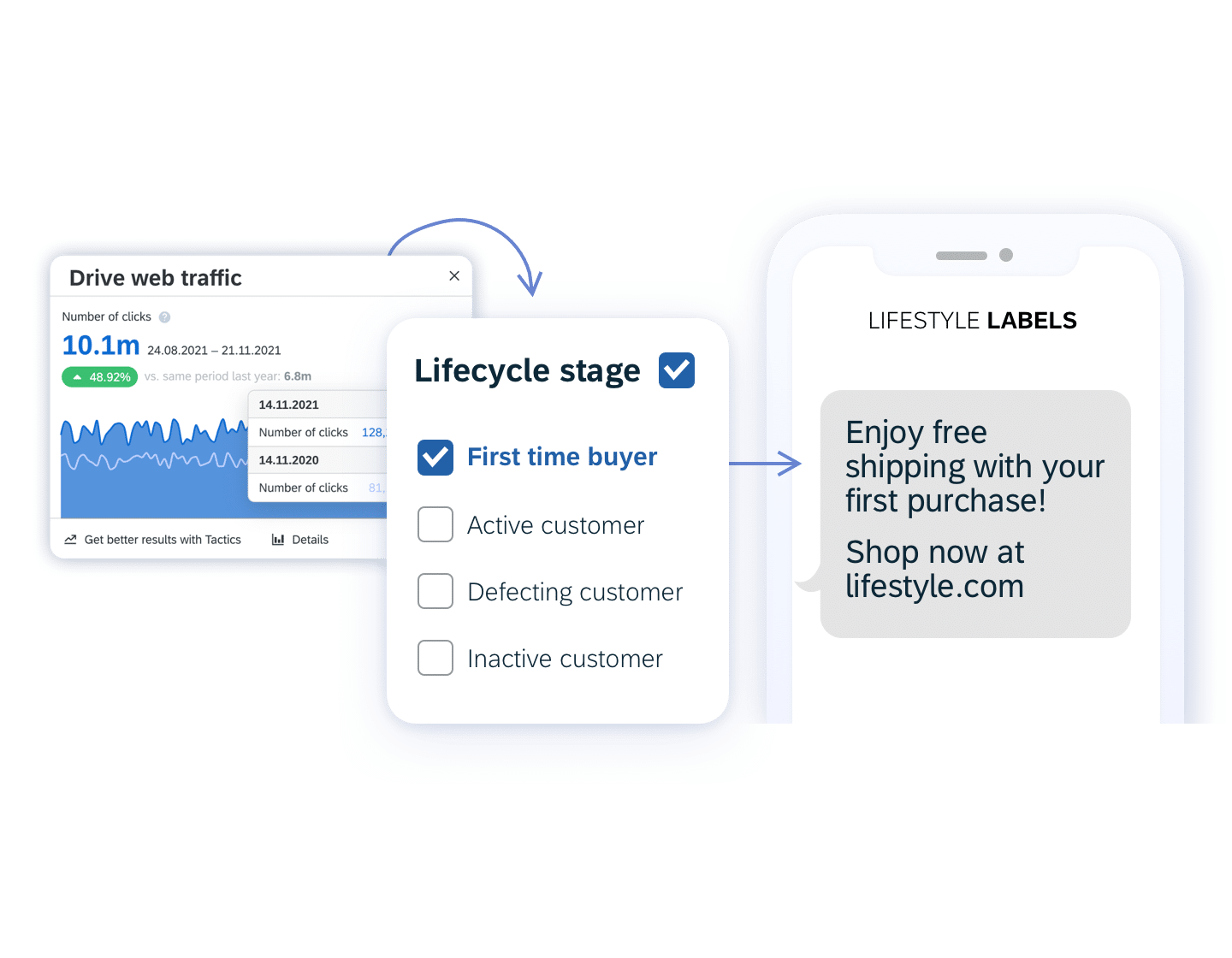 Engage customers with personalized, behavior-based SMS campaigns

Driving ROI from SMS and MMS campaigns without personalization, customer analytics, and proven use cases is ineffective and inefficient. Emarsys delivers contextually relevant SMS campaigns powered by AI-driven customer analytics with proven tactics known to drive ROI for your business.
Increase email subscriber opt-in
Reduce purchase journey friction
Increase order completion rates
Reach offline customers
Create personalized campaigns and automations in minutes
Save time and resources by building, personalizing, and rapidly deploying SMS campaigns without complex coding or IT intervention. Quickly create SMS campaigns and transactional messages that can be personalized to individual customers with drag-and-drop personalization tokens.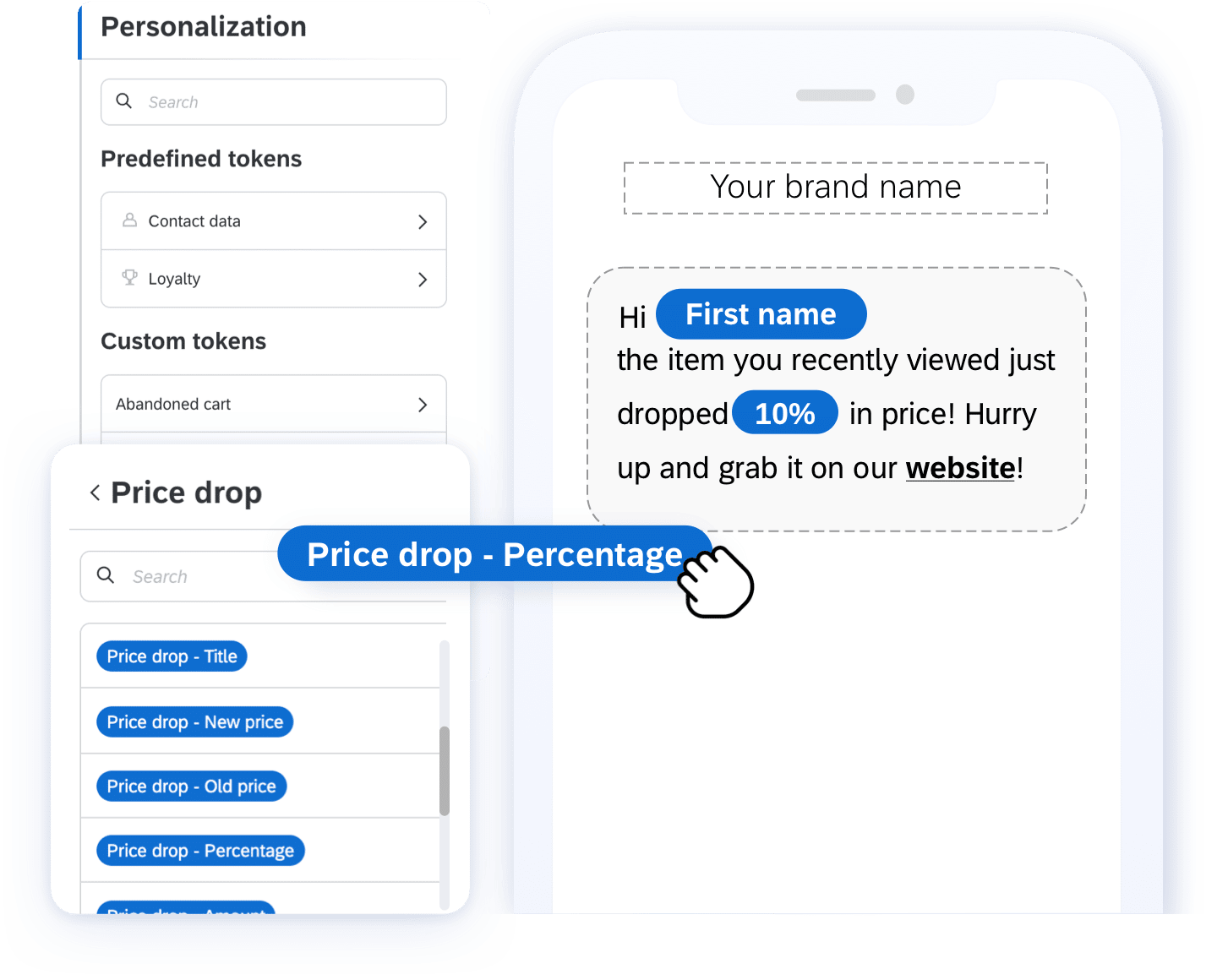 Accurately measure campaign impact
Discover what works best and make educated marketing decisions with revenue attribution & analytics. Track the ROI of specific campaigns, demonstrate SMS revenue contribution, optimize marketing activities, and spend budget more effectively.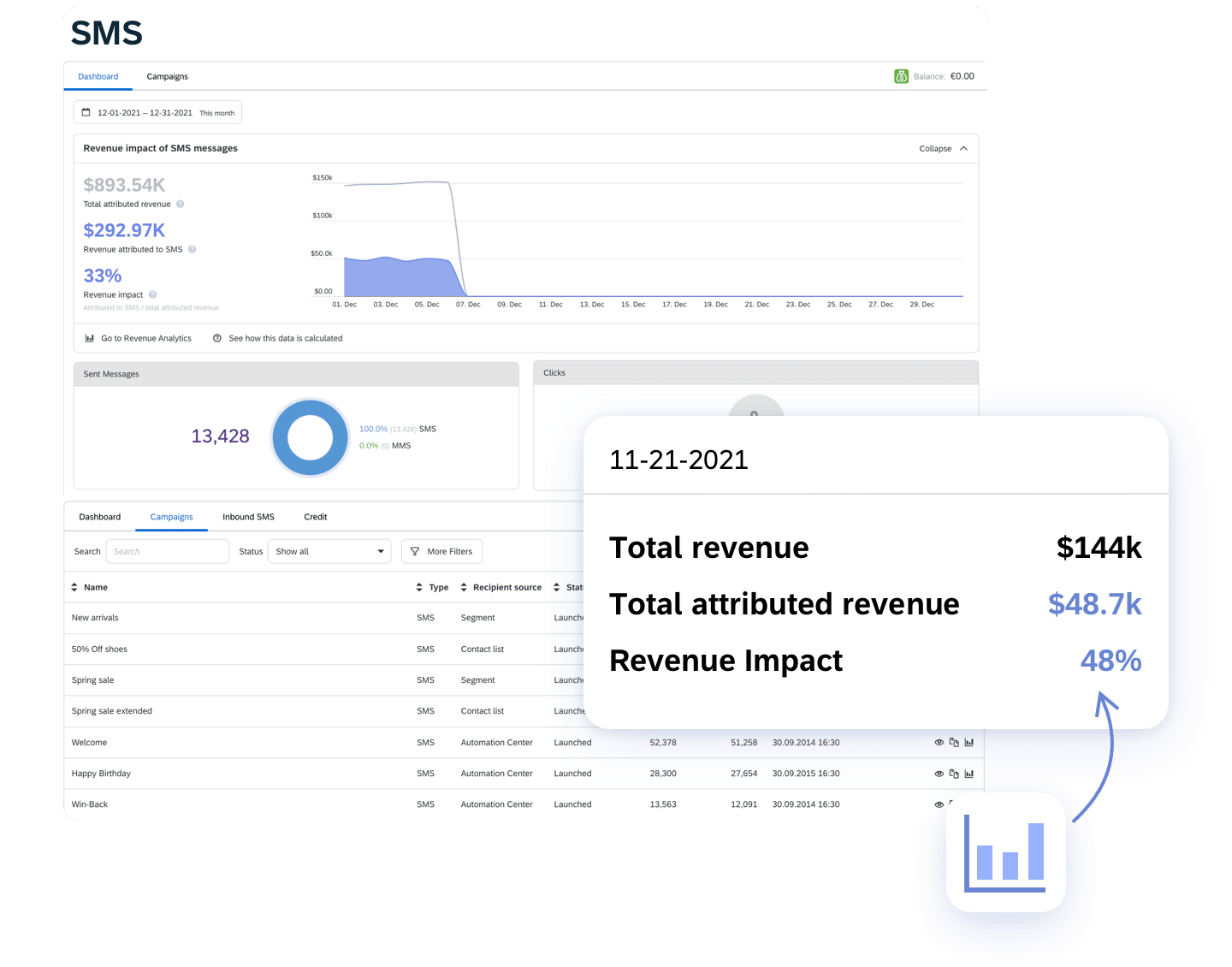 Respond to customer behavior in real-time
Take advantage of full cross-channel connectivity and automatically engage customers with timely, relevant communications. With Emarsys, you can create and launch SMS automations based on dynamic triggers that react to customer behavior in real time.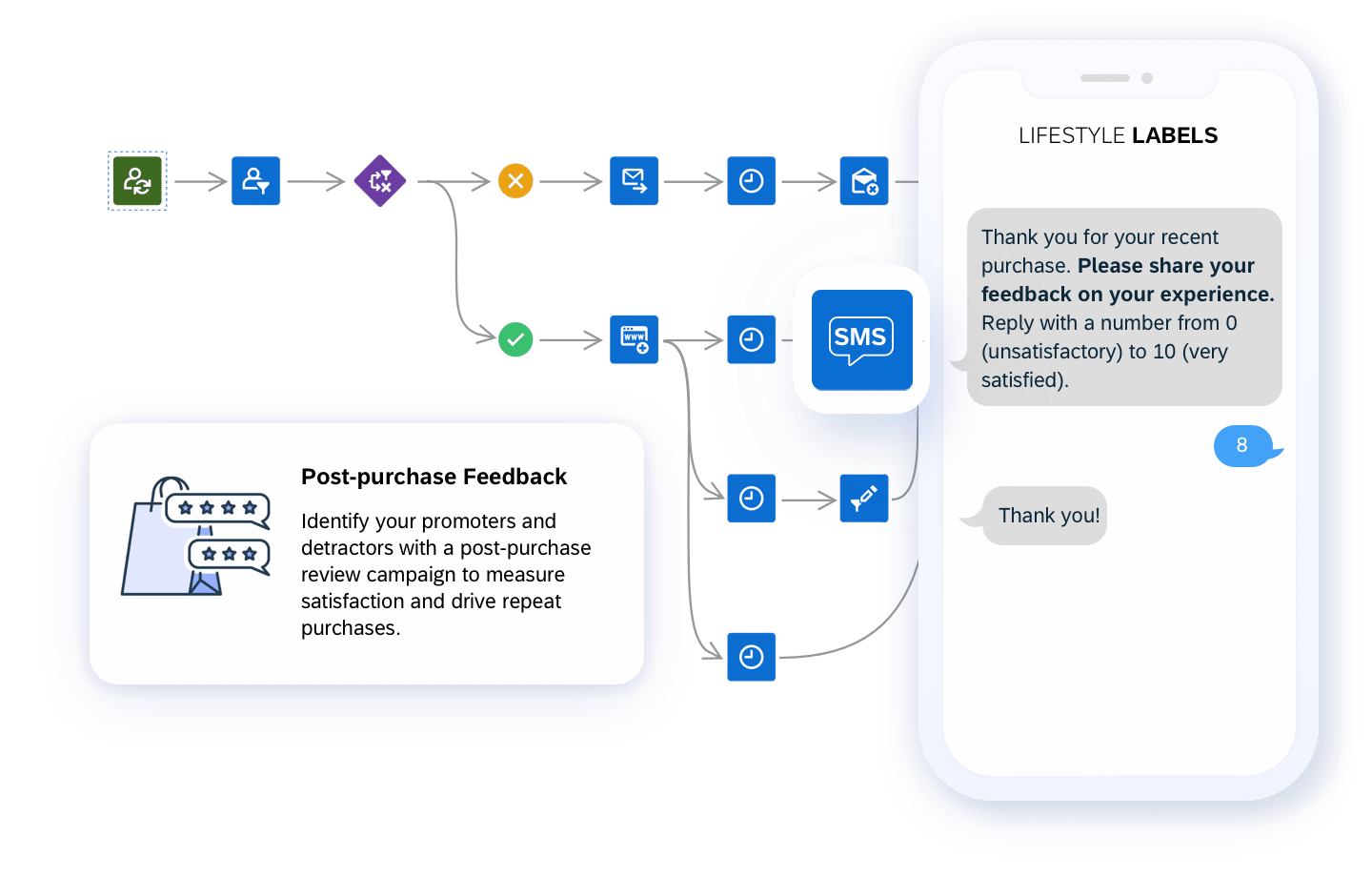 See Emarsys for yourself in
just 3 minutes
Discover why thousands of marketers trust Emarsys's SMS marketing to drive customer engagement and accelerate business outcomes.
Make SMS a two-way conversation
Give customers a new way to engage with your brand using Inbound SMS. With simple, customizable keyword-based triggers, you can turn SMS into a tool for collecting feedback, opting-out recipients, or enrolling customers in specific marketing programs.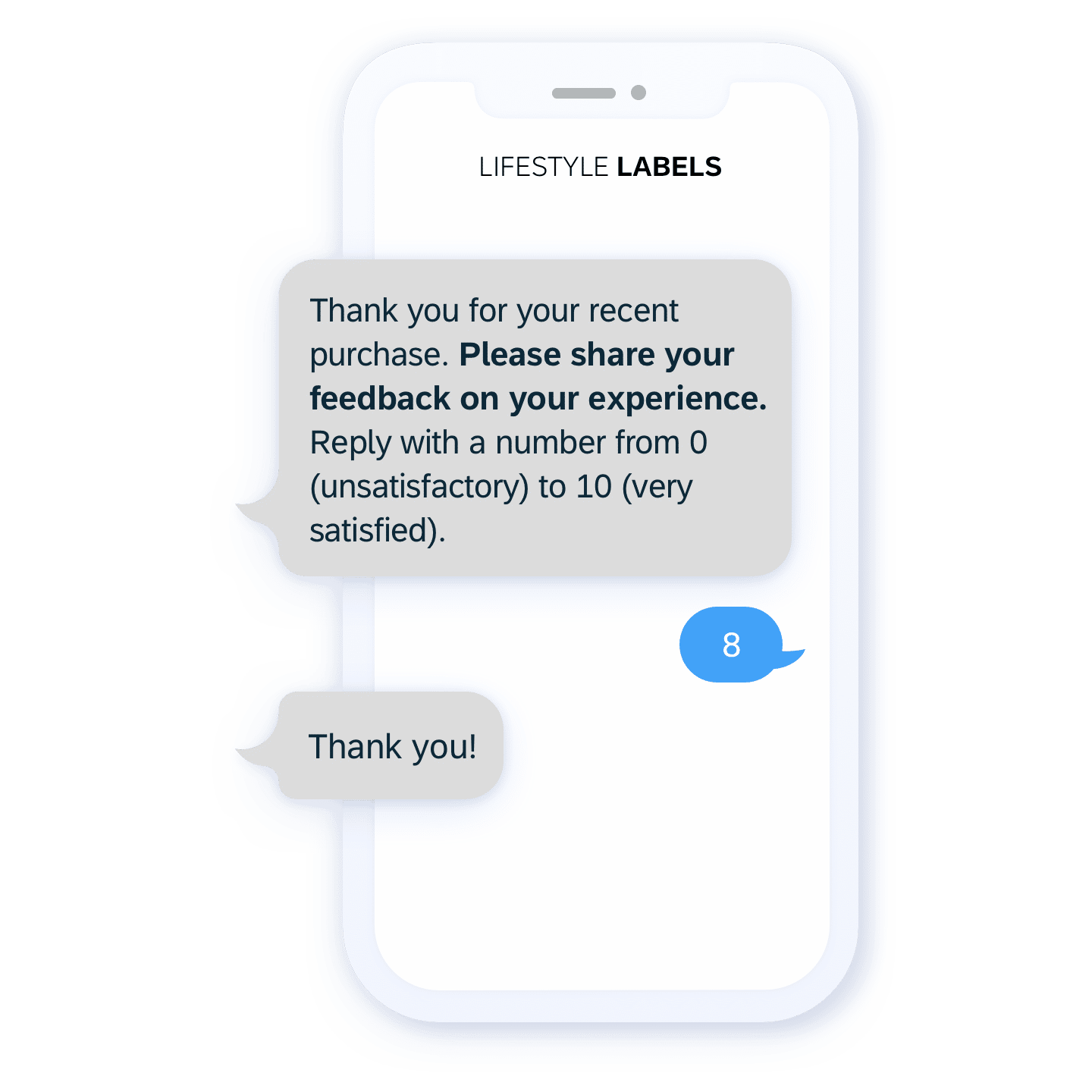 Integrate easily with existing marketing channels
Experience true plug-and-play setup that connects with your marketing channels in minutes — without the need for developer support. With Emarsys, you can effortlessly integrate SMS into your cross-channel mix and launch campaigns that complement your existing marketing strategies.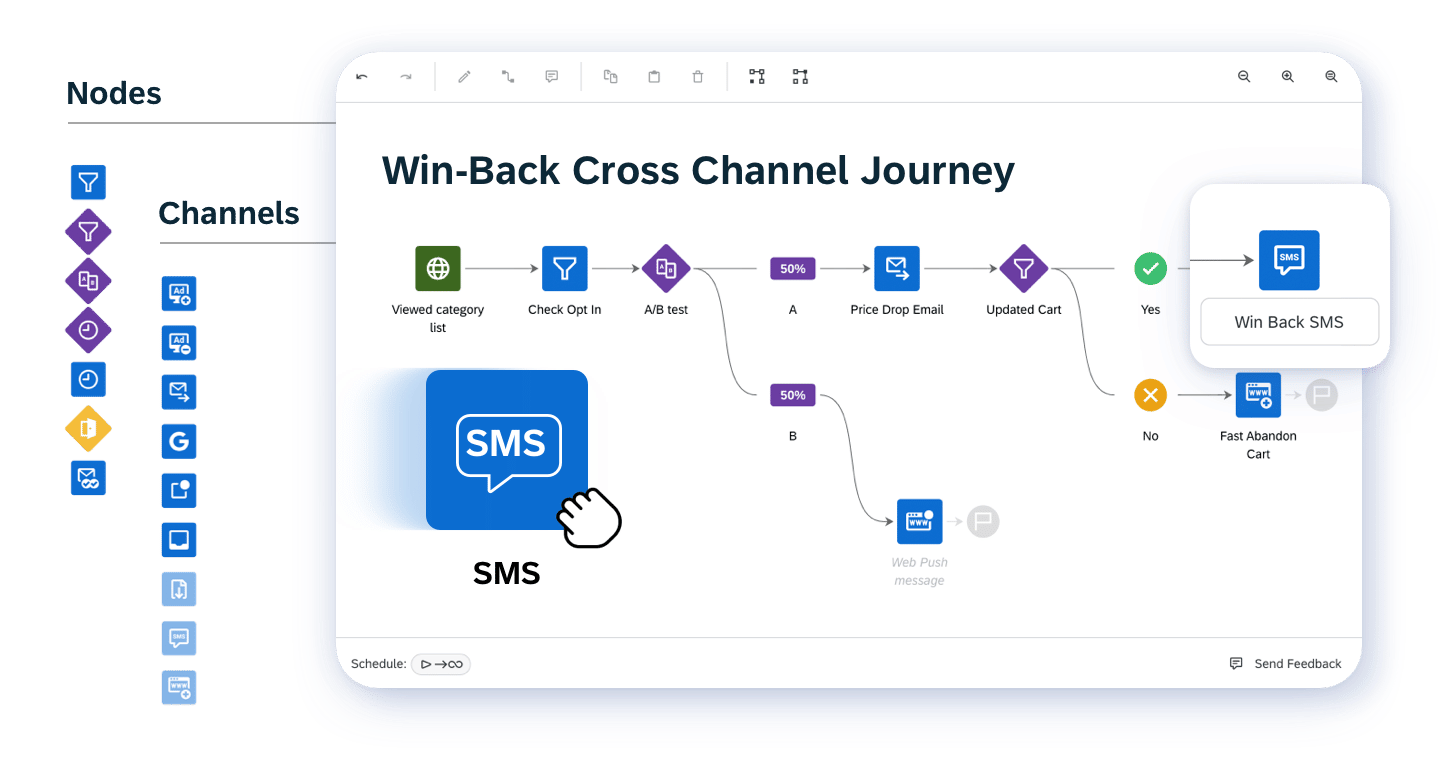 Hear it from our customers
Increasing loyalty, revenue, and margins through unique data-driven journeys
Hear their story

"Using data and personalization, Emarsys enables us to keep our customers at the heart of everything we do, powering vital lifecycle and loyalty campaigns that drive conversions, retention, and relevancy."
Boosting revenue and driving 70% retention with 1:1 personalized engagements
Hear their story
"With Emarsys, we are creating personal one-to-one experiences for our 1.5 million customers globally. We have automated 500 unique journeys, which resulted in 70% retention."
Learn more about how SMS marketing fits into our wider customer engagement platform
DISCOVER MORE
Deliver the


predictable, profitable

outcomes that your business demands with our multi-channel marketing platform.
Request a Demo