Integrated Data Layer
Consolidate, enrich and activate.
Emarsys makes connecting sales, product and customer data easy, so you can get to the business of great customer experiences and driving results.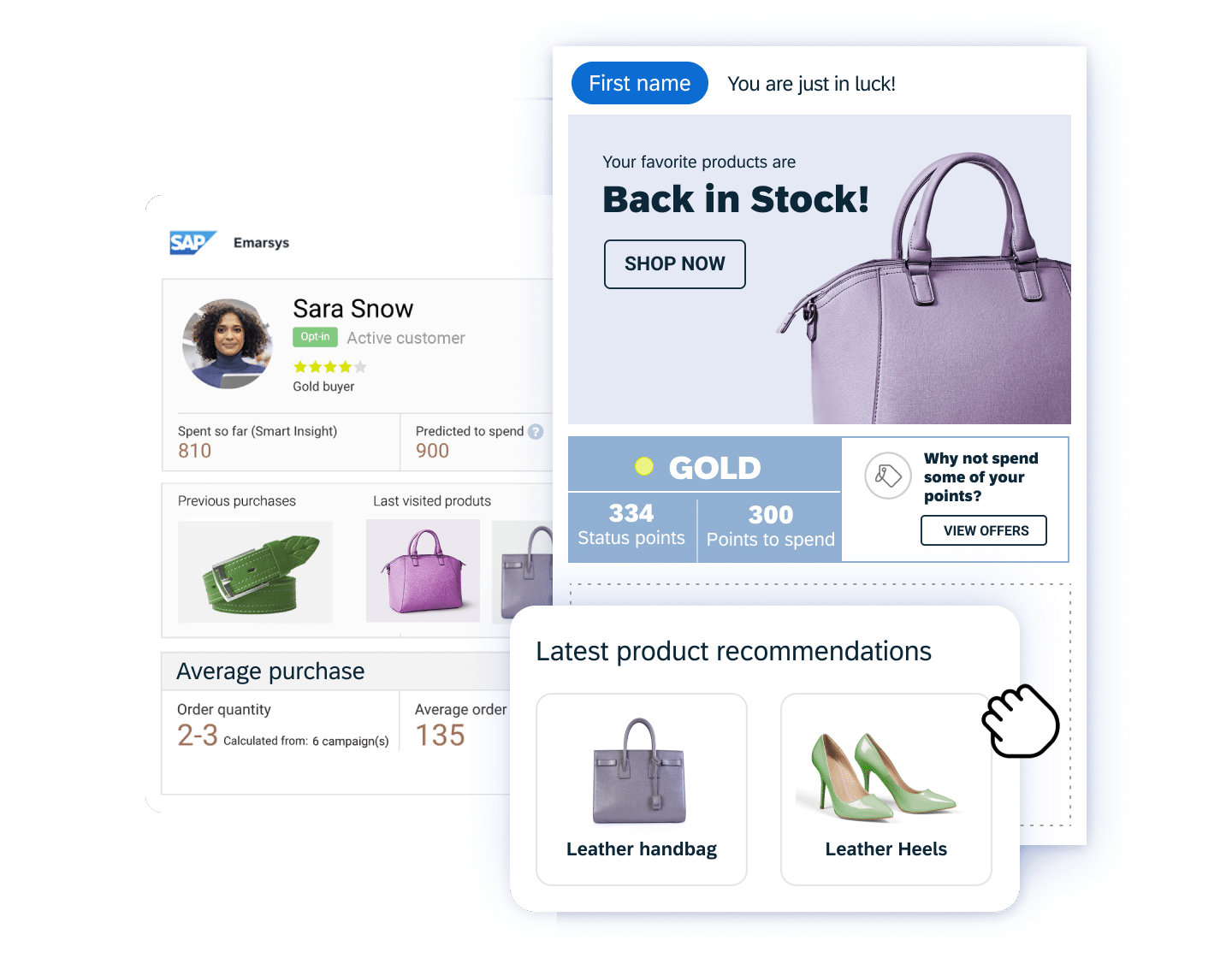 Data powers personalization

Consolidated data is the single biggest hurdle for marketers to deliver personalized customer experiences. In addition, systems that make it possible, don't always make it easy.
Bring together data sources across your business and activate them across every marketing and commerce channel with Emarsys' integrated data layer.
Break down data silos to create a holistic customer view
Unify historical and real-time data to activate personalized experiences
Transform data into clear insights and predictive analytics
Easily create a holistic view of your customer
Our Integrated Data Layer unifies, cleanses, removes duplicates, and analyzes first-party data from business applications, customer data, and commerce solutions with tools that don't take a data analyst to crack.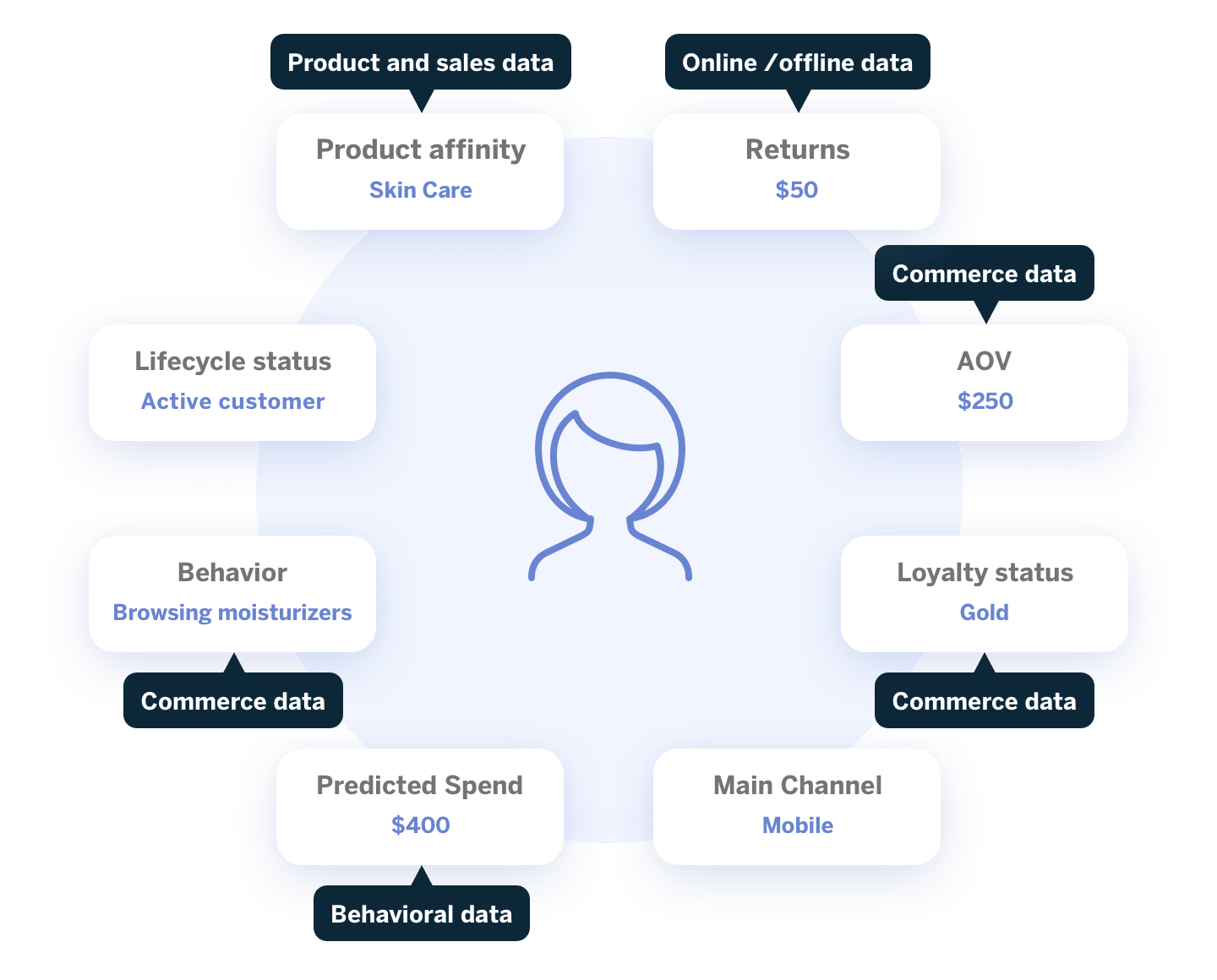 Activate the data to personalize campaigns without painful integration
From driving personalized product recommendations that reflect a customer's lifelong loyalty to triggering a meaningful welcome message for a first-time buyer, we give you the tools to make it happen. Our Integrated Data Layer uses complex data points to understand each customer and personalize messages across channels without IT involvement.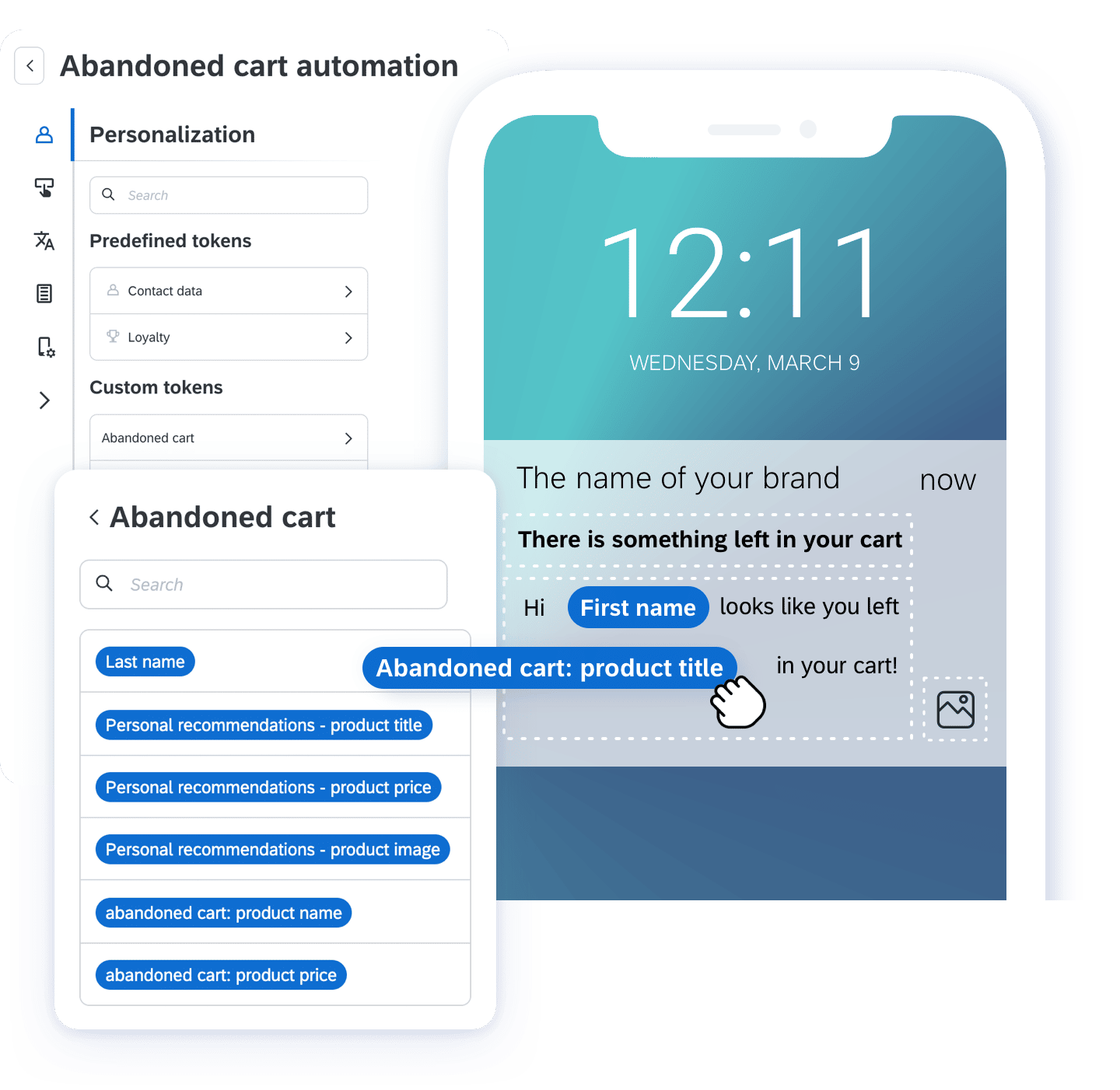 Use AI to understand your customers
It's not just about having the data, it's what you can learn from it. Emarsys enriches your data with AI, helping you understand what your customers like, in what channels they want to interact with you and what they're likely to do next. Use AI-driven segments to retain loyal customers, win-back defectors and deliver personalization.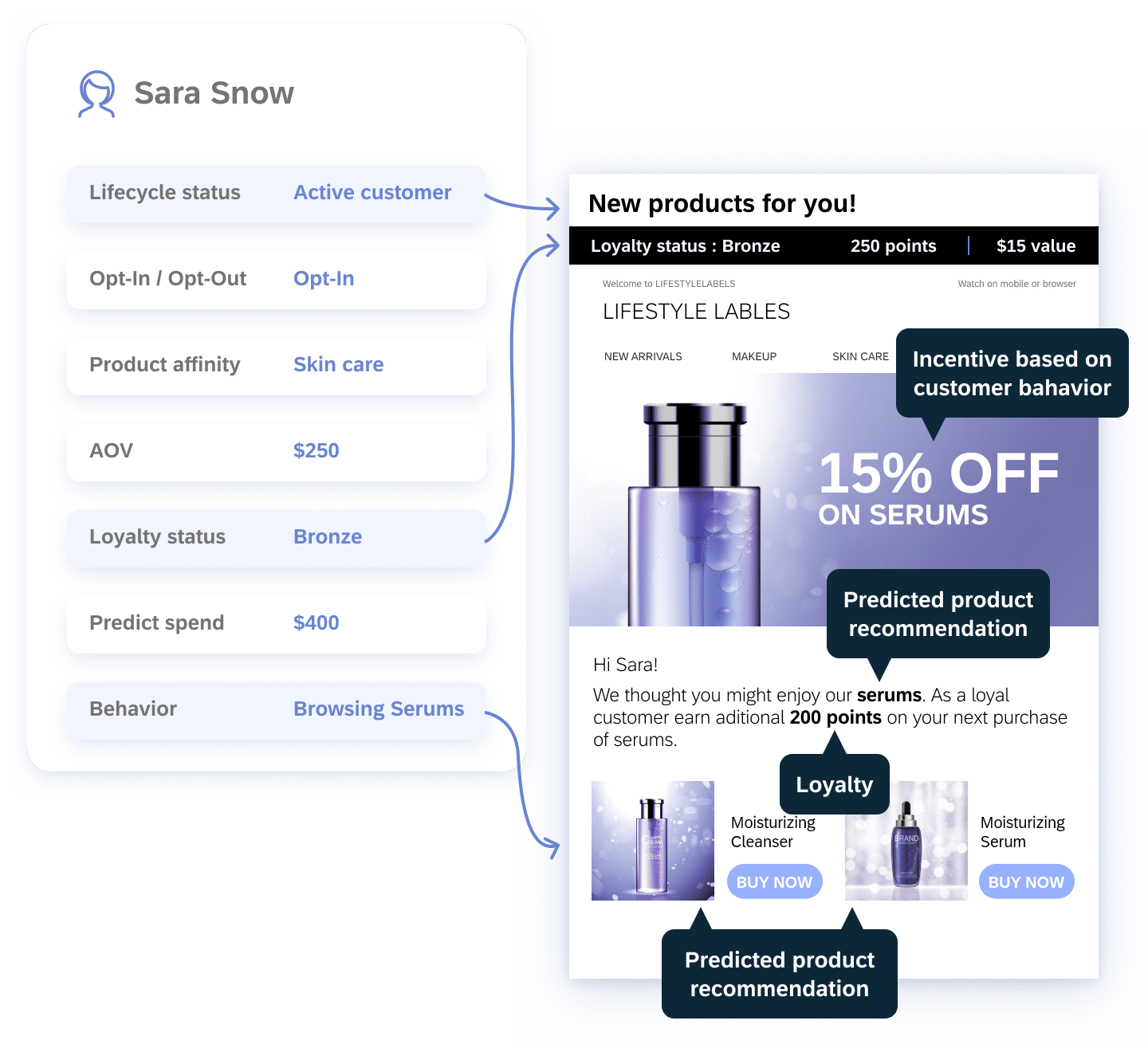 Power personalization with dynamic segments & predictive intelligence
Emarsys simplifies personalization by allowing marketers to quickly build dynamic segments based on contact properties or behavior. Our Predict engine then analyzes web behavior data to deliver personalized recommendations to your customers across email, mobile, and web.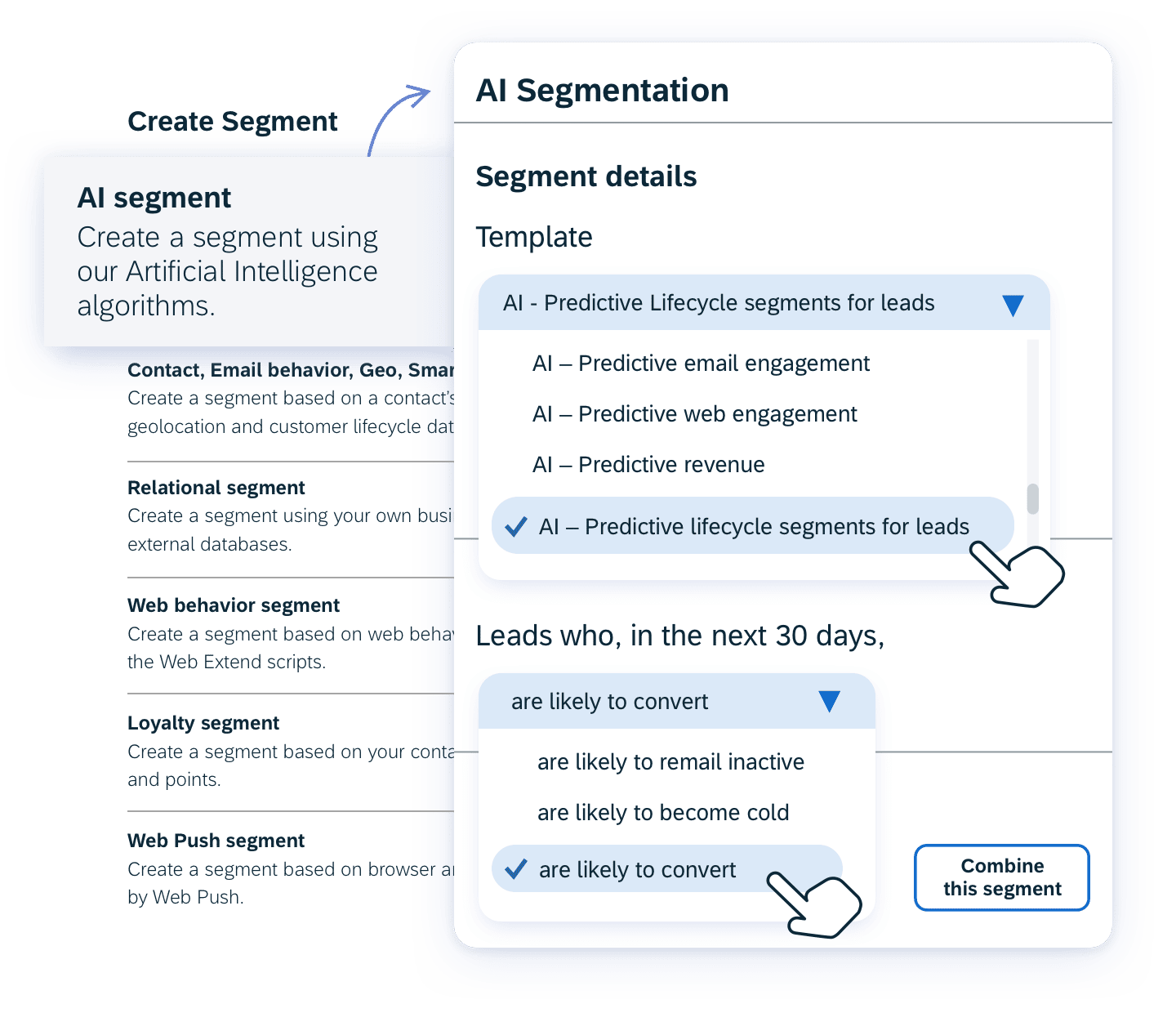 Gibson and Emarsys
Orchestrating Omnichannel Customer Journeys
In this tell-all video, discover how companies like Gibson Brands are approaching personalization, optimizing customer journeys, and driving lifelong loyalty
12 minutes
Know what channels are working and quickly adapt
Data unification across channels (Emarsys unifies online, offline, and mobile) means you can see campaign performance at a glance. Emarsys' integrated data layer makes it easy to take action on the analytics with reporting tools, so you can quickly adapt your strategy and execution to deliver what customers want. And if you aren't sure what to do next, our AI-driven insights will help you make those decisions.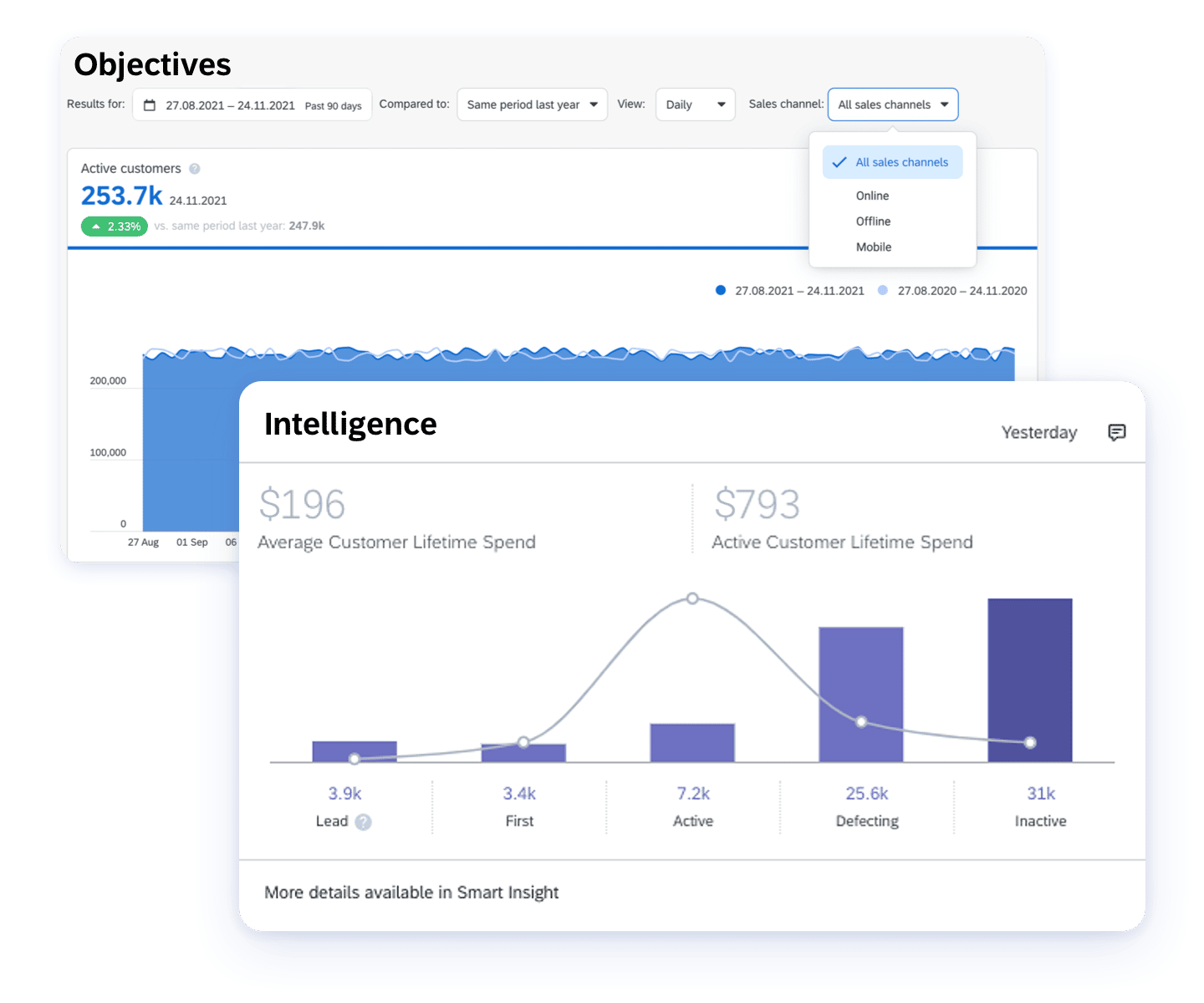 Go beyond channel performance to business-driving metrics
Our Integrated Data Layer unlocks business value by showing the impact marketing has on revenue. The Strategic Dashboard shows how marketing campaigns affect customer lifetime value, repeat purchase, average order value and more and makes AI recommendations on how to improve your KPIs across the board.
Hear it from our customers
Leveraging first-party data to deliver sophisticated campaigns that drive results
Hear their story
"We were able to analyze the data we had, bring it together in one place so it's no longer siloed, [and then] make use of all the technology that Emarsys has in terms of recommendations."
Increasing conversions by integrating loyalty and unifying data — without IT support
Hear their story
"In the end, we compared three other vendors to Emarsys and for me, Emarsys was very personalized compared to the others, which had a much more generic approach to loyalty."
Connecting data to identify all customers across all properties — within a single integrated platform
Hear their story
"Being able to implement these customer experiences really comes down to the foundations we had in place with a unified e-commerce solution and its ability to execute marketing automation across all touchpoints…"
Choose the market leading technology
Emarsys platform is ranked a leader for personalization, cross-channel campaign management and marketing automation.
Learn more about how integrated data powers our wider customer engagement platform
DISCOVER MORE
More on integrated data
Featured Content
Deliver the


predictable, profitable

outcomes that your business demands with our omnichannel marketing solution
Request a Demo