The Business
Retail, Sports & Entertainment
Hong Kong (Clock) Partner since 2017
Nike is one of the most recognizable and influential brands across the globe. The business spans digital commerce and a comprehensive store fleet in Hong Kong (HK).
To stay on top of the competition, Nike needed to step up interactions with customers, increasing personalization through HK-specific campaigns, online-to-offline experiences, and advancing their use of email.
The Challenge
Scaling personalized automation with a small team
Personalize to customers based on where they are in the customer journey
Segmentation
Understanding customers / gaining insights from first-party data
With multiple dimensions of business and brand strategies, it was challenging for Nike HK to optimize their marketing budget, effectively translate their collective understanding of customers, and identify targeted audiences for different campaigns. During promotional periods, they were sending batch-and-blast emails with one-size-fits-all content that lacked relevancy or personalization for their customers. Nike HK needed a more sophisticated understanding of their customer's purchasing and browsing behaviors so they could gain the insights necessary to improve conversion and brand advocacy.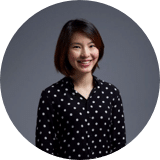 Elmo Tsang
Senior manager of Consumer Direct Marketing – Digital, HK/TW, Nike
"Emarsys has been a trusted long-term partner with us. With its strategy and powerful solutions, we have successfully built a meaningful relationship with athletes and continually strive for our goal to make sport a daily habit. And we would love to continue our partnership with Emarsys to further enhance and scale our lifecycle management program."
The Solution
By using the Emarsys customer engagement platform, Nike HK removed the guesswork when it comes to taking complex customer and product insights and data and leveraging it to make decisions on who to target and drive customer loyalty. With Emarsys, the brand could ground campaign decisions in data, using a powerful analytics tool called Smart Insight. The analysis allowed the brand to learn what worked and what didn't, and apply those insights to future campaigns.
Using Segmentation and Automation to Drive Personalization
Nike Hong Kong wanted to deepen their relationship with customers through better segmentation, automation, and customer lifecycle tracking. Nike HK had hundreds of thousands of customers, but not every customer was in the same situation. Nike HK needed to break customers down into purchase lifecycle groups, like first-time buyers, inactive, and defecting. The problem was: Nike HK had never launched a lifecycle campaign.
Without customer lifecycle tracking, it was impossible for Nike HK to treat their audience as individuals. With a huge contact database, Nike needed a partner that could help them segment more efficiently and help them engage their customers by lifecycle stage.
With Emarsys, Nike HK was able to use AI to identify where their customers were in the buying cycle (and start to understand their customers better) and launch several campaigns including Welcome, Birthday, Abandoned Cart, and Browse Abandon. Since implementation, the conversion rate for these campaigns has shot up 110%. Proper segmentation allowed Nike HK to target the right audience with the right message, thereby increasing purchase rates by 8%. For example, if the AI determined a customer was more likely to purchase in-store, that customer would receive communication encouraging them to visit and shop at the nearest Nike store.
With help from Emarsys' support, strategic services, and client success teams, Nike HK was able to go from no lifecycle campaigns to launching 10 campaigns. Since starting this partnership, Nike HK has been able to provide a better, more engaging experience for customers, resulting in high engagement and conversion rates, as well as a 32.5% increase in site visits.
Gaining Data Insights
Fueled by marketer-friendly AI, Nike HK was able to scale its operation and effectively segment its customers using first-party data, and build automation programs that target customers based on purchase behaviors, churn rates, and lifecycle stage. This allowed Nike HK to target the right audience with the right message, increasing purchase rates by 8%.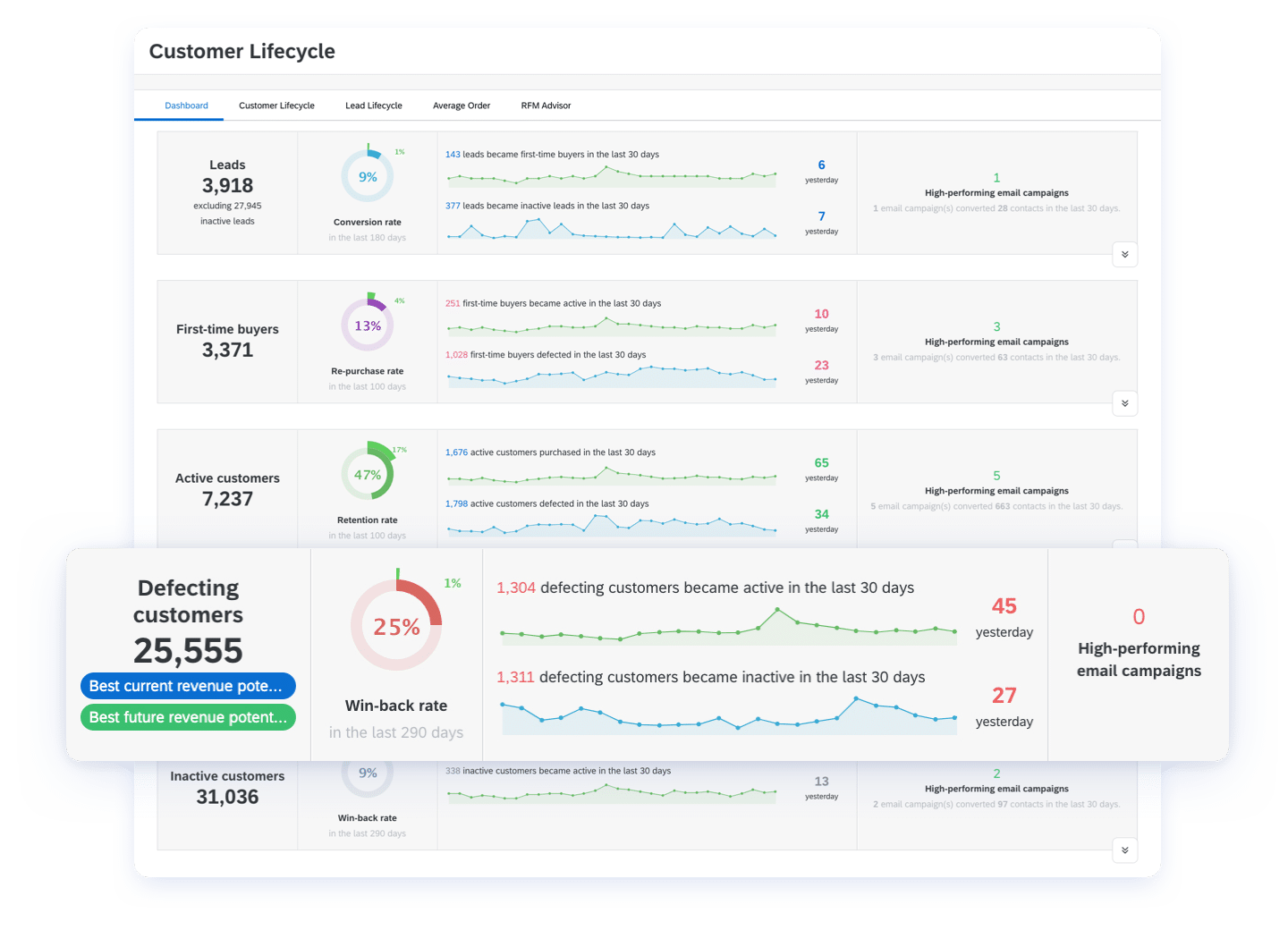 Know Where Customers are in the Buying Lifecycle

Emarsys empowered Nike HK with agile lifecycle campaign creation and tracking built right into the platform. Before Emarsys, Nike HK had no lifecycle campaigns. Post-partnership, the brand launched 10 campaigns within the first year while using Predict to deliver real-time personalized product recommendations based on customer behavior.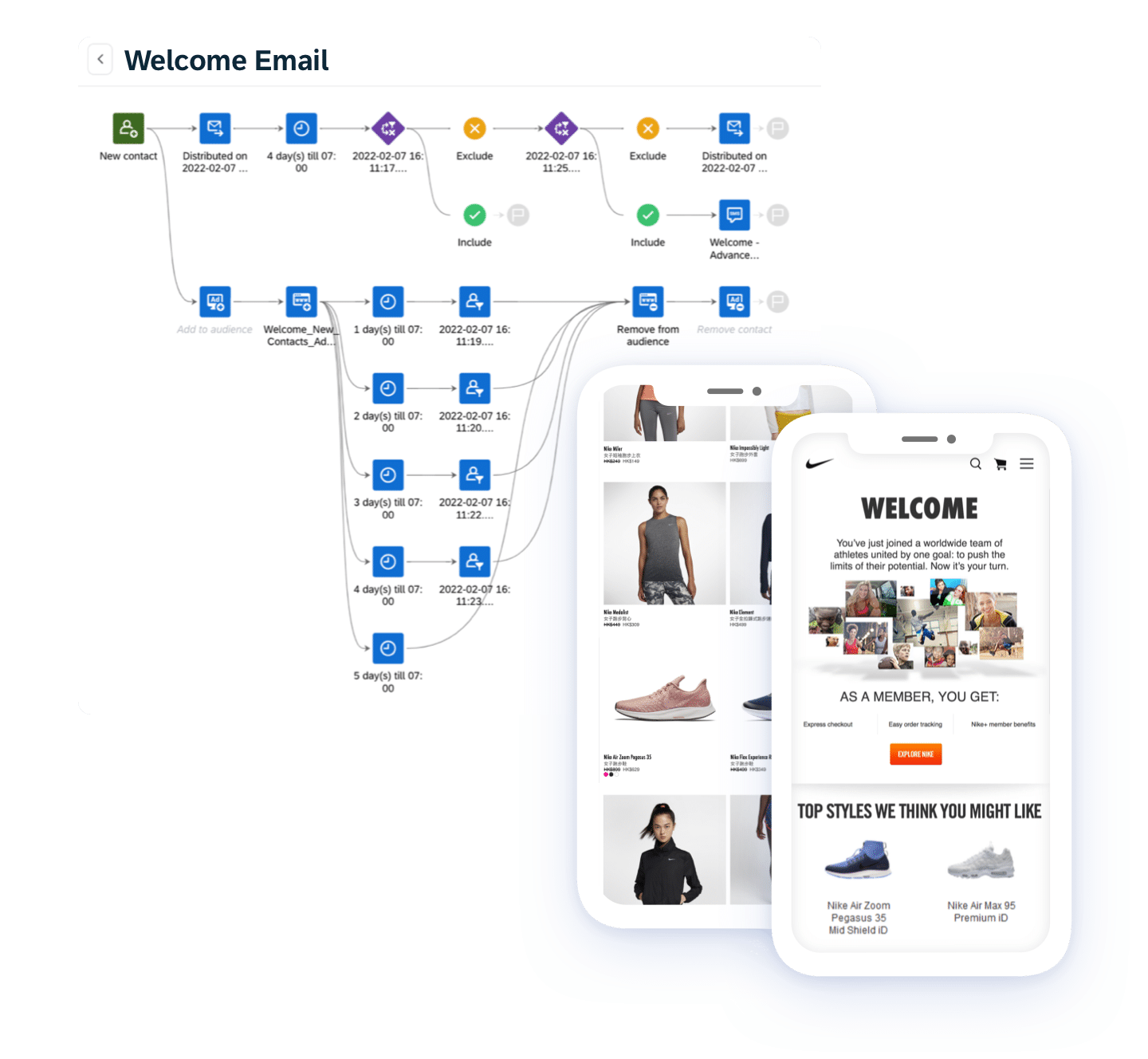 Automate Lifecycle Campaigns
Breaking the audience into logical groups allowed Nike HK to engage customers with relevancy. The brand also found automation to be user-friendly, saving their marketing team huge amounts of time that they used to spend manually building ad-hoc campaigns. Tactics like purchase anniversary were automated to keep customers engaged.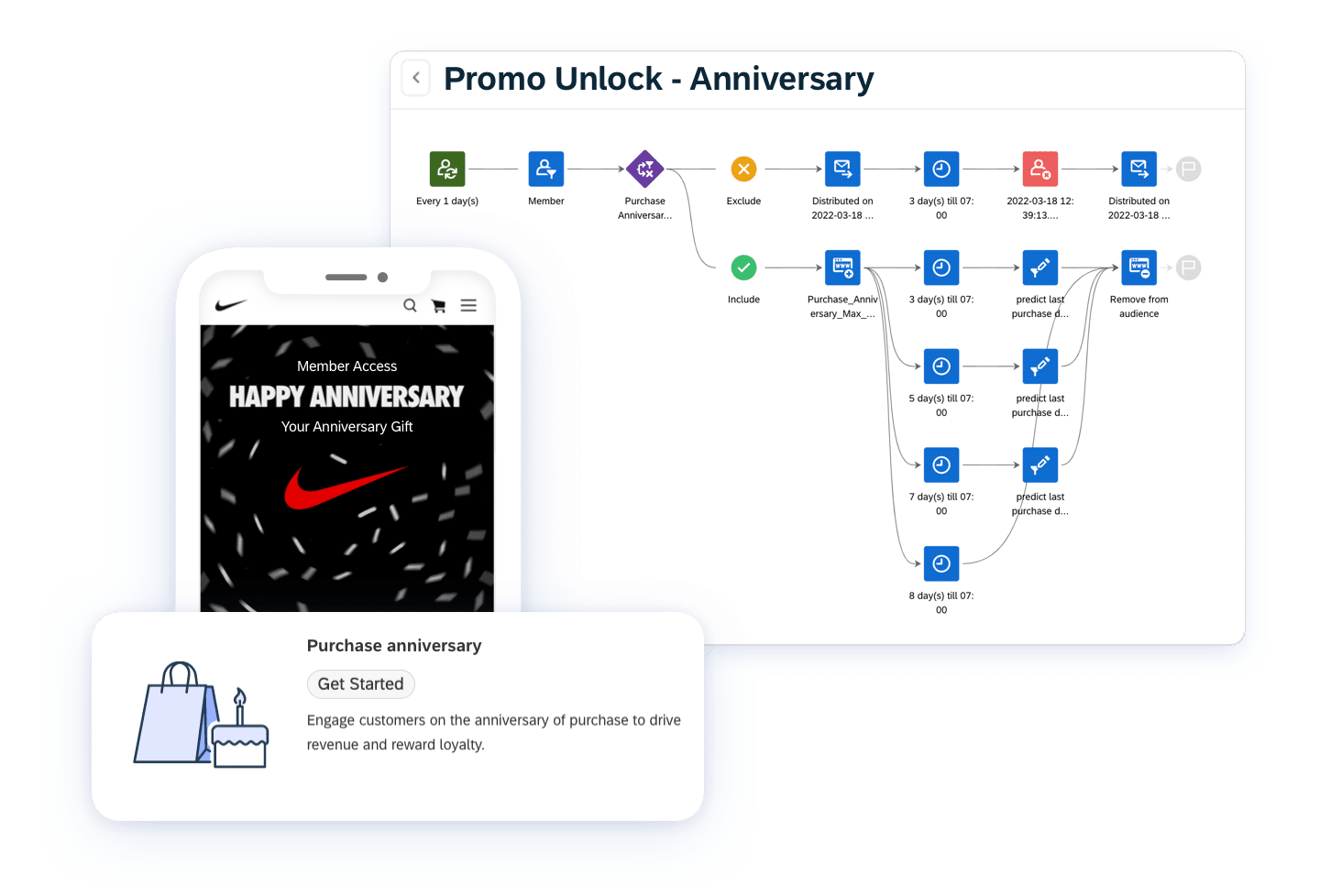 Driving More Relevant Engagements
With Emarsys, Nike HK was able to deeply understand customers by their levels of engagement, brand loyalty, purchase motivations (i.e., if they were buying Nike products for functionality or lifestyle purposes), and product affinity. With these customer insights, Nike HK could specifically target their audiences with highly relevant content during key holiday campaigns such as Christmas and Lunar New Year.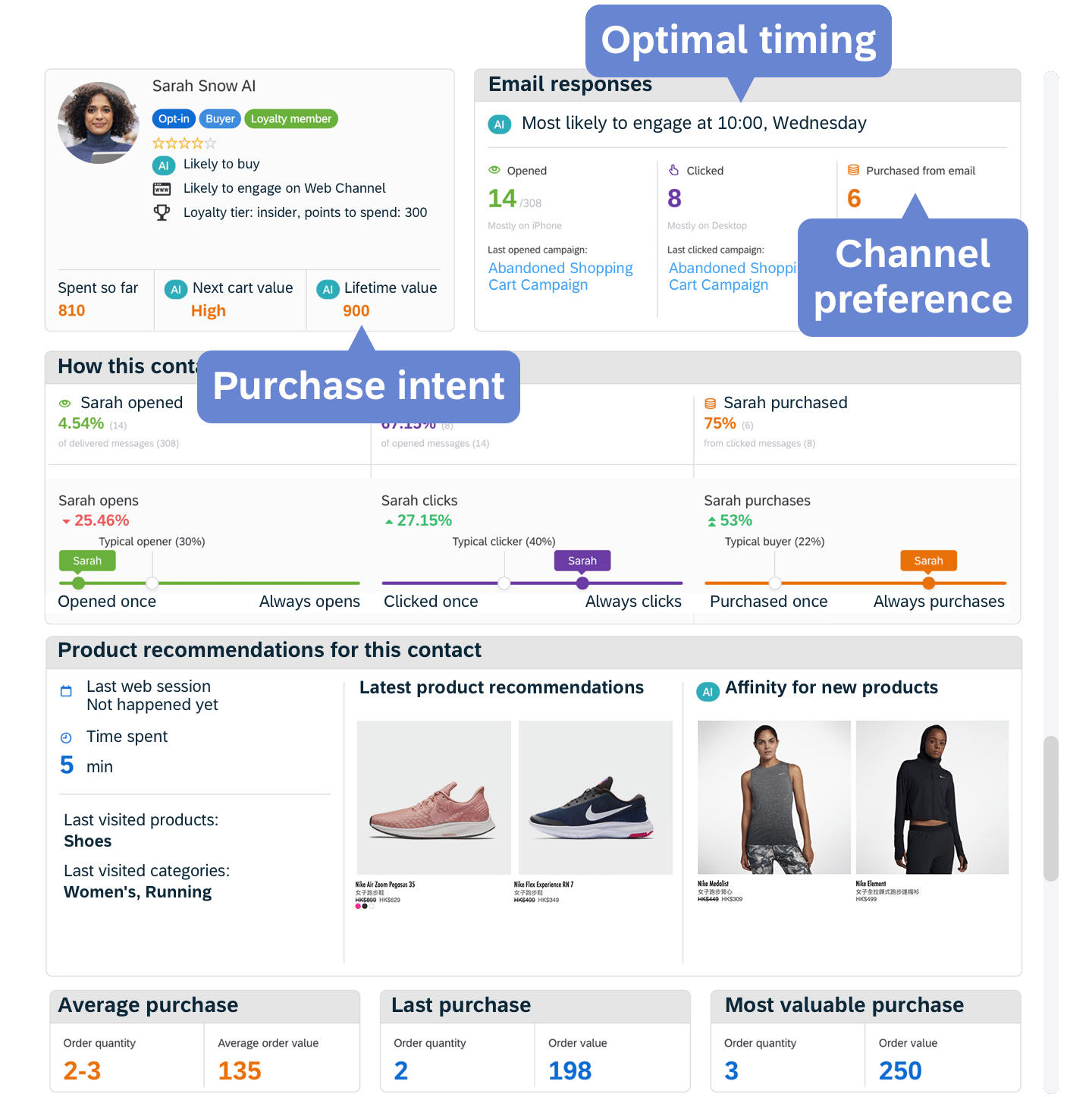 Personalize Based on Loyalty
Using segmentation, Nike HK started delivering personalized and relevant messages to loyal and non-loyal members, with content specific to the member's status, all from a single campaign (without having to duplicate efforts). This helped the brand more easily and rapidly send the right messaging to the right customer during promotions, ensuring they were not eroding their margins by providing indiscriminate discounts.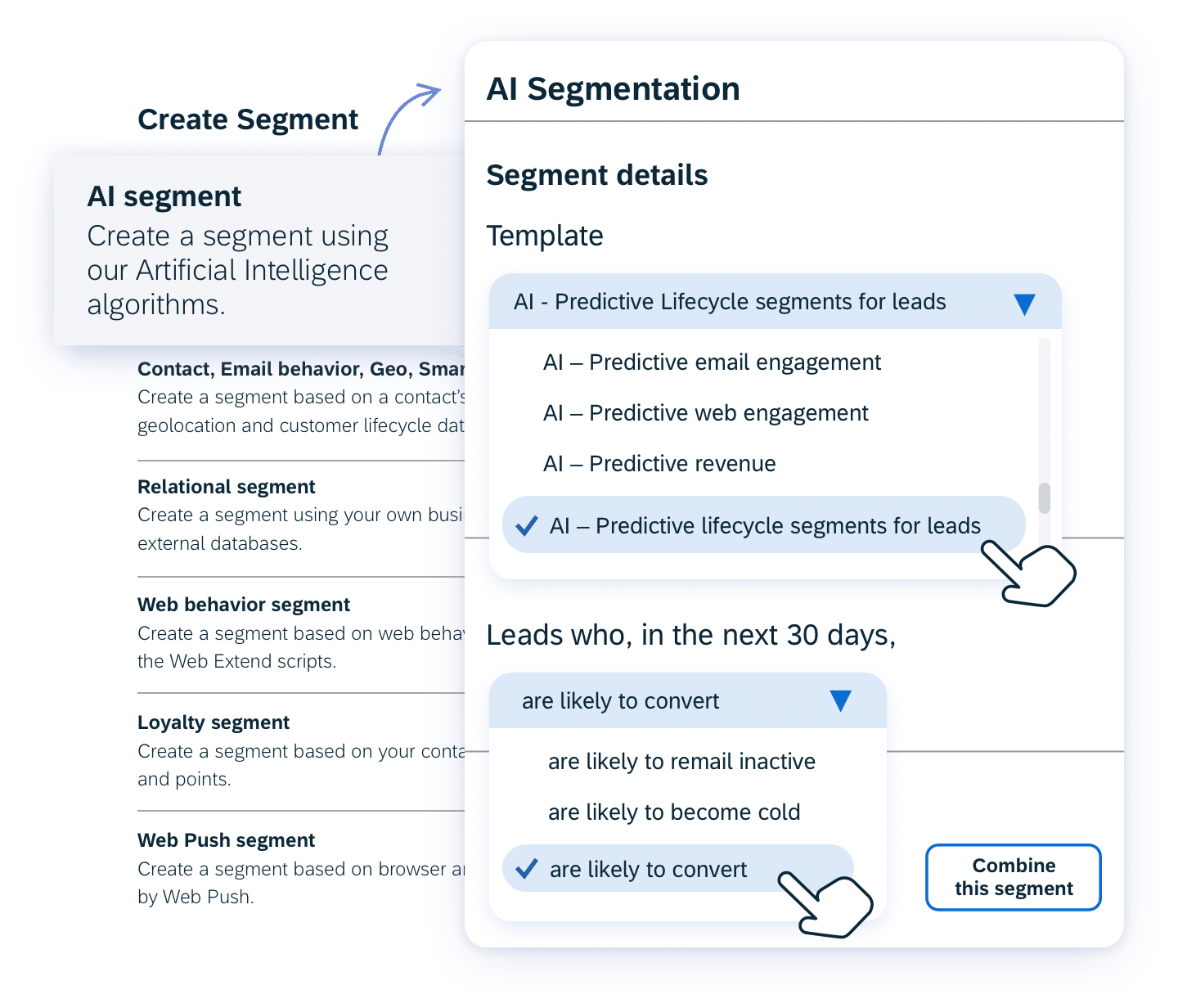 The Impact
Nike HK inspired their customers to make sport a daily habit by scaling personalized customer engagements and refining customer experiences while achieving mutual growth by improving revenue and margins.
Email revenue grew beyond expectations, and lifecycle campaigns immediately yielded positive results. Service from the Emarsys support team, strategic services, and client success drove up adoption and took the marketing strategy to the next level.
+32.5% website visits within
the first year with
Emarsys
+110% automation revenue
within the first year
with Emarsys
+10 lifecycle campaigns
up from 0 within the
first year with
Emarsys
+28% AOV in a 90-day
timespan
+49% open rate in a
90-day timespan
+9% number of orders in
a 90-day timespan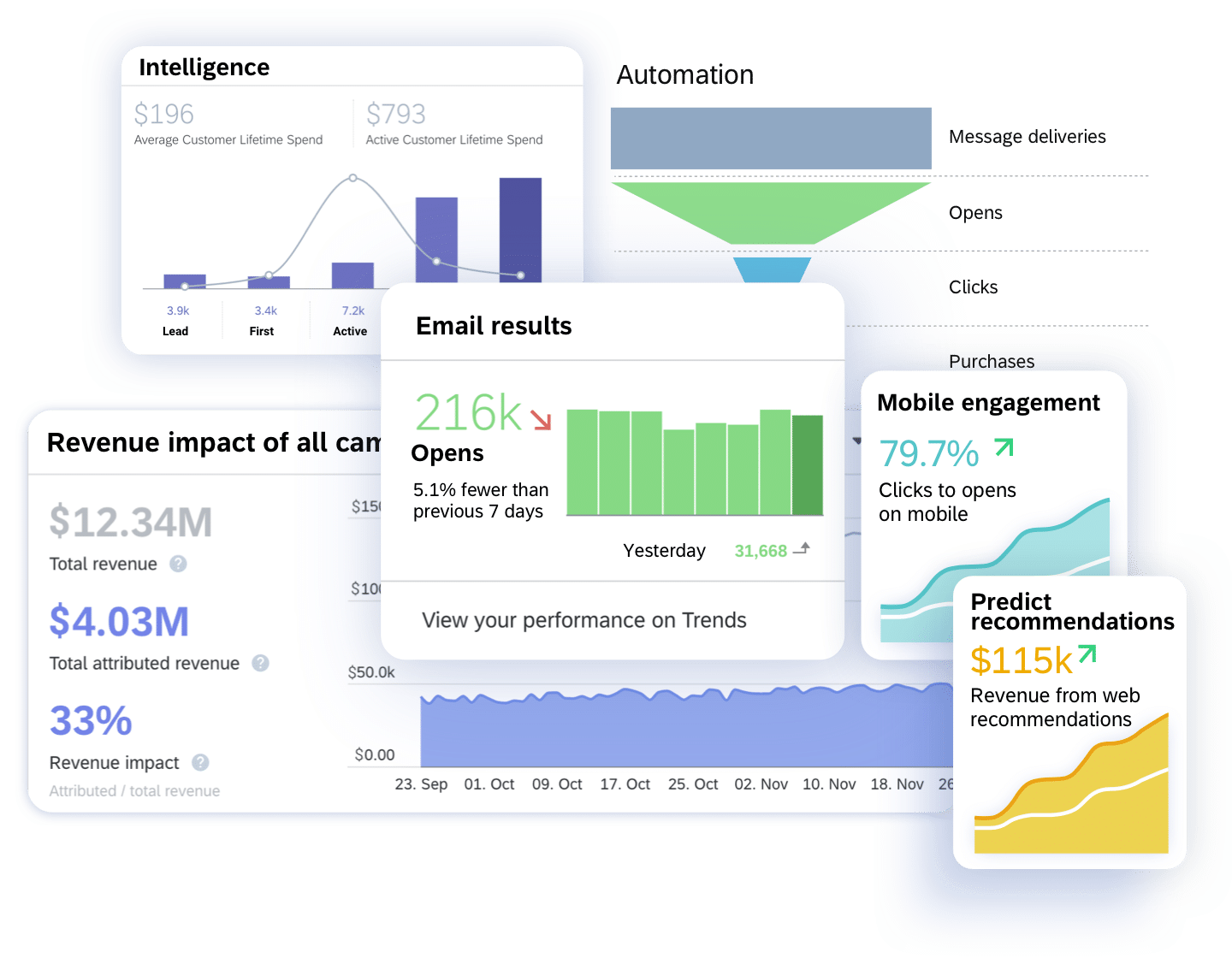 Deliver the


predictable, profitable

outcomes that your business demands with our omnichannel marketing solution
Request a Demo