Leveraging discounts to entice a customer to take action is one of the most tried-and-true marketing tactics around. A 5% off coupon here, a 10% off discount code there; you use these to entice your customers and, hopefully, drive them to take a certain action (namely: buy your stuff).
The problem is, short of a ridiculously generous price reduction, customers don't get too fired up about discounts. Their inboxes and mailboxes are already flooded with savings coupons and discount-based promos; so much so that customers now expect discounts.
Another problem (and quite critical): overuse of discount-based incentives hurts your company's margins.
To better engage customers and protect your company's bottom line, you need to be able to inspire customers to make purchases without negatively impacting your revenue. A fully integrated customer loyalty program allows you to create compelling incentives that resonate with customers on an emotional level without the need for discounts.
Rampant Discounts
It's safe to assume that all customers would like to get a product or service for less than its retail price. That's why discount-based incentives like coupons are so effective. And they've been working since the 19th Century.
The first coupon ever issued came from The Coca-Cola Company in 1888, in order to drum up business for their yet-to-be-proven soft drink. The offer was simple: one coupon, good for one free glass of Coke (which, at full price, cost a whopping five cents).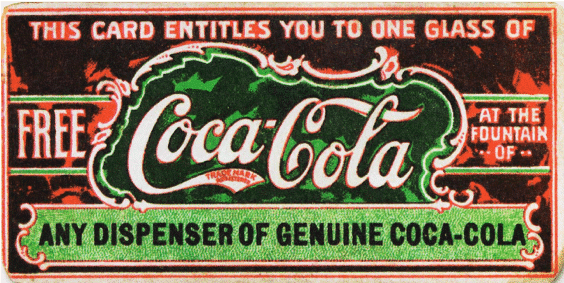 In 1888, Coca-Cola issued the first coupon in recorded history. As of 2020, they are now arguably the most recognizable global soft drink brand of all time
During the 20-year run of this promotion, over eight million free Coca-Cola drinks were served. Sure, the growth results were tremendous (by 1895, Coca-Cola was being served in every state throughout the country), but the company certainly incurred a hefty cost by giving out all those freebies. Pharmacists serving the drink had to be duly compensated for the price of syrup, and the company's promotion ate away at their margins.
The strategy was a success in that it got customers hooked on the product. It helped an otherwise insignificant beverage company become a legendary soft drink behemoth, and one of the most recognizable brands — perhaps in any industry — of all time.
As an incentive, heavy discounts or free giveaways will motivate customers. The problem is, you can't rely on them as your sole driver of action if your organization wants to continue to increase revenue.
Need help getting organizational buy-in for a customer loyalty program? Read the Customer Loyalty Whitepaper.
Protecting Brand Value
Excessive discounting does more than erode your margins — it can erode your brand value, too.
Retail and e-commerce companies alike are constantly offering discounts in order to cater to the demands of price-sensitive consumers who are now, empowered by modern technology, able to scout out the best deals for themselves. And if you don't offer discounts, your competitors will.
Perhaps the biggest challenge that brands face when it comes to pricing products is keeping up with competitors and their pricing strategy. According to eMarketer, 58% of retailers specifically cite this as their primary pricing challenge.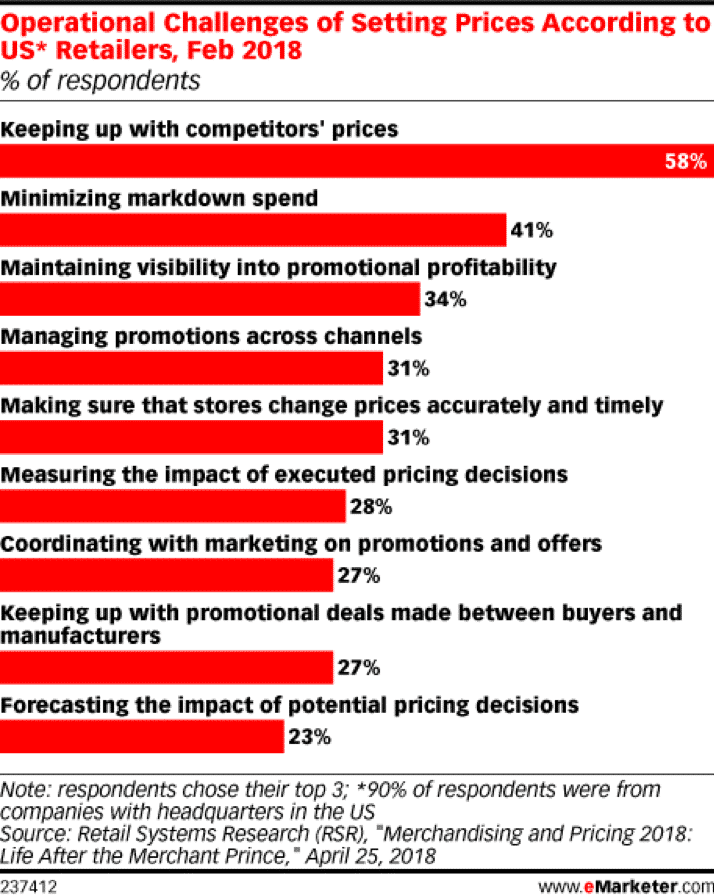 This mentality of constantly looking to undercut the competition on pricing leaves desperate organizations engaged in a race to the bottom. The consequence is less revenue and a potential devaluation of the brand.
If you're perpetually offering discounts on your product or service, what does that signal to customers? That your margins were too high to begin with? That you aren't offering a premium product? Granted, if you're positioned as a value brand, this might actually be a positive point of differentiation for you. But for the majority of brands, chronic discounting could have a negative impact on overall brand value that is difficult to recover from.
To get out of the discount rut and protect your brand value, you'll need to wean yourself off of discounts, and instead, utilize rewards and/or experiences as a means of driving purchases. The most effective way to accomplish this is with a customer loyalty program.
Driving Customer Engagement and Emotional Loyalty
There are other ways to connect with your customers besides through their pocketbooks (or, um, their Apple Pay I guess…). Actually, a stronger customer-brand connection can be forged through the use of loyalty programs.
A customer loyalty program enables you to create incentives for members (and potentially non-members) that are not based on discounts. Loyalty programs offer a spectrum of possibilities, but one of the things they do most effectively (which might otherwise be impossible) is allow marketers to create incentives that are emotionally resonant.
Loyalty programs create emotional connections in multiple ways. For starters, simply by virtue of being in your loyalty program, customers will feel more affinity toward your brand. Research from YouGov, via eMarketer, shows that at least 42% of loyalty members feel emotionally connected to the brand upon enrollment.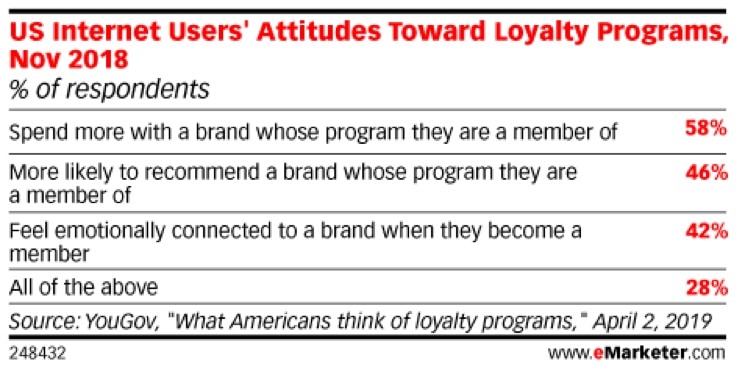 The other way loyalty programs facilitate emotional connection: experience-based incentives.
If you save a customer a little bit of money… okay, that's great. Better than nothing. But any satisfaction they feel is fleeting and will completely fade by the time the next purchase comes around.
However, if you give them an experience, the positive feelings that result will be longer lasting. A well-designed customer loyalty program enables you to create highly personalized, emotion-inciting incentives for customers in the form of experiences that — without loyalty — would be difficult to achieve.
What does that look like? Here are just a few examples:
1. Pre-Sale Access
Your company is having a sale. But for members, you're offering early access. This means your loyal customers will have a shot at the sale product while the gettin' is good.
Pre-sale access is exciting. It's like being invited to a grand opening of a night club. There is an air of exclusivity to it. It makes your customers feel special because they realize they are granted a privilege that the regular folks don't get.
2. Exclusive Offers
Imagine you have an apparel company, and one of your best-selling products is a classic t-shirt. You offer it in four colors: black, blue, gray, and white. But, for your members who happen to buy lots of that particular t-shirt, you present an exclusive offer on a green colored t-shirt (just in time for St. Patrick's Day).
Not only are these members excited about the prospect of a new color of their favorite product, but they kind of love the fact that it's exclusive to them. Not everyone else can buy it, which reinforces the feeling of being special. Then they can post a selfie on Instagram, wearing their new green t-shirt, and their ardent followers will wonder: Hey, how'd they get that special green t-shirt? I've never seen it available in that color before!
3. Premium Status
Your loyalty program will probably have multiple tiers — the more your customer spends, the higher their tier. Higher tiers (should) confer more benefits and perks for customers. Naturally, this will motivate customers to spend more so they can ascend the tiers.
Alerts informing your customer that they're only one purchase away from moving up in the loyalty program can prompt members to take action. And earning a spot in the most premium tier can generate feelings of excitement and pride.
Worth considering: your premium tier people won't be motivated by price. They're already spending a lot of money to get to that position. You'll need to be sure to craft incentives for these members that engage them in different ways.
4. VIP Customer Care
Customer service makes or breaks an experience with a brand. And if you're a consumer of anything made or sold by a brand, at some point you'll have a need for customer service.
Friction is an inevitable part of the customer service process. Whether it's waiting in line at the customer service desk inside a department store, waiting on hold when you call your ISP, or sending an email to a generic "contact us" when following up on an undelivered item, the process can be time-consuming and annoying.
Try offering a members-only customer care incentive. For members of your loyalty program, they can have an exclusive number to call (and get a live person who will answer), have emails answered in a day, or other perks like free shipping and free returns.
This kind of VIP Customer Care is not a traditional incentive that entices a customer to take a specific action on a specific item. Instead, it's a strong motivator for joining a loyalty or reward program, and we know that members spend more than non-loyalty members, as well as increase their engagement with the brand over time.
Do you know the three most-common myths about loyalty programs that prevent organizations from achieving amazing business outcomes?
Final Thoughts
Discount-based incentives work, so you'll likely never eliminate them completely. But you need to wean yourself off your overreliance on them.
Appealing to your customer's emotions is a stronger way to win their business, because the effects are longer lasting compared to patronage won based on discount or convenience.
You'll need a loyalty program that allows you to deliver meaningful, non-discount incentives to your customers. Emarsys Loyalty enables you to employ a wide range of marketing use cases that motivate customers to take action without using pricing or discounts as the incentive.
The best part is, Emarsys Loyalty is built directly into the platform, so if you're a client, it easily connects to your existing customer data, and can be added to your current marketing without extra effort or IT involvement.
Give a customer a discount, you'll save them a couple of bucks; but if you give your customer an exclusive members-only offer or the best in customer service, you'll make them feel like a million bucks. A customer loyalty program is one of the most effective ways to deliver these exciting experiences, which not only make your customers incredibly happy and devoted, but also will ultimately help preserve your brand's revenue and perceived value.
Handpicked Related Content: