Black Friday sales have been steadily growing YoY. 2019 Black Friday sales totaled $7.4B, up from the 2018 figure — which totaled $6.2B. And that figure eclipsed 2017 earnings by 23.6%.
But given what's transpired since February, and what new Emarsys data reveals, I wouldn't bet on that trend skyrocketing again this year.
How will retailers need to adjust to what's traditionally been the most lucrative day of the year? And how are leading brands making the transition in preparation for a "new Black Friday?"
Anticipating Consumer Behavior: What the Data Says
We're two months away from Cyber Week and Black Friday, historically the highest grossing week of the year for retail brands.
There's just one problem: people are scared (in fact, there's no degree of safety measures that will be enough to tempt U.S. shoppers back to stores, according to Emarsys research). And, consumers found other, easier ways to shop, too.
Related: 5 Trends to Guide Your Black Friday Marketing in 2019
10 Black Friday Stats To Know for 2020
Here are 10 data points — and their implications — from Emarsys clients to help you be as informed as possible as you prepare for Black Friday and Cyber Week 2020, post-Coronavirus style:
Online retail in the U.S. surpassed 130% year-over-year revenue growth during the height of the lockdown before settling above 68% in mid-August. Online sales are continuing to grow, so expect record online revenue this Black Friday.
On average, Emarsys client brands grossed around USD $409k during the week of Black Friday 2019. This figure is up $10k from 2018 which means more customers are buying with greater basket values YoY.
Black Friday 2019 week median revenue is roughly 76% higher than of the preceding weeks in the same year. Plan to experience a revenue (and demand) spike by potentially 75% or more. Plan inventory, customer support, and database health accordingly.
Daily average order value was highest on Black Friday in both 2018 and 2019. On Thanksgiving Day, AOV is similar to the preceding weeks. Expect the highest AOVs of the year, and run personalized campaigns where cross- and up-sells are at full-throttle.
After Cyber Monday, daily AOV returns to a slightly lower level than it was before Thanksgiving. Ah, the swell and decline. This lull is the perfect time for first- to second-time buyer campaigns, cross-sells, and loyalty program initiation.
Despite promises of masks, contactless payment, and social distancing, 62% of U.S. consumers say that "no amount" of safety measures would encourage them to visit stores this Black Friday. All the more reason to optimize e-commerce channels.
Just 4% of consumers plan to shop in-store on the day following Thanksgiving, so don't expect the usual shopping frenzy (Emarsys). Plan for your online store to resemble your typical physical store.
28% of consumers will be purchasing solely online. Consumers will be looking for efficiency and ease in their shopping experience.
When asked about the safety measures being put in place, only 14% of consumers said that social distancing would encourage them to shop in-store, while less than 10% said that contactless payment or click-and-collect services would convince them. If you're scarce on resources and deciding how to allocate things, keep in mind that investing in above-and-beyond safety measures may not be worth it when you could make that same investment into online advertising (and get a better yield).
While the safety measures have done little to build consumer confidence, one in five (19%) shoppers revealed that they would be tempted to shop in-store if the discounts were greater than those online. If discounts are big enough, some customers may be lured in, despite safety concerns.
If you're wondering what to do or where to do it, you're not alone. Almost every retailer is scrambling around, all asking "what are the right moves to make?"
Black Friday in the time of COVID-19 is uncharted territory. But the good news is, you can use the aforementioned data to give you an advantage in knowing what are the best steps to take, as well as what to expect (and what not to expect) this season.
Driving E-commerce Revenue Black Friday 2020
The indication that consumers will shop predominantly online, according to our own data and industry benchmarks, correlates closely with how the U.S. retail industry has evolved since the start of the pandemic. No surprises there.
But how can you take advantage of what the data suggests? A few innovative ideas to consider implementing this holiday season include:
1. Run an online sale of your physical/warehouse inventory
It's true that many retailers had to close their doors, either temporarily or permanently, due to the virus. But many established brick-and-mortar brands who made it through by relying on a stable e-commerce presence ended up with loads of unsold physical inventory. Now is the time to get it off your shelf… with discounts, deals, and the right incentives.
2. Break through the Black Friday clutter with personalized marketing, tier-based incentives or free shipping
Personalization is a must if you want to stand out in the noise of Christmastime commodification that'll be bombarding consumers. Discount codes and promotions need to fit each customer, each time.
Free shipping is table stakes around the holidays, so it needs to be incorporated in some fashion, whether you offer it for every item, or only on cart values above a certain threshold.
➤ Bonus Tip: Get people coming back into your store with "in-store only" deals that will be promoted through digital channels.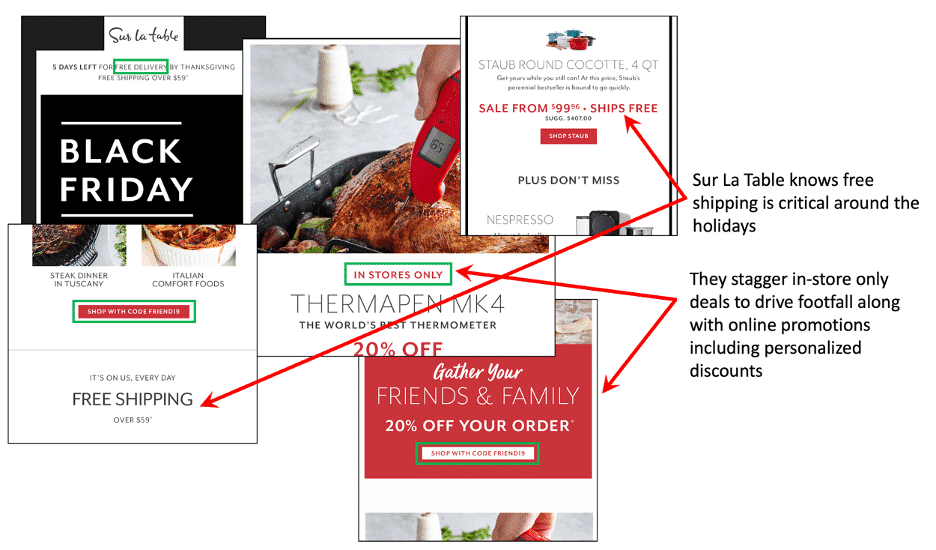 3. Turn first-time buyers into repeat customers and convert anonymous website visitors
The Holiday season is literally the perfect opportunity to focus on repeat purchases. With all of the holidays coming up, you have a built-in justification for continued outreach that you don't have to feel weird or pushy about.
➤ Bonus Tip: Ensure your website, apps, and backend technology infrastructure are at peak performance NOW. Then after Black Friday, you can use all the newly-gathered (and existing) customer data to drive retention strategies with personalized targeting over Cyber Monday and Christmas.
4. Bring more value than other brands
Eliminate all friction and focus on value, content, and messaging while your marketing automation takes care of the heavy lifting. How can you use animation (like Zumiez and Drybar, below), countdown clocks, and recommended products that are so eye-catching that consumers have to check it out?
While other brands are trying to play catch up and figure out what COVID-19 will mean for their marketing, don't worry about what you can't control. Focus on doing something really emotive and creative, something impactful — show the world why your brand cares about equality, love, or freedom.
5. Continue to prepare for a WFH policy
With a future as uncertain as now, work-from-home is the new normal… for you and your customers.
Shane Lenton of Cue Clothing Co. shared how he and his team are capitalizing on the 'work from home' new normal and online shopping explosion:
What about your customers? For example, Bob, the typical 9-5 commuter who's schedule was predictable, who bought every third weekend of the month, and who spent an average of $150 in-store every visit, is still the same customer, but he now has a potentially different lifestyle. How can you adapt to the new habits or homebound buyers?
Related: 6 Ways Cue Clothing Co. is Pioneering Unified Commerce: the Next Retail Revolution
Conclusion
There are actually many positives to a predominantly digital Black Friday.
E-commerce provides the perfect opportunity to gather and analyze customer data so you can retarget customers with personalized offers — turning potential one-off customers into loyal and profitable ones.
The move to the online ecosystem is inevitable, and this is an opportunity to advance your own acquisition and retention strategies in a future-proof fashion.
---
Want to finish 2020 with more customers and better business outcomes? Focus on e-commerce.
---
Handpicked Related Content: