The Business
Happy Socks is a fashion company that's all about bringing fun and colorful socks to their customers. Founded in Sweden in 2008, it is a retail and ecommerce brand that offers never-before-seen designs. They have 19 physical stores around the world and have produced more than 15,000 unique sock designs since their founding.
Consumer Products/Retail & E-commerce, Fashion & Accessories
Swedish company with 34 global store fronts
9 regional websites, 3 languages and 2 global warehouses
>15,000 unique
sock designs
The Challenge
Lacked a clear data strategy based on customer insights
Lean team needed to shift from manual, one-off campaigns to automation
Needed to speak to shifting wants and needs of their customers
Scaling personalization across multiple languages and and geographies
Before partnering with Emarsys, Happy Socks was looking for a solution to create a unified data foundation that would allow them to scale and personalize their messaging to clients. They understood their need to automate lifecycle campaigns to free up internal resources. They also wanted to meet their customers where they were through content localization and personalization.
The Solution
By identifying key customer data sources and completing a historical data load into the Emarsys platform, Happy Socks was able to analyze historical customer data by using RFM modeling. Then they automated their customer journey to identify key points at which customers would be moved through the funnel to purchase, repeat purchase, and loyalty.
Activate customers and set objectives and targets
Gathering data from disconnected sources into a unified source of truth allowed Happy Socks to get a more holistic view of their active customers. This gave them a path to use the strategic dashboard to create objectives based on real data. Using customer lifecycle analytics, they were able to create a view of customer health, as well as distinguish between key segments, such as first time buyers vs. active customers, for reporting to executive management.
With a global view of multiple sources of data, Happy Socks now can easily scan year over year performance and identify opportunities for growth and further messaging. This gives quick insights that allow for nimble reactions by their lean but mighty team, and it has been a breakthrough innovation for Happy Socks..
Understanding customer behavior
With this rich insight into customer behavior, Happy Socks creates campaigns that are tailored to the individual stages of the customer lifecycle. Using the Emarsys Automation Center, the company rapidly executes campaigns to move customers along the buying journey. Happy Socks built upon existing templates to engage customers in more sophisticated and meaningful ways.
Happy Socks uses multiple pre-built tactics for automations, including the welcome email sequence for driving first purchase, anniversary emails, and win-back and reactivation campaigns. In addition to driving purchases, Happy Socks uses automations to grow their email database.
"Customer engagement hinged on overcoming several key challenges. The number one was that we lacked a clear data strategy based on customer insights."
Encouraging customers to take the next steps
When a prospect comes into the Happy Socks ecosystem, personalized automated journeys then encourage purchases. This helps convert them into customers, retain them, and encourages loyalty.
The first step in Happy Sock's lifecycle journey is a welcome series, which gives an incentive to close the initial purchase or make the next purchase. When the prospect becomes an active customer, they receive communications focused on inspiration and incentives.
After driving initial purchase and repeat purchase, Happy Socks focuses on identifying different cohorts and premium customers. They then center communications around acknowledging loyalty and inspiring further purchases. With these processes in place, Happy Socks is better able to identify churn. This opens up the opportunity to put customers who are likely to churn into win-back and reactivation campaigns.
In addition to nurturing existing prospects, to ensure that new ones are always entering the funnel, Happy Socks uses Emarsys CRM ads to drive acquisition with lead ads.
Personalized content based on purchasing and web behavior
To encourage purchase and loyalty, Happy Socks serves customized content to buyers.
Using Emarsys' Predict tool, Happy Socks is able to see what categories key customer segments are most interested in based on web and purchasing behaviour. Then they target customers with more relevant communications.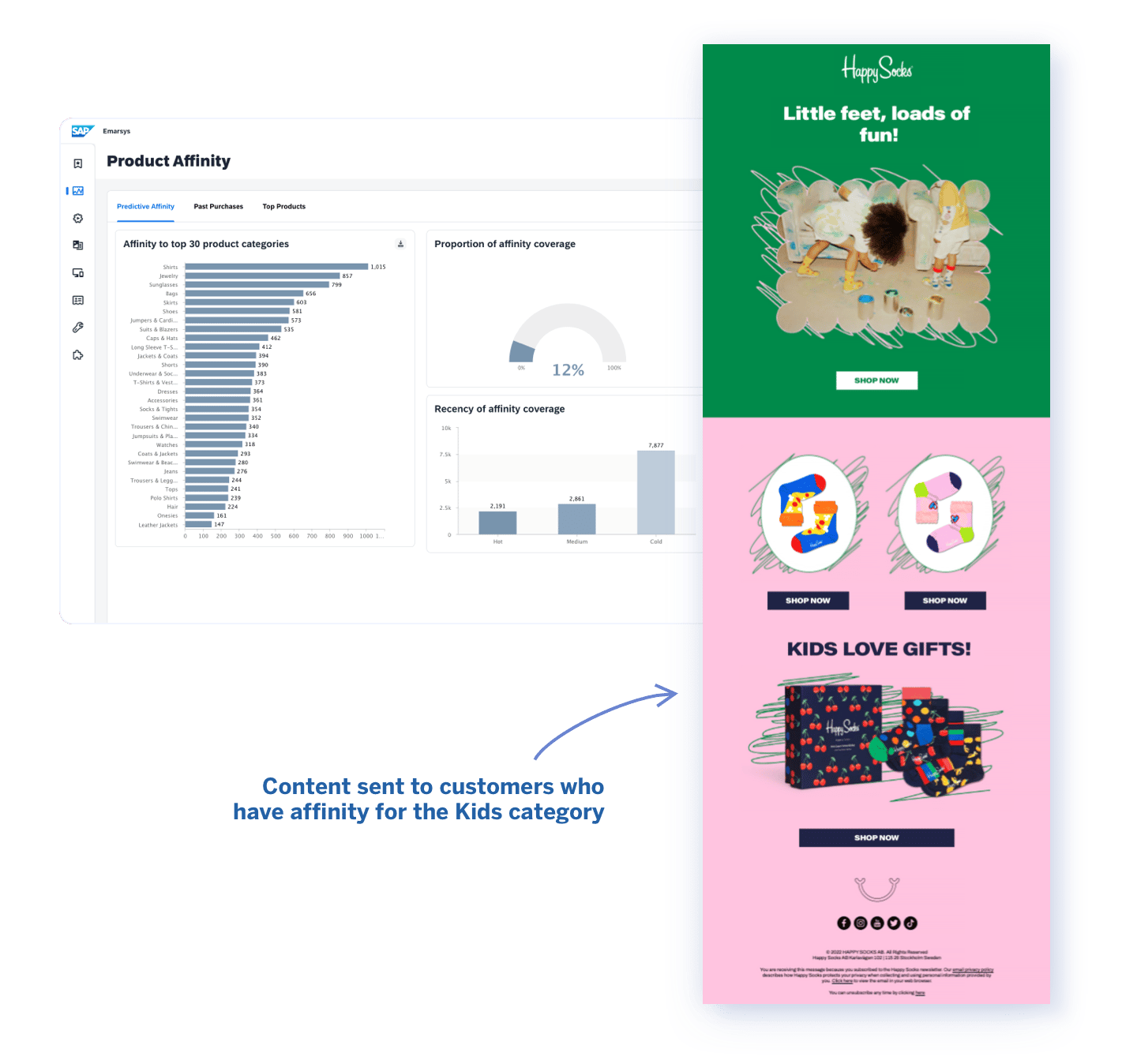 Personalizing content based on AI recommendations and region
To drive purchases, they also weave in AI product recommendations, tailoring them to the products that are available in the customer's region and the warehouse closest to them. Using personalization tokens and Emarsys Scripting Language (ESL), Happy Socks built templates and underlying logic that allows automation to seamlessly adjust content to the right language, currency, and location information for the customer.
Using Emarsys pre-built Tactics as a blueprint for creating customer journeys
Acquisition and Conversion Tactics gave Happy Socks the inspiration they needed to create automated messaging that drives purchase and loyalty.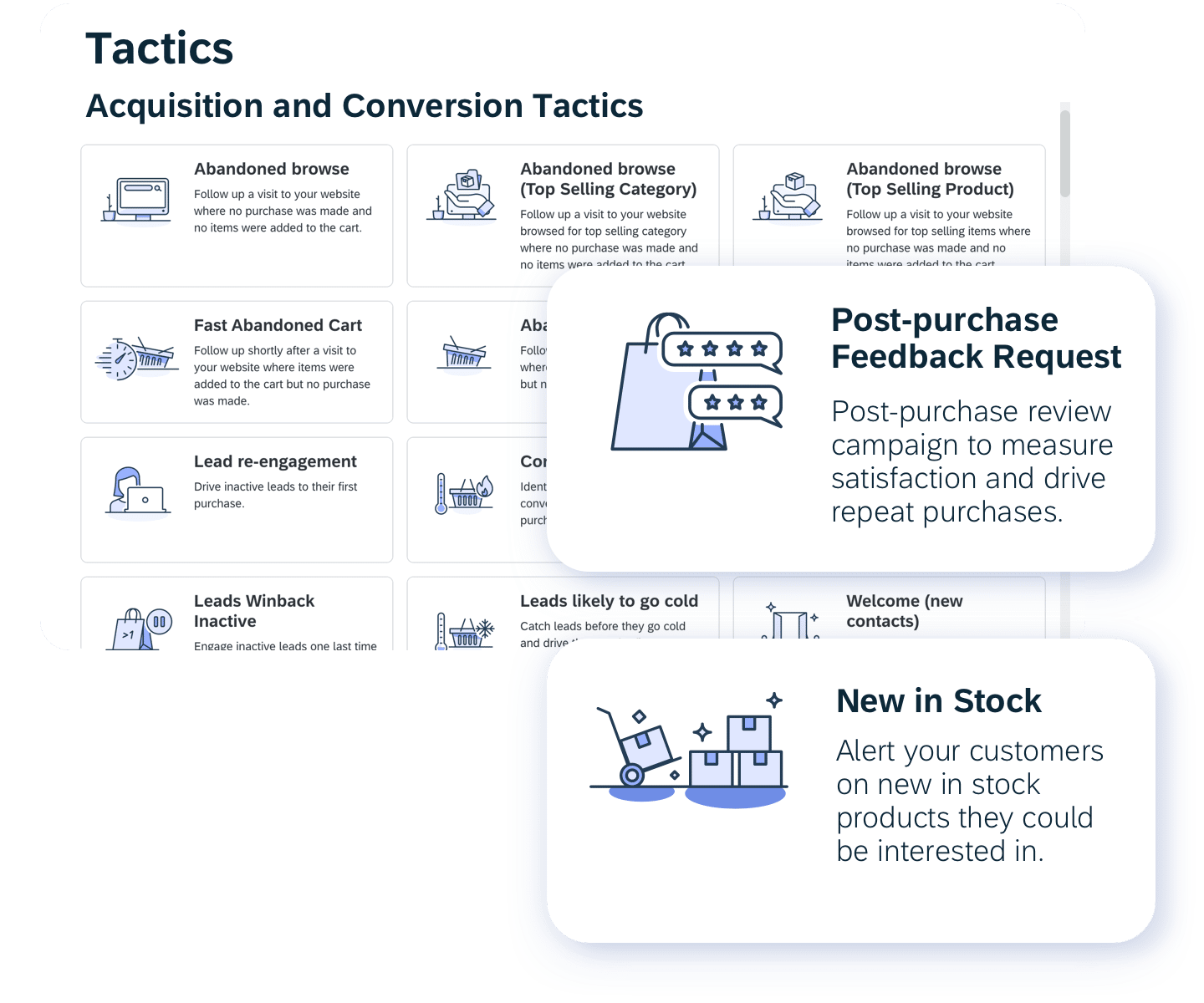 Driving revenue uplift with automated journeys
Happy Socks created automated journeys to drive first purchase, repeat purchase, and to reward loyalty, gaining a potential revenue lift of +15% from active customers.
The Impact
By unifying and consolidating data through Emarsys, Happy Socks can better engage their customers through automations across email and CRM ads, enhance their segmentation, and drive the customer experience through rich customer journeys. By using personalized content, with predictive data like last purchase or top categories shopped, as well as web behavior, Happy Socks was able to scale communications as a global brand in native languages for better results using Emarsys Scripting Language. The results are improved customer insights, optimized customer lifecycle journeys, and potential revenue uplifts from various buyer segments.
+15% Potential revenue from active customers
through automated journeys
>300
Automated emails created, serving different touchpoints in the customer journey
+10% Potential revenue uplift from first-time
buyers through automated journeys
+9
Automated customer lifecycle journeys launched across 13 languages and all global regions in 3 months
+5
New detailed RFM segments identified
"We are just at the very beginning of what is possible and there is so much more to explore. Focusing even more on loyalty and all the programs connected to it will be the next important step for us."
Deliver the


predictable, profitable

outcomes that your business demands with our omnichannel marketing solution
Request a Demo