I remember returning a pair of jeans to a store and the clerk asked if anything was wrong with them. I pointed out the legs were shorter than the stated measurements. Instead of noting this information, the clerk said something along the lines of "well, they're all hand-cut so you may experience slight variations."
I'm not sure about you, but whenever I return something, the sales associate never seems to jot down why I made the return. They simply ask the question (something along the lines of why I'm returning it), I answer, and they hand me back my money.
As you've experienced, finding new customers can be expensive, especially when loyal customers are up to five times less expensive to keep around. Being open to learning from customers goes a long way in providing them with a positive experience, one that will help them return, and will help you build a stronger relationship.
Understanding exactly what your customers want is pivotal to your brand's future. You can learn from your customers by sending a survey after they purchase to gather feedback and use that information to enhance their future buying decisions.
Why Implement Post-Purchase Customer Surveys?
As marketers, we like to focus on attracting customers across multiple channels. Creating a video for YouTube, bringing in new customers via Facebook Ads, generating leads through your content… all these channels can bring you new customers. But what happens after they purchase?
Your customers may contribute a great deal of revenue over their lifetime as they continue buying from you. When buyers are already familiar with your brand and your buying process, it takes much less time to motivate them to purchase from you again vs. a new customer.
The cumulative effect of repeat customers is higher profits and an expansion of your business. By understanding the importance of customer retention, the next step is post-conversion marketing. You can improve your business by implementing post-purchase surveys to learn what your customers think of you.
Top 8 Expert Tactics for E-Commerce Businesses
A post-purchase survey provides customers the platform to voice their opinions and resolve any issues. This also allows your brand to obtain feedback that can be used to enhance a customer's willingness to buy from you again. Let's take a look below at some of the reasons to implement a post-purchase customer survey.
1. Post-Purchase Feedback
Once a customer purchases, you can quickly identify those who are unhappy with your brand, their purchase, or something else entirely, while at the same time identify happy customers who may eventually help to promote your brand.
To make this happen you can set up a post-purchase review program campaign where buyers can rate their shopping experience. This campaign aims to increase retention and active customer revenue, reduce churn, and drive additional purchases.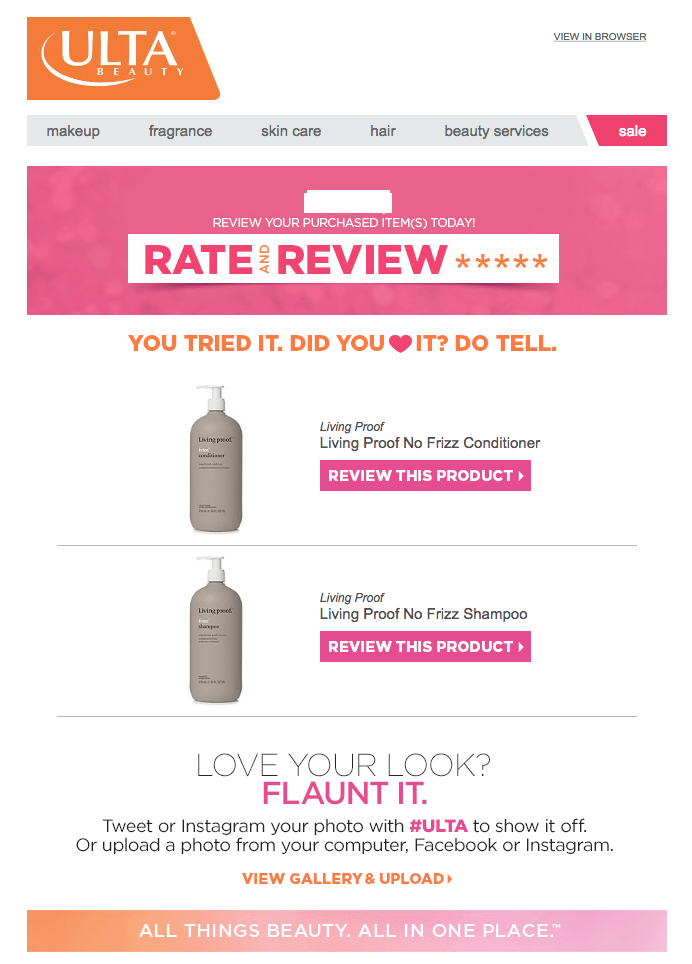 2. Post-Purchase Feedback for a Good Experience
Once you've established the post-purchase feedback campaign, and have identified satisfied customers, you can send them a post-purchase feedback for a good experience campaign via SMS.
The goal of this campaign is to increase retention and active customer revenue, reduce churn, and drive additional purchases.
3. Post-Purchase Feedback for a Negative Experience
Once you've sent the post-purchase feedback campaign, and have identified those who are dissatisfied with your brand, you can send the post-purchase feedback campaign via SMS to those who had a negative experience. This will allow you to learn from those customers as to why their expectations were not met so that your brand can, if they so choose, make changes to solve those problems.
The main goal of this campaign is to turn the negative interaction of a customer into a positive one.
4. Post-Purchase Store Feedback
If a customer visited one of your stores, you can encourage them to review that store on your website, or even on Google Maps. These positive reviews can encourage other potential buyers to make an in-store purchase, driving more sales for a specific store.
The main goal of this campaign is to keep more of your active customers and convert first-time buyers to repeat customers.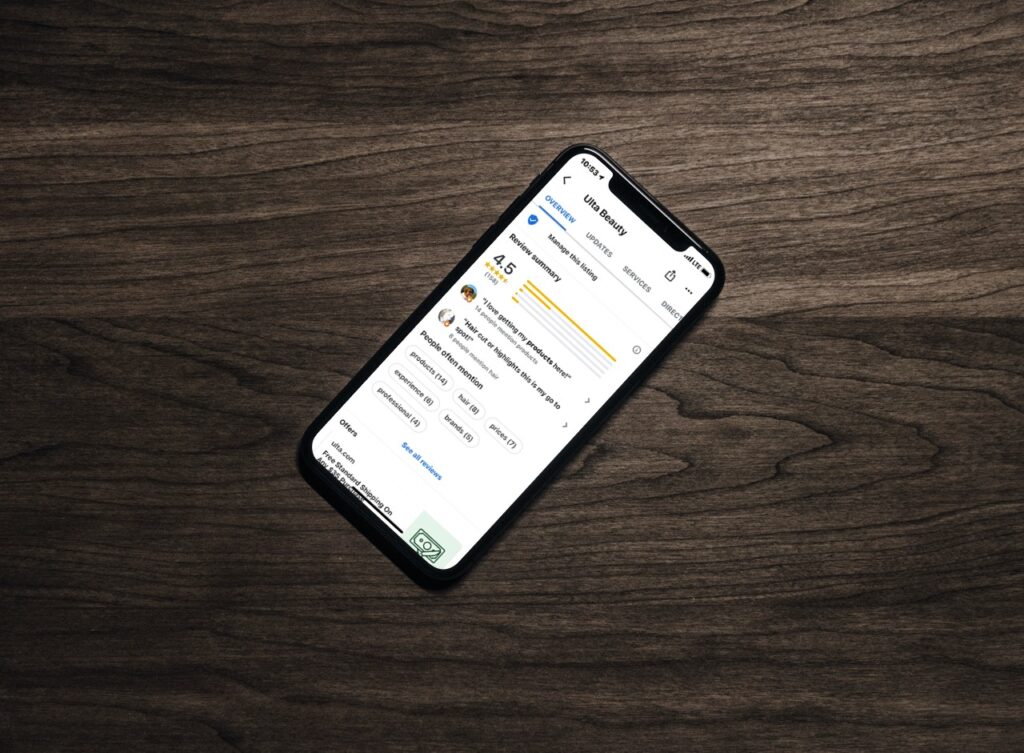 5. Post-Purchase Upsell
After a customer's purchase, you can use the post-purchase upsell campaign to drive an additional purchase, turning that customer into a repeat, and hopefully, loyal buyer.
This campaign works well to convert first-time buyers into active customers and drive active customer revenue.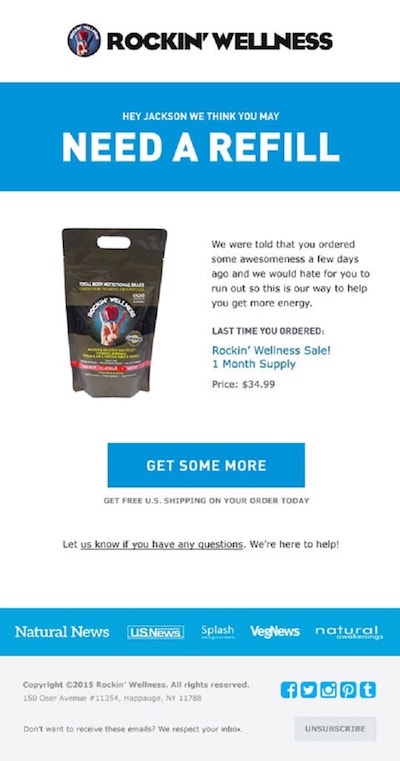 6. Post-Purchase Cross-Sell
Want to generate additional lifetime value from a customer? The post-purchase cross-sell campaign follows up with a customer to recommend products based on customers who made a similar purchase.
The main goals of this campaign are to increase your AOV, drive repeat purchases, and increase revenue from active customers.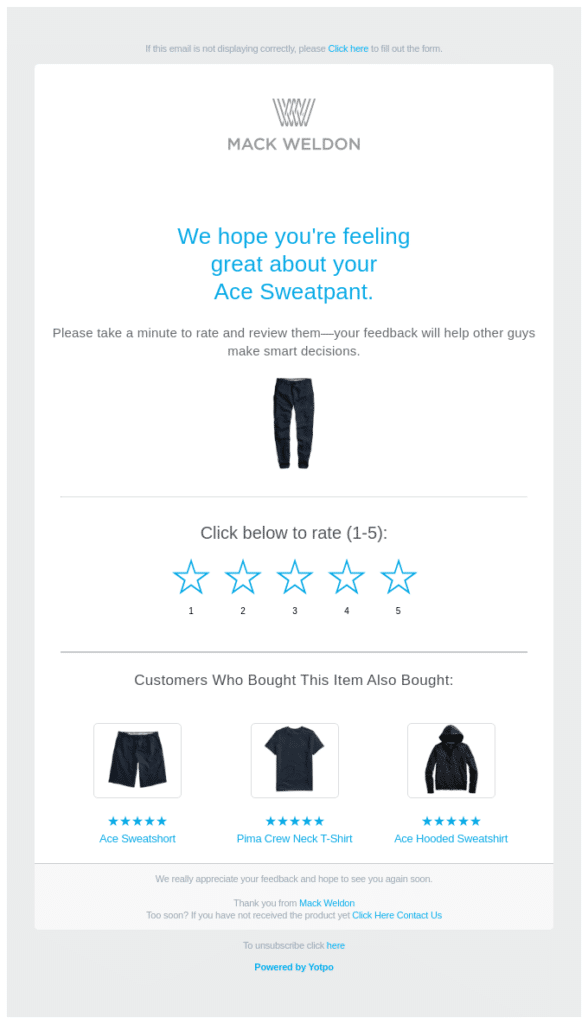 7. Post-Purchase Category Cross-Sell
There's another campaign that enables you to increase your cart value, as well as your customer lifetime value… and that is the post-purchase category cross-sell campaign.
This campaign promotes products similar to the category of your customer's purchase. You can use this campaign to offer a promotion to inactive and defecting customers and even leads.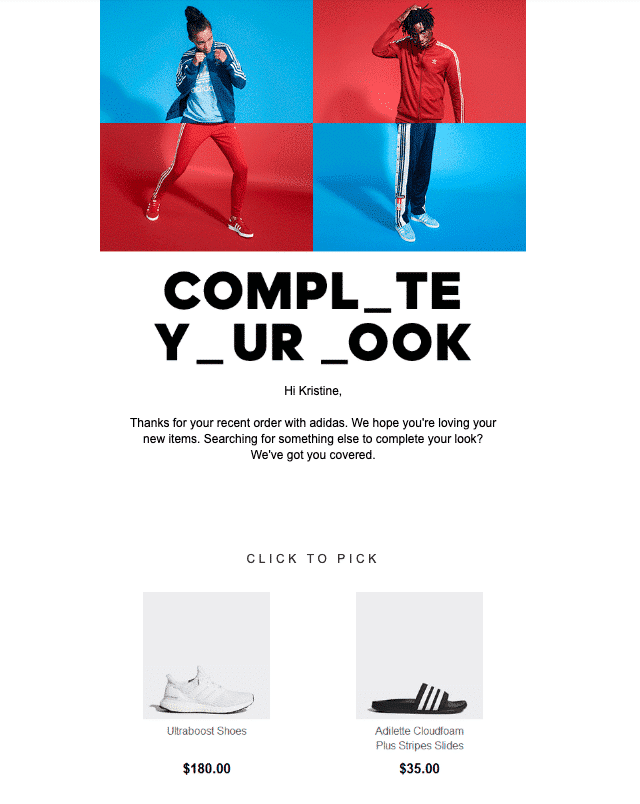 8. Store Post-Purchase Cross-Sell
Having the offline purchase data of a customer is vital to fulfilling this next campaign. You can use a store post-purchase cross-sell campaign to promote related products to your customers, based on their purchase history.
The goals of this campaign are to gain repeat buyers, increase your AOV, keep your active customers, or just simply upsell/cross-sell.
Final Thoughts
It's important to stay in touch with customers to know exactly what they are looking for, what they like, and what they'd like to see changed. Implementing post-purchase surveys can be a great way to gain customer feedback and learn how you can further enhance their buying experiences.
Simply put, post-purchase surveys give you a chance to learn how customers felt about your products or services in order to improve on them, and it also provides an opportunity to gain feedback on the overall buying process in an unobtrusive manner.
Handpicked Related Content