We're halfway through our Power to the Marketer festival, but we're not even close to slowing down this global marketing celebration.
The first day of the event focused on leading the way to customer engagement, but the second day was all about omnichannel marketing, finding the right balance between CX and revenue, and empowering marketers on their path to true 1:1 omnichannel engagement. 
Here's a quick recap of what we learned during Day Two of our Power to the Marketer festival.
Learning the Key to Customer Obsession with Forrester
During Day One, we heard how customer obsession is helping brands take once-in-a-while shoppers and turn them into lifelong loyalists. But on Day Two, we had a chance to go deeper into customer obsession. Rusty Warner, Forrester's VP Principal Analyst, led us through a presentation highlighting the importance of cross-channel marketing and unlocking customer obsession.
Here are a few top takeaways from the session:
Customer obsession is a business-critical operating model. As a marketer, your priority should be to understand your customer, develop a strategy based on that understanding, and deliver experiences everyday that live up to those strategies. When the customer is at the center of your leadership, strategy, and operations, you're better positioned to drive the kind of omnichannel customer engagement that delivers tangible growth and revenue. This makes it a must, not a "nice-to-have" position.
Personalization should not be conflated with experiences. Personalization as a pure marketing tactic without regard for the customer's needs and preferences results in poorer CX. Acquisition and conversion may be goals for your marketing team, but customer value and satisfaction are stronger measurements of overall success.
Integrated martech ecosystems lead to better results. Bring your technology together in a way that aligns your brand strategy, brand experience, and customer understanding. "Customer-obsessed" business objectives give your enterprise a unifying goal to drive toward.
These three takeaways only scratch the surface of Rusty's talk. To dive in and learn all about the relationship between customer obsession and omnichannel marketing, you'll want to watch the full session. If you missed it live, no problem — you can watch it on demand.
---
Inspire your strategy, push your performance, and hear from top brands — join the Power to the Marketer festival.
---
Gibson Guitars & The Path to Omnichannel Engagement
For many of the marketers we talk to, one thing is clear: true 1:1 omnichannel customer engagement is a top priority. It's something all marketers strive for, but not all can achieve. So how do you get there?
During the Emarsys Product Keynote session, we heard from Emarsys CEO Joanna Milliken, CTO Byron Pitney, and Global Head of Product Marketing Meghann York as they walked us through the empowered marketer's path to omnichannel engagement. If you weren't able to join the session live, here are just a few of the many insights shared:
Connected Customer Experiences Are Vital for Success
Your customers have great expectations, and so does your business. Marketers today have the responsibility of keeping both groups happy. So what does this have to do with omnichannel engagement? Well one of the things we learned from Joanna is, if we as marketers can't connect with customers wherever they are through relevant, personalized experiences, and if we can't do this at scale, we'll see this shortcoming reflected in business results.
"As marketing is increasingly responsible for the entire customer experience, in fact, over 50% of you tell us that [you] are responsible for the entire end-to-end journey across [your] entire company. And especially so after COVID. And [you] have been working really, really hard to meet all those increasing expectations of the business, as well as the customer. And we don't have to tell all of you — it's just not been easy. If you can't bridge this gap, your competitors will. And in fact, according to a McKinsey study, companies who are able to make these connected experiences report a 50% increase in customer satisfaction, which is significant. And when we can't — when we can't make it relevant and we can't scale it — it will reflect in the results."
When Marketers Speak, We Listen
This isn't the first time we'll mention our love and appreciation for marketers, and it won't be the last. The Emarsys customer engagement solution is purpose built to empower marketers to reach more customers and accelerate business outcomes. That unwavering customer focus means we're continuously listening to our customers and learning from them so we can innovate and improve our products.
During the product keynote session, Byron shared with us the three most-requested features our customers have been asking for: web hook node in automations, web push, and visual affinity. Here's Byron talking about some of those features and why they're so important for marketers.
"So far this year, we've already delivered more than 50 new features. Speaking of new features, these are the top three requested features: Web Hooks provide communication between technical solutions. It helps you execute complex campaigns without diving into technical details. It's easy for marketers to set this up. One early adopter is using Web Hooks to synchronize her consent management between different platforms. Web Push is integrated with automation interaction, offering true real-time delivery of push notifications so marketers can create cross-channel campaigns that include Web Push at any stage. And typically, you need behavioral data to make a recommendation. However, with the power of AI, we can make a new in-stock product recommendation based on Visual Affinity." 
Gibson Guitars Shows Us What Empowered Marketing Looks Like
One of the most important themes throughout the Power to the Marketer Festival is, of course, empowering marketers. We hope that by bringing together marketers and business leaders to share their stories of success, you'll gain insights to empower you in your role and help you chart your own course to marketing success — whatever that looks like for you and your team.
Gibson Guitars is a world-famous brand that has mastered omnichannel customer engagement, and fortunately, we were able to give a close look at their strategies for becoming an empowered omnichannel marketing team. We also explored the ways they've integrated marketing and sales for unified account engagement, using Emarsys.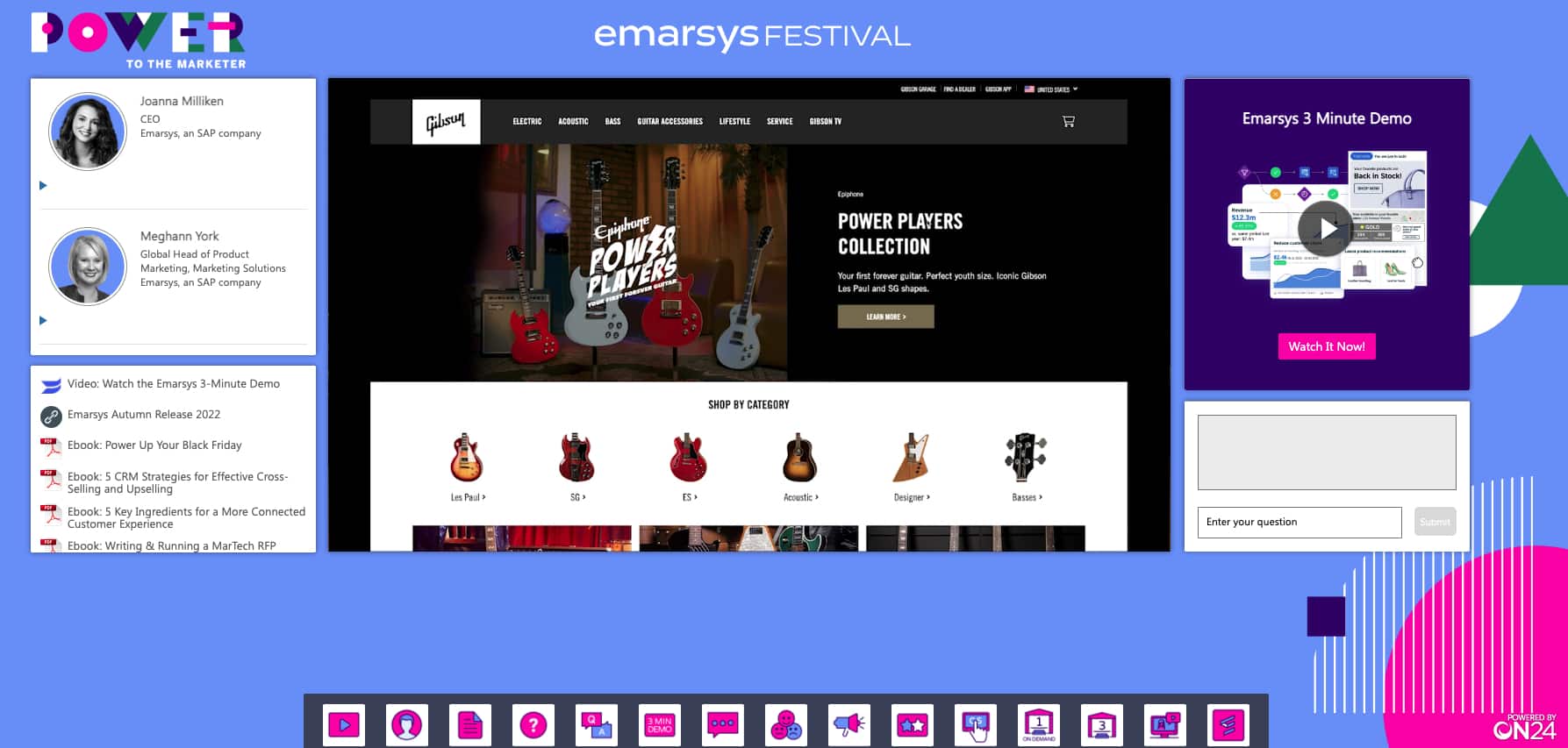 Meghann took us through the entire Gibson customer experience — not only their direct-to-customer experience, but also direct-to-channel marketing and how the brand integrates the consumer and channel experiences together. We got a behind-the-scenes look at exactly how Gibson uses Emarsys to reveal engagement opportunities in their data, build relevant personalized campaigns to drive engagement, and then automate and optimize that engagement for better business results.
Here's a great example of how Gibson, using Emarsys, can help their customers get one step closer to achieving their musical ambitions.
"So we know people like Sadie like to interact over a mobile app. So right here in Automation Center we're going to directly integrate a WhatsApp engagement so that we can reach Sadie where she wants to interact with us. So let's see what it looks like from Sadie's perspective. Here she is in WhatsApp, she's talking to one of her friends about the latest show she went to, and here comes a notification from Gibson asking if they can interact with her in this channel. She says yes, and they send her all of that information about lessons that are coming up near her. She thinks these look great, so she goes ahead and registers for the event. When she receives the email, there is that ticket she can add directly to her wallet. Sadie adds the ticket to her wallet, she goes into the store, she purchases a strap, some picks, and an amp, and she's one step closer to her dream of being a rockstar."
Day Two's Stand-Out Virtual Sessions
If the mainstage sessions weren't exciting enough, Day Two presented us with another day full of insight-rich, marketing-focused virtual sessions from around the world. Here's a list of just some of those sessions:
Keeping The Lion King Majestic at Year 25
Featured Brand: Disney Theatrical Group
Topic: Personalization with Automation
Columbia's Blueprint for a Storm-Proof Marketing Center of Excellence
Featured Brand: Columbia Sportswear Company
Topic: Thought Leadership
Pizza Hut's Winning Recipe for Loyalty
Featured Brand: Pizza Hut
Topic: Lifecycle & Loyalty
How French Connection Uses AI to Master Lifecycle Marketing
Featured Brand: French Connection
Topic: AI & Analytics
Zero-Party Data: Samsonite and the Future of Consumer Engagement
Featured Brand: Samsonite
Topic: Connected Data
Threading It Together — Hobbii's Ambitious Cross-Channel Strategy
Featured Brand: Hobbii
Topic: Content & Channels
How Beauty Pie Uses Data to Deliver Next-Level Email Experiences
Featured Brand: Beauty Pie
Topic: Personalization with Automation
Happy Socks' Journey from Disparate Data to Unified Customer View
Featured Brand: Happy Socks
Topic: Connected Data
So many sessions, so little time. How do you watch them all? The good news is, because all of these sessions are on demand, you can drop in to watch them whenever, wherever, and for however long you choose!
To watch all these and many more sessions on-demand, head over to the Power to the Marketer Festival homepage now and complete your free registration.
Much More to Come — Don't Miss Day Three!
Day Two was filled with amazing insights and inspirational sessions from marketers and experts all around the globe — but if you're looking to power up your marketing, your cup runneth over.
That's right, the festival continues tomorrow with the third and final day of our Power to the Marketer Festival. During our mainstage event coming live from London, you'll hear from brands like:
Adaptista — Maria O'Sullivan Abeyratne, Founder & CEO
TikTok — Kristina Karassoulis, Head of Luxury Brand Partnerships
Kat Maconie — Gracie Irons, Head of Social
Vogue — Zeena Shah, Editor
It's not too late to join us live for day three and get unlimited on-demand access to everything days one and two had in store. To join the festival and get free access to the session, register now!
Handpicked Related Content: