Competition is mounting. Storefront costs are increasing. And 55% of retail brands cite driving foot traffic as a top challenge. This all points to one clear truth: brick-and-mortar businesses can no longer wait for their customers to come to them.
If you want to stand out from your competitors, draw customers, and keep them coming back for more, you need a robust strategy in place that's going to attract, delight, and retain customers. To stay ahead of the curve, you need to meet them where they're spending their time and engage them with relevant content and convenient paths to purchase.
The answer to this complex challenge lies in cross-channel retailing. In this article, we'll cover all things cross-channel retailing, break down its benefits, and give you three examples from leading retailers to help you create a cross-channel marketing strategy for your retail brand.
Cross-channel vs. multichannel vs. omnichannel
Let's start with the definitions. Although multichannel, cross-channel, and omnichannel are similar, they have several key differences.
Multichannel retailing definition
Multiple channels, but none of them are connected
Multichannel retailing is a term used to describe a brand that markets their products across multiple channels. Brands opt for multichannel marketing because it gives customers the choice over which channel they use to complete their purchase — whether that be in-store at one of their physical locations, or via an online store or app.
However, these channels are not connected, so the customer receives a disjointed, isolated, and generic experience that doesn't adapt based on the information they share with the brand. Multichannel marketing tends to be focused on products, as opposed to the customer.
Benefits:
It's easy to implement, meaning brands can get their strategy off the ground relatively quickly.
Brands can significantly increase their reach, especially for brick-and-mortar businesses focusing on curb appeal to drive foot traffic.
Challenges:
Your customer engagement will suffer as a result of the disconnected experience your audience receives.
You'll end up with weaker brand loyalty which means it will be easier to lose your customers to competitors.
Budget and operational efficiency is lower than cross-channel and omnichannel strategies.
Cross-channel retailing definition
Multiple, connected channels, but none or few of them are integrated
Cross-channel retailing is a step up from multichannel retailing. Where multichannel broadcasts marketing content to customers, forcing them to pick and stick with one purchase channel, cross-channel retailing gives customers the flexibility of completing their purchase across several channels.
Benefits:
You can optimize your marketing budget by adopting a holistic approach that meets customers where they're at and where they're already spending their time
You can boost conversion rates by delivering convenient, flexible paths to purchase
You can increase brand loyalty by creating a connected experience across multiple touchpoints on and offline
Challenges:
Effective execution can be a challenge without the right customer engagement platform.
Data silos can crop up quickly, impacting the effectiveness of your strategy.
If set up poorly, proving and attributing revenue can become a time-consuming, complex exercise with a large volume of data and metrics at play.
Omnichannel retailing definition
Multiple, connected channels that are fully integrated
Omnichannel retailing takes cross-channel to the next level and is the ultimate in holistic marketing. Where cross-channel retailing might allow customers to use several, connected channels to complete a purchase, omnichannel offers total channel integration. 
By unlocking customer, sales, and product data, omnichannel marketing gives customers a seamless buyer experience, with personalized channel content updated in real time based on their activity.
Benefits:
Omnichannel increases Customer Lifetime Value (CLTV) by putting the customer first and delivering personalized marketing.
Boost sales and reach new customers by tapping into previously unknown audience segments with paid and earned media, and loyalty-based referrals.
Collect a wealth of data by engaging customers across multiple, integrated channels.
Challenges:
Implementation can be expensive, as it requires full data and tech stack integration which often requires IT involvement.
Omnichannel retailing is a long-term strategy as it takes time to unify brand communications and get internal buy-in, meaning it isn't always suitable for brands that struggle with internal alignment
Multichannel vs cross-channel vs omnichannel overview
Take a look at this table for a quick overview of how these three marketing strategies compare.
| | | | |
| --- | --- | --- | --- |
| | Multichannel Retailing | Cross-Channel Retailing | Omnichannel Retailing |
| Uses multiple channels? | YES | YES | YES |
| Are channels connected? | X | YES | YES |
| Are multiple channels fully integrated? | X | X | YES |
Examples of cross-channel retailing in action
Cross-channel marketing takes time and planning to pull off, but these brands are doing it right.
1. Mercedes Benz
No strangers to ambitious marketing, Mercedes Benz realized that to drive the top-level results they wanted, they needed to engage with their customers across multiple channels and touchpoints. This had to be done not only with content that was true to their brand, but with content that would be relevant to their audience's interests.
So, they set plans in motion. They built a cross-channel marketing strategy, incorporating both paid and organic social, earned media from content partners, and targeted content marketing.
They also settled on another time-tested, proven means of promotion — off the back of their sponsorship of the New Orleans Mercedes Benz Superdrome, the car brand claimed prestigious ad space at the Superbowl.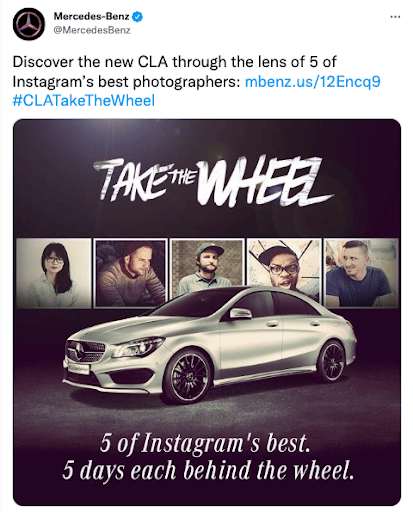 With Usher and Kate Upton featuring in the ad, Mercedes directed engaged audience members to a microsite they'd set up specifically to feature their latest model.
They set their targeting to people between their 20s and 40s, and to double down on impact and increase reach, the car brand ran with the hashtag #CLAtakethewheel. They also partnered with American YouTuber Casey Neistat to expand their channel reach and tap into new, relevant audiences.
The results? The most successful campaign that Mercedez had run in 20 years. Their content reached 1m views, with 82% of sales coming from buyers who'd previously owned vehicles from other luxury car brands.
2. Starbucks
It shouldn't come as a surprise that one of the world's biggest coffee brands also has one of the best cross-channel retailing strategies. For an example of Starbucks' marketing prowess at work, look no further than the Frappuccino Happy Hour campaign.
With the (some may argue infamous) Unicorn Frappuccino at the helm, Starbucks ran a 10-day campaign backed up by key website updates and a television commercial, all tied together with their core brand messaging and design style, with familiar imagery used across the channels.
On top of web and TV, Starbucks bolstered their reach with further cross-channel promotions:
An enticing in-app message that encouraged app users to text "WOOHOO" to unlock information on secret releases and upcoming offers
Separate "Starbucks Frappuccino" social presences, which worked in conjunction with their main accounts to promote the campaign.
Well-timed promotional messages to push their audience towards their hugely successful rewards program, Starbucks Rewards.
By setting their sights on one clear goal, Starbucks boosted global and US same-store sales by 3% in the second quarter.
3. Heineken
The opportunity to drop everything, leave work behind, and embark on an adventure is an enticing prospect for many people — most of all for on-the-go frequent travellers. And this is the idea Heineken homed in on with their ambitious Destination Roulette campaign.
Setting up stalls at key airport locations, travellers were given the opportunity to hit a button to spin a roulette wheel, with a twist.
From Greece to Greenland, whatever the wheel landed on, the contestant would win an all-expenses paid trip, with one condition — they had to leave then and now.
Heineken deployed a select number of cross-channel tactics to boost awareness and engagement, including creating an interactive video giving viewers the chance to win a dream vacation of their own. The campaign was promoted across web and social, forming a core part of their "Dropped" web series, centred around the idea that spontaneity always makes for the best adventures.
Although the brand's logo was present across promotions, none of them mentioned beer, making the campaign feel less about the brand and its products and more about the user's experience.
Start your cross-channel retailing journey with an industry-renowned customer engagement platform
As a retailer you want your shoppers to be able to make purchases anywhere, anytime, across all channels, and ultimately provide them with a buying process that is flexible and convenient. That's why some of the most successful brands today use cross-channel retailing within their marketing strategies — and it clearly pays off.
Have you set your sights on cross-channel retailing, but aren't sure where to start? The key lies in having your data fully unified, and having an omnichannel customer engagement platform that gets you up and running quickly. By integrating your customer, product, and sales data, Emarsys helps businesses create, launch, and optimize cross-channel retailing strategies that attract customers, drive conversions, and cultivate long-lasting loyalty.
Discover what Emarsys can do for your business. Register for a 3-minute demo today.