With the festive season already upon us, standing out from the holiday crowd is critical this year, and for retailers, that means delivering a digital-first experience that customers crave.
Just in time for the holidays, the Emarsys Autumn Release delivers the omnichannel e-commerce tools you need to succeed in Q4. This latest release enables brands to engage customers during the year-end holidays and grow their customer base through improved personalization across all channels, real-time interactions, voucher management, new analytic reports, and expanded mobile offerings.
We've tailored this release for you, the marketers, so let's look at how Emarsys can help you meet customer demands and achieve the business outcomes you desire.
Compete on Experience, Not Price
Competing on price is not enough this Black Friday and the holidays that follow, and deep discounts may not bring in repeat customers. As we've seen throughout the year, brands compete on customer experience, and the only way to have a competitive advantage is with a digital-first strategy.
The shopping experience — from online research and ordering to in-store and curbside pickup — is where personalization makes a huge difference between one-to-many and one-to-one experiences.
But according to Forrester's Q1 2020 Omnichannel Panel Survey, only 13% of brands say they deliver very consistent cross-channel personalized experiences.
A seamless, consistent experience today depends on a well-orchestrated AI-powered data-driven platform, and Emarsys automation makes it even easier for a marketer to personalize communications in email, SMS, push, or on the website.
"Companies that can't meet customer expectations for relevance and value risk losing their customers to brands that can deliver." — Forrester
Last Black Friday, Emarsys served up 587 million product recommendations, sent 687 million emails, and engaged 5 billion contacts through automated journeys. This year we expect those numbers to go up.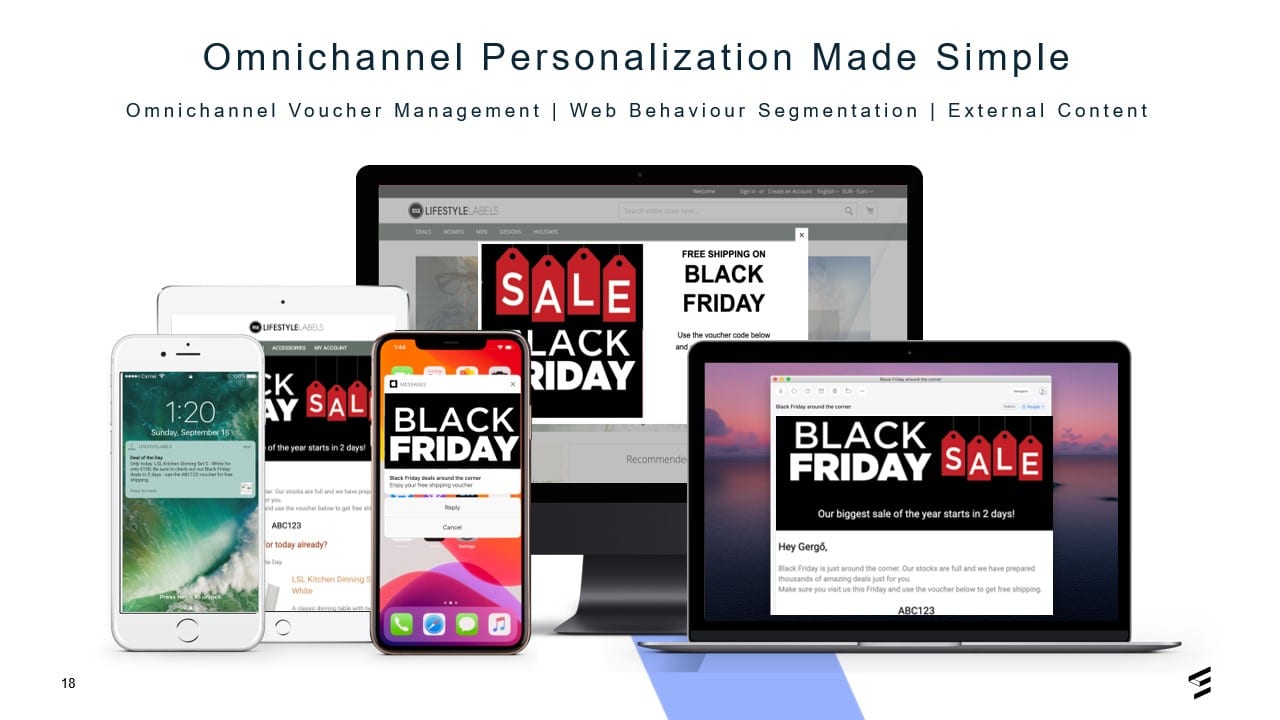 Forty-three percent of customers plan to spend less time in physical stores this year, and e-commerce is still on the rise. However, online shopping can also be more difficult than shopping in-store. There are more choices (colors, sizes, styles), it can take longer depending on how much research you do before buying, and there are so many brands with various ongoing promotions. Returns and shipping can be problems, and the whole thing can feel cold and impersonal.
That is, unless you leverage your data to personalize every touchpoint. Simply put, consumers want the same relevant and customized experience they'd have in-store with your staff but on their laptops, iPads, and mobile phones. By using customer data to optimize personalization, you can deliver relevant and added-value experiences that both convert new shoppers and retain loyal customers.
Omnichannel Personalization Makes or Breaks the Experience
Some platforms only allow you to personalize one channel at a time, but this year brands around the world learned that single-channel experiences do not impress consumers. They want brands to meet them in whatever channel they come through, and that's why applying personalization to the vast scope of opportunities omnichannel offers is crucial.
In the Autumn Release, we cover how to personalize any channel using external content from any other source, use omnichannel vouchers to offer personalized and consistent promotion anywhere, and much more.
Email alone has become one of the most personalized channels that brands continue to use to engage customers, and the Emarsys platform allows you to super-personalize this channel.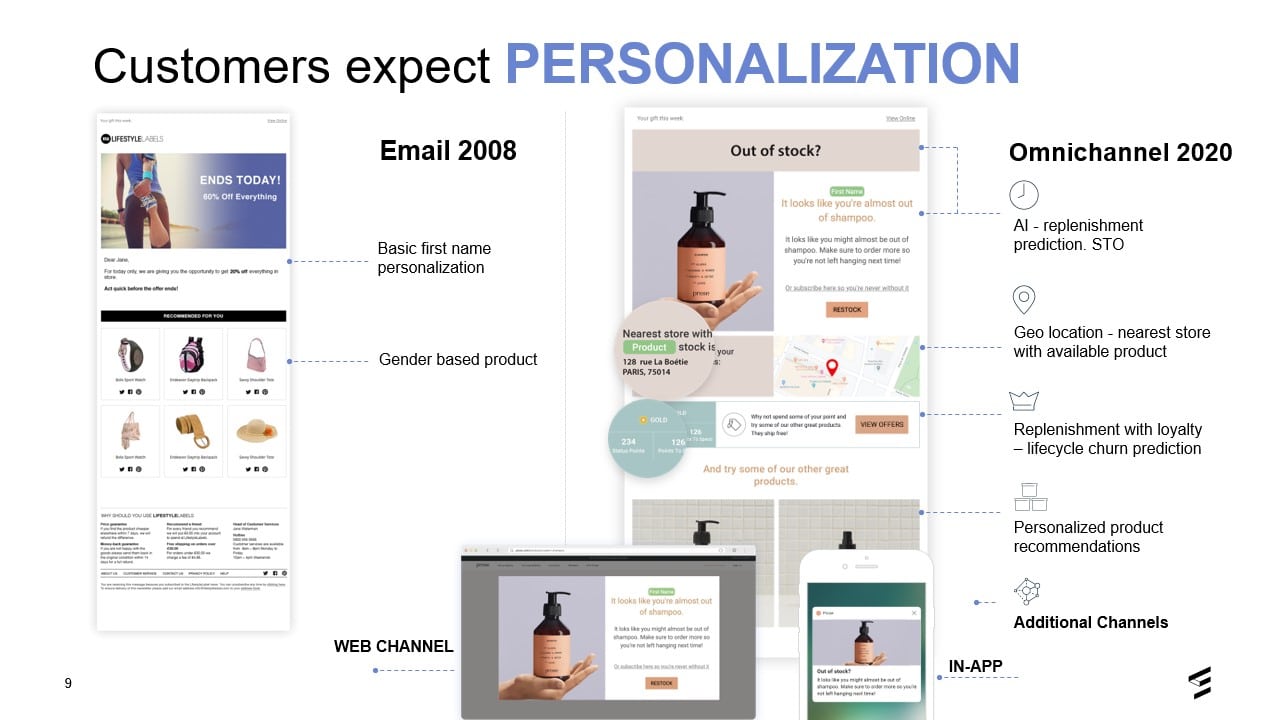 We are the only customer engagement platform with built-in omnichannel use cases that include not only the channels, segments, nodes, and potential content ideas but also the personalization features to leverage your marketing efforts for maximum engagement.
You can then take your first-party data, collected along with opt-ins, and securely tokenize personalization for a consistent experience in each channel.
One thing we're excited to offer is our new omnichannel voucher management capabilities, which uses tokens for the most personalization possible and works in conjunction with our advanced loyalty features.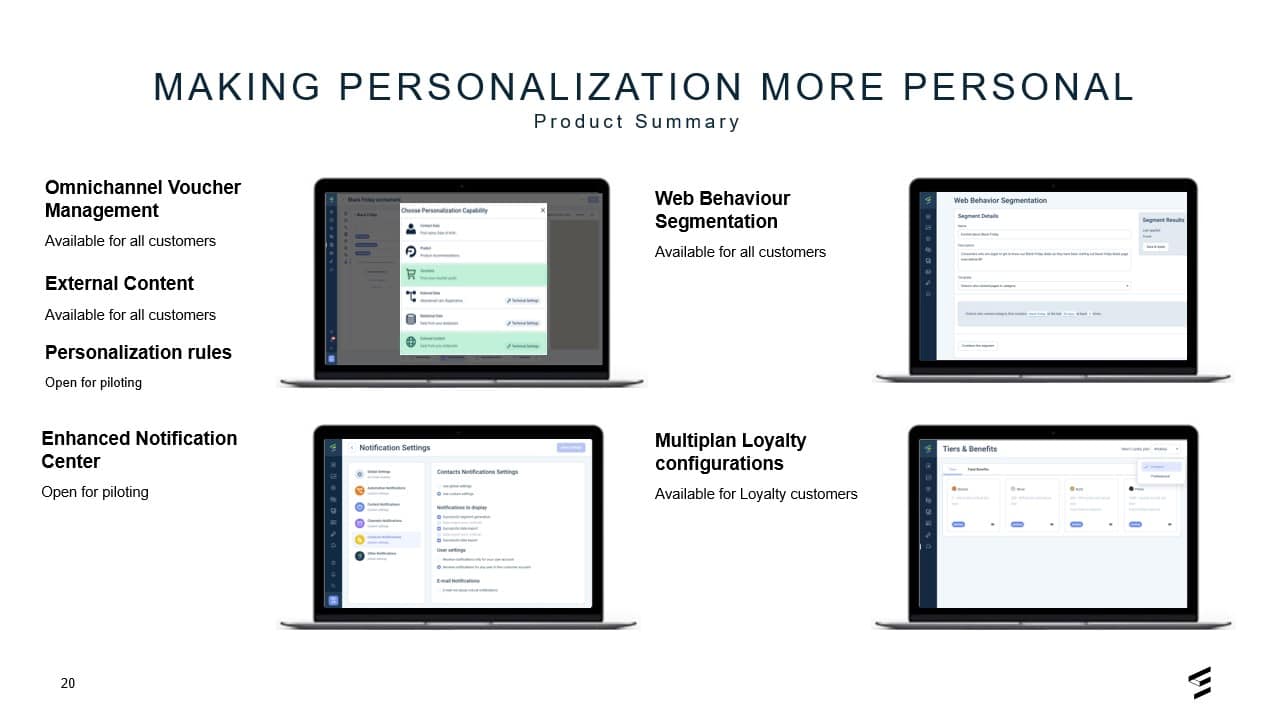 You can track and segment web behavior, rapidly personalize any experience across every channel, leverage advanced personalization with loyalty programs, drive repeat customers through SMS, and deliver the same promotions and experience regardless of the medium, quickly and measurably.
Research, Purchase, & Pickup: Mobile's the Only Channel That Does It All
Not only is mobile the one channel that allows users to navigate from browsing and researching at home to purchasing in-store, it's also a device where brands can activate multiple channels and create a direct relationship with customers from sponsored ads, in-app messages, push notifications, inbox messages, SMS, and mobile website banners.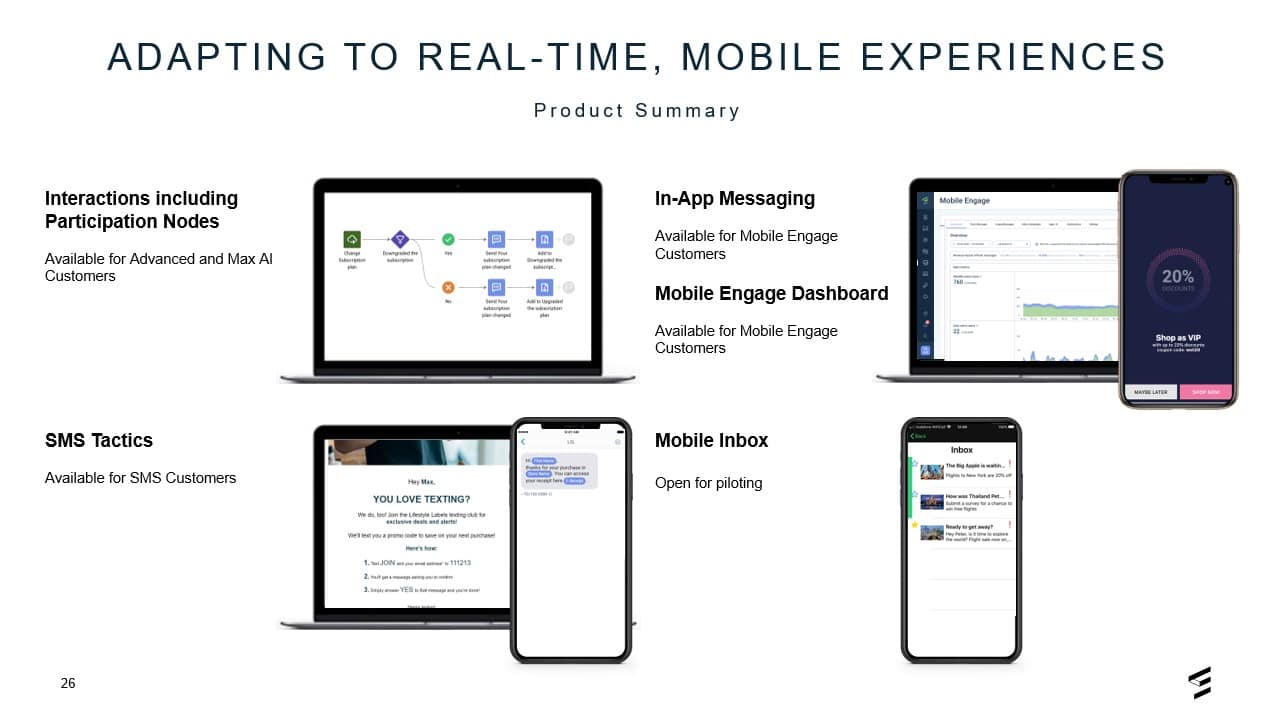 McKinsey & Co. reported that app downloads increased 11% year-over-year from January to April 2020. Customers this year are engaging across more channels than ever before, and in-app messaging and push notifications are one of the most direct ways a brand can build that relationship with customers.
Don't overlook SMS— it's one of the most engaging channels: 99% of SMS messages are opened, 45% respond when communication is combined with other channels, and 75% of customers open SMS and receive relevant offers.
In this new release, we empower retailers to truly integrate mobile as a channel (and easily manage inside the Mobile Engage Dashboard) and a device that's a key part of their omnichannel personalization strategy.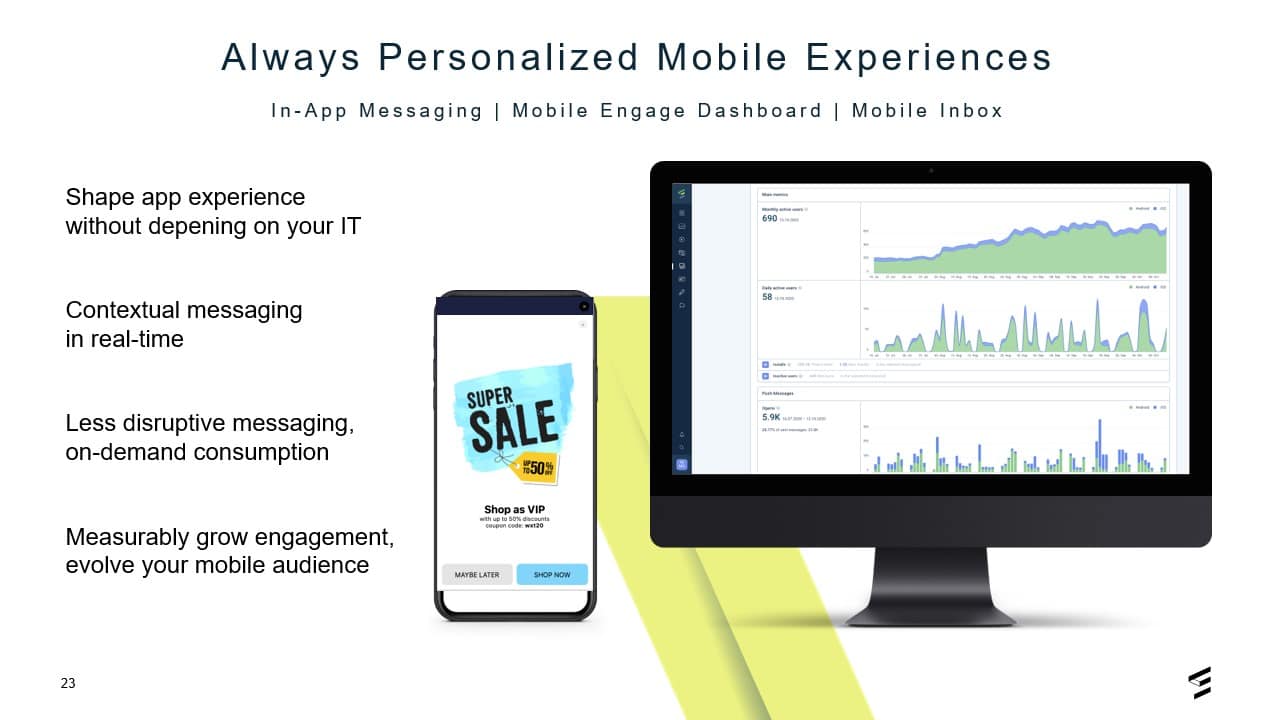 Since it's the goal to engage customers wherever they are, the Emarsys mobile offerings and our open architecture allow you to consistently provide the ultimate customer experience throughout the holiday season.
Real-Time Interaction
We also know the importance of converting intent where possible — and the festive season is the prime time for reacting the fastest with the most relevant offer to win the sale.
That's why we have worked on helping marketers respond in real time to stay on top of order fulfilment updates, inform customers, track behaviors on the website to convert sales, and to keep users engaged on mobile with the next best action.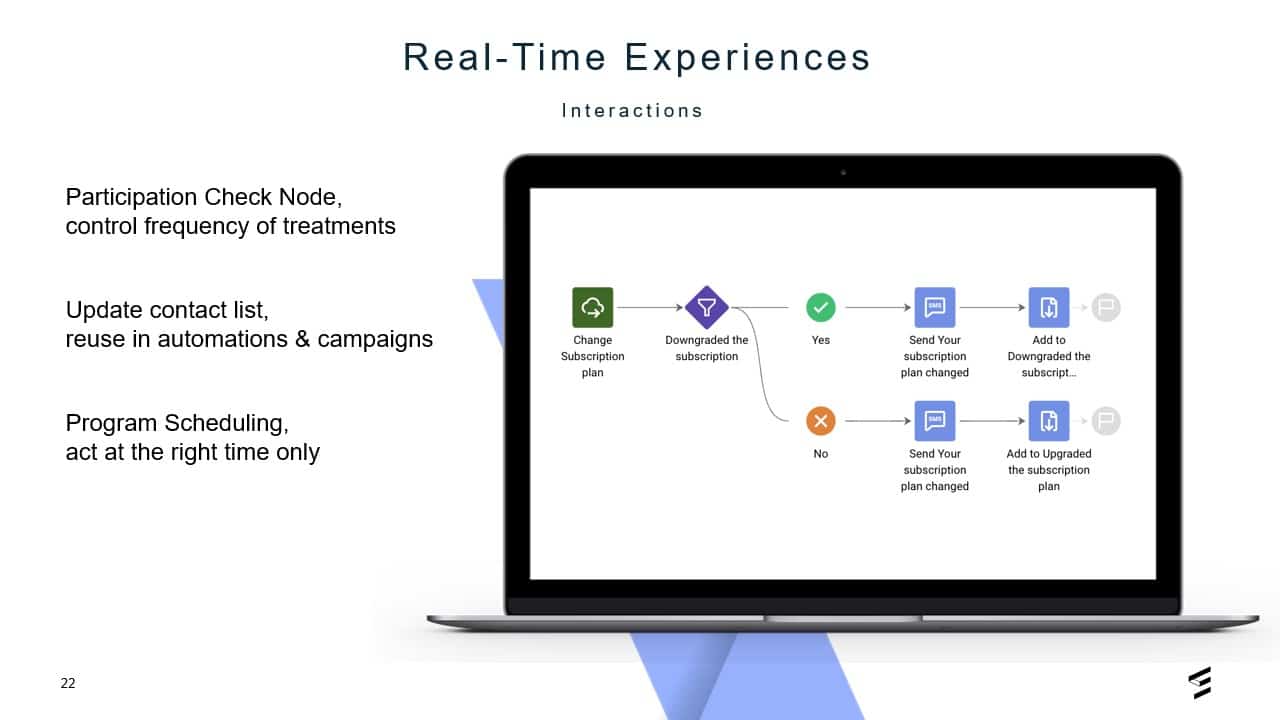 Impact Analytics
Brands are challenged more than ever to deliver measurable business outcomes, and they sometimes doubt the effectiveness of personalization.
It's impossible to know what impact your personalization efforts have without metrics and analysis. That's why Gartner predicts that by 2025, 80% of personalization efforts will be abandoned due to lack of measurable ROI or the costs and challenges of data privacy and data ethics.
Emarsys is the only platform that effectively measures the impact of personalization on business performance. Brands who don't benchmark against these metrics will no longer get the budget to invest in personalization. You also won't know for sure which content performs the best and leads to conversion.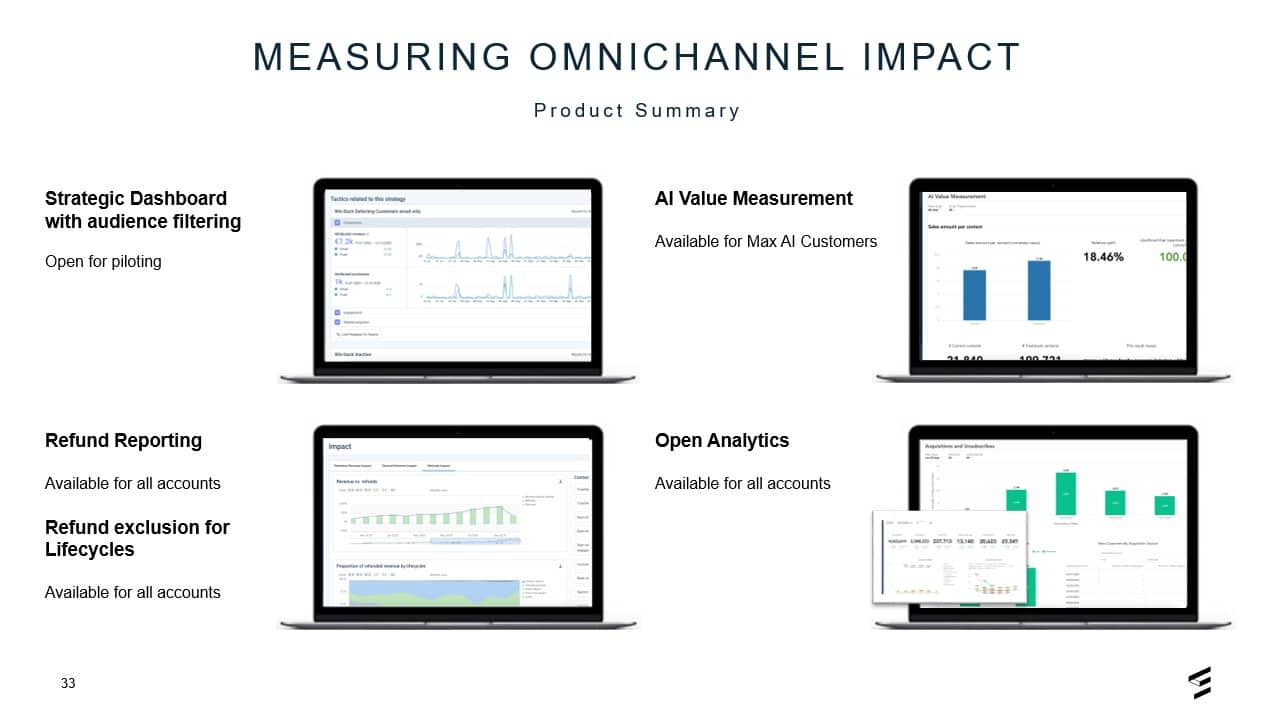 The Autumn 2020 Release makes it easier for you to track the holiday season's profitability in many ways. For example, we are releasing a returns report that will help retailers understand who is returning their orders based on their lifecycle stage, number of purchases, and the product bought. Better understanding returns allows retailers to create journeys targeted at reducing returns, thus increasing profitability.
Included in this release are these features:
Strategic Reporting offers omnichannel attribution and identifies engagement and revenue trends.
Refund Reporting keeps track of where you are in terms of actual marketing impact and profitability.
Value Measurement allows you to build trust with customers by measuring and tracking added value.
Open Analytics feeds all your data back into your strategy and takes the guesswork out of optimization.
Final Thoughts
Omnichannel personalization is the competitive advantage brands need to both stand out from the rest of the noise and deliver better business outcomes. Emarsys has worked very hard to make this holiday season easier for marketers.
As cookies fade, brands will have to leverage first-party data to be more precise in personalization.
Customer-centricity means brands come to customers on their preferred channel, and that channel has to deliver the same experience as all your other channels do.
AI and machine learning make your operations scalable.
Built-in use cases and an intuitive interface get you up and running faster and enable you to deliver accurate results.
With an improved customer experience, you will see conversion rates increase on your most critical pages.
This is why the Emarsys Autumn 2020 Release has been tailored just for you, your customers, and your business needs. We know how to help you stand out this holiday season, and our product innovations in omnichannel personalization will give you the competitive edge to attract, retain, and grow your customers.
Learn more here about how to implement our solutions right away and start your festive season right.