The use of automation with email marketing can be an efficient way to send both promotional and transactional emails. Email automation campaigns are among the top three tactics used by email marketers to improve performance (source: Hubspot), and marketers are reaping significant benefits from this pursuit. Ultimately, email automation enables organizations to foster better relationships with prospects, new customers, and existing customers at scale without sacrificing time on tedious email admin tasks.
Yet email marketing is all-too-often underappreciated.
After all, the technology has been around for a while. And nearly every retail, e-commerce, or service business — ranging from one-person companies to global corporations — uses email to engage prospects and customers. Seems like old news. A big yawn. Nothing to get too fired up over.
Except for the fact that email marketing is STILL one of the most effective forms of marketing. According to eMarketer, it "consistently delivers a better return on investment than many other higher-profile disciplines, such as social media and influencer marketing."
Let's take a look at why tried-and-true email automation campaigns should be a critical part of your customer engagement strategy, as well as actionable email automation best practices that leading brands are using to drive conversions and generate results.
Email Marketing — A Sure Thing?
Okay, email marketing has a good return on investment, but what kind of ROI are we talking about?
Well, it's high. Like, 4,200% high.
For every $1 spent on email marketing, you can expect approximately $42 in return (source: DMA), which in the business world, is a ROI one seldom seems. In fact, with a ROI that high, one might even dare to call it a "sure thing."
This alone should make the case that every marketing team should be using email to engage their customers. That's why it was no surprise when our latest Black Friday research revealed that "100% of marketers believe email is the most important channel for reaching Black Friday shoppers."
Driving Tangible Results with Email Automation Best Practices
One of the reasons why the ROI for email marketing is so high is because you get a huge reward without having to sink extraordinary resources into it. This is especially true if you have a customer engagement platform that lets you easily create and deploy sophisticated email automation campaigns at the push of a button.
Here are just a few examples of leading brands that are leveraging best practices to maximize the impact of their email marketing strategy.
How PUMA Increased Email Open Rates by 10% Using Send Time Optimization
​​At Retail Revival 2021, David Witts, CRM Manager at PUMA Europe, shared details on how the Emarsys platform enabled their small team to scale their email program and free up more resources. Witts discussed how the team focuses more on customer segmentation and the quality of content they are sending to the customers. In this case, the Send Time Optimization feature within the Emarsys platform led to an open rate increase from 5% to 10%.
"We've seen some great results using the Send Time Optimization feature within Emarsys, and [we've] seen our open rates increase about 5 to 10%. It means we can speak to everybody from the people buying on their commute to work through to the late-night shoppers who are shopping in the middle of the night. And we can really target those customers at the time that they're interested in talking to us."
Key Takeaways
Best Practice Used: Send Time Optimization
Benefit: PUMA Europe is able to optimize the send time of emails to ensure a customer receives them at the moment they are most relevant.
Result: Using Send Time Optimization, the brand saw email open rates increase 10%.
Want to learn more about PUMA's success using email and personalization? Watch the entire Retail Revival session: Puma x IMRG – Driving 5x Revenue & Scaling Personalization Across 27 Markets
How Sony Uses Automated, Trigger-Based Email Offers to Achieve 12.5% Click-Through Rates
Yaroslav Andreev, Head of Online Sales & Marketing at Sony Electronics, joined the Emarsys Retail Revival event to discuss how Sony saw success with targeted offers via email automation. Andreev and his team leveraged email automation technology by setting up an email remarketing loop that automatically sends specific, templated emails to existing customers based on their behaviors on retailer websites. The results were outstanding — with a whopping 65% open rate and a 12% click-through rate.
"I personally believe that trigger-based communication is more [like in-real-time] communication. […] In-time communication, trigger-based communication, for us is the core. We set up [an] email remarketing loop. This is a big data-based technology. When we see the customer behavior on retailer websites — some, of course, those who we have agreement with — and then we try to match those unidentified customers to our database of customers. And if we match, we are able to send them [an] email with, 'Hey, Peter, here is the offer for you for this from these retailers in your city about the product [you wanted]. And here is a special deal for you.' And those kinds of trigger emails are working 24/7 without any human input inside. It's fully automated, and it shows quite good results. For example, for emails, we had about 65% open rate and 12% click-through rate."
Key Takeaways
Best Practice Used: Automated, targeted email offers based on customer behavior
Benefit: Sony can better engage customers with personalized email content based on their in-the-moment behavior.
Result: Through fully automated, targeted email offers, Sony saw a 65% open rate and 12% click-through rate.
Want to learn more about Sony's powerful results using trigger-based communications and other tactics? Watch the entire Retail Revival session: Changing the Game: How Sony is Defending its Position as a Premium Brand in the E-Commerce Market
ECO Modern Essentials's 10x Improvement on Email Engagement Through Automated, Segment-Based Customer Journeys
At Retail Revival 2021, Natalie Peat, Finance & E-commerce Manager at ECO. Modern Essentials, discussed how the brand switched to Emarsys and transitioned to a more complex but more automated customer journey. Leveraging the Emarsys platform, the brand streamlined the customer segmentation process and developed unique emails for different segments. As a result, the brand saw an open rate over 15% and a click-through rate over 4% — 10x more than how the brand was previously performing.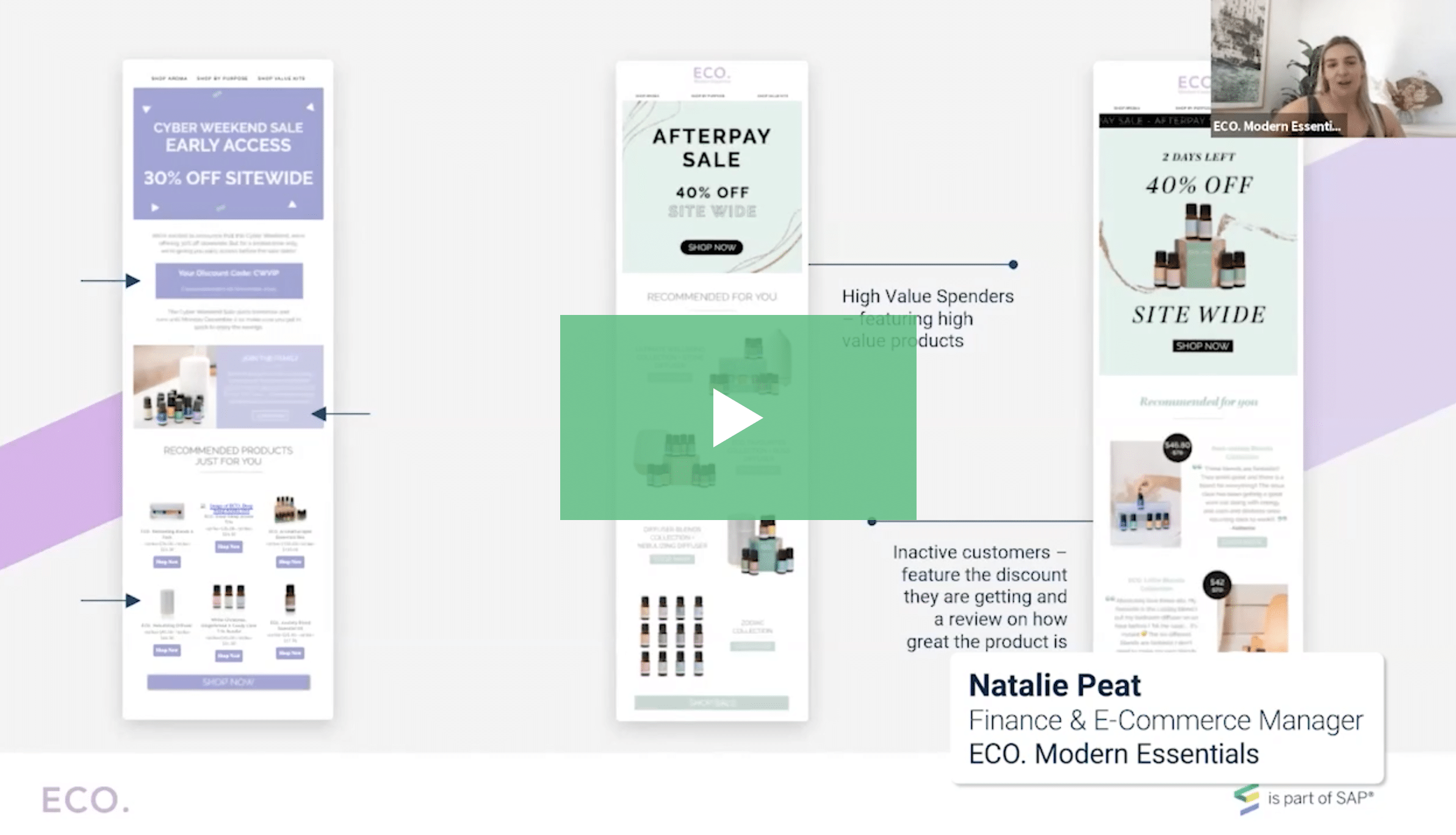 "But here I've got a couple of our email comparisons in the way that we really talk to our customers. […] With our new platform that we bought on, Emarsys, and our new customer journey priority, we were able to really streamline [our approach and] have different emails for different segments. So if they were a defective or an active customer, we [could] send them an email that is really strong on reviews, how much they're going to be saving, most-loved products. [Or] if they are a high-value spender, we can send them products really targeted to what they've been browsing, what they've been looking at, as well as really high-value products that we are hoping they're going to convert with. Looking back, our cyber email from a couple of years ago had a 10% open rate, 2% click rate, and then less than 1,000 opens for their click-throughs to the site for that email. And then with our new system, new customer database, and new look and feel, we have an over 15% open rate, 4% click rate, and then more than 10 times the opens compared to the first one."
Key Takeaways
Best Practice Used: Segment-based email automation
Benefit: ECO. Modern Essentials can deliver the most relevant email content to customers based on browsing history, purchase history, and where they are in their journey with the brand.
Result: By segmenting and automating email campaigns, ECO. achieved an open rate over 15% and a click-through rate over 4%.
Want to learn more about how ECO. Modern Essentials uses email marketing and personalization to convert and retain customers? Watch the entire Retail Revival session: The ECO. Modern Essentials Recipe for a Personalized Customer Experience that works!
Final Thoughts
In our modern tech-crazed world, where it's easy to get caught up in chasing the latest and greatest, tried-and-true best practices still have a place.
Email marketing is one of those best practices because it continues to prove critical for customer engagement and, ultimately, increasing revenue. Not only does it prove its worth in terms of delivering results, but it also boasts one of the most attractive ROIs in digital marketing.
However, not all email marketing is created equal — having the right technology matters. To get the results that will impress your C-suite, you need the ability to deliver personalized, relevant emails that can be automated and sent in real time based on how your customer behaves. Having a fully integrated omnichannel customer engagement platform is the key to implementing the email automation best practices that drive conversions, retain more customers, and accelerate business outcomes.