Everything changed last year. Even retail changed as more customers went online to make a purchase (some for the first time). With many countries and markets open, consumers are gradually returning to stores.
The habits consumers formed over the past year are here to stay and 2021 invites us to take part in this new world. Retail is in a revival and this year's online Retail Revival is truly exciting.
Here's a quick recap of Day 1 of Retail Revival, which included these speakers:
Sara Richter, CMO, Emarsys
Joanna Milliken, Head of CX Marketing, SAP
Ohad Hecht, CEO, Emarsys
Sucharita Kodali, VP, Principal Analyst, Forrester
Paul Tarell, CFO, Gaia Inc.
Kristin Smith, SVP Digital, Hanna Andersson
A Revival in Retail
Last year, many of us missed out on the in-person connectivity found in many retail establishments, where personalization is paramount. Brands now understand that if they're not online, their company won't succeed. You must meet the consumer wherever they are. This is true personalization. 
It's not just looking at one or two channels, but being able to provide a truly personalized customer experience across every channel (website, email, app, SMS, social, etc.). The goal of this type of personalization is to create long-lasting relationships with customers so they continue buying your products.
This Is the Future of Retail
Retailers have many opportunities to grow well into the future. Below are current and future trends that were presented on Day 1.
DTC and First-Party Data
Many brands are going directly to consumers. In fact, multi-category retailers are shrinking while brands go DTC. Plus, brands you only thought were sold in-stores are also selling directly to consumers.
For example, take a look at Dyson, every interaction they have within their online channel shows the consumer how they can purchase from them right there online.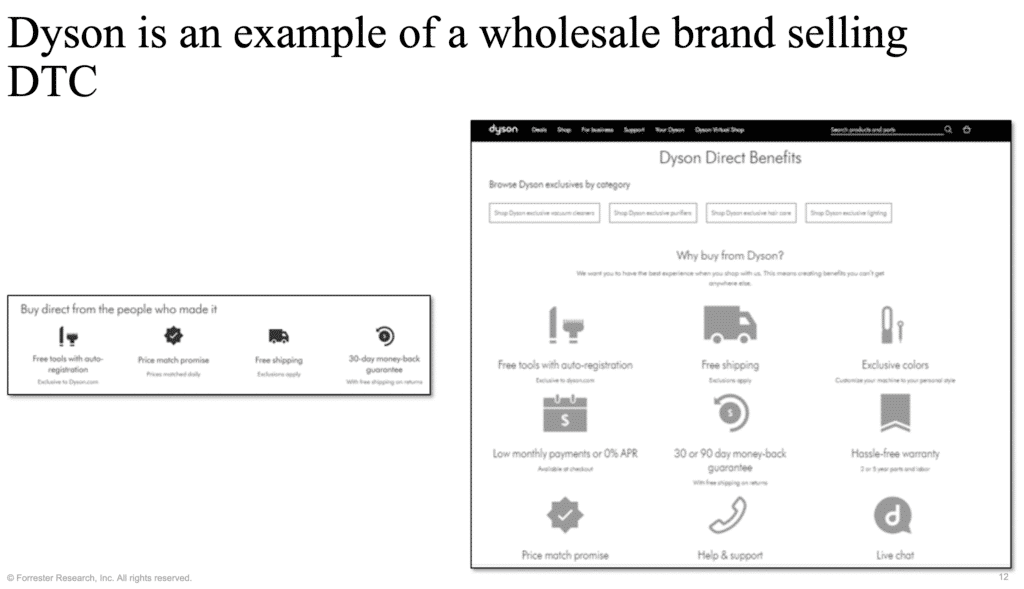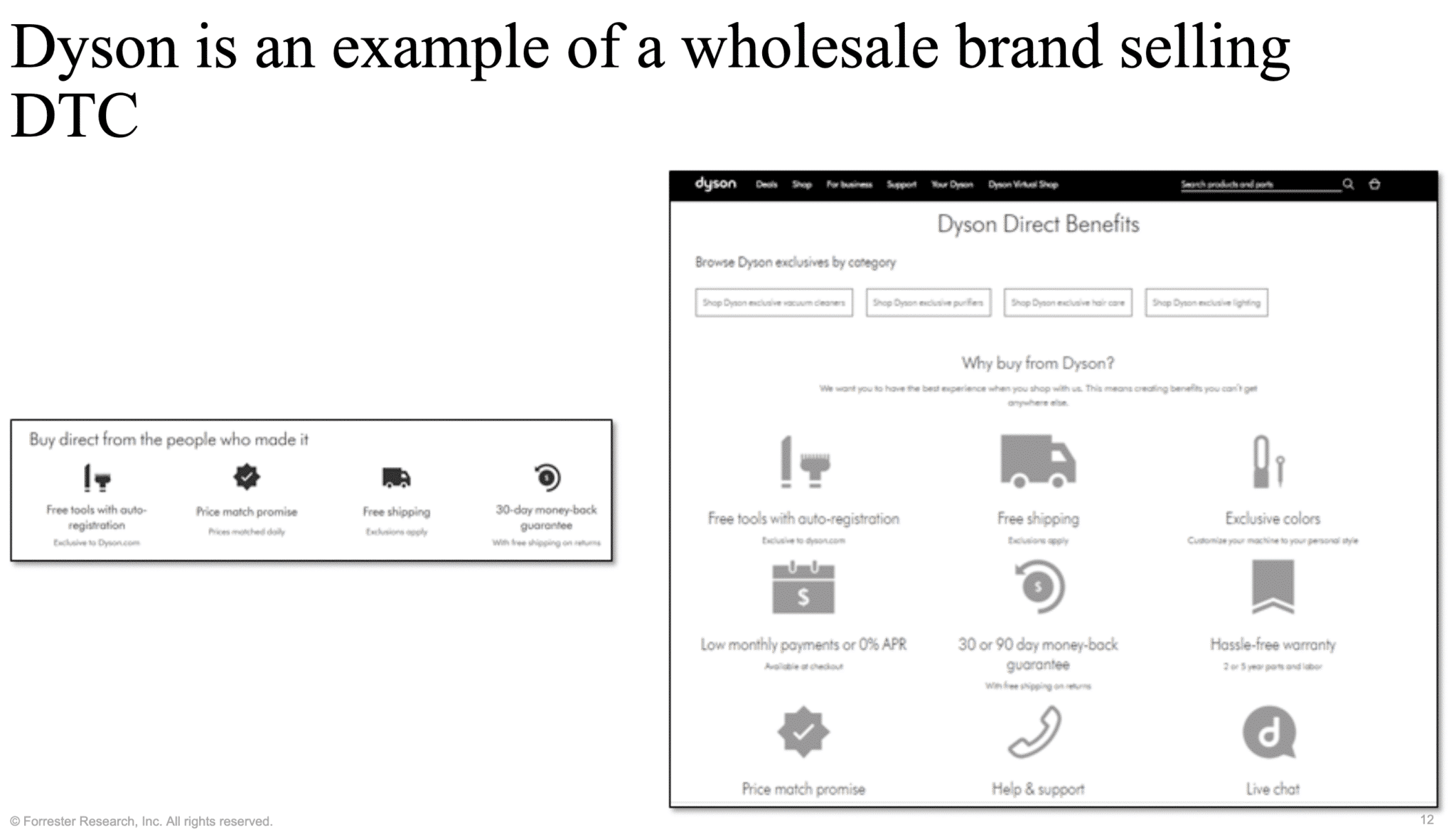 Brands are finding tremendous value with DTC. Not only do they gain more profit, but they're able to capture the first-party data of customers that's so vital to the future growth of their company. 
Loyalty
What's interesting is that loyalty is underutilized as very few people believe they belong to too many loyalty programs. At its very core, loyalty is really about developing deeper relationships with customers.
Your brand can deploy various models for loyalty programs as they're not a one size fits all. For example, your program doesn't have to be about offering a discount. You can offer a way for customers to easily provide their feedback to help in finding and resolving issues. Another idea is to offer an extended warranty, or even a special 1-800 number that only loyalty members can call if they run into any issues.
Subscriptions
Subscriptions are a great way for companies to stay in contact with their most loyal customers and keep them coming back. By using the data customers provide, companies can better communicate with them, offer them more valuable experiences, and prevent churn.
In order to successfully offer a subscription, it's best to have a system in place to measure the effectiveness of your subscription. Every transaction is something you must be able to easily track so you can see where a customer continues buying or why they churned.
Continue Doing This
Omnichannel sales — you must meet the customer wherever they are and offer them the ability to buy, no matter the platform they're on.
Personalization — provide consistent experiences, tailored to each specific customer, across every channel.
Privacy — permission based marketing is vital to remaining compliant and earning the customer's trust to use their data to create more personalized experiences.
Mistakes to Avoid
Many times the way a brand approaches the digital space is by taking an individual who's been employed within their company for many years and task them with heading up the company's digital efforts. This outcome typically leads to negative customer experiences as the new digital leader is uncertain how to provide the necessary experiences that not only move customers through a journey and into a purchase, but keep them coming back.
Another reason some brands struggle is because they don't change. Just look at this graph from Forrester about how these companies have changed over the years: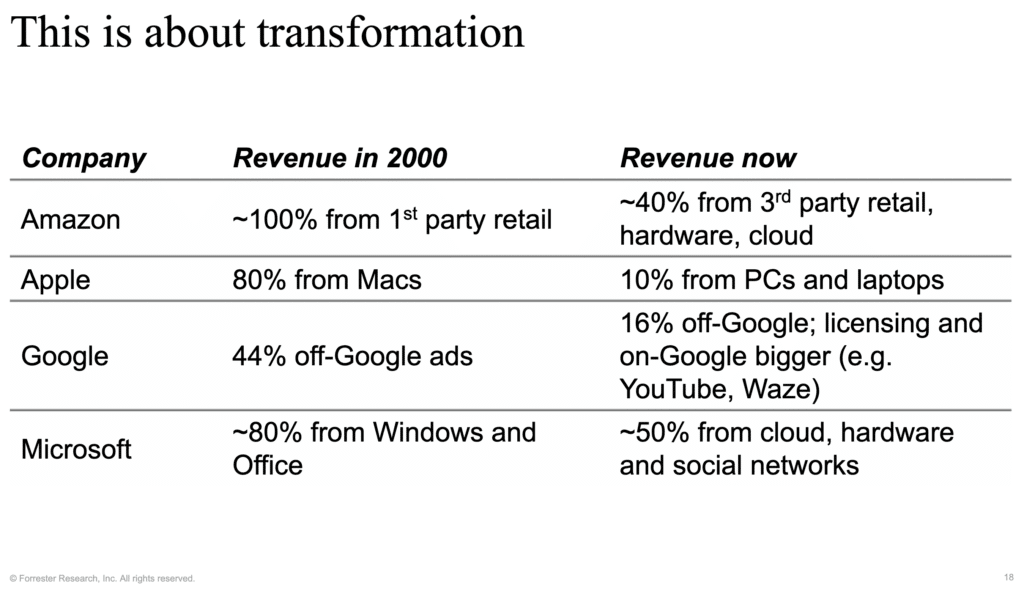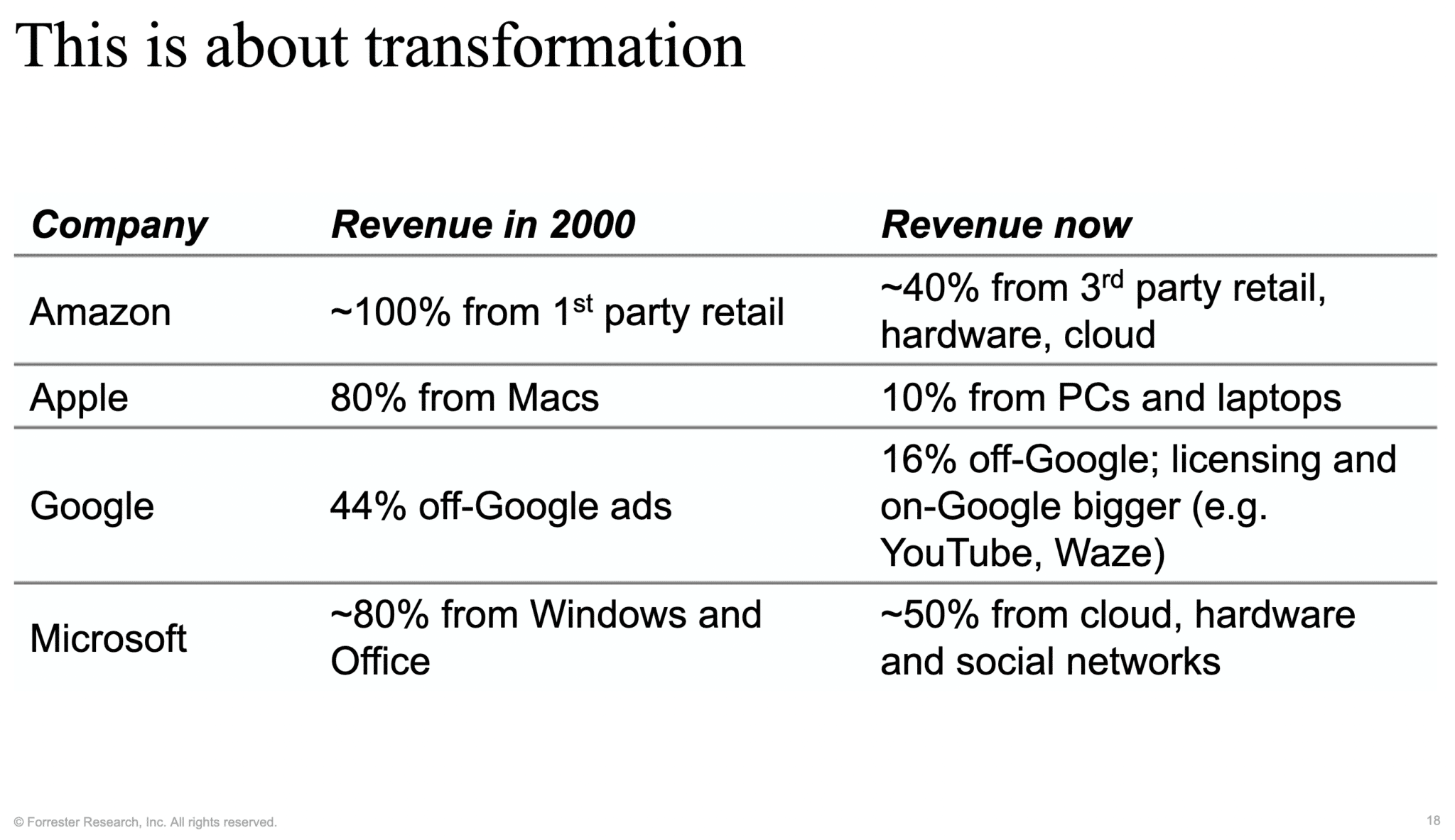 To take your company where you want it to go, you'll need to look ahead, years into the future, to consider what might be possible.
If you're going to be selling directly to customers, don't forget to offer things like price matching, free or reduced shipping, partnering with store partners for order fulfillment, or even experimenting with new brands and categories. There are many opportunities your brand can embrace to enrich your customers' experiences.
Final Thoughts
Things aren't going back to pre-COVID times… in fact they're accelerating as brands are creating unique experiences for customers. Your brand must stand out among all the competitors vying for the attention of your customers.
Personalization is necessary, it's what consumers want, and it will keep them coming back if you're able to interact with them where they are, at the right time, and within the channel of their preference.
A major part of personalization is first-party data that you can collect and use through permission-based marketing. Just be sure to be clear with customers as to how you will use their data to provide a better experience.
Other Sessions to Enjoy
This was not all on the first day. There are many other sessions you can find from top global brands:
Listen to Carlos Roberto López, Marketing + eCommerce Director, Home Depot, MX talk about how Home Depot shifted to an omnichannel approach by providing personalized experiences for in-store and online customers.
Find out how David Witts, CRM Manager for PUMA Europe, and Andy Mulcahy, Strategy and Insight Director at IMRG discuss how they drove 5x revenue share from email in just six months.
Hear from about how Edit Dudás, Head of CRM, adidas Runtastic gained a 200% growth of new app users in just one month