It's here. The update that marketers have been warned about, and worried about: Apple's iOS 14.5 has been released, along with its App Tracking Transparency privacy feature.
This feature requires apps to ask users for permission before tracking their activity. Although it's a win for consumers in terms of protecting their privacy, it presents challenges for marketers, particularly when personalized customer experiences are becoming an expectation, and the very activity that App Tracking Transparency is gating is what fuels the experiences customers crave.
Let's dive into what implications this has for mobile marketers, and how they can best communicate this change in order to put customers at ease and get more opt-ins.
App Track Transparency (In A Nutshell)
So what is App Track Transparency — commonly abbreviated as ATT — and how does this impact the work of marketers?
The name says it all: It offers consumers transparency into how the apps they engage with might track their activities and behavior, and potentially share that information with other apps or websites. In that sense, it's very similar to GDPR data processing in that explicit consent must come from the user.
Giving Users a Choice
Consumers have long been advocating for better control over their personal data, so this isn't a surprise. And objectively, putting privacy controls in the hands of the consumer (rather than companies) is a good thing.
As Apple's Senior VP of Software Engineering Craig Federighi told The Wall Street Journal regarding ATT, "We really just want to give users a choice. [Mobile] devices are so intimately a part of our lives and contain so much of what we're thinking and where we've been, and who we've been with, that users deserve and need control of that information."
This choice isn't without consequence though.
Presentation Matters
The user data and information that an app collects has an important purpose. It allows for developers and marketers to provide more personalized, uniquely tailored in-app experiences — which many customers truly desire. However, the communication around this is often murky, and sometimes even intimidating.
For example, ATT prompts presented to customers often appear with little context or explanation, which makes data collection seem more nefarious than it really is. The result is, customers are less likely to opt-in, even when doing so would allow them to receive more of the highly satisfying 1:1 experiences they want.
In the same article from The Wall Street Journal, Facebook's VP of Ads & Business Product Marketing Graham Mudd states, "People [are] opting out without understanding the impact. If you look at Apple's language and lack of explanation, we're concerned that people will opt out because of this discouraging prompt, and we will find ourselves in a world where the internet has more paywalls and where far fewer small businesses are able to reach their customers."
This means, if you want to get the opt-in necessary for better customer engagement and business results, you'll need a strategy. Here's where pre-permissioning helps.
Pre-Permissioning (and Other Tips)
As a marketer, you must consider how your ATT prompt will be communicated to and perceived by users. You'll want to take initiative in making sure they fully understand what the prompt is telling them when they see it (and what is being asked of them).
Now that mobile tech is so ubiquitous in our lives, we're all familiar with system prompts (i.e., push notification opt-in prompts). Likewise, we can all appreciate how an in-your-face dialog box that pops up out of nowhere can be quite jarring during a mobile experience.
To mitigate this, many mobile marketers turn to "pre-permissioning."
Use Pre-Permissioning
Pre-permissioning is the process of preemptively notifying a user about a prompt they are going to receive. It's an opportunity to clarify what the prompt means, how the request impacts the user, and why their consent is important — all before they see it. This prepares the user so they aren't caught off guard when the pop-up appears on their screen. It also enables the user to make a more informed decision about whether they want to give consent.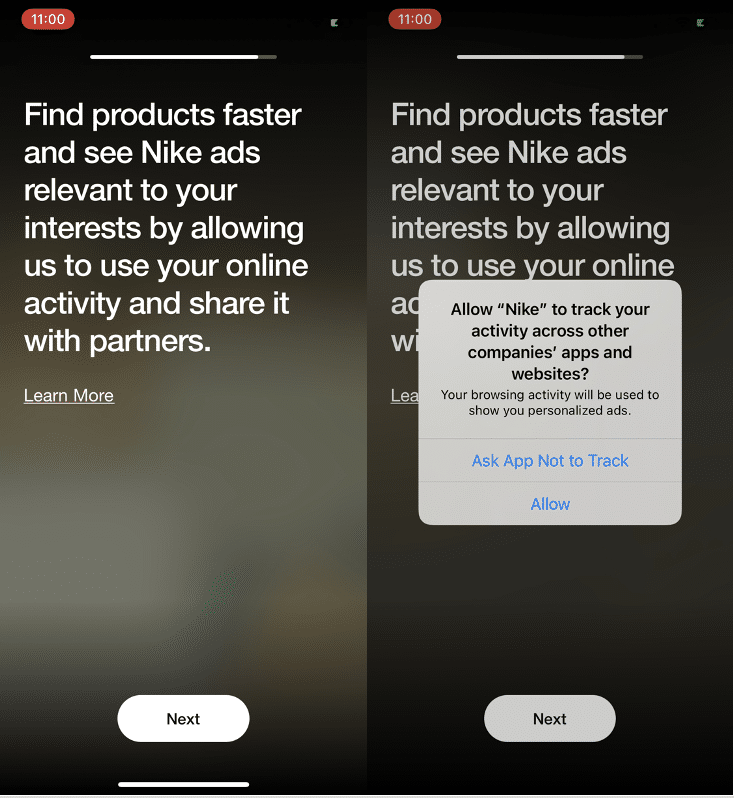 Be Clear on the "What" and "Why"
When pre-permissioning, the key is to keep your message simple, and avoid technical jargon.
You'll want to highlight the "what" and the "why" behind the tracking request, in words that a user will understand. Don't ask for consent without this.
Remember to give the user just enough context so they aren't intimidated or annoyed by the subsequent prompt — you don't want to overwhelm them with too much information (though feel free to provide a link to a resource page that goes into greater detail).
Updating Users
Your approach for updating existing users and new users will be slightly different. Again, you want the ATT prompt to be as unobtrusive as possible.
For existing app users, a good way to present this information is immediately after they've updated your app. You can set an in-app message to be triggered automatically when they first open the app post-update.
However, for new users (or new installs), your pre-permissioning and ATT prompts will need to be part of the normal onboarding process.
Powerful Brand Examples
Although iOS 14.5 impacts all brands equally, you have discretion in how you approach pre-permissioning. Your message should make sense for your brand and your audience, while still addressing as much of the "what" and "why" behind ATT as possible.
Here are a few examples of pre-permissioning that work really well for putting users at ease and getting more opt-ins.
adidas Runtastic
In order to better prepare app users for the ATT prompt, adidas Runtastic offers a pre-permission message that puts the focus on the user. This incentivizes the user to share their data, since they know they'll gain a better in-app experience.
iHeartRadio
For their pre-permissioning approach, iHeartRadio leans into transparency. They are clear with users about what they are going to do with their data (serve more personalized ads) and why it's important (ads allow for iHeartRadio to remain a free service for customers).
Domino's Pizza
For their in-app pre-permissioning message, Domino's does a great job at keeping it light, friendly, and on-brand, while also providing proper context so that a user is more informed when providing consent.
Final Thoughts
For the mobile marketers out there dreading the implications of Apple's iOS 14.5 update and the ATT prompt, don't worry. Customers are still willing to give consent for their data to be used. In fact, many of them will do it gladly. But only if they understand why you want the data, what you'll do with it, and how they will benefit.
In order to continue delivering the highly satisfying in-app experiences that customers deserve, have a plan for communication about App Tracking Transparency. Create clear, simple, but informative pre-permissioning messages that will lead to more opt-in.
You'll also want to have an omnichannel customer engagement platform that allows you to engage your mobile users across any and all channels, and provide the personalized 1:1 experiences that you're promising to provide in exchange for a customer's consent.
Ultimately, the better your pre-permissioning approach is, the more comfortable your app users will be with sharing their data. And of course, having more data means you can do more of the things you really want to do as a mobile marketer to help drive results for your business.
Handpicked Related Content: