Omnichannel Customer Engagement Platform for Mobile
Accelerate business outcomes with proven mobile engagement strategies – crowdsourced from the wisdom of leading brands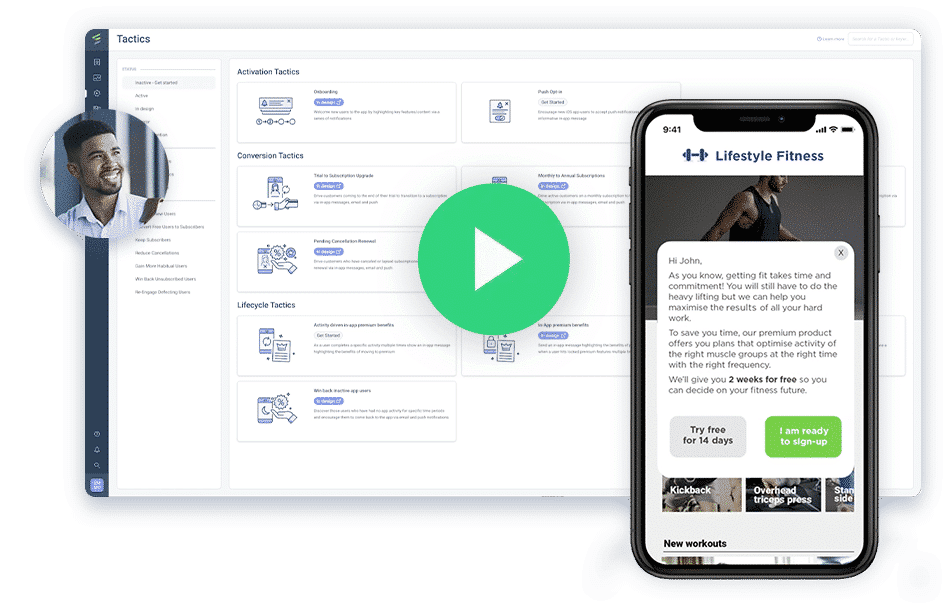 The omnichannel customer engagement platform of choice for brands leading in mobile including:
We help growth and retention teams at mobile app businesses convert and retain more active subscribers, faster and for longer, at lower costs.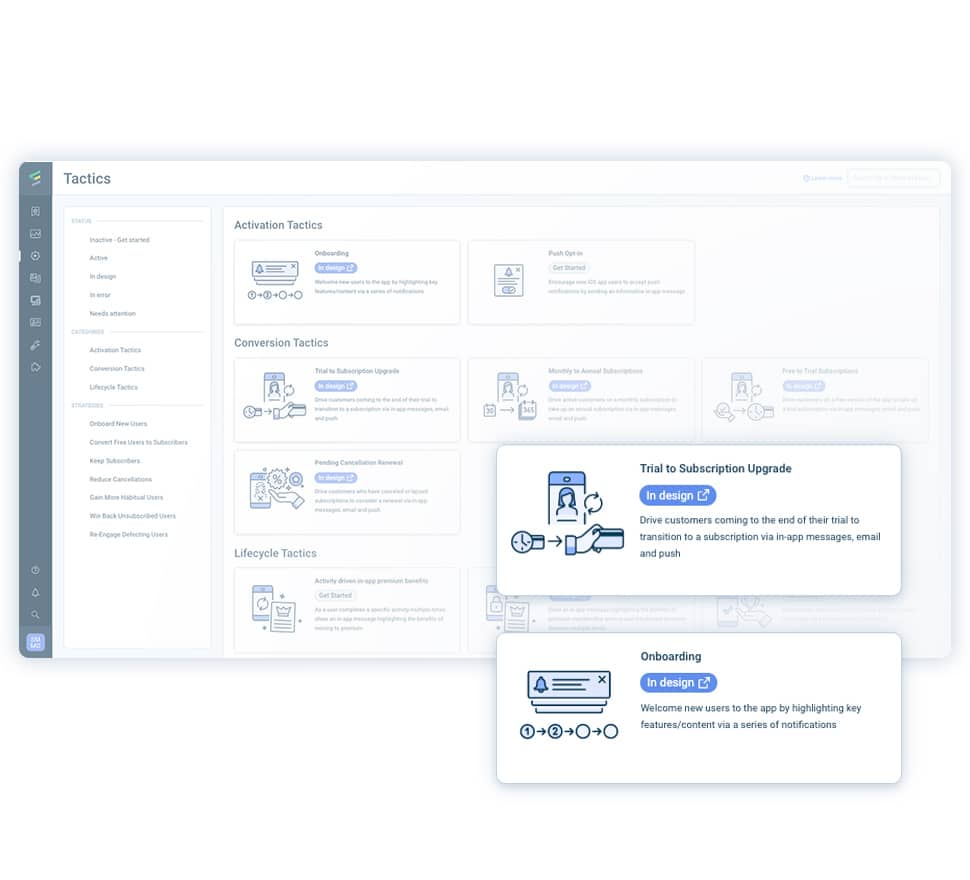 Improve speed to market with pre-built marketing campaigns
Achieve better results, with less effort. Built-in marketing campaigns scale and achieve key business outcomes faster.
Reach customers using mobile-specific marketing campaigns pre-populated with audiences, content, relevant personalization, real-time interactivity, and geolocation. Then seamlessly execute cross-channel (ads, in-app, push notification, mobile inbox, SMS, in-line content).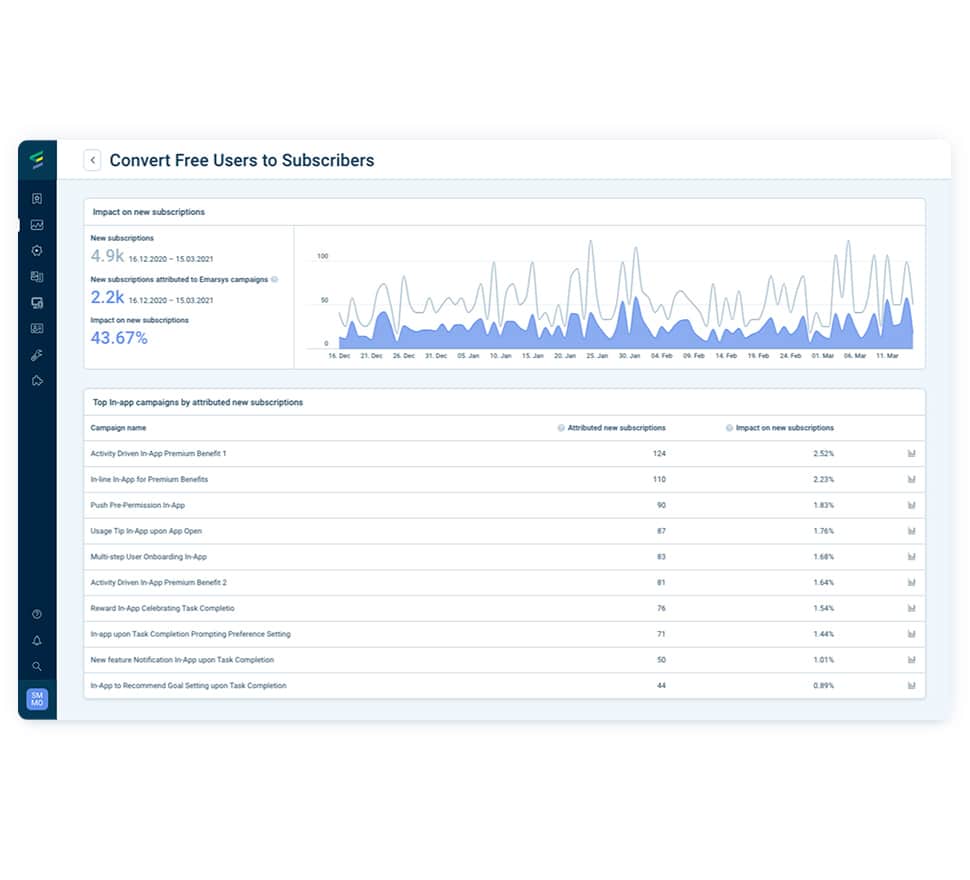 Increase retention and subscription revenue with actionable analytics
Through actionable analytics, you can quickly identify potential growth opportunities — whether that's in driving monthly active users, reducing cancellations, or winning back inactive users.
Measure how marketing campaigns help you achieve the results you want, and do more of what works, faster, for all mobile-specific channels.
Drive Mobile App Growth With Personalization
Babbel Achieved a 200% YOY Subscriber Increase
Measure ROI and the impact of mobile app marketing on business outcomes
Align marketing strategies and omnichannel customer journeys to deliver the best revenue growth.
Acquire and retain higher value mobile customers to increase CLTV.
Measure ad and marketing spend ad to optimize the customer journey against clear business outcomes.
Increase app engagement with real-time, contextually relevant offers and content
Every user's journey is unique and not linear — this is why you need to personalize for the customer first.
Overcome the barrier between acquisition and retention by creating unique, end-to-end, personalized journeys fueled by real-time behavioral data.
Drive engagement with relevant experiences that anticipate and deliver what customers want — when and where they want it, at scale.
"With Emarsys, we have been able to address business challenges within our organization by gaining deeper insights on our customers. We are excited to take this journey together and be part of this solution, which will help mobile businesses win in this highly competitive sector. As a result of these insights and new capabilities, we now serve our community through a mobile-first approach by delivering millions of personalized messages every day — all within a single platform."
Choose the market leading technology
Emarsys platform is ranked a leader for personalization, cross-channel campaign management and marketing automation.
Accelerating business outcomes for
ecommerce & direct-to-consumer businesses
How does it work?
Activate best practice solutions in a day
1
Strategy
Choose a strategy such as Purchase Frequency, Average Order Value or Customer Lifetime Value.
2
Use Case
See the most effective use cases to help you achieve your chosen strategy.
3
Activate
Activate pre-populated use cases with content, creative, and cross-channel workflows in a matter of clicks.
Crowdsourced strategies
Align business objectives with proven
e-commerce customer engagement strategies.
E-Commerce strategies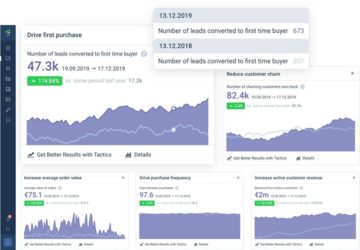 Proven use cases
Predictable, profitable growth using proven use cases.
Explore use cases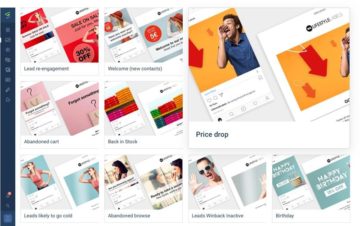 Pre-populated and ready
Accelerate time to value by aligning proven engagement strategies.