2020 was a challenging year for retail and e-commerce. Although some businesses may have panicked, the savviest and most successful brands found ways to keep the conversation going with their customers, even acquiring new ones, and all the while accelerating business outcomes.
Of course, the unsung hero in that scenario was you, the marketer.
It was you and your marketing teams that found ways to continue engaging customers across any and all channels — wherever the customer was — with only limited resources available to you. As a result, you helped drive revenue for the brand, and reaffirmed marketing's vital importance to the business.
But now that businesses have gotten a taste of how much their leaner marketing departments can impact bottom line results, they want more. Your marketing team, already deprived of the support from your agencies, is being asked to continue driving revenue at a pace that exceeds the resources you have — with time as the most precious and limited of those resources.
The good news is, the 40+ new features and enhancements in the Emarsys Summer Release 2021 are designed specifically to give more power to marketers. And one of the ways that is achieved is by helping marketers save time.
When Time is Not on Your Side
Time is a big factor for marketers. Not only is it elusive in that there never seems to be enough of it, but also, the window of time in which executives expect to see results from marketing continues to shrink.
Time for Getting Things Done
More often than not, your limiting factor as a marketer isn't your enthusiasm or knowledge — it's your time.
There are a great deal of things you'd like to be able to execute as a marketer (many of these are must-do activities for driving revenue). But unless you're using the right customer engagement platform, setting up and crafting all your campaigns can take a huge chunk of your time, especially if you're attempting to execute at a high level of sophistication. Plus, if you have to wait for IT to get involved, you're stuck moving at what feels like a glacial pace.
On top of this, if you're still relying on multiple cloud solutions to execute a campaign, this becomes a time-consuming task as well. You might end up spending more time managing the tech stack than marketing. And at the end of the day, marketing is what you truly love.
Time for Seeing Results
Tell me if this sounds like a familiar scenario: your C-suite sees what your marketing team has done to help drive growth and revenue for the business. They're impressed with the results. They ask if you can do it again, but this time… faster.
Another factor that you're constantly contending with is the amount of time it takes to see results from your marketing endeavors, and from your investments in marketing technology. The sooner you can see the bottom line impact of your marketing efforts, and the improved results from using the right solutions, the happier you and your business will be.
Same goes for your strategy and execution. You put in a great deal of time to choose the right strategy in order to seize upon a market opportunity. Then you put in time to develop and launch the appropriate campaign. After that, you have to wait and wait to see if what you're doing is working, and by then, the opportunity may have changed. You need to be able to see the results of your strategy and efforts sooner.
More Time for Marketers
Anything you can do as a marketer to get yourself more time will help you be more successful. The more time you have, the more you can do, and the more empowered you will be to adapt your marketing and keep up with rising customer expectations.
That's why the Emarsys Summer Release 2021 includes new features and enhancements designed specifically to give more power to you, as a marketer, by saving you time.
Let's look at just a few of the many time-saving innovations included in the new release.
Automatic Campaign Template Update
Throughout 2020, the need to pivot and react to changes in the market was all-too-common. Many of the marketing campaigns you and your teams had been working on for months suddenly needed to be updated… fast.
The Emarsys Customer Engagement Platform has always been marketer friendly in that a template could be updated in just a few minutes. But what if you have 10+ campaigns tied to a single template? 30+ campaigns? Those minutes add up, and suddenly you're committed to hours of repetitive work that could be spent on other pressing matters.
The new Emarsys Summer Release 2021 includes an automatic campaign update feature where, once a template change has been made, the marketer can choose which campaigns to update for the revised template, all with just a few single clicks of the button. This way, you're not spending time repeating yourself, and instead, have more time to focus on strategy.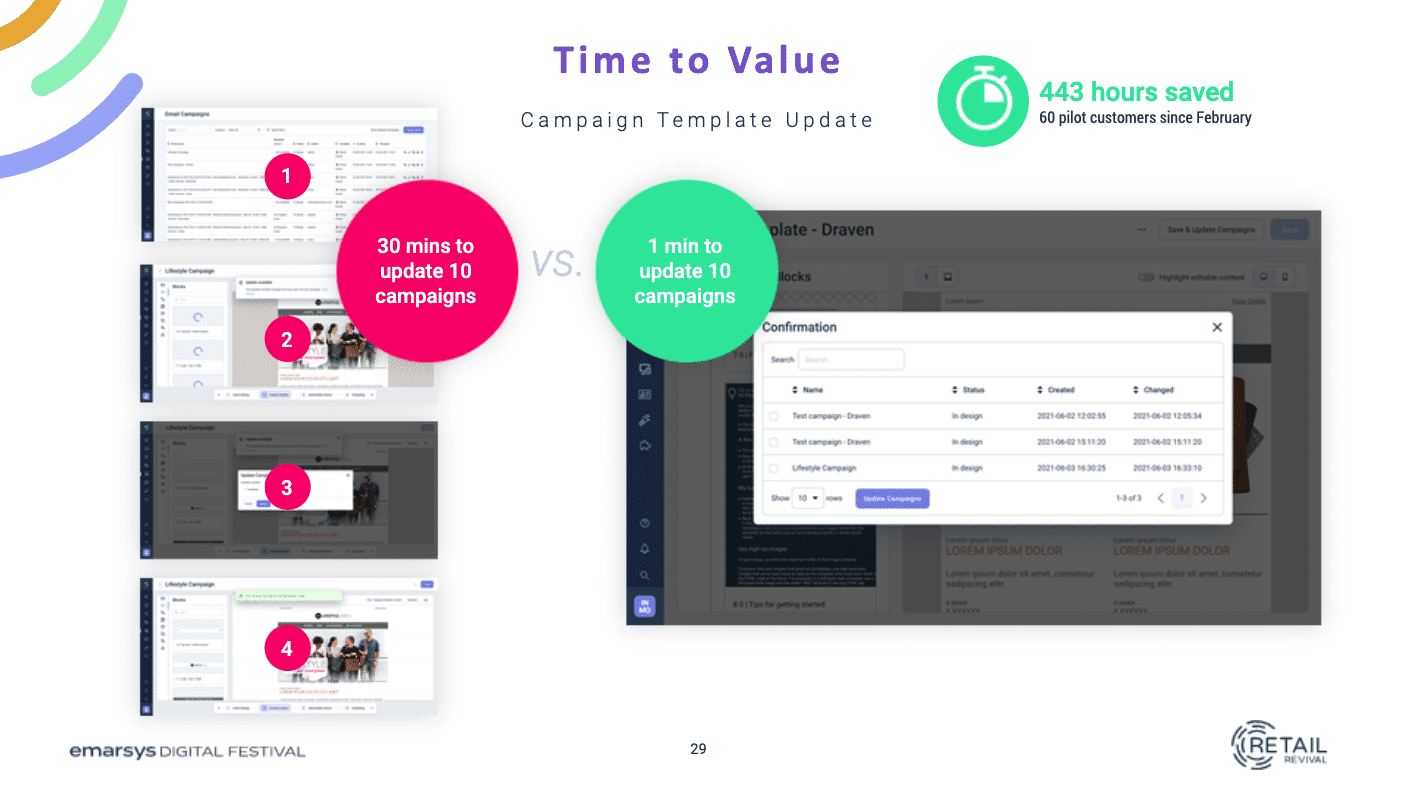 Relevant Notifications In Your Inbox
Any of you extra diligent marketers out there will understand the compulsion to double- or triple-check your work. After all, today's customers have high standards, so you can't afford to make mistakes that come from carelessness.
But if you're going back into the interface all the time to make sure everything is working, and reviewing your efforts, this takes a lot of time. That's why the new Emarsys Summer Release 2021 includes relevant notifications in your inbox, which allows you to receive via email any relevant notifications whenever there is an alert, warning, error, or any other kind of update about the status of a campaign.
This way, you're not spending extra time going in and out of the platform just to get an update on your campaign, or to make sure everything is working smoothly. If there's anything that needs fixing, you'll know where the problem is, and what needs to be fixed, sooner.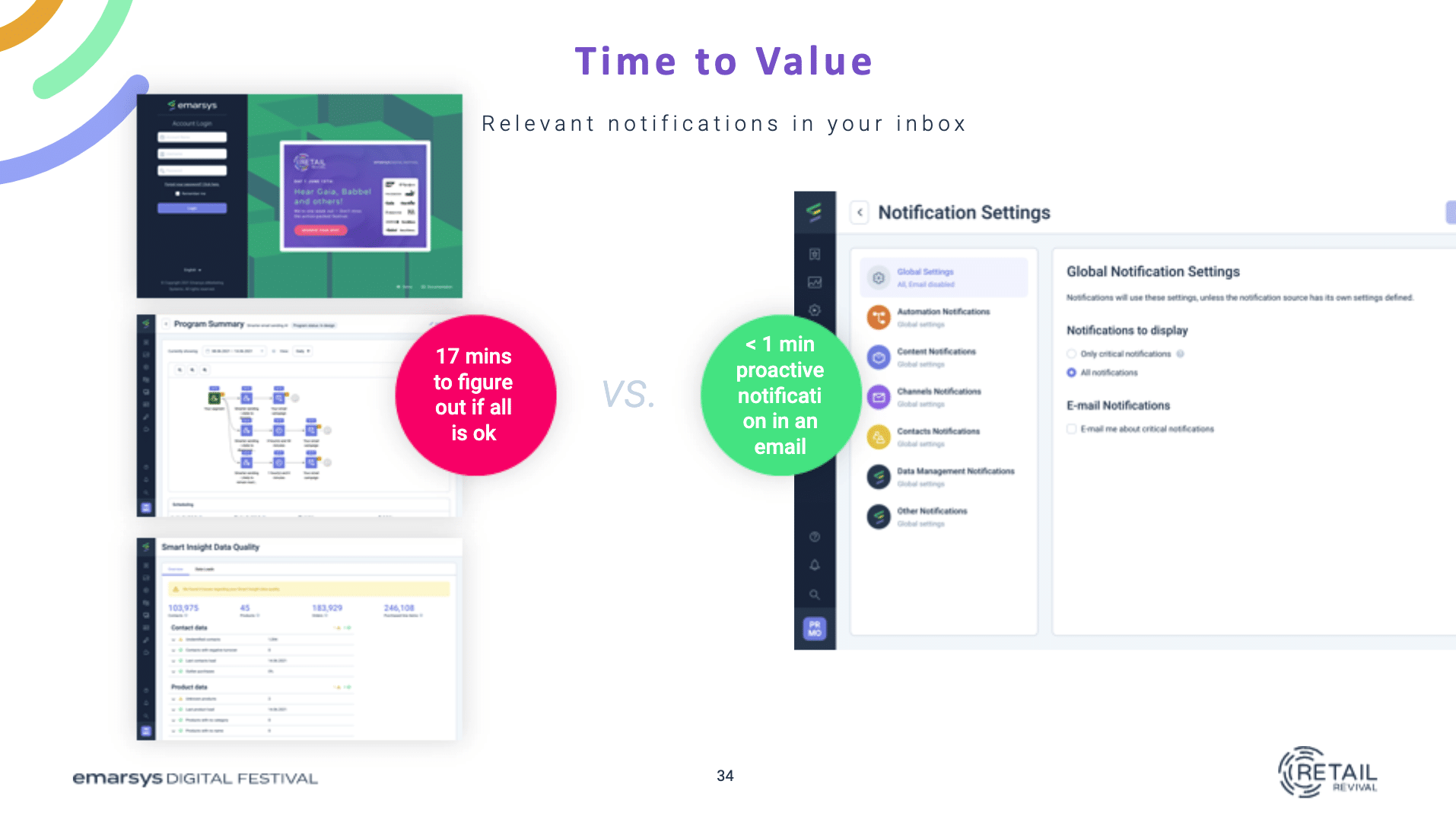 Automation Journey Builder Improvements
The good news is, there are many martech solutions today that enable marketers to build, deploy, and automate campaigns themselves. The bad news is, if you're stuck using a cumbersome, tedious, or overly complex solution, constructing and automating these campaigns inside the platform takes time. Even more so if you're using different solutions for each channel.
Emarsys Summer Release 2021 includes automation journey builder improvements which saves you time and effort in creating and automating your marketing campaigns. These include: 
Bulk Actions: Instead of repeating the same action for each and every piece of your automation program, you can execute bulk actions. From inside the automation editor, you can select, move, delete, copy, and paste multiple nodes at once.
Improved Settings Buttons: If you're like most marketers, you're navigating tons of windows and screens already, and the less clutter, the better. Improved settings buttons save you time by giving you the info you need at a glance. "Schedule," "Participation," and "Exit Criteria" buttons have been moved to the bottom of the journey builder for better visibility, saving you clicks, and reminding you of the critical steps your automation program should contain.
Commenting On Canvas: No more ambiguity when it comes to annotating programs with notes. With the ability to add comments directly to the canvas, it's even easier for teams to communicate. You can add notes to describe each node's purpose, improving clarity on actions and information within teams, without unnecessarily opening new windows and adding clutter.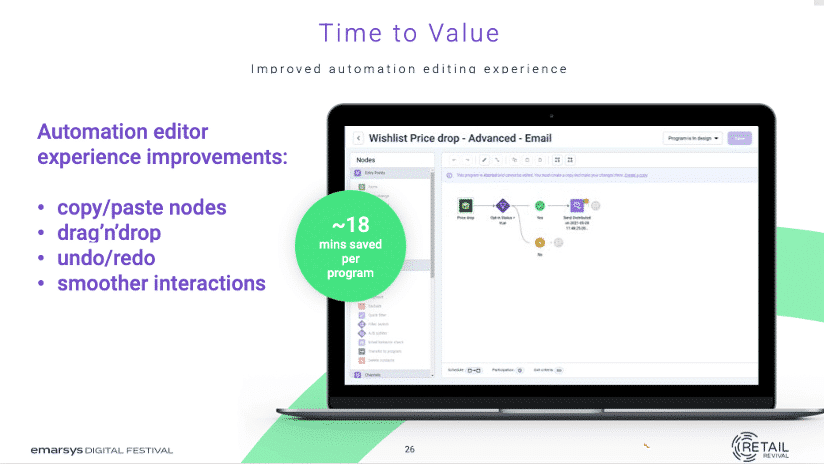 Discover the Emarsys Summer Release 2021
If there was any lingering doubt that marketing is a critical piece of the puzzle when it comes to driving growth and revenue for a business, the work that marketers did in 2020 silenced those doubts. But now that you've proven marketing's ability to accelerate business outcomes, you'll continue to be asking to do so for your brand. And you'll be asked to do it with less time and resources.
At Emarsys we are continuously innovating, ensuring that we empower you as a marketer. Although we can't cover all of them here in this blog, the Emarsys Summer Release 2021 includes 40+ new features and enhancements designed to give even more power to marketers.
Step up to the next level with a truly integrated solution that allows you to produce measurable business results while delivering the highly engaging, true 1:1 personalized experiences that your customers demand and deserve.
To learn more about these new features and enhancements, be sure to watch our Emarsys Summer Release 2021 webinar.
Handpicked Related Content: