We've all heard about ongoing and ever-increasing consumer expectations, which, in turn, place the burden on brands to produce more content plus better experiences, in a quicker time.
A 2018 survey showed 60% of marketers struggle to meet the increasing pressures to prove ROI. Data also shows that by 2022, US marketing spend will shrink 30% from 2019 levels (Forrester). We, as marketers, are now being asked to do more with less.
As speed-to-market quickens, brands are somehow expected to stay ahead of the pace. 2020 reiterated the importance of operational agility and scalable execution because there is now little choice in the matter. Communications that aren't built on personalized, context-rich interactions will be missed… and those brands will eventually die off.
"For some brands the tightening of resources and the turbulent macro environment could bring e-commerce strategies to a halt. But even with a leaner team, Frasers Group has seen digital growth mostly by leveraging automation and making real-time adjustments to best convert customers." – SportsDirect
Demands being hurled at retail marketing departments are escalating. This post looks at three of the most pressing, and explores how to combat each.
1. Find Efficient Ways to Turn Hours of Work into Minutes
Time tables are narrowing and bandwidth is becoming squeezed. One-third of marketing activities are moved in-house. So what was done by agencies with swaths of employees is now done by a lean team. With acceptable reaction time to in-the-moment triggers down to seconds — across call center agent responses, web chatbots, SMS back-and-forth, and cart reminder emails, for example — "real time" is literally here.
Anything that can be automated is, and anything not adding to a superior CX is being cut. Marketers are being forced to pump more stuff out while simultaneously eliminating time-intensive tasks or lofty to-dos in lieu of strategic work.
The Fix: Simpler interfaces that make campaign orchestration easier; a way to combine audience segments that doesn't compromise one-to-one relationships; bulk editing yet preserving personalization.
2. Incorporate New Channels (& More Data) as They're Born
The amount of the new data in 2020 grew an estimated 44x to 35 zettabytes (35 trillion gigabytes). From 2010 to 2020, the amount of data increased from 1.2 trillion gigabytes to 59 trillion gigabytes, a 5,000% growth.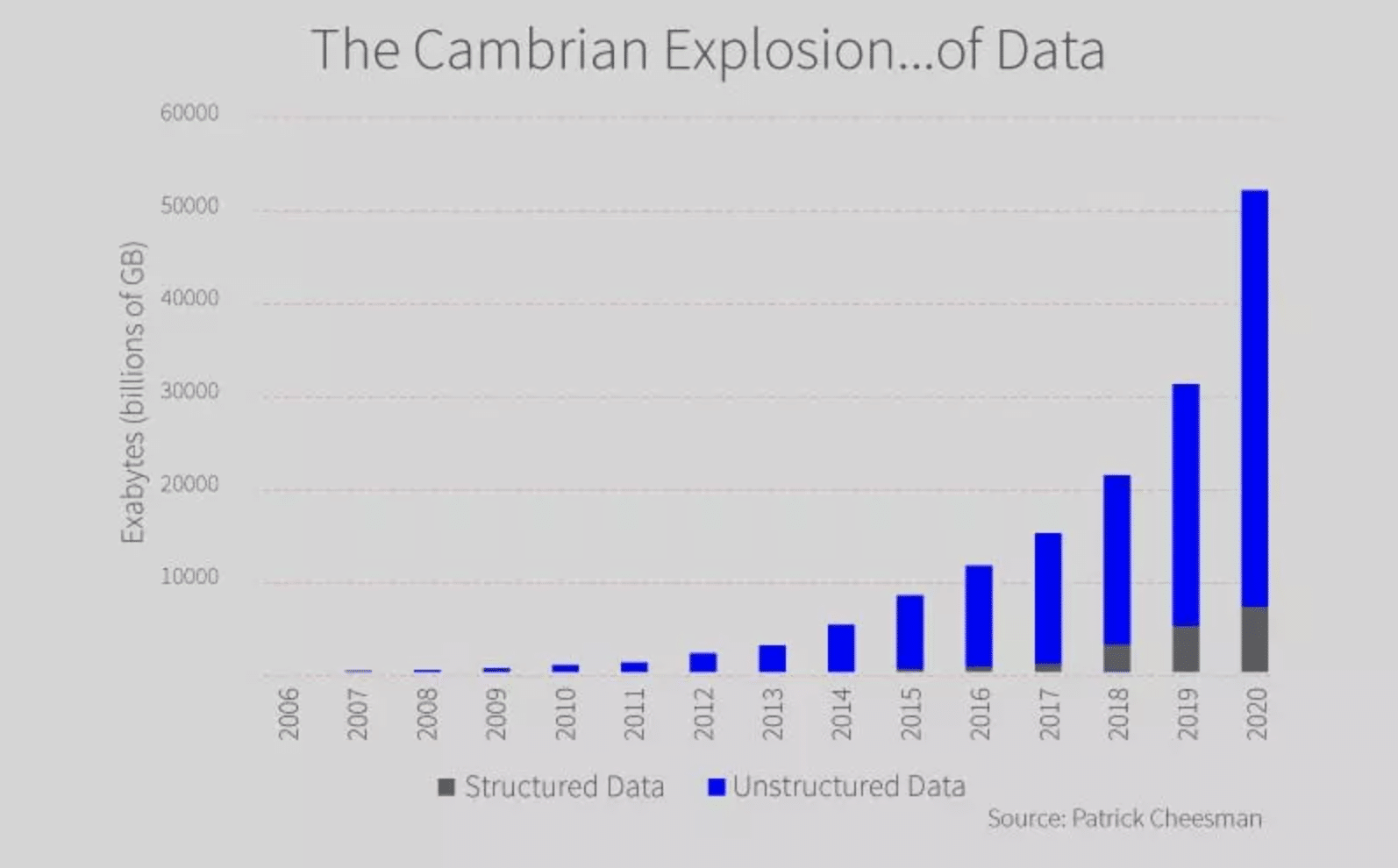 Of course, all of this new data is compounded (and caused, in part) by the massive channel proliferation that's been underway the last 15 or so years. And, marketers are working to figure out how to integrate "channels within channels" as part of this move to a completely embedded, connected digital world. For example:
Self-serve automation interface with drag-and-drop segments, channels, and conditions leveraging real-time data without IT intervention
Personalized Web Push Notifications that see 20% opt-in rates in the industry for website traffic
Tailored app experiences — like in-app messages — that leverage contextual real-time data
The Fix: Scaling and automating omnichannel personalization across a growing database with a channel-agnostic, industry-specific marketing platform.
3. Earning Customer Data Despite "Opt-In Fatigue" and Privacy Laws
Welcome, officially, to the era of permission marketing.
Customers are very skeptical about giving their data to brands, catalyzed by invasive marketing tactics over the years and new regulations like GDPR, the CCPA, and more. What does this all mean?
Control of data, content and channels are now all dictated by the customer.
Soon, third-party cookies will go away, and merchandisers will have to rely on attracting customers by offering true value. Customers expect only what they sign up to receive, from the first interaction and over the entire journey, however long it lasts.
In permission-based marketing, convenience and relevance are king. Ongoing relationship building, lifecycle marketing and customer lifetime value take precedence in lieu of spammy outreach or transactional-based interactions.
While it's more difficult to convince consumers to remain opted-in, subscribers and loyal brand fans are worth more. Marketers who had relied solely on using third-party cookies, list buying and paid advertising are in for a shock… but not all is lost.
The Fix: Prove the value you create for customers, even before opt-in; combat consumer skepticism with proven personalization strategies that show you care about their needs. Retailers who use apps can now reach 100% of their app user base via Mobile Inbox. Mobile Inbox is a centralized part of your app where you can engage customers on their terms. Mobile Inbox updates are personalized and available to customers at their convenience.
Final Thoughts
Brand marketers face more significant challenges than ever before. Between time and resource constraints, emerging channels and more data, mounting data privacy concerns, plus customer doubt, our job has never been more difficult.
By refocusing on quality over quantity, customer-centricity and value, retailers can continue delivering relevant​ experiences that convert and retain customers.
In 2021, it's about consistent, contextually relevant experiences in real time. Adaptation to a shifting world has never been more critical, but by embracing new ways to personalize experiences across web, mobile, and existing channels, you won't miss a beat.
Handpicked Related Content: