What Is B2C Marketing?
Business-to-consumer marketing, or B2C marketing, refers to the tactics and strategies in which a company promotes its products and services to individual people: creating, advertising, and selling products for customers to use in their everyday lives.
There are many differences when it comes to B2C marketing and B2B. Some of the most important distinctions include the purchasing and sales process, decision-makers involved, and cost of purchases.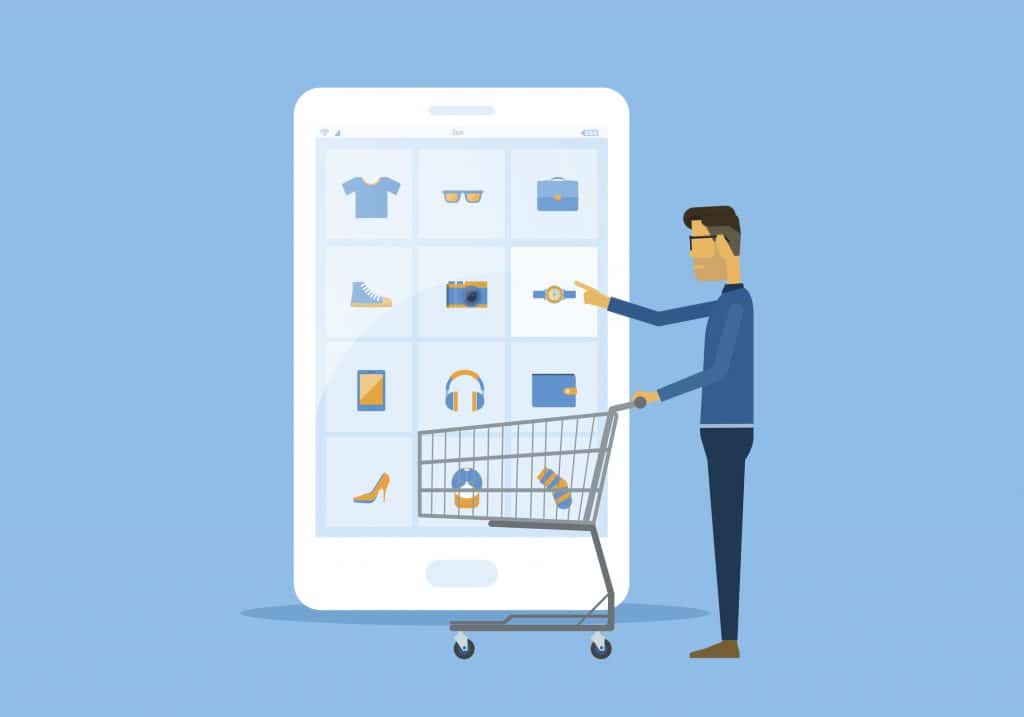 While a business will likely conduct extensive research before investing in new software, office space, or a large acquisition with another business, B2C transactions are frequently more impulsive and instantaneous.
Consumers generally seek out goods and services based on an immediate need, and make purchases more quickly, with less research and due diligence than a business would conduct. This grants B2C marketers a much smaller window of opportunity to influence consumer behavior.
For these reasons, successful B2C campaigns typically trigger emotional reactions or responses, while B2B campaigns focus on offering immediate value. Understanding these differences and making the appropriate changes to your marketing strategy will improve your outcomes.
Businesses that focus on B2C marketing observe trends closely, research their customers' purchase habits, and closely monitor their competitors' tactics, as it's critical to know the challenges—and understand how to break through all the noise to find success.
A recent benchmark report from The Content Marketing Institute examined what B2C marketers consider to be top priorities: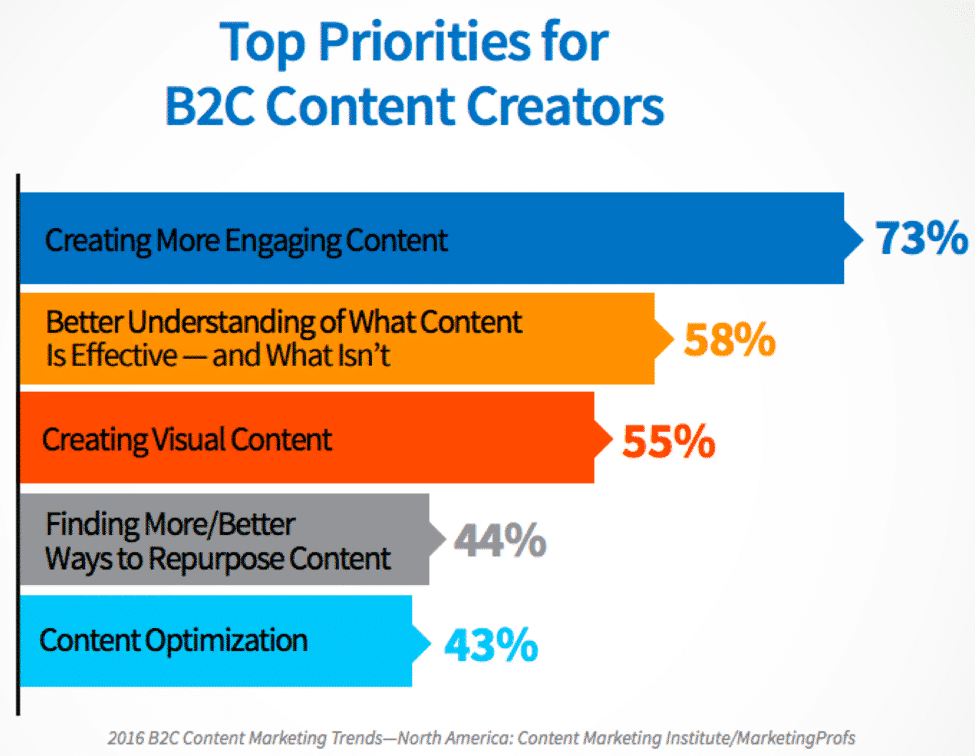 What is B2C Marketing & Why Is It Important?
To help break down B2C marketing and why it's so important, we're providing clarity around the term and the industry itself. To do so, we've outlined examples of successful B2C strategies, along with the biggest challenges, best practices, and future projections (plus additional resources for your continued education).
Editor's note: While there are numerous posts discussing the differences between B2C and B2B marketing, the purpose of this post is to provide an in-depth perspective on elements of a B2C marketing strategy.
Biggest Challenges of B2C Marketing
B2C marketing is one of the most popular business strategies to date, but there are still potential hurdles of which every B2C marketer must be aware. Let's explore some of the biggest challenges, and how to overcome them.
---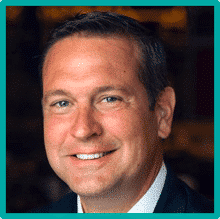 "The biggest challenge for B2C marketers is reaching and engaging their customers in the digital age. Consumers are looking for content, entertainment, and connections. We are not looking for ads and interruptions. B2C marketers are struggling to break through all that noise."
Michael Brenner | CEO, Marketing Insider Group | @BrennerMichael
---
The biggest challenge in #B2C #marketing: breaking thru the noise in the #digital age says @BrennerMichael CLICK TO TWEET
Adjusting to Increasing Customer Expectations
Consumers have more control than ever before. They are also more unpredictable than ever before.
9/10 consumers will pay more for a superior customer experience, and 60% will try a new brand for a better experience. This is why, in the digital age, it's vital to engage customers, not interrupt them.
Related Content: 3 B2C Trends to Help E-Commerce Brands Improve Customer Engagement
Smartphones, coupled with nearly unlimited Internet access and an abundance of technological resources, have provided consumers with 24/7 access to any information they desire at the tap of the finger. Brands must be prepared to meet them on their device and channel of preference.
9/10 consumers expect consistent interactions across any channel they choose, so it's the responsibility of the companies they buy from to proactively (not reactively) provide that kind of experience.
Additionally, most consumers today are predisposed to expect all brands to treat them as well as their favorite brand. As these expectations continue to heighten, the bar for what constitutes a "good experience" keeps rising.
Consumers expect every brand to treat them as well as their favorite brand #CX #B2Cmarketing CLICK TO TWEET
Breaking Through a Crowded Social Marketplace
B2C marketers can leverage social media from a sales, customer service, and overall customer engagement perspective. The opportunity (and challenge) for B2C brands, especially, is amplified on social media. The number of social channels available to consumers has exploded exponentially over the past ten years.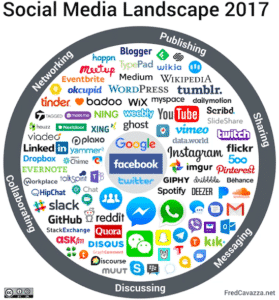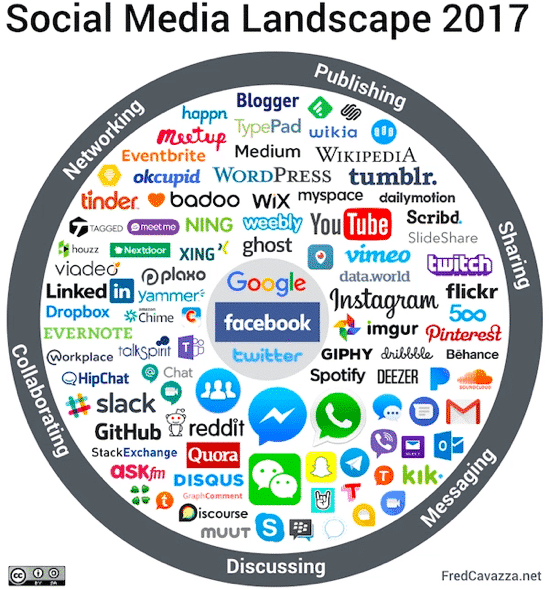 Social channels like Facebook, Twitter, Instagram, Pinterest, and Snapchat provide a direct conduit to build connections with customers, but the same characteristics that facilitate immediate, personal, public conversations with consumers can simultaneously be one of your biggest hurdles.
Consumers have no barrier of entry to any social platform, and are quick to publicly bad-mouth a company following a negative experience. It's also difficult for companies to respond to all consumers, all the time, across every "social" medium.
Social media also presents a flurry of distractions for your consumers; if you're not entertaining, connecting, engaging, and responding to them, other brands will. As Michael Brenner told me, B2C marketers must find a way to break through the noise while simultaneously delivering strong, relevant, and personalized content.
Doing Your Job with Limited Time and Resources
Time and resource constraints are a major obstacle for most B2C brands, especially new or growing companies or SMBs trying to scale their productivity, marketing, and product fulfillment/delivery.
With the help of technology, any B2C marketing team can alleviate many of these constraints that threaten productivity and your ability to reach customers.
Any #B2C marketer can even the playing field & achieve #personalized marketing w/ the help of tech CLICK TO TWEET
You can use software to automate, scale, and amplify your personalized marketing strategy—and even render obsolete some of your mundane day-to-day tasks. Ultimately, these tools exist to help you increase efficiency and better reach customers, regardless of the resources at your disposal.
Dealing with Data Overload, and Using Customer Data
Customer data is generated at every touch point and interaction, from every customer, web visitor, or prospect you're trying to reach.
Many B2C marketers believe this is the most significant challenge today; keeping up and making sense of all this data, then using it to draw insights and inform your marketing at scale. This process is nearly impossible to achieve manually.
New technologies can help you by automating the process of collecting, mining, analyzing, and leveraging data. These include:
Customer data platforms to help store and manage all customer information you're collecting.
Machine learning to help algorithms self-learn, without the need for manual updates.
Artificial intelligence marketing to help you scale the process of personalization.
The complete collection and accurate application of data confuses and eludes many B2C marketers. However, customer data is also your greatest asset, and is the gasoline which fuels your B2C machine.
Essential B2C Marketing Tips
To achieve success as a B2C marketer, it's important that you focus on reaching your consumers at the most appropriate time, while delivering perfectly tailored messages that ensure conversion and retention. Here's look at three ways your B2C marketing efforts will be boosted by focusing on personalization and creating one-to-one interactions.
Send Reminder Emails
By delivering important and time-sensitive messages, email reminders will work as a timely avenue to connect with consumers.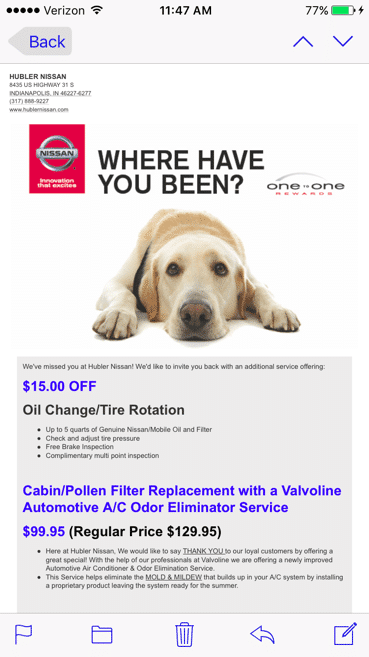 Reminder emails work wonders, as they keep your brand constantly on your customers' minds, which, in turn, helps facilitate sales and drive conversions.
Related Content: Owning Email Success in a Mobile-First World
Nissan, for example, collects customer data and organizes it into unique profiles. By then using marketing automation solutions, they're able to trigger reminders about upcoming appointments, service updates, and any other special deals.
The dealership where I bought my last car, for example, sends me service reminder emails, which they've affectionately branded as "One-to-One Rewards."
These reminder emails work well in a B2C context for several reasons. First, email is the #1 most effective marketing channel to reach consumers. Second, email is a non-interruptive medium; consumers have presumably opted-in to receive updates from you, and welcome these communications. Third, consumers can access email when it's most convenient, and act in their own time.
Nissan sends reminder emails to customers who have bought from the brand, but who have not taken action in a specified amount of time.
Create Exclusivity with VIP Programs
One of the best ways to drive customer loyalty and increase engagement is through the power of VIP programs.
Customers who are a part of VIP programs get to enjoy the luxury of added perks, benefits, and deals from a brand. As customers love the extra benefits so much, they become brand ambassadors, and share their story with friends and colleagues.
Sephora, for instance, has built a successful VIP program only available to customers after they've reached a predefined spend threshold.
This means that loyal customers are encouraged to spend more in order to unlock these special programs, which in turn offer more incentives for customers to spend money, and helps the brand increase revenue.
Increase Retention with Retargeting
Customer retargeting is an effective tactic to use when a website visitor who has been searching your site leaves for another page, frequently that of a competitor.
CRM ads can help you take advantage of a couple things you already have: consumers (who use social media), and data (about their online behavior). You can use retargeting ads, triggered by what consumers were searching for, to initiate newsfeed pop-ups that recapture their interest.
Related Content: How CRM Ads Can Help You Retain More Customers
Retargeting is especially useful when a potential customer has abandoned their shopping cart. The retargeting ads remind the customer what they've left behind, and urge them to finish their purchase.
The Future of B2C Marketing Is Personalization
The answer is – personalization. Traditional mass marketing strategies have become outdated. Billboards, TV ads, and gimmicky marketing tactics don't possess the same appeal in the eyes of consumers they once had. Consumers today demand that the customer journey touch them on a more personalized, emotional, 1-to-1 level.
Your B2C marketing strategy needs to fulfill those intimate desires. The loyalty and attention of your customers hangs in the balance, and your business depends upon it.
As technology continues to evolve, so will the B2C marketing landscape. New trends will emerge, new expectations will come to the forefront, and new strategies will take hold. B2C marketers have access to the tools needed to reach new customers and strengthen existing customer relationships, primarily by personalizing the content they're disseminating. More than ever, B2C marketing teams can orchestrate, automate, execute hyper-personalized, high-quality campaigns, and succeed in an ultra-competitive retail environment.
Additional Resources: