After researching plane tickets for several days, I finally made the plunge and purchased them. But I was upset the next day when the airline emailed me asking whether I'm ready to book my trip… the same trip I booked the night before 🤯.
How do you feel when a company sends you an email with the same product you just purchased? Or even worse, a coupon for what you just bought… probably loads of buyer's remorse sets in. It's not a good feeling.
Customer loyalty programs can help to solve this, but I'm not talking about the points and promotions programs you're accustomed to. Customer loyalty should revolve around providing customized experiences for all customers.
Below are the pillars you can use to create a customer loyalty program that entices customers to continue buying from you over and over again as you build a relationship with them.
1. Capture Data
The foundation of loyalty is capturing the right type of data for use in creating meaningful relationships. The best brands use this data in their personalization efforts to provide memorable customer experiences, yet creating these experiences requires a massive trove of information.
To create these experiences, first-party data is ideal because it's more reliable and less expensive than other options. Plus the privacy concerns with first-party data are minimal because you're aware of how it was obtained. Examples of first-party data include behavioral, social, subscription, customer feedback, purchases (in-store and online), and much more.
"I think in a lot of cases, a lot of brands forget about the relationship element. We are dealing with customers, with humans, that really want that relationship with the brand. And the first-party element is obviously really important to us. […] So we use techniques, you know, progressive profiling, for instance. We ask questions via our website through automated communications. […] And by doing so, then obviously, we can provide the correct solution or the correct products to meet their goals. And I think that's just the perfect way of using first-party data to create a positive experience and build a positive relationship for the future."
The BIG problem
However, brands sometimes keep their data in silos, separate from other useful information that could provide more valuable insights.
Why is this? It's because of the marketing tech stack… or the number of apps a company has to assist with marketing.
For example, small businesses average about 40 apps, where enterprise-level companies have about 211 apps. If those numbers don't sound outrageous, here's something that might: it's not uncommon for an app you're invested in to discontinue native integration at any given time without warning or notice 😱.
Brands are aware of this problem. In fact, around 97% of executives and 54% of marketers believe that siloed data negatively impacts their business and is a major barrier to effectively using their customer data.
The EASY solution
By placing first-party data in one location where internal teams can use it, your brand will be able to tailor the experience of each and every customer. To do so, you'll need to seamlessly integrate every one of these disparate data sources into a centralized marketing hub so they can work together like cogs within a well-oiled machine.
2. Accelerate
Marketers played a crucial role in the success of businesses during the pandemic. Even running on fewer resources and extremely limited budgets, they still drove customer lifetime value.
Now that companies have seen how leaner marketing departments can improve bottom-line results, they want more.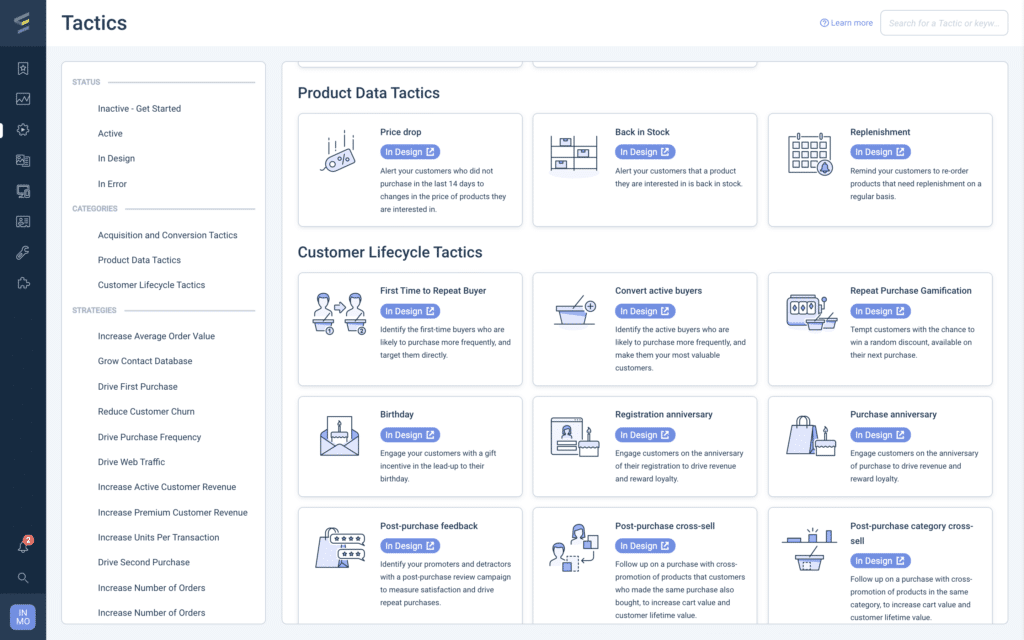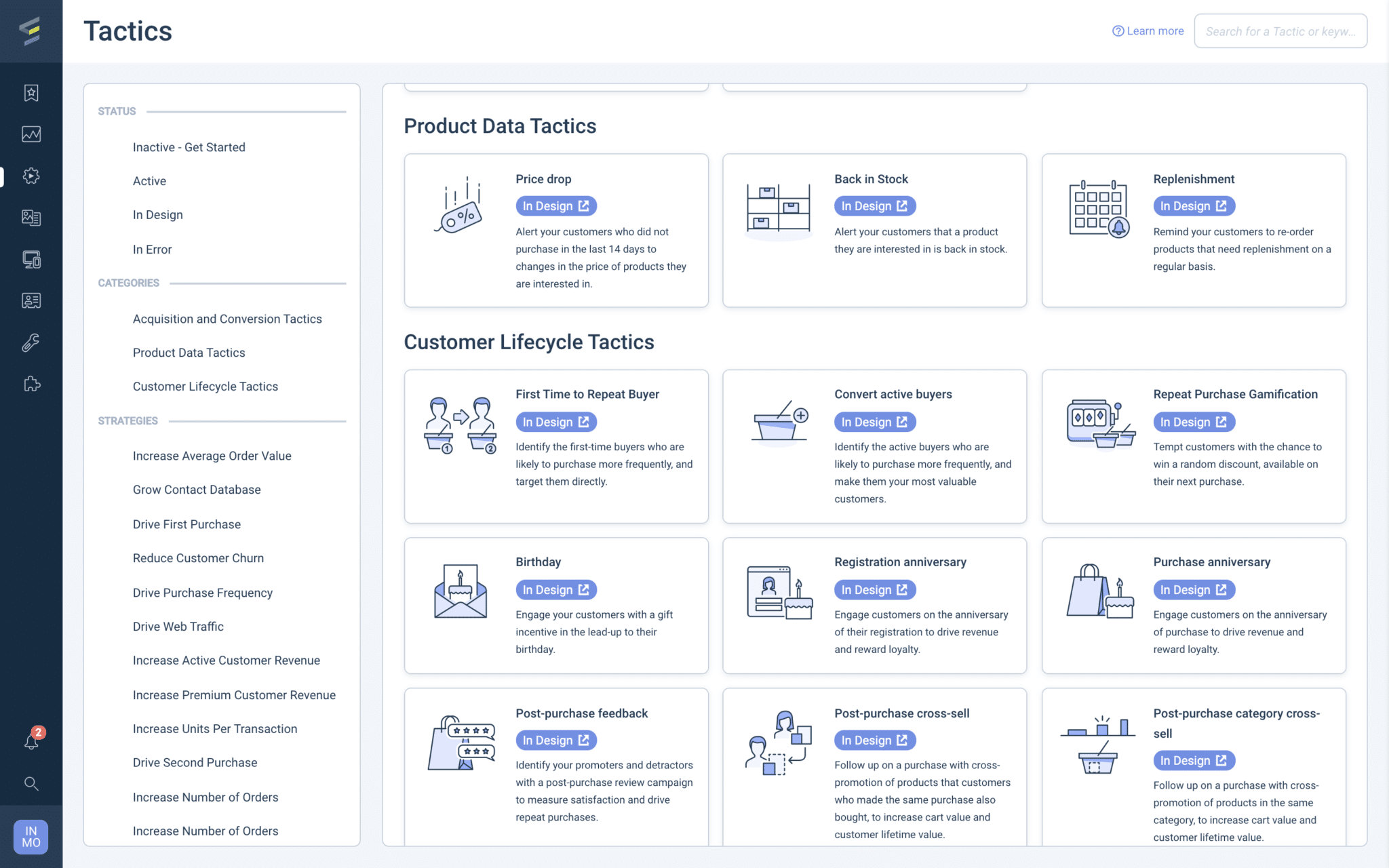 Having a customer engagement platform that can easily deploy tactics at the push of a button can save your marketing team hours or even days of repetitive tasks. With this time, you can strengthen your strategy and continue delivering highly valuable experiences to customers.
Using these tactics, you can increase your average order value and frequency of purchases, as well as drive lifetime value, retention, and revenue. On top of all this, you can use tactics to easily roll out a loyalty program.
"Another great tactic that's had [a] significant impact on redemption online and overall online conversion is a ten dollar online voucher code for customers who have abandoned their cart. When we originally implemented Emarsys, we set up [a] kind of basic abandoned cart automation that would email customers reminders a few hours after originally abandoning an item in their basket. A very common tactic used with retailers is incentivizing customers with a voucher, and this is something we were able to bring to life with the use of Emarsys and our data. So with our enhanced technology integrated, in addition to using the voucher pool feature in Emarsys, we were able to target those customers who had abandoned their cart and still hadn't made a purchase."
3. Personalize
The majority of brands spend a huge amount of money on acquiring new customers, but they do little to engage them and create a unique experience to encourage them to return. A great way to do this is through personalization.
The goal of personalization is to present relevant content to customers based on specific data, analyze their reactions to that content, and then continuously interact with them throughout their lifetime with your brand. It's about delivering personalized, 1:1, real-time experiences to each customer within their preferred channel.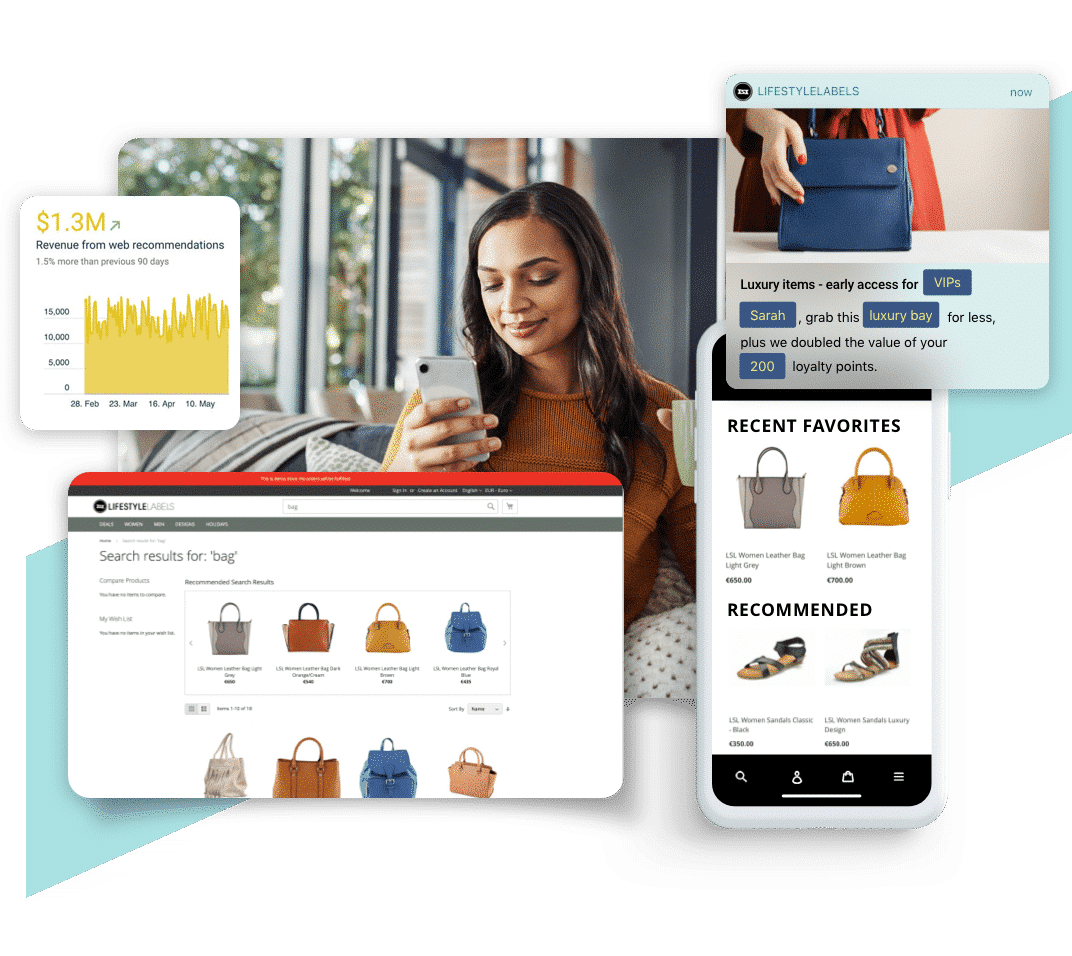 Not only will personalization help create more meaningful customer relationships, but can help your customer become loyal fans. Research shows that 75% of consumers will purchase from a brand that delivers recommendations based on past purchases and knows them by name, and as many as "44% of consumers are willing to switch to brands who better personalize marketing communication."
Customers aged 18–34 consider personalization most important and are likely to spend more on impulsive purchases, become loyal, and increase your revenue. By personalizing your customer's lifecycle, their experience becomes frictionless, and they're more likely to buy from you again, increasing your CTLV and revenue.
"The more you use the app, the more personalized content you discover. And based on that, basically, it's becoming a one-to-one conversation. […] I would say that's the main reason why people are coming again and again to us and spend more time with us within our app."
Personalize with AI
As your business scales up, it's ideal to personalize each and every customer communication, but manual personalization becomes unreasonable at a large scale. To rapidly scale personalization for all your customers, you need to incorporate an important tool: artificial intelligence.
With AI, you can automate and execute across multiple channels at the same time, providing consistent personalization experiences for each customer… all without using up your team's valuable time.
By using self-learning algorithms and predictive analytics, the AI can predict customer behavior more accurately in the future. To make the most impact, AI predicts the types of content that are most relevant to each specific customer and understands when and where to deliver them.
"We wanted a single marketing solution that could scale up with our business. Emarsys helped us join the dots across an increasingly complex customer journey with touchpoints from stores to website to customer service interactions. Implementing AI was a perfect fit for our retention and reactivation activities. AI was able to predict where people were churning or defecting at a 1:1 level, and this allowed us to send campaigns based on a customer's individual lifecycle."
4. Automate
An automation platform — as opposed to a one-off solution — unifies and centralizes all of your customer's information in one place. It includes everything you're using, from email through mobile, to social media and your website, even offline data.
For example, when a subscriber is interacting with your website, an automation platform can show them an email of the products or services they're interested in. And if they add something to their cart but don't purchase, they can be automatically retargeted on social media with relevant content and messages, enticing them to buy.
Automation can even send personalized content and product recommendations to interested customers across any channel. Because top automation platforms include prebuilt templates, much of the work is already done, saving your team many hours of work.
"Send Time Optimization is another favorite of mine. We use that for almost every campaign, and that's actually increased our open rate by over 8%. We have way more guidance on which automation we should create next, and just overall the next steps on what works for our customer, what they like, and it just makes everyone's job easier in every channel."
5. Measure
As a marketer, having more time on your hands means you can keep up with changing customer expectations and accomplish more. Marketers are increasingly relied upon to discern changes in customer behavior, manage resources intelligently, and leverage data to drive growth for brands.
By understanding how your marketing efforts generate sales, you can demonstrate the value of your efforts to your organization.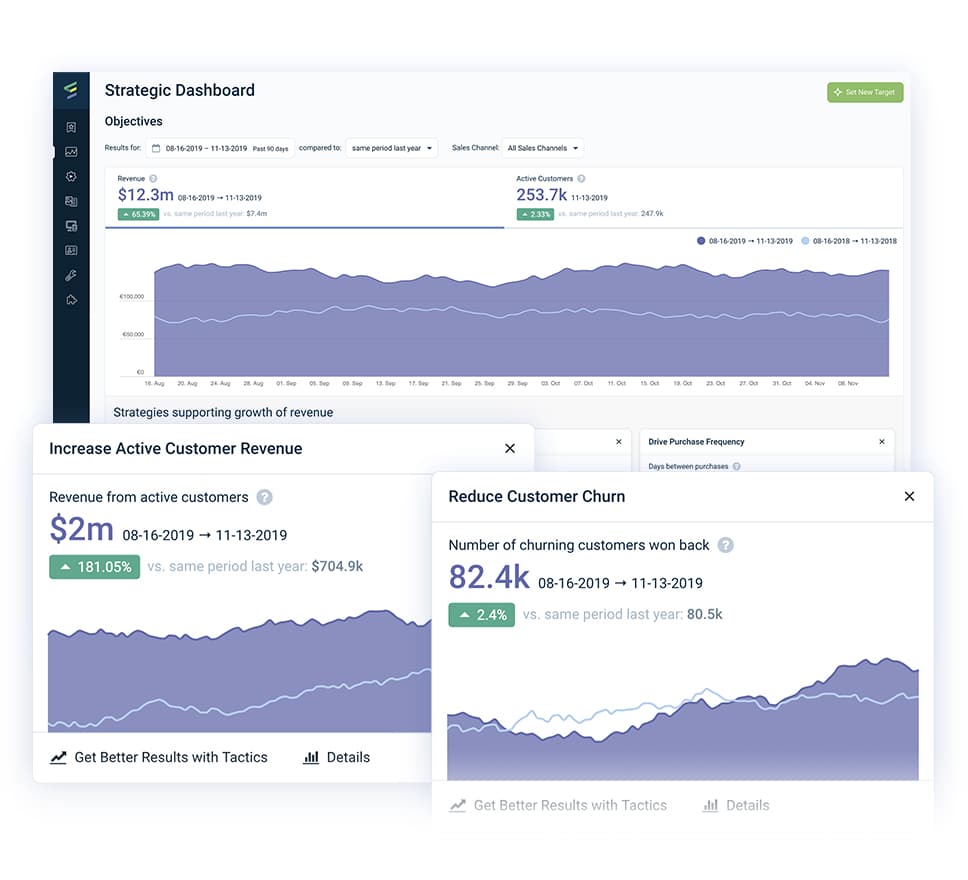 The ability to link customer engagement and your loyalty program with revenue metrics will give you greater insight into what campaigns are successful for specific segments and how your marketing activities translate into sales. As a result, you can better decide which activities will address your business goals.
"If you're going to be able to take a business case and sell that [to] upper management… you're going to have to have very clear and actionable items for how you can leverage the data and how it's actually going to impact the business in a positive way. Especially if you're sitting in front of a CFO, because they will always want to know the actual ROI from that."
Final Thoughts
Now is the time to start thinking about how you can offer your customers more than discounts or free gifts in return for their ongoing patronage. The customer experience has changed drastically over the past few years with new technologies on top of an already overwhelming marketplace.
When you integrate Al and loyalty solutions, you can personalize the experience based on a number of factors, such as demographics about the customer, the degree of loyalty they've demonstrated, and whether they are a first-time buyer, a defecting buyer, or a loyal customer. By combining these attributes, you can ensure that customers' content and offers are personalized according to who they are.
Handpicked Related Content