After analyzing use-case data from over 1,500 clients, Emarsys has created the best personalization tools for marketers — without needing IT or data scientists. But we didn't do it alone.
All the real-time omnichannel features built into the Emarsys CDP are based on what clients told us they need to grow revenue, increase customers, and drive up AOV.
We also provide a roadmap for next steps to grow revenue and customers using proven strategies and tactics that accelerate business outcomes.
But don't just take our word for it. Check out what reviewers are saying about Emarsys over at G2.
Why G2 Has Positioned Us Highly
As a renowned peer-to-peer review site in the technology space, G2 serves as an excellent gathering place for real people using the Emarsys platform to provide honest feedback.
The site awards brands based on what customers say and the ratings they give. G2 ranks brands on customer satisfaction (as shown in the user reviews) and market presence (market share, vendor size, and social impact).
In response to great feedback and high ratings from marketers using our platform, G2 has bestowed Emarsys with the following awards:
Leader Summer 2020: Grid® Report for E-Commerce Personalization
Leader Mid-Market Summer 2020: Mid-Market Grid® Report for E-Commerce Personalization
Best Usability Mid-Market Summer 2020: Mid-Market Usability Index for Customer Data Platform (CDP)
Easiest Admin Mid-Market Summer 2020: Mid-Market Usability Index for Customer Data Platform (CDP)
Best Usability Summer 2020: Usability Index for E-Commerce Personalization
Easiest to Use Mid-Market Summer 2020: Mid-Market Usability Index for Customer Data Platform (CDP)
Leader Mid-Market Summer 2020: Mid-Market Grid® Report for Customer Data Platform (CDP)

Why Do Customers Rate Us Highly?
On the subject of personalization in a Customer Data Platform (CDP), users rated the Emarsys platform highly for ease of use, easy admin, and best overall usability.
"Best know-how for analyzing customer behavior and very easy to use."
"Implementation process is well organized and structured. Implementation team is always available."
"Emarsys is user-friendly and quite self-explanatory. Has a lot of benefits, e.g. recommendations and plugins."
"Shows perfect customer lifetime value and how to react on it. There is always a solution for everything."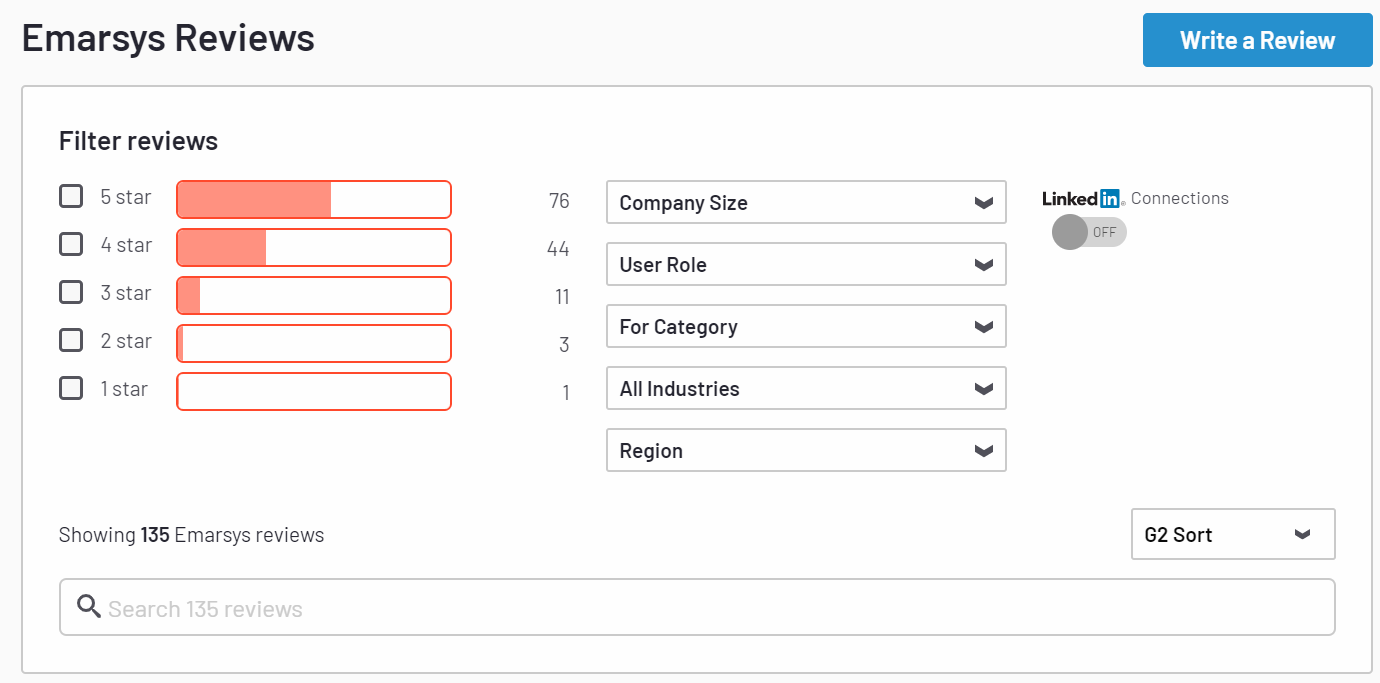 "Emarsys' intuitive platform makes customers feel satisfied."
"I like the fact it's a single platform that does not require any online classes."
"[What] I like most [about] this platform [is] it offered training to all our staff for FREE!! Hence, we all know how to use it."
"It's a time- and cost-effective platform that is easy to use."
"Great communication… easy-to-navigate reports and training."
"Solving the problem of simple and streamlined reporting. Benefits are tracking revenue easily."
"Love the immediate support we receive when we have a question while working in the system."
"I enjoy the thorough training process they conducted with each member of our team. Our team is small, and it is key that we all understand how [to] properly work [in] the system."
Customer-Centric Personalization in a CDP
The Emarsys platform was built to make it easy for marketers to put the customer first. That's why data-driven personalization is a core feature in all our solutions. Combined with our robust data platform, marketers can easily execute campaigns fueled by rich personalization data.
A Personalization Engine
With the Emarsys platform, you can monitor customer behavior across all channels and quickly optimize campaigns to react to that insight. You can easily target individual customers when they visit your website, whether on a desktop or mobile. With our reporting and analytics, you can see, in the moment, how efficient your personalization efforts are, and if you should need it, we provide the next best steps for growth.

An Omnichannel Customer Data Platform
Not only does the Emarsys platform serve as a single database for all your marketing needs, but it also comes with full omnichannel capabilities, including the ability to merge offline data with online. The platform also integrates Magento and Shopify Plus with easy-to-use plugins.
With all your first-party data in one spot, you can build a complete view of each customer. Plus, a CDP makes it easier to launch and track automated campaigns, whether focused on retention, acquisition, or revenue growth.
A single CDP even saves you money, especially when you can trade in multiple point solutions for a one platform that enables you to do everything you were using point solutions for and more.
What the Emarsys Customer Engagement Platform Can Do for Your Brand
As an e-commerce personalization engine, the Emarsys customer engagement platform enables marketers to create superior shopping experiences tailored to the individual. You can capture behavioral data in real time across all channels, with proven strategies and tactics that will grow revenue and engage both new and existing customers.
The power of an omnichannel CDP grants you the ability to gather data from anywhere and store it in one place, accessible by every member of your marketing team. A single platform is the best way to build a truly unified customer profile for every shopper that engages with your brand.
Handpicked Related Content: