Remember the 4 Ps of Marketing? Of course you do, you're a marketer! If they aren't etched into a plaque in your office or tattooed on your arm, surely those four Ps are burned into your memory somewhere.
But there is a fifth "P" of marketing — one that wasn't taught to budding marketers during their university studies — that today's modern marketer knows all too well.
PRESSURE
Whether you're a brand marketer for retail, e-commerce, consumer goods, travel, sports & entertainment — or any other industry where the name of the game is more customers and more revenue — "pressure" is becoming the most challenging "P" you face. And it's no wonder you're under such great pressure. According to Gartner, "marketers have taken on more responsibility while their budgets have fallen to their lowest level in recent history." In other words, you must do more with less.
Fortunately, we're here to help relieve some of that pressure. How? By giving you more power. Our upcoming Emarsys Spring Release 2022 will offer a host of new features and enhancements that give you more power to connect customer experiences that build loyalty and grow your business.
We'll dive deeper into all the 25+ great new features and enhancements in our Emarsys Spring Release 2022 webinar on March 23 at 11:00 AM ET (4:00 PM GMT). For now, here's a sneak peek at what you can expect to find in the upcoming release.
Limitless Automation Journey Editing
Marketing automation is one of the most critical ingredients to a successful marketing strategy. The ability to automate personalized 1:1 messages across all channels not only ensures you can seize every opportunity to connect and further your relationship with a customer, but it saves you tons of time. With automation, time that would otherwise be spent manually building cross-channel 1:1 journeys over and over again can be spent focused on the creative areas of marketing that you and your team love.
Limitless automation journey editing, included in the Emarsys Spring Release 2022, allows marketers to accelerate time to value even faster. With this new feature, building and editing journeys — or creating new ones on the fly — is easier. You can restructure your program in any way you want (including deleting nodes) in testing, active, frozen, paused, and finished statuses. Plus, you can now delete multiple nodes at once or even whole branches.​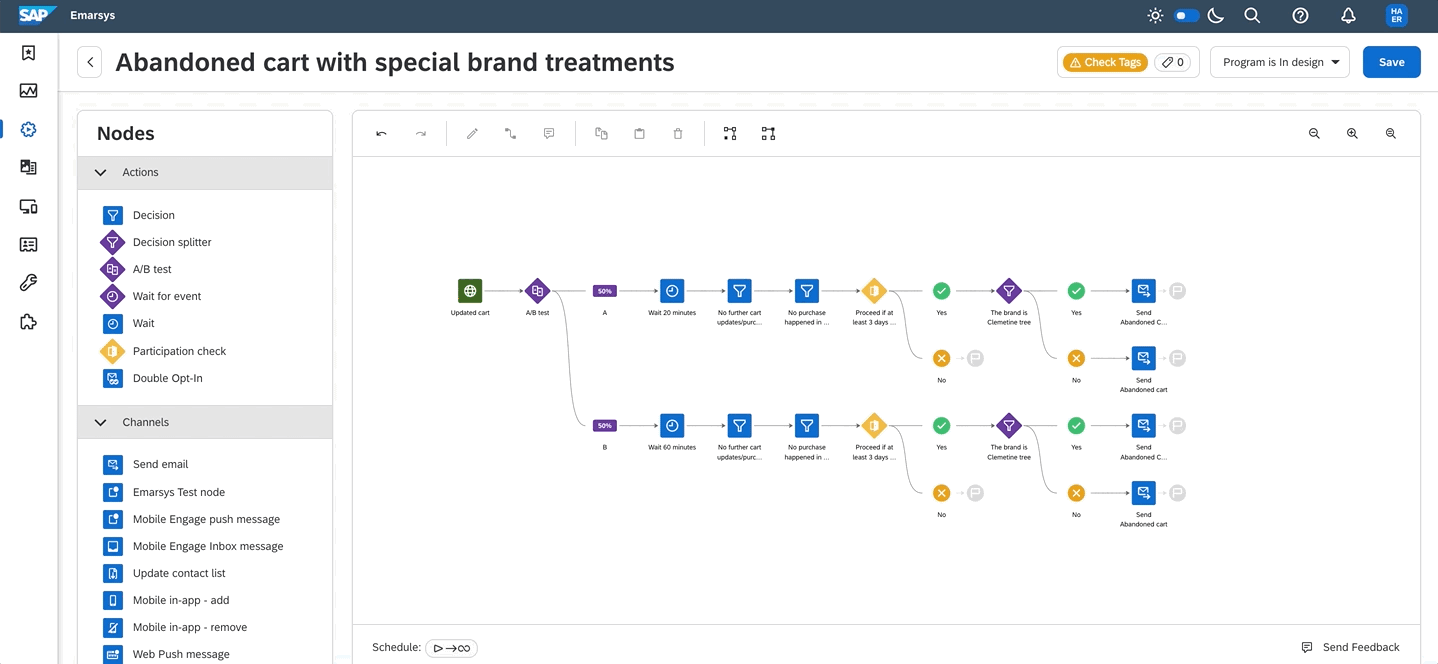 Introducing Goal Reporting
When Emarsys conducted research on the challenges holding back retail marketers, we discovered that 63% of marketers spend a significant amount of time on measurement and reporting. Your time is already precious; you shouldn't have to spend so much of it figuring out how to prove marketing's impact.
Enhanced goal reporting features included in the Emarsys Spring Release 2022 help marketers quickly, easily, and accurately see their impact on revenue and business outcomes. These features give greater visibility into the measurements that define the bottom-line impact of marketing activities. They allow campaigns to be tailored to a business' specific needs and goals. Visualizations in the Emarsys platform reveal the most effective actions to drive conversion to their business goals based on these visualizations.​
Better Customer Experiences through Loyalty
In our ebook unPredictions: Commerce Marketing Priorities Powering 2022, we stress the importance of CX. Positive customer experiences ensure your brand thrives and survives, while negative experiences are toxic to your brand's health. What's more, companies that prioritize CX see​ 60% higher profits than competitors​.
As the marketer, you're the one in charge of your customer's experience, so whether their experience is good or bad ultimately falls on your shoulders. Keep in mind that a huge part of what makes or breaks that customer experience comes down to loyalty — how do you build lasting relationships with your customers? Are you giving customers value? Do you offer a loyalty program that customers want to join?
According to Gartner, "70% of CX leaders have a tough time making loyalty programs that stick." But having the right loyalty-specific features at your fingertips ensures you can provide customers with loyalty-building experiences that not only stick, but keep them coming back for more. That's why we have several new features in the Emarsys Spring Release 2022 designed to help do exactly that.
Enhanced Loyalty Voucher Management
Maximize flexibility and enable support for multiple new use cases with these loyalty enhancements. The separation of pool types (and the addition of a new pool) allow you to attach vouchers for free directly to the Loyalty wallet. Vouchers can be offered as rewards, points, or for free based on criteria such as status.
Enhanced Exclusive Access
Get more control and discernment over how you grant exclusive access. With Permanent Exclusivity, you can specify a URL on your site as exclusive (e.g., VIP access) while keeping it permanently blocked to members without access. With Limited Exclusivity, you can specify a URL on your site as a members-only exclusive for a short window of time. For example, you can offer members-only access to a promotional shopping event or give members early access to a sale.
Spend-Based Loyalty Plans
Offer customers who want to avoid a points program an attractive alternative. With Emarsys Loyalty, you can now offer a spend-based plan with single or multiple tiers and benefits, and give members the option of actions, promotions, and cashback vouchers.
Emarsys Spring Release 2022
Marketers, we know you're feeling the pressure — pressure to connect with more customers, grow your business, and drive revenue. We're here to make sure you don't crumple under the pressure. The Emarsys Spring Release 2022 is coming, and with it is a host of new features to give you your power back.
This article only scratches the surface of the 25+ new features and enhancements included in our upcoming release. Find out more by joining the Emarsys Spring Release 2022 Webinar on March 23 at 11:00 am ET (4:00 pm GMT), where you'll get an in-depth look at how these additions to our omnichannel customer engagement platform give marketing teams more power to connect and grow. You'll also hear from Emarsys experts, including:
Kelsey Jones, Director of Product Marketing, Emarsys
Balint Vegh, VP of Product Management, Emarsys
Jack Avina, Analytics & Data Product Manager, Emarsys
Lucy Sasvari, Principal Product Manager, Emarsys
Márton Skach, Product Manager, Emarsys
With all these features aimed at helping you easily reach more customers and accelerate business results, you can take on the whole "do more with less" challenge with ease. Now, instead of sweating under the pressure, you can continue being the cool, calm, and collected revenue-generating marketer you're meant to be.
---
Handpicked Related Content: