Our clients are amazing! Thanks to all the feedback they provide, we can quickly adjust to meet their requests and try our very best to ensure they're happy.
In fact, one of our core values is that we always innovate, which is evident in the releases we continually launch.
But we're not here to brag about ourselves. Our clients have placed their reviews on G2, and they share their thoughts on how they use the Emarsys customer engagement platform.
It comes as no surprise that in the G2 Winter Report 2022, Emarsys has been named a leader once again in several categories.
Marketing Personalization Earns a Top Spot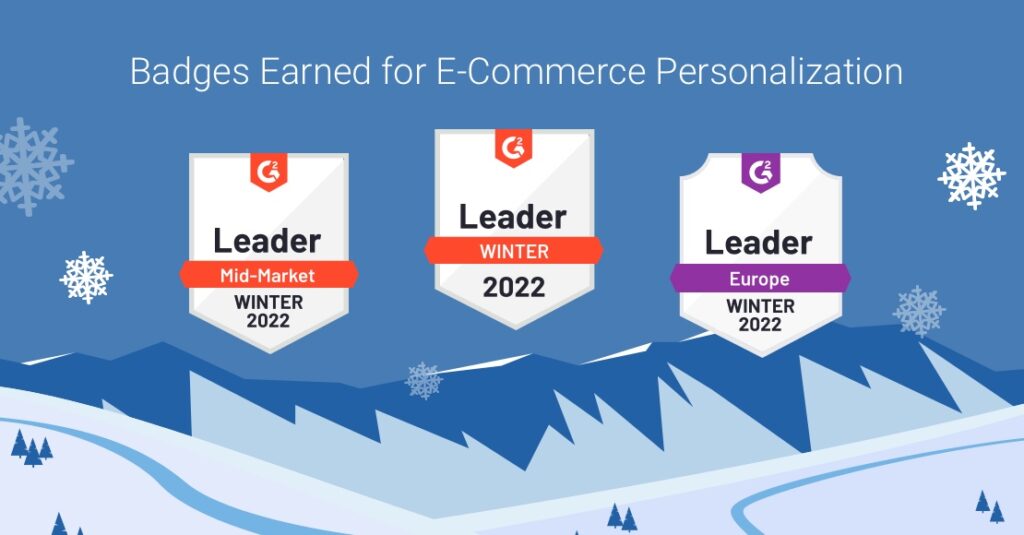 With 91% of consumers preferring to shop with brands that connect with them across their preferred channels, we understand the importance of creating personalized customer experiences.
Personalization allows a brand to develop deep customer relationships and keep those same customers coming back to purchase.
Through our solutions, our clients are able to create seamless 1:1 experiences that are tailored for every customer. Because of our commitment to personalization and our satisfied clients, G2 has awarded us the following for E-Commerce Personalization:
Leader Mid-Market Winter 2022 (ranked #1)
Leader Winter 2022
Leader Europe Winter 2022
Below are a few G2 reviews that stand out regarding personalization:
"Currently working through some personalization tactics — the increase of engagement & revenue metrics have proved we're heading in the right direction!"
"We can reach our personalized target groups or inform shop visitors about discounts or other company-related news if needed."

"Emarsys makes email building and launching pretty easy! I enjoy building and analyzing emails and using automation programs. Emarsys has a ton of features and a lot of personalization options."
Top Honors in Marketing Analytics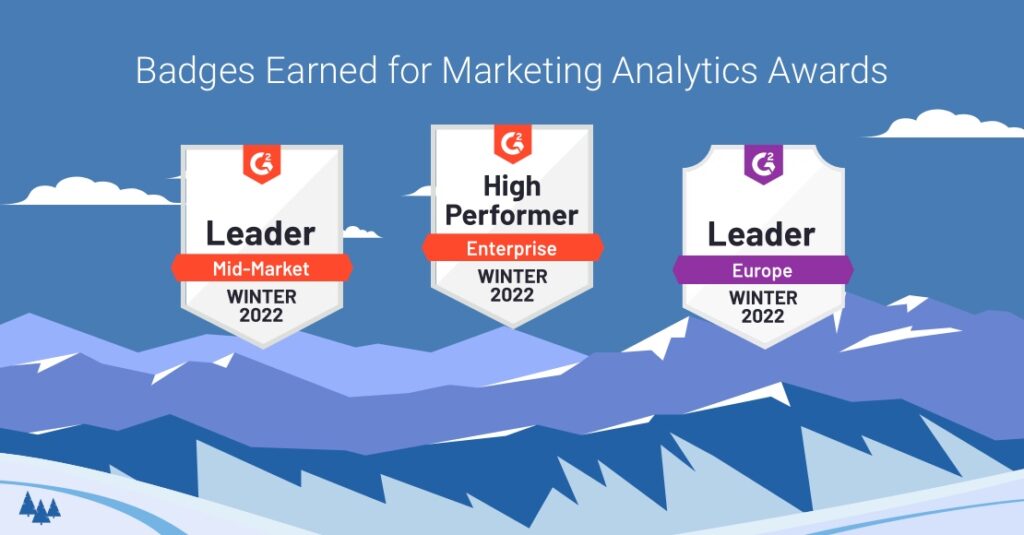 As marketing budgets have been reduced and marketers are being tasked to do more with less, marketing analytics make it easy for marketers to quickly understand which campaigns are working and which activities are driving sales. With this information, a team can decide to update a campaign that may not be performing as well in order to drive further business growth.
We are committed to helping our clients measure their success so they can quickly adjust campaigns and demonstrate the value of marketing as a revenue generator.
We're happy to see that G2 ranked Emarsys highly for the following Marketing Analytics Awards:
Europe Leader Winter 2022 (#1)
High Performer Enterprise Winter 2022
Mid-Market Leader Winter 2022
Below are a few G2 reviews that stand out regarding analytics:
"Emarsys helps solve many problems, but their analytics dashboard was a selling factor for us."
"Emarsys allows us to create an omnichannel marketing strategy that is personalized to our customers. Our analytics, automation, and transactional emails all being housed in one platform allow for us to align across sales channels."
"Analytics dashboards are quite good for quick insights."
Omnichannel Customer Engagement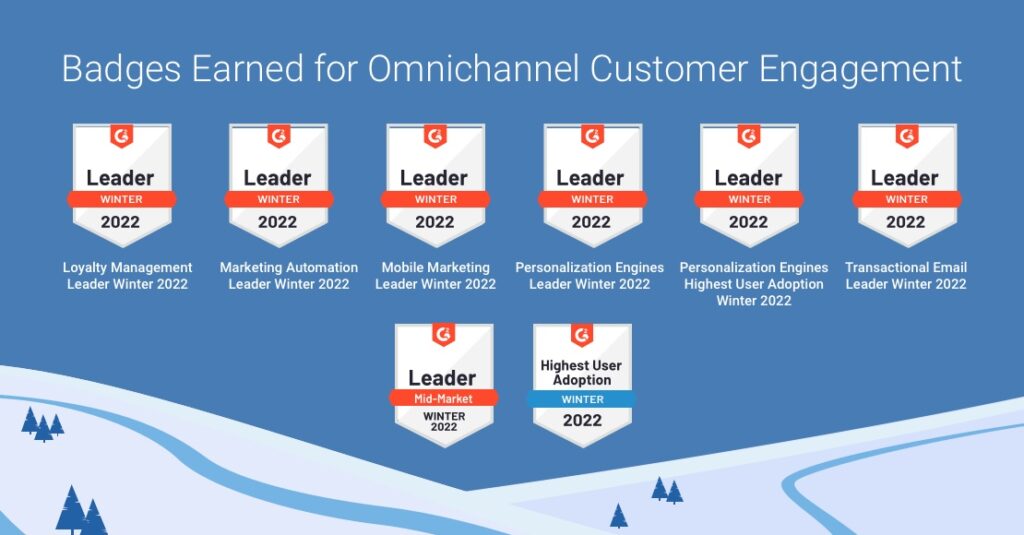 The number of software solutions available to brands continues to grow. As it stands right now, more than 8,000 marketing software solutions are available.
A recent study found that 40% of the services purchased by enterprises for their martech stack are not fully implemented or used, and some of these apps remain disconnected from a second system, resulting in a data silo.
Rather than adding more technology, marketers need a single, consolidated platform that enables them to keep customers engaged and drive measurable results.
We're very proud of our customer engagement platform that solves the martech overload and enables a brand to seamlessly connect with customers at the right moment on the right channel. In turn, this creates loyal customers who keep coming back to purchase and engage.
We are pleased that G2 highly ranked Emarsys for:
Loyalty Management Leader Winter 2022
Marketing Automation Leader Winter 2022
Mobile Marketing Leader Winter 2022
Personalization Engines Leader Winter 2022
Personalization Engines Highest User Adoption Winter 2022
Transactional Email Leader Winter 2022
Transactional Email Mid-Market Leader Winter 2022
Customer Journey Analytics Leader Winter 2022
Below are a variety of G2 reviews on how brands use our platform:
"We operate 20+ separate media properties / websites. Since moving to Emarsys, we've been able to move them all into a single account and keep everything organized. Local-level teams are able to work on a single account, which greatly streamlines efforts for our national-level employees."
"Emarsys has allowed us to employ a variety of data-driven segmentation strategies and customer-centric marketing initiatives."
"I believe we are solving ease of building and automated program issues. We see big wins in revenue from our automated program, which in turn makes us more productive."
"I've been using Emarsys for two years now. I love that they are constantly improving their platform and listening to user feedback. It's easy to create, schedule, and launch email campaigns. Emarsys also includes the ability to set up automated emails, which is crucial for our company."
"The platform is really easy to learn; there's not a huge learning curve. It's easy to keep everything organized, and the support teams have always been helpful. I really like the dashboards to look at the bigger picture and find trends that aren't always visible when looking at some of the more specific analytics."
Many Thanks to Our Clients and G2
Being recognized as a leader in the G2 Winter 2022 report is the result of creating the best omnichannel customer engagement platform for our clients.
Many thanks to our clients because feedback is vital to making certain we're delivering on our promises and adjusting where necessary. Because of our clients, we continue to develop new updates, features, and additional upgrades. We also thank G2 for this recognition.
If you're an Emarsys client, you can let your voice be heard. Simply share your Emarsys experiences on G2 so we can better serve you.
Handpicked Related Content