To say that 2020 has been a challenging year for marketers is an understatement. Social distancing, store closures, and receding economies — all due to COVID-19 — likely put a huge dent in the planned marketing efforts and growth strategies that your company had in place.
Fortunately, we've passed the difficult peak of COVID-19. Now, your business can begin the recovery process.
During this time, your job as a marketer will be to draw from the lessons learned and insights gleaned over the past several months to ensure your brand is more resilient and better poised to accelerate business outcomes in the next phase of retail.
Here are 5 features from the Emarsys Summer Release 2020 that we know marketers will be excited about, especially as they aim to deliver business results for their brand post-lockdown (and beyond).
Feature #1 — Retail Tactics
Retail was hit especially hard during COVID-19. If you were one of the many retail brands impacted by coronavirus-related store closures, you may be under pressure to help recover lost in-store revenue.
But retail is a unique, dynamic vertical, one that in today's world requires omnichannel marketing. So if you're a retail brand looking to recover post-pandemic, shouldn't you be using retail-specific strategies and tactics to help you accelerate your omnichannel efforts and create better business outcomes?
The new release comes with strategies and tactics designed specifically for retail, using offline data, and crowdsourced and proven by industry-leading retail brands.

For example, online-to-offline tactics help you drive customers from researching products on your website into your stores to complete a purchase (which is imperative if you've seen a rapid increase in your base of online shoppers during COVID-19). Tactics like First-Time Store Buyer to Repeat Online continue the conversation with your customer even after they leave your store, increasing omnichannel engagement.
Why are marketers from leading brands so excited about the Emarsys Summer 2020 Release?
Feature #2 — Interactions
What's the difference between a brand that builds genuine relationships with customers and a brand that simply sells to customers? Personalization.
You're probably already using personalization in your marketing efforts to some degree. But sometimes, simply sending a personalized, weekly email — no matter how highly personalized it might be — isn't enough to make your customer feel truly appreciated. During the time between a customer's action and your response, your personalized message might arrive too late, or after the customer has already shopped elsewhere. In that case, your personalized message becomes impersonal.
That's why marketers will be particularly excited about the Interactions feature included in our new release. This feature allows you to follow your customer's every web page visit or mobile app activity and immediately provide the best personalized response, based on their actions.
Driven by customer behavior, you can trigger real-time responses like:
Delivery updates of a customer's item
Follow up on an abandoned cart
Information about a premium subscription service
These messages will help shape your customer's journey with your brand, and allow you to deliver the 1:1 personalization that your customers deserve.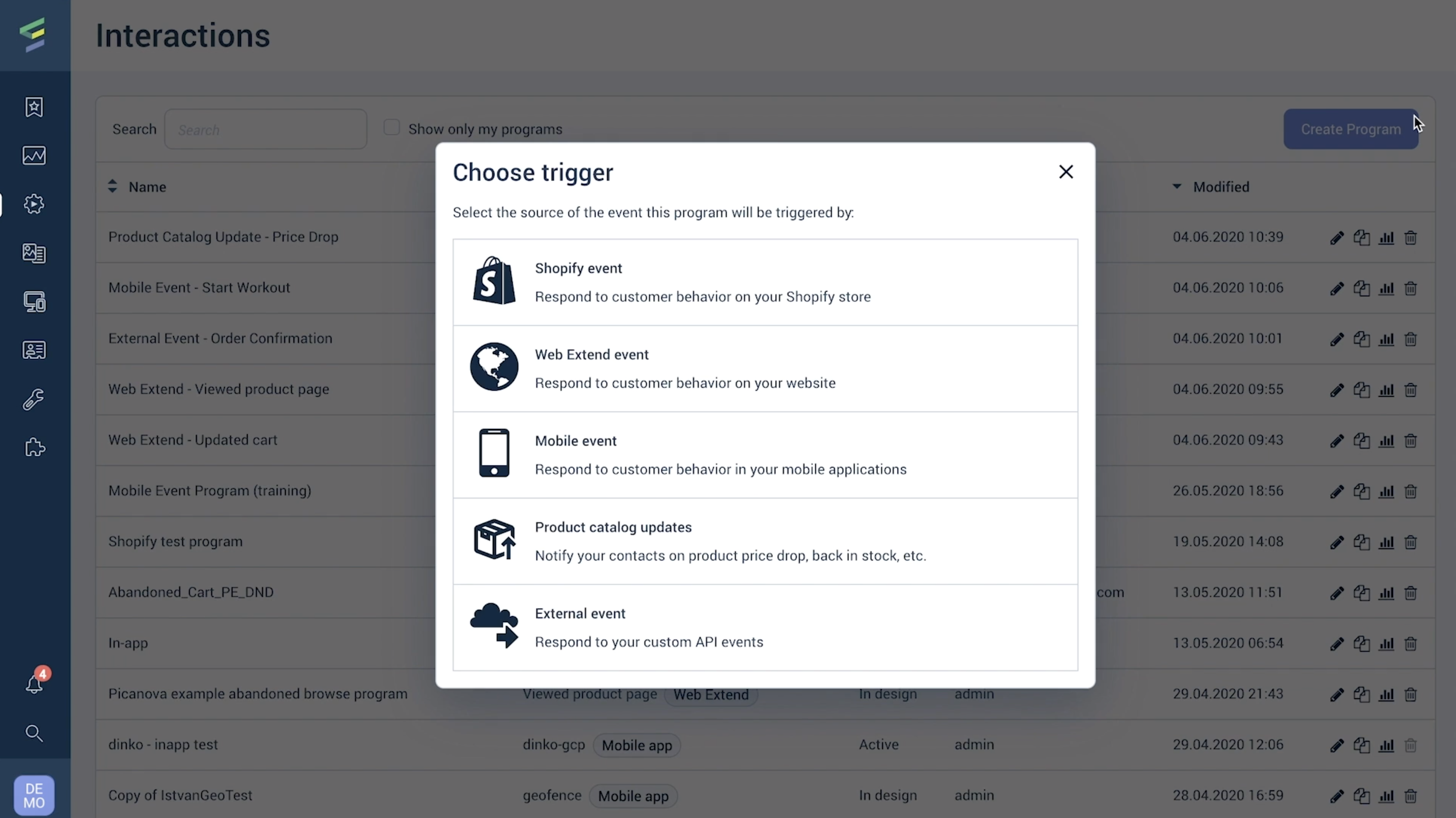 Feature #3 — Silent Push Messages
The world can be a hectic place at times (thus far, 2020 has proved this). Your customers have a lot going on in their lives, and although you need to stay in touch with them, you must be respectful and non-intrusive.
This is especially true with your mobile communication efforts. A customer's mobile device is one of their most personal possessions. Customers will be especially sensitive to mobile communications that feel overly intrusive or annoying.
One of the exciting features in the new release is the Silent Push Messages feature. This lets you send background notifications to customers through your app without disturbing them. That way, you deliver the information they need without coming across as… pushy.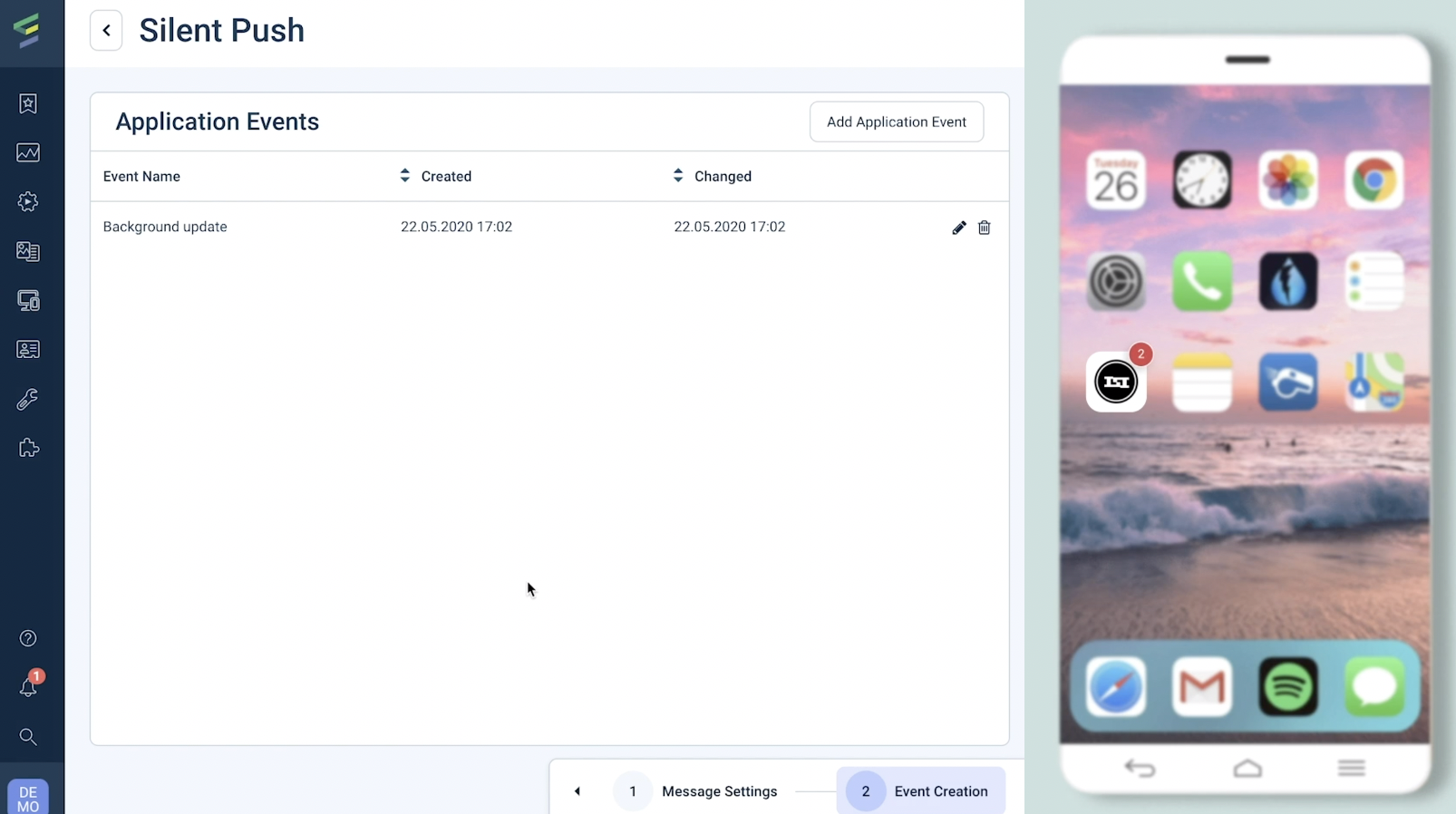 Feature #4 — Revenue Analytics
In a time when businesses must operate with tighter budgets, it's important to prove marketing's value and efficacy by tying it to revenue.
One reason marketers are excited about the Emarsys Summer Release 2020 is because it gives them better visibility of their impact on revenue. The Revenue Analytics page in the new release lets you quickly identify how your marketing efforts contribute to overall business results.

Your budget or bandwidth may not allow you to run every marketing campaign you desire. When lean operation is required, you'll need to quickly decide which of your campaigns are generating positive business results. Revenue Analytics gives you a glimpse at which programs and campaigns, specifically, are actually bringing in revenue for your brand, and which should probably be nixed or retooled.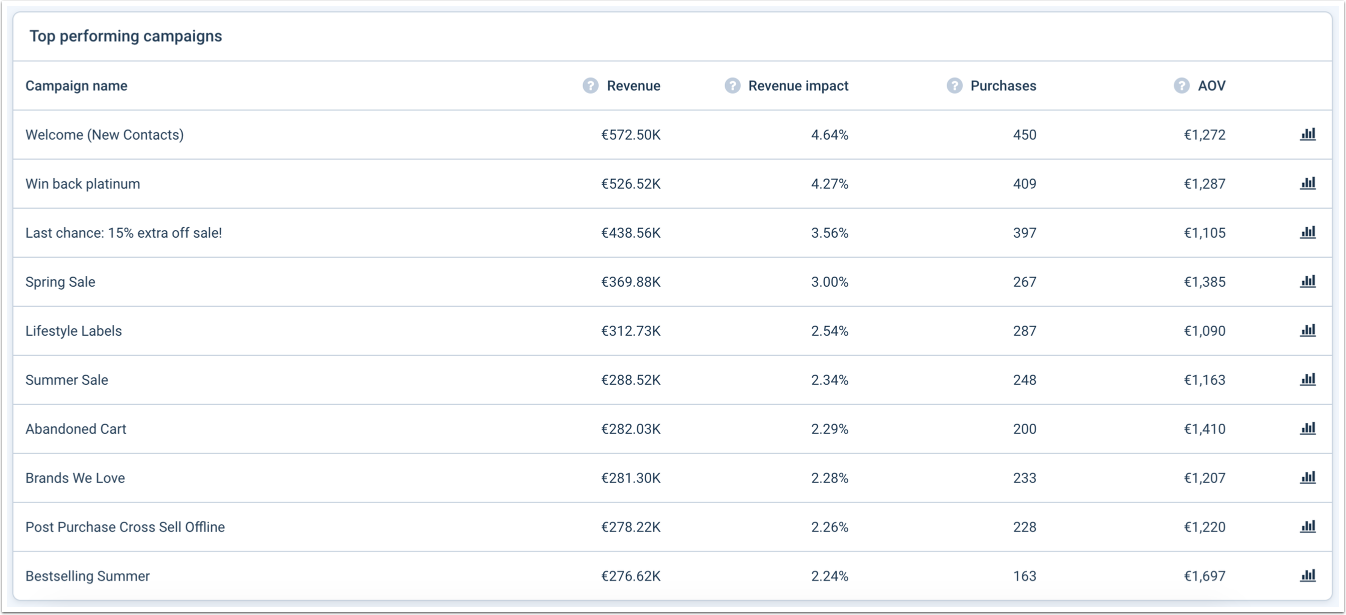 Did you know there are 26+ new features in the Emarsys Summer 2020 Release designed to help your brand accelerate business outcomes?
Feature #5 — Customizable Home Page
Technology allows you to create, execute, and track your marketing efforts more efficiently and more quickly. But you need to be able to interface with your technology easily and intuitively so that you can maximize your time and deliver better business results… fast.
That's why marketers are especially excited about the Customizable Home Page feature in the new release. This degree of customization in the platform will enable you to organize your home page by vertical (if your business operates in more than one), and add shortcuts for your most-used widgets or other business-critical widgets like Results or Database Growth.
Putting the right tools and information front and center in your workflow lets you work smarter and accelerate your marketing execution. This is even more crucial post-lockdown, where you'll need to be completely agile and efficient with your marketing to drive customer growth and revenue.

What Else?
2020 will be a memorable year. Notably, the challenges presented by COVID-19 have already pushed marketers to think in new and innovative ways. No doubt you've already experienced this as you work to accelerate business results for your brand.
But we know that marketers will always have challenges to face — it doesn't stop with 2020. And as we've written about before, we strive to make your life as a marketer easier. In fact, that was the goal we had in mind when we developed the 26+ new features included in the Emarsys Summer Release 2020.
We've only discussed a few of the new features in this post. To find out more about all the new features designed to help marketers like you accelerate business outcomes for your brand, click here.
Handpicked Related Content: