Marketing Automation Software
Our omnichannel marketing automation platform empowers marketers to build, launch, and scale personalized, automated cross-channel campaigns that drive business outcomes.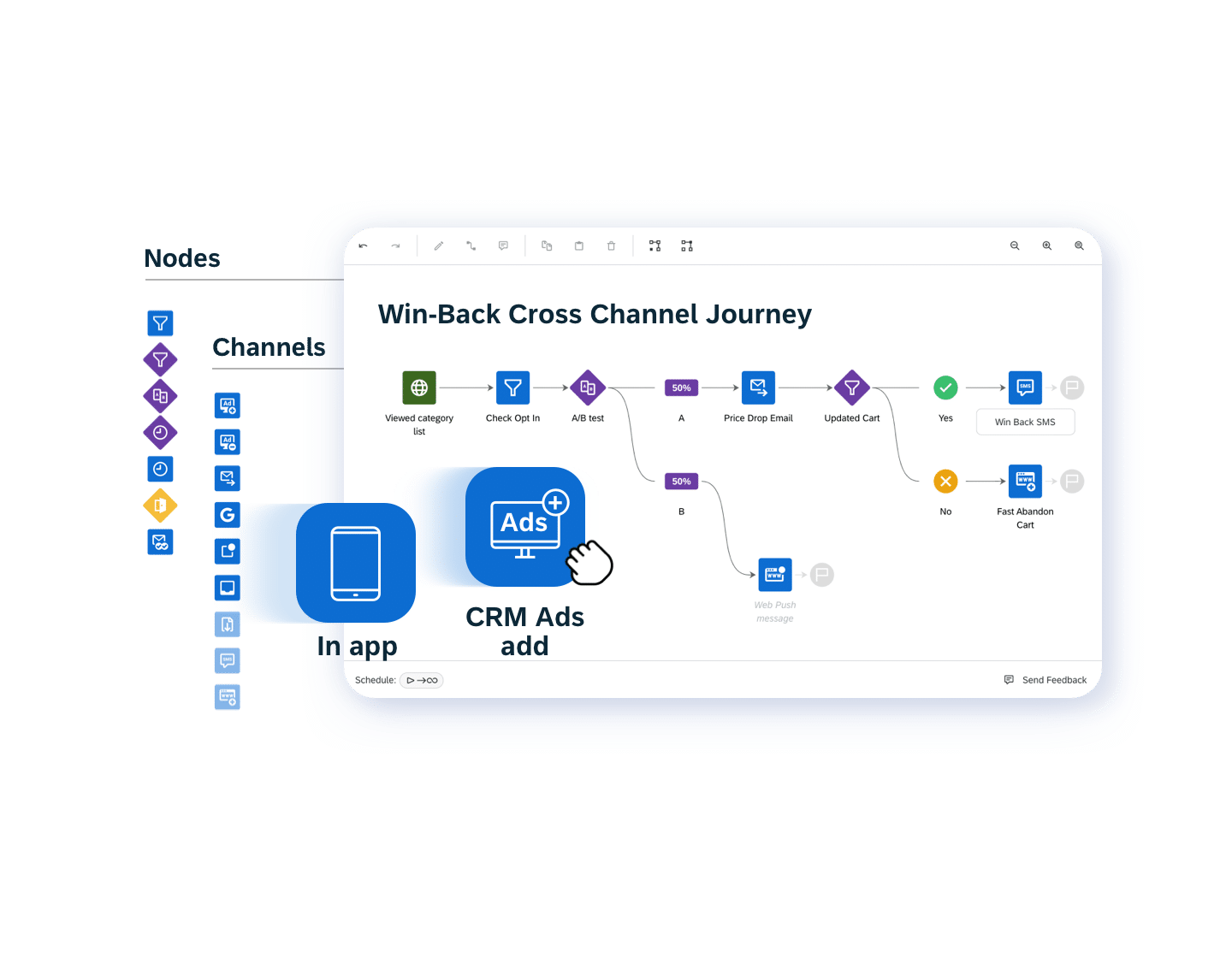 The marketing automation platform trusted by

leading brands and innovative marketers across the globe
Launch integrated campaigns across channels with speed and agility
Unify customer, product and sales data
Break down data silos to create a holistic customer view that enables 1:1 personalization.
Scale intelligent personalization
Use AI to identify priority customer segments and engage with personalized content.
Launch faster with pre-built automations
Deploy best practice, out-the-box automations to help you hit revenue targets
Deliver across multiple channels
Deliver consistent, relevant messaging across email, web, mobile, digital ads, SMS, and more.
Marketing Automation Software built to accelerate business outcomes
Marketers are under increasing pressure to do more with less time, budget, and resources. Emarsys empowers the world's most innovative brands by unifying their data, allowing them to personalize customer engagement at scale, and guiding them with AI-powered insights.
108bn+
Emails sent per year
10bn+
Monthly personalized interactions
2x CTR
With Emarsys personalized campaigns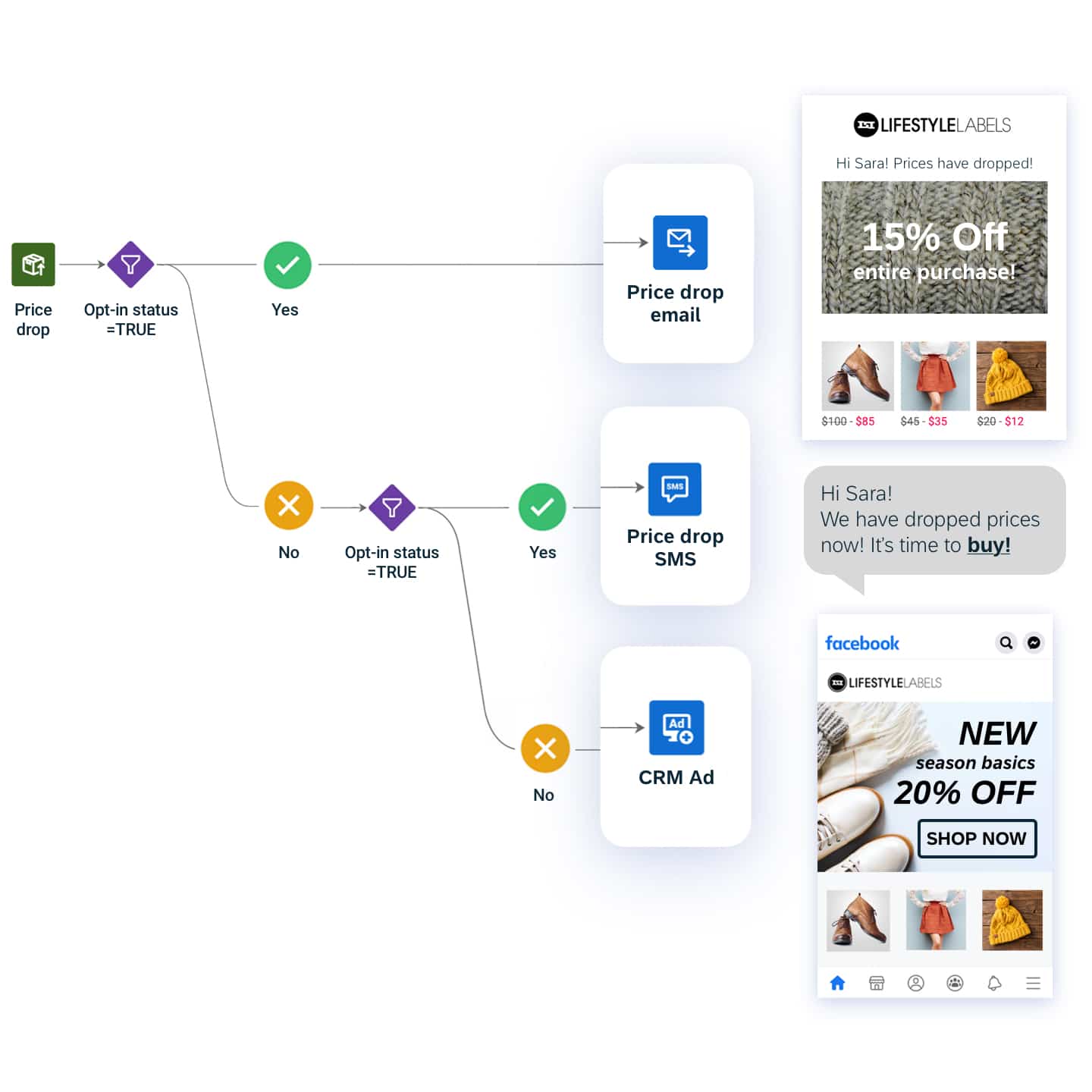 See Emarsys in Action
Discover why thousands of marketers trust the Emarsys personalization engine to drive customer
engagement across multiple channels.
Our Marketing Automation Software capabilities
Unlock agile marketing & commerce automation
Through quick and easy setup, Emarsys integrates with all your existing marketing and commerce channels, giving you the ability to rapidly launch campaigns, and the agility to change your approach when needed so you can optimize performance.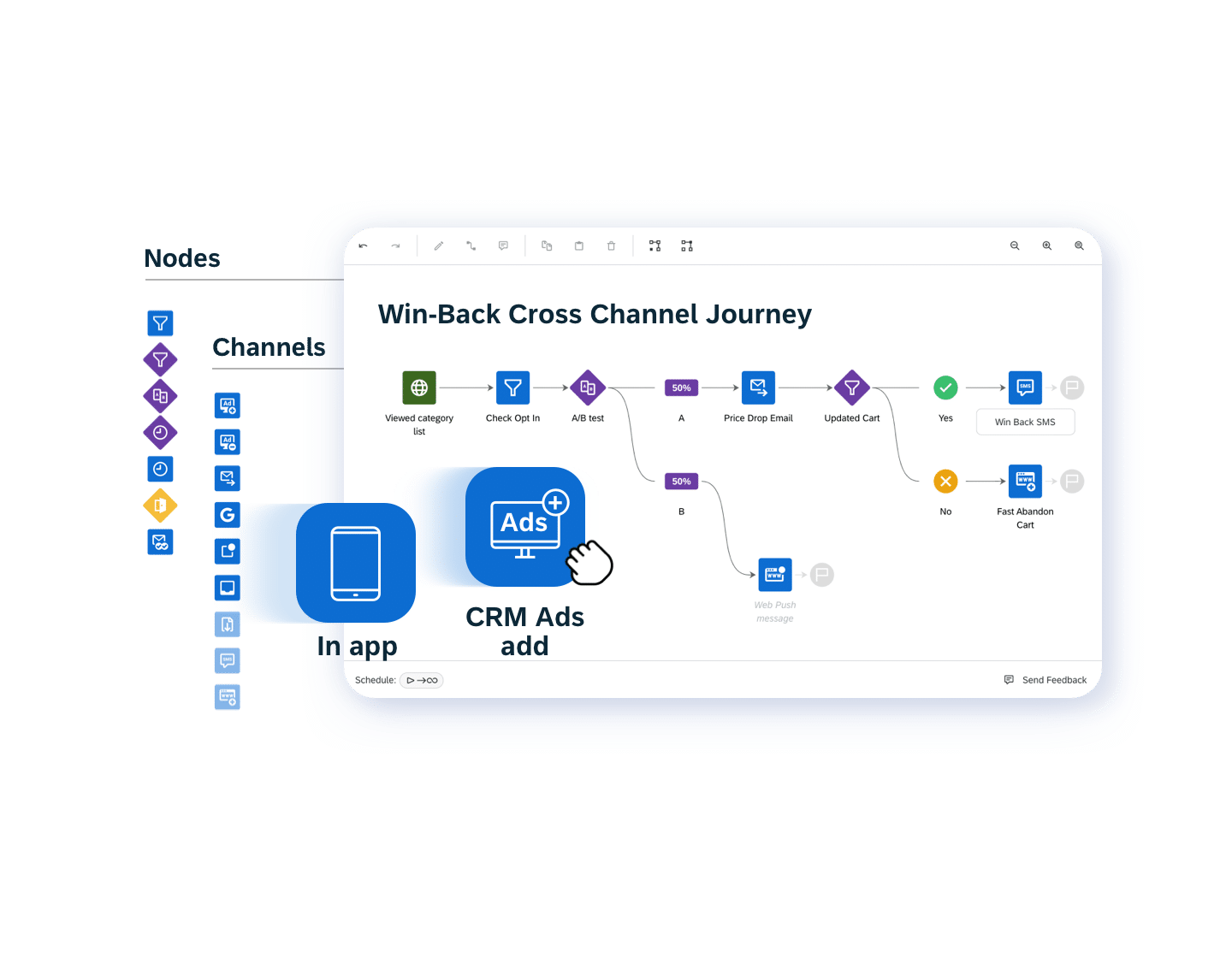 Reach customers in the moments that matter with real-time automated triggers
What are the most critical times to interact with your customers? You decide, and then Emarsys makes it easy to listen for those actions and respond with the right message. Product back in stock? Item dropped in price? Need to win back an at-risk defector? Say "Thank You" for stopping by? In just a few clicks, Emarsys lets you reach customers across any channel before the moment passes you by.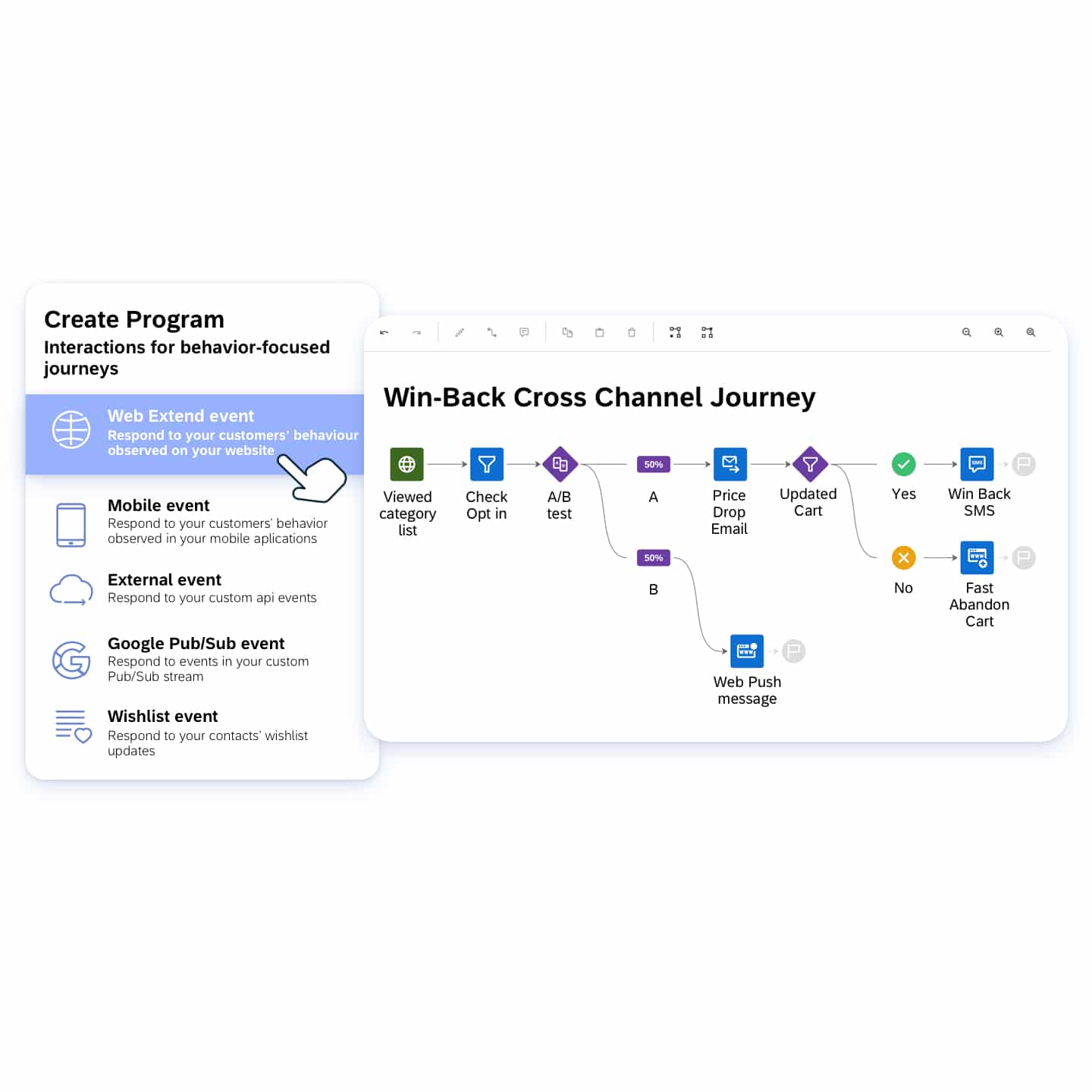 Build automations based on customer lifecycle stage
Start creating engagements that customers remember for all the right reasons. Speak differently to a first-time customer and a customer-for-life. Emarsys combines your historical and real-time customer data, allowing you to create personalized engagements tailored to the customer based on where they are at in their relationship with your brand.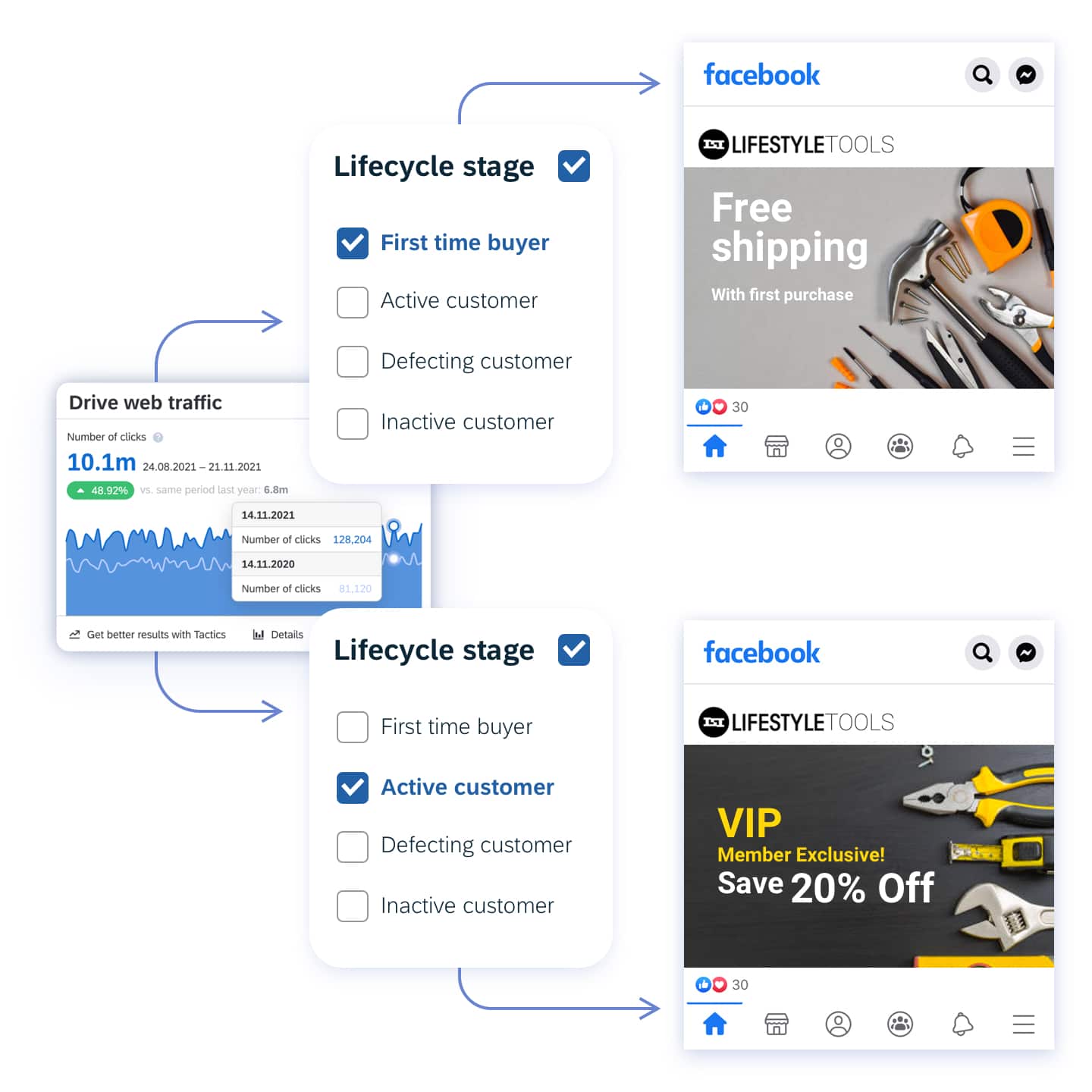 Measure business impact across automated programs and campaigns
Understand how your team's marketing activities are contributing to business results with Emarsys's Revenue Analytics. See which automated programs and campaigns have the most significant impact on your customers, and quickly access revenue attribution throughout key areas of the platform, so you'll always know how your marketing is impacting growth and revenue.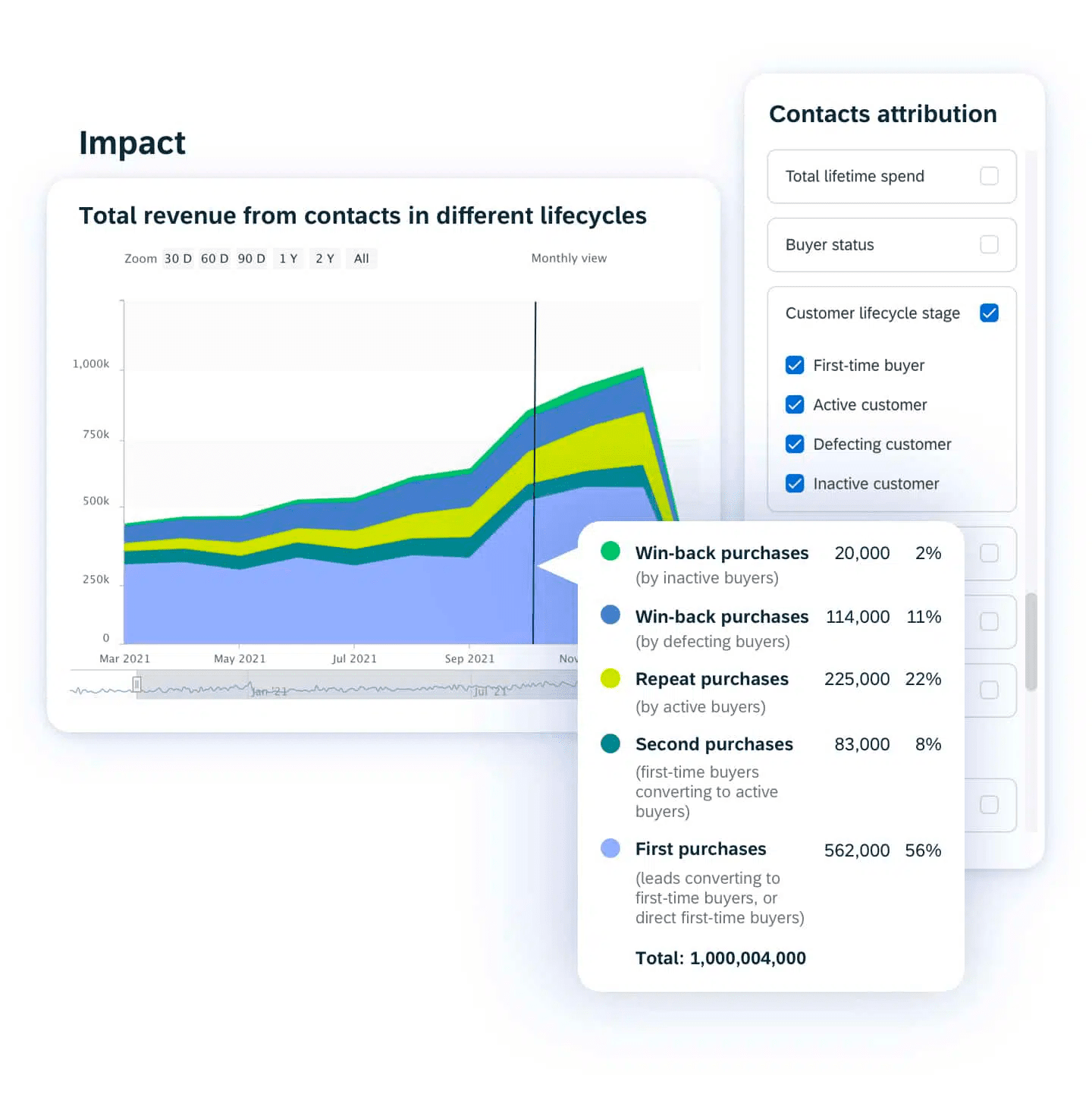 "Emarsys differentiated itself because it was one tool that did everything: the truly integrated omnichannel aspect, the marketing automation, and its advanced capabilities in terms of reporting. Email, SMS, Push… everything communicates well and easily."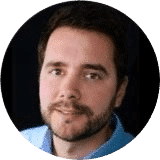 Jean-Baptiste Chapelleaubos
Customer Engagement Solutions Manager at Betclic
Hear it from our customers
See the Emarsys Marketing Automation platform in action
Hands on view of the platform
Deep-dive into ready-made tactics
Custom setup and integration options
Pricing and onboarding unique to your business
Get a Demo
Please complete the form below so we can get in touch.
Learn more about how integrated data powers our wider customer engagement platform
DISCOVER MORE
Deliver the


predictable, profitable

outcomes that your business demands with our omnichannel marketing solution
Request a Demo