For many marketers, the word 'omnichannel' is, understandably, an overutilized, overwhelming linguistic overview of a concept much more difficult to actually achieve than implied.
The thought of expanding into more than one marketing channel – while maintaining a unified, consistent, personalized experience across them all – is abstract.
Regardless of how unequipped you may feel or how far off things may seem, the time has come for all brands to commit to establishing a true omnichannel strategy.
Why? Because there's so much at stake, and so much to gain.
Upwards of 90% of customers expect consistent interactions across channels. Armed with an omnichannel strategy, your business can present shoppers with more opportunities to engage, interact, and buy.
Additionally, with an omnichannel strategy in place, customer data can be collected from a wide range of interactions across an infinite amount of channels. All that data lives in a single database – the coveted unified customer profile) – ultimately helping you create marketing magic.
If you think omnichannel marketing is only for major enterprises that can dedicate massive resources to launching sophisticated strategies, think again. With tech and data as the great equalizer, the path to omnichannel success is easily illuminated for mid-market businesses and smaller brands, too.
Getting Your Omnichannel Strategy Started
Today, most brands begin their journey to omnichannel from a single channel: email. While this isn't the only way to begin, an email-first approach to omnichannel offers a foundation for future expansion, and easier collection of quality data. However, it requires two things:
A mindset shift. What kind of paradigm shift and realignment of tools, tech, and people will need to be made to connect all your channels (web, mobile, social media, etc)?
A plan of attack. Before you start, set expectations for what you hope to accomplish with 'omnichannel.' Why do you need to do it, how will you know when you've got there, and what will long-term success look like? Most importantly, how will you centralize all of your data from a single source of truth?
Without these two prongs satisfied, omnichannel will never become a reality. What does omnichannel done right actually look like, though, once committed to and harnessed?
Examples: real-world omnichannel application
Cue Clothing Co.
Cue Clothing Co., an Australian clothing brand, uses their customer data to provide a frictionless experience for customers regardless of touchpoint. Any team member can see who the customer is, their purchase history, frequency of shopping, and preferences — whether in-store, online, via customer care, live chat, or any other channel.
The brand also prioritizes collection of data up front. They require shoppers to set up an account before even building a shopping cart, setting the stage for follow-up campaigns like cart abandonment emails, retargeting, and more.
Listen to Shane Lenton, CIO at Cue, describe the brand's journey to omnichannel in full detail:
"#Omnichannel #marketing or #unifiedcommerce is really about having your systems talking in real time." – Shane Lenton, @cueclothing CLICK TO TWEET
WorldRemit
WorldRemit helps connect merchants working in digitally disconnected and poverty-stricken countries with their families back home as a money transfer service. Head of CRM, Sandra Wroe, understands the challenges of omnichannel given information overload, personalization, and technology.
The brand is an app-driven company, but enables 'channel-agnostic' interactions regardless of how a user chooses to use its services. They need to understand exactly what kind of messaging consumers want, when, and where.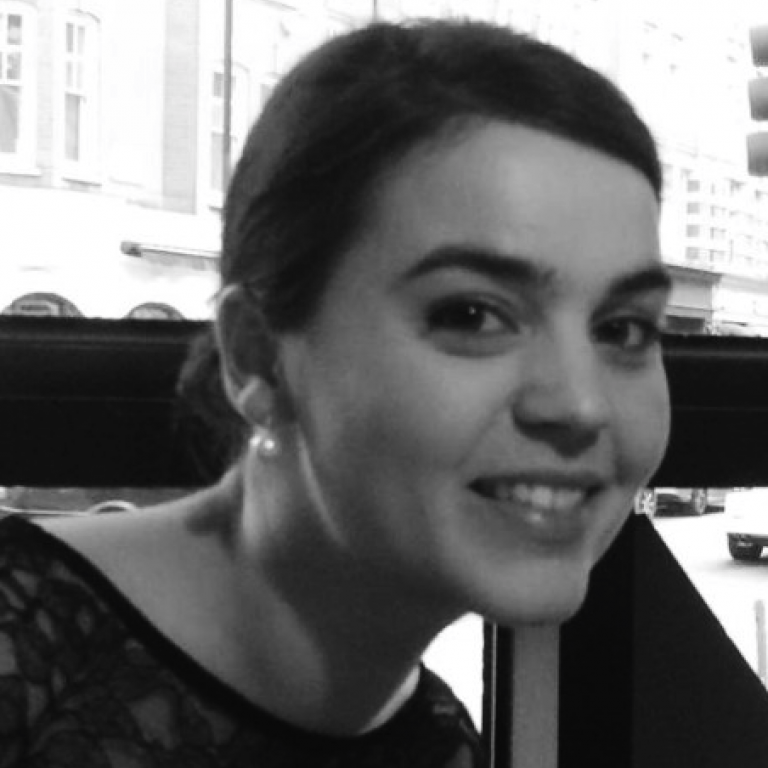 "We've seen positive impact of new channels we've been using, particularly push messaging. We have app users who sign up for a daily notification… once per day, they get the [money transfer] rate for that day… they don't want it as the 50th email that they get that day from somewhere — this is information that they've signed up for, they've requested it. The fact that we can offer that by push rather than yet another email makes it really visible. This is driving nearly 8% of our app traffic now!"
Sandra Wroe • Head of CRM, WorldRemit
With so many channels available, one of the primary challenges the double-edged sword that is 'omnichannel' presents is actually understanding which ones your audience is most responsive on.
Both Cue Clothing Co. and WorldRemit show how international brands can adopt an omnichannel approach that sits the specific needs of their business and their customers. They also prove that 'omnichannel' isn't fairy dust, nor does it have to be some unachievable, monumental task. Make omnichannel tangible by applying and aligning specific use cases to your customer.
Omnichannel at a Glance: History, Adoption, & Challenges
If omnichannel is so doable, why aren't all retailers implementing omnichannel? The short answer: it's not a quick or easy project.
Today's conceptualization of omnichannel marketing has only been around for a relatively short time. We think of omnichannel not as simply enabling multiple channels, but from a customer-centric standpoint. Omnichannel has little to do with your company and everything to do with your customers' experience when interacting with your company.
Let's have a quick look at the evolution of omnichannel over the years.
Timeline: how has omnichannel evolved?
It wasn't until shortly after the turn of the century that omnichannel retailing or omnichannel shopping became a recognizable term. With time and maturation of the space – along with incredible channel proliferation – the importance and application of omnichannel began to come into view. Today, any brand not aware of or implementing some semblance of an omnichannel approach is in the minority.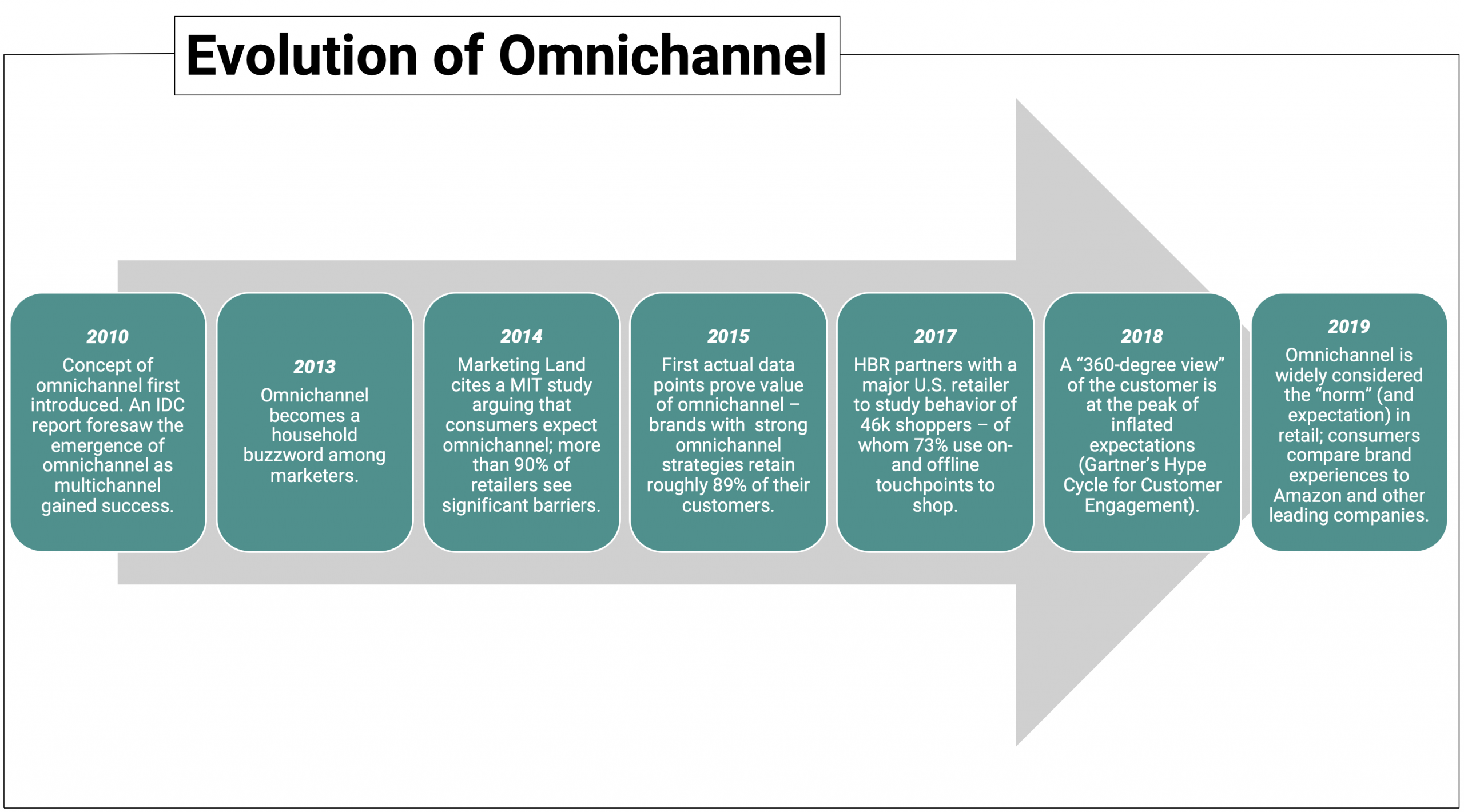 Timeline:
► 2003: "Omnichannel" is first coined as a "thing."
► 2010: After a bit of a lull in rhetoric (and practical application), the race toward omnichannel ensues once again as brands seek to innovate on maturing multichannel approaches. A report from IDC Retail Insights foresaw the emergence of overarching omnichannel strategies.
► 2011: Scott Brinker publishes his first version of his now infamous 'Martech 7000' — approximately 150 martech brands complete the market.
► 2014: Omnichannel heats up, but about 94% encounter significant barriers to integrating such an approach. For instance, 10% of the companies who offered in-store pickup could not fulfill those orders due to inaccurate store inventory.
► 2015: 45% of companies report that omnichannel is a priority, and first evidence that omnichannel drive ROI emerges.
► 2016: Number of martech providers grows most significantly, Y-o-Y, than ever before — from 2k to 3.5k. An uptick in discussions of obstacles correlates (legacy infrastructures, organizational silos, lack of a single view, insufficient resources and budget, lack of ability to justify investment, can't connect on- and offline data).
► 2017-'18: Omnichannel hype is at an all-time high. Some early adopters begin to thrive in connecting every touch point, while others begin to invest more heavily. Still other retailers drag their feet to get on board. Regardless, many companies' omnichannel plans are thwarted by more than one issue. The minority who are actually employing a fully omnichannel (Apple, Starbucks, etc.) approach position themselves to gain an incredible competitive advantage. Research proves that CX is the key differentiator in retail/e-comm.
► 2019: Widespread adoption of omnichannel as an underlying component of most retail strategies is in full swing; first reports and rumors that "omnichannel is dead" begin to surface.
Just like putting together an actionable roadmap, overcoming omnichannel obstacles is a step-by-step process. Solving organizational silos and budget issues requires the combined efforts of your entire company, but obviously, the leadership team has to be the primary driver of these initiatives.
The big question then becomes how to begin.
Using Email as the Foundation of Your Omnichannel Strategy
If your marketing strategy already relies heavily (or exclusively) on email, then your path to omnichannel success can start by optimizing that channel first, then building upon it as the foundation.
Despite any chatter you may have heard, email is still the #1 digital channel. Why?
Because every online shopper has an email account, our email addresses have become our digital IDs, a form of identification verification required every time we make a purchase, sign up for a loyalty program, or apply for a job.
Email is the best opt-in channel, especially post-GDPR
Email channel is the #1 digital channel for ROI. The next closest competing channel is pay-per-click (PPC), which only drives about half as much revenue as email.
Email is the largest social network on earth. That's right, even bigger than Facebook.
Personalization is the dream of every marketer, and now email automation software is revolutionizing the marketer's role by enabling strategic focus on leveraging customer data to interact with customers on a one-to-one basis.
Deliverability directly impacts revenue. After all, if an email doesn't make it to the inbox, it doesn't matter how personalized or timely it is. Email is unique because it's a giant global delivery platform which is accessible no matter where you are. That makes it the best channel to reach the greatest number of customers around the globe.
Email offers an innovative way to identify gaps in audience engagement. Data about customers who don't respond to an email campaign can be used for continued attempts to engage across other more effective channels. While a customer may ultimately end up responding to an ad or SMS notification, it was email data that helped the marketer understand there might be a better way to interact with them.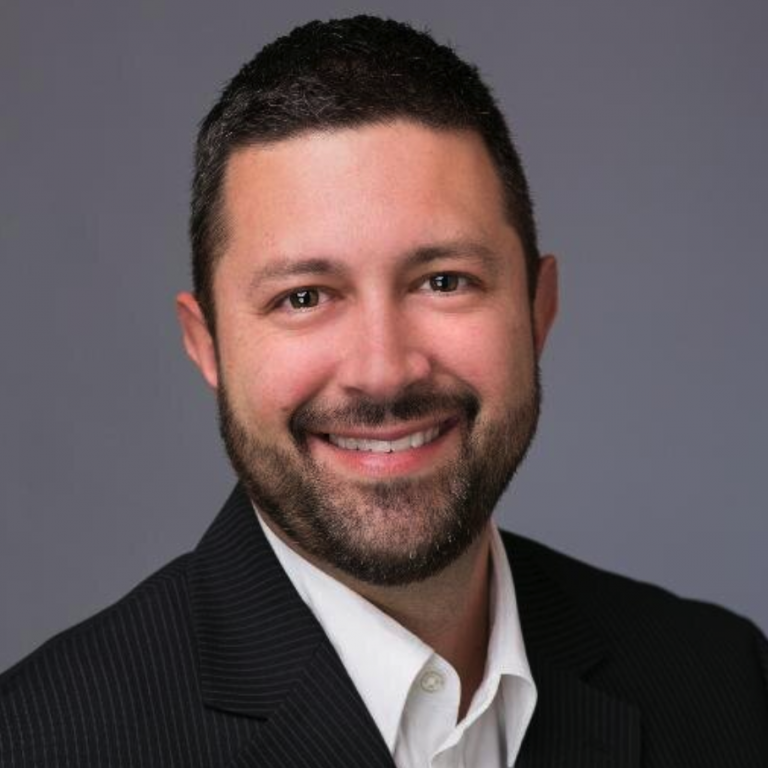 "The email address is key to unlocking a wealth of information about consumers. Aside from email marketing, the email address can be used for postal appending (to gather the consumer's mailing address), social appending (to gather a consumer's social channel profiles), and for serving targeted ads. With an email address, a marketer has an arsenal of options to learn the who, what, where, and when about each consumer, and can use that information for more targeted and relevant messaging."
Adam Q. Holden-Bache • Email Marketing Expert & Author of How to Win at B2B Email Marketing • @AdamHoldenBache
The ability to unify all available data about a customer, and retarget them across all channels is all made possible only by data stemming from their email addresses. You can start to build out your entire omnichannel strategy around a unifying element, a central piece of information that serves as a gateway to understanding our customers – the Digital ID.
By the time you complete this stage of the omnichannel roadmap, your basic email system should be optimized to target the right individuals, with the most relevant messages and incentives, at the most opportune times.
Final Thoughts
With all the hype and hoopla surrounding omnichannel marketing since the turn of the century, it's no wonder e-comm and retail teams are often left in a fit with their hands in the air.
Inflated expectations and false promises haven't made things any better. Neither has an endless stream of obstacles like internal silos, lack of resources, and more. But as we head into 2020 and beyond, omnichannel really is becoming a more tangible, recognizable underlying fabric of more brands' strategies.
True omnichannel approaches put the customer at the core, creating that seamless, connected experience that can only be generated from a single source of truth – one platform from which email, and then mobile, SMS, website, and socal will live.
Handpicked Related Content: