At Emarsys, we are keenly aware that customers are our lifeblood. When they're doing well, we thrive. Nothing is better than a satisfied customer. Everything we do — from releasing new product launches to hosting events with substantive marketing content you can use to improve your ROI — is focused on helping our customers achieve the results they need to meet today's marketing challenges.
That's why, of the many ways in which Emarsys is recognized in the marketplace, we're always especially delighted when we receive recognition through G2, an important peer review site in the tech space. Because its badges and accolades come directly from users, it gives us an opportunity to hear from customers what they find helpful about our product. At G2, Emarsys clients from all over the world can provide real-time, thorough feedback about our platform. And we make sure to listen!
With the release of the G2 Spring 2023 Report, we are humbled and thrilled that Emarsys has once again been recognized as a leader in several critical categories. Here are some key areas where user reviews have shown that we're an innovative leader in omnichannel marketing, and a few quotes to illustrate what customers are saying about Emarsys.
Leading the Way in Personalization
E-Commerce Personalization: Leader Spring 2023
In this era in which every bit of customer attention is hard-won, the brands that distinguish themselves in the marketplace are the ones who provide their customers with real-time, personalized messaging. That's why so much of what we do at Emarsys is designed to help marketers accomplish just that.
Personalized marketing is key to driving growth and revenue. That's why we make it simple to support marketers driving relevant 1:1 customer experiences.
Being recognized by G2 as a leader in e-commerce personalization reaffirms that we're hitting the mark in our drive to give marketers tools to create more relevant, actionable content. In addition to our recognition for our e-commerce personalization engine, we also received badges in:
E-commerce Personalization
CDP
Transactional Email
Marketing Platforms
Customer Journey Analytics
Mobile Marketing
Digital Analytics
Marketing Automation 
Here's what our clients had to say about using Emarsys for personalization (source: g2.com):
"Emarsys allows us to merge all our databases and have all our contacts and sales data in one place. It is also a beneficial tool for our multichannel campaigns and loyalty."
"When creating integrations from other systems to Emarsys, the support staff was really helpful in helping me and my team to debug and look through the logs to pinpoint issues. The response time is very quick when using global support as well."
"Emarsys has a very robust and easy-to-use interface. It has strategic dashboards that generate summarized and prominent reports about what is being managed."
See what industry-leading omnichannel personalization can do for your brand.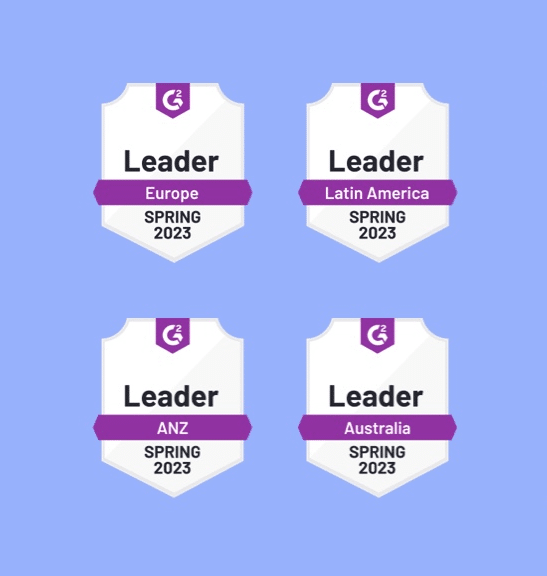 Other Highlights
In the Spring of 2023, Emarsys was featured in 217 G2 reports. That's up from up from 212 in the previous quarter. We earned a total of 46 total badges, 35 of which are Leader Badges.
Our four highest user adoption badges were across four different categories, which suggests admins love our product and see a large base of their users picking up Emarsys well. Adoption is key to increasing ROI, because martech can't help a brand grow if it's not being used, so we're especially gratified to see users giving us high marks in adoption.
Our biggest positive rank changes came from the SMB space. Our increase was +11 for Digital Analytics. With our tools focus on helping marketers measure the revenue impact of marketing campaigns, predict campaign outcomes, and effortlessly optimize future performance, we particularly appreciate the recognition for our predictive analytics offering.
Reaffirming Our Commitment to Our Clients
We trust that our recognition as a leader across several categories in the G2 Spring 2023 report is the result of our ongoing commitment to provide clients with the best omnichannel customer engagement platform available.
While the positive feedback helps us know we're on the right track, we will keep moving forward in our mission to be a customer-centric company. "We always innovate" is one of our core values, and we understand that in order to continue to help customers stay abreast of marketing innovation, we must also challenge ourselves to grow as a platform and as a company. That's why we are always motivated to continuously improve to give our customers the power to provide personalized experiences that drive growth and revenue.
The G2 Spring 2023 Report is a great reminder to keep striving for excellence and keep listening to customers.Are you an Emarsys client? Let your voice be heard! G2 bases its reports on what you have to say. Fill out a G2 report and share your Emarsys experience. This helps us continue to improve and better serve you.