We love our customers. That's not just a platitude, it's part of our core values at Emarsys. When our customers are happy, we're happy. That's why everything we do is centered around servicing our clients, helping them achieve the results they need to make their business successful.
One of the reasons we appreciate G2, a highly regarded peer review site in the tech space, so much is because it provides an opportunity for us to hear directly from our customers. At G2, Emarsys clients from all over the world can provide real, honest feedback about our customer engagement platform. 
In the G2 Fall 2021 Report, Emarsys has been positioned as a leader in several critical categories, an honor which can be directly attributed to our outstanding clients. So from us to all of our clients across the world, "thank you!"
Here are some key areas where we are leading the way to better serve our customers, and what reviewers are saying about Emarsys.
Making Sophisticated Personalization Easy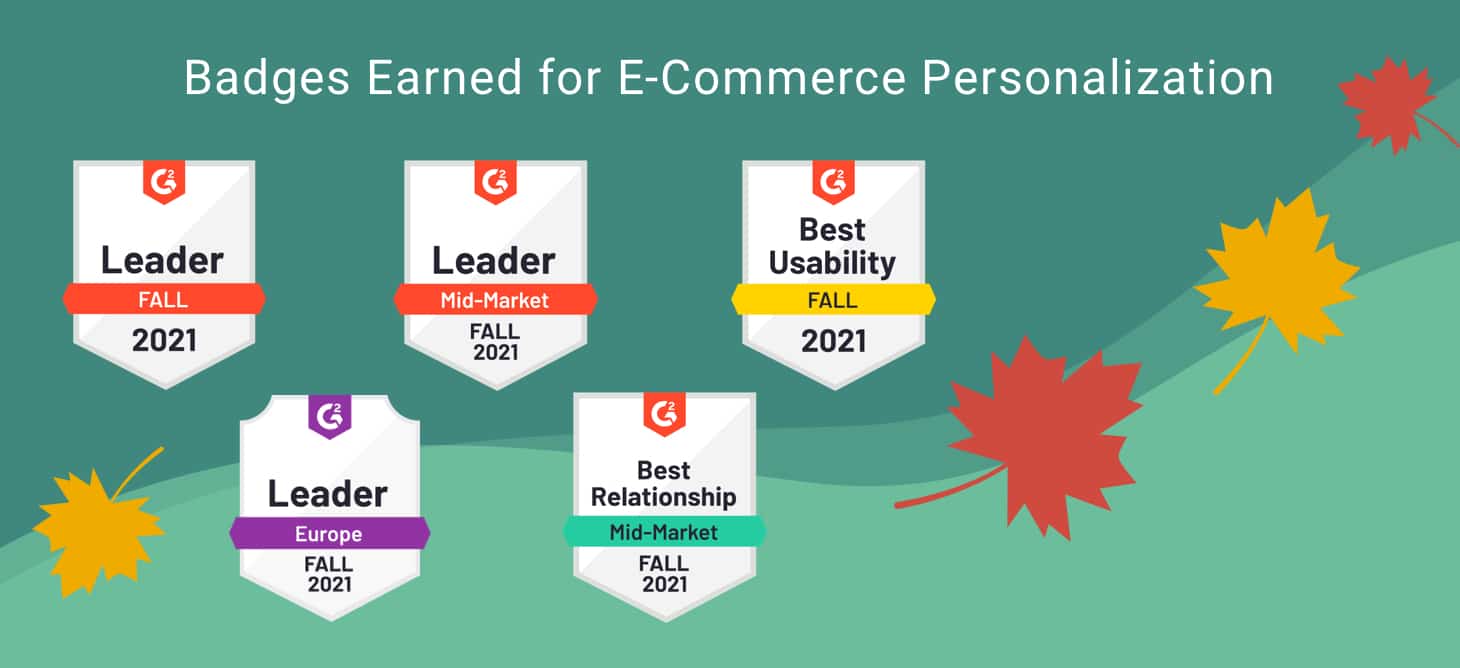 E-Commerce Personalization: Leader Fall 2021 (ranked #1), Mid-Market Leader Fall 2021 (ranked #1)
We know how important personalized marketing is to driving growth and revenue. We also know that, for marketers to deliver highly personalized, relevant 1:1 customer experiences, we have to make it simple to do so within our platform.
That's why it was an honor to be recognized by G2 as the #1 leader in e-commerce personalization. We were also ranked #1 in the usability index for e-commerce personalization, which considers "ease of use," "ease of admin," "ability to meet requirements," and other factors.
Here's what our clients had to say about using Emarsys for personalization (source: g2.com):
"Emarsys allows us to create an omnichannel marketing strategy that is personalized to our customers. Our analytics, automation, and transactional emails all being housed in one platform allow for us to align across sales channels."
"Personalization is easy to use by [dragging and dropping] the variables into emails when using block-based campaigns."
"Being able to send highly targeted, personalized, and relevant emails in a timely manner is one of the best benefits of Emarsys."
"Emarsys allows us to streamline the customer experience post- and even pre-purchase to ensure visitors do not see irrelevant content."
Helping Clients Master Marketing Automation
Marketing Automation Software: Leader Fall 2021, Enterprise Leader Fall 2021, Mid-Market Leader Fall 2021, Small Business Leader Fall 2021
Connecting with customers in real time, across all channels, and in a way that feels relevant and personal, requires marketing automation. Because of this, it's vital for our clients to have omnichannel automation integrated into their customer engagement platform.
Being ranked as a leader in four primary grids (main, enterprise, midmarket, and small business) in the Fall 2021 G2 report demonstrates our commitment to helping clients optimize their complete customer experience through omnichannel marketing automation.
Here's what some of the reviews said about our marketing automation capabilities (source: g2.com):
"It's great for personalization and marketing automation. If you're looking for a [platform] that is easy to use and with lots of support available, it's a great choice."
"With Emarsys, you can accompany the customer journey across the various channels. These possibilities, as well as the automation offered by the tool, means that more precise control of campaigns is possible, and thus, a customer-centric approach."
"There are many benefits such as segmentation that updates constantly, and lots of automation abilities. Right now, we are using Emarsys for block targeting!"
"There's a lot of different features that are available within the one platform that allows us to create that omnichannel experience. The team is super helpful and provides an array of insights when working on various projects, whether it's loyalty, automation, or general campaigns."
A Complete Omnichannel Customer Engagement Solution
Mobile Marketing: Leader Fall 2021, Mid-Market Leader Fall 2021, Small Business Leader Fall 2021
Marketing Analytics: Leader Fall 2021, Mid-Market Leader Fall 2021
Transactional Email: Leader Fall 2021, Mid-Market Leader Fall 2021
Loyalty Management: Leader Fall 2021
Having to rely on multiple disjointed solutions to execute all your various marketing endeavours adds too much complexity to your job, consuming your time and energy, and hindering your ability to keep customers at the center of your marketing. That's why we offer a complete, fully integrated omnichannel customer engagement solution, so you can do everything from one single platform.
Our acknowledgement in the Fall 2021 G2 Report as a leader across multiple categories — including mobile marketing, marketing analytics, transactional email, and loyalty management — is thrilling, as it confirms that our clients can successfully engage their customers across any and all channels.
Here are some more reviews from our clients, talking about the different ways they use Emarsys to achieve their business goals (source: g2.com): 
"Emarsys is a comprehensive omnichannel marketing tool that is customizable for the needs of any organization. Creating email automation using different marketing channels including email, social, web, mobile, and push notification is so simple."
"The platform fully meets the needs of a large e-commerce project. We send email newsletters, push notifications for mobile devices, SMS, and also we form segments and manage them on social networks through one platform."
"This is a very interesting platform if you are looking for loyalty programs, marketing campaigns, and if you want to increase the number of customers that you have."
"There are out-of-the-box solutions for most basic campaigns … which can be setup quickly. The 'Relational Data' is a game-changer as it allows much more customization and segmentation based on the specific business data. Analytics dashboards are quite good for quick insights."
"The best part about Emarsys is the friendly way to manage our contacts, marketing campaigns, and loyalty benefits. The trainings are so useful to our team and our program goals."
"We can see the revenue of each campaign, [and we are] able to see the increase or decrease of our customers during certain lifecycles."
"[We've benefitted by] catching customers at the right time in the customer lifecycle to prevent churn, and keeping customers active using the Emarsys Loyalty program."
Thank You to Our Clients
Our CEO Ohad Hecht said it best:
"We are all about helping our clients achieve their desired business outcomes by ensuring they deliver the most rewarding omnichannel customer experience possible. Everyday."
We believe recognition as a leader across several categories in the G2 Fall 2021 report is the result of our promise to provide clients with the best omnichannel customer engagement platform available.
However, this doesn't mean we rest on our laurels. "We always innovate" is one of our core values. Rest assured we always push ourselves to continuously improve the platform so your brand can provide the personalized customer experiences that drive growth and revenue.
Ultimately, it's the voices of our users that shape the G2 report. So the greatest thanks for the honors we've received goes to our clients, and their continued support.
Are you an Emarsys client? Let your voice be heard! G2 bases its reports on what you have to say. Fill out a G2 report and share your Emarsys experience. This helps us continue to improve and better serve you.