The Power to the Marketer Festival was a global marketing celebration that spanned five cities and more than fifty sessions. With sessions focusing on true 1:1 omnichannel customer engagement, harnessing the power of AI and automation, and the power of personalization, it offered a wealth of exciting material that could keep you watching the replays for days.
If you don't have that kind of time but want to enjoy a taste of what this global marketing event had to offer, here are five excellent sessions you won't want to miss.
Customer Obsession: From Love Affair to Loyalty
During day one, we heard how customer obsession is helping brands take once-in-a-while shoppers and turning them into lifelong loyalists. No session did a better job of giving actionable insights on this topic than "Customer Obsession: From Love Affair to Loyalty," teaming up powerhouse marketers Sara Griffin, the Senior VP of Marketing of Saks Off Fifth, Elizabeth Preis, the Chief Marketing Office of Anthropologie, and Danielle Rios, Head of Loyalty at Innovasport.
Ms. Rios shared that Innovasport designed their loyalty program with a people-first, people-powered approach, always thinking about where their consumer is and meeting them there. The key, she shared, is to always be experimenting with new platforms.
Saks Off Fifth's Senior VP of Marketing gave insights into the company's in-depth customer research that led to the development of their popular loyalty program. The team set out to understand how their customers wanted to shop. Of their most enthusiastic shoppers, 70% were already in a loyalty program — actionable insight they only discovered through careful and consistent gathering of data from shoppers.
The common thread in this idea-packed session is that truly getting to know your customer is the key to a successful loyalty program that increases wallet share and ensures you become your customer's go-to brand.
Decision-Making for a Digital World with Eva Kruse of Pangaia
Widely heralded as one of the most engaging sessions of the festival, the talk by Eva Kruse, Group SVP of Global Engagement & Impact for PANGAIA, placed marketing in the broader context of sustainability and corporate responsibility.
During the Day 3 mainstage keynote of the festival in London, Eva spoke on the topic of Decision Making for a Digital World. She delivered valuable insights and tips for marketers about sustainability. PANGAIA considers itself a materials science company focused on promoting "an Earth-positive future." Their focus is on textile innovation, reducing the use of plastics in fashion, and solving environmental problems not only in the fashion industry but across other industries as well. From this lens, Ms. Kruse discussed the need for authenticity in marketing and how to build a sustainable world in which we can still get products we want and find interesting.
Find Your Tribe: Understanding New Audiences and How to Reach Them
In a dynamic conversation between executives of some of today's most exciting brands and industry leaders, this panel explored the new ways that customers are creating subcultures and gravitating to individualized experiences with the brands and ideas that draw them. Maria O'Sullivan Abeyratne, Founder of Adaptista, the brand that promotes accessible clothing for all, Kristina Karassoulis, Head of Luxury Brand Partnerships for TikTok, Gracie Irons, Head of Social for shoe brand Kat Maconie, and Zeena Shah, Editor at Vogue, engaged in an insightful exploration of what it takes to foster community with your customers and tap into the places where enthusiasts congregate online to bring your brand organically to new customers.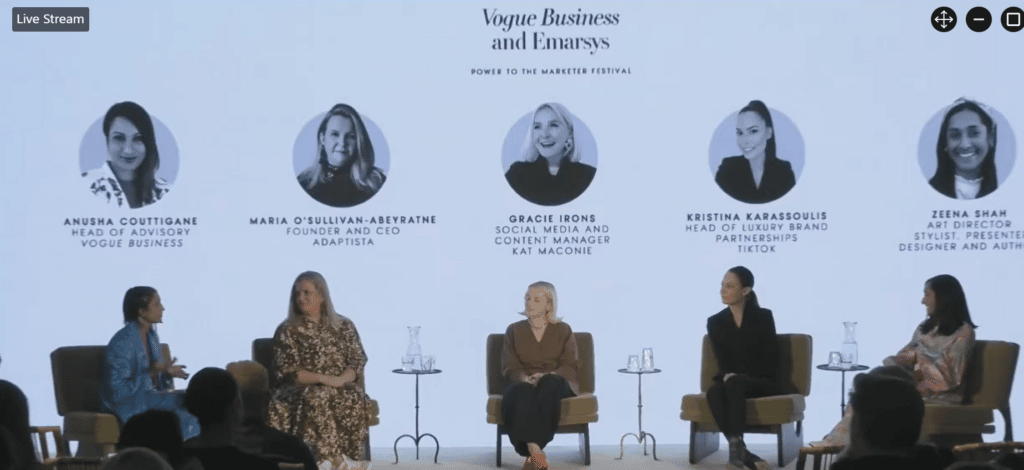 Gibson Guitars and Empowered Marketing
The Power to the Marketer Festival is all about empowering marketers. A key to doing that is giving marketers real-world examples of the marketing techniques that are getting results today.
To that end, we took a close look at the successes of Gibson Guitars. They're a world-famous brand that has mastered omnichannel customer engagement and integrated marketing and sales for unified account engagement, using the Emarsys Customer Engagement Solution.
The session was a complete walkthrough of the Gibson customer experience and offered a glimpse at how the brand integrates the consumer and channel experiences. Included was a behind-the-scenes look at exactly how Gibson uses data to reveal engagement opportunities, build relevant personalized campaigns to drive engagement, and automate that engagement for better business results.
If you've been looking for a cheat sheet to ramp up marketing efforts fast, look no further than this session.
Watch a clip below:
Keeping the Lion King Majestic at Year 25
When The Lion King, Broadway's highest grossing production of all time, began in 1997, just ten million people globally had free webmail accounts.
Now, as the show marks its 25th anniversary, it remains at the top of the live entertainment ecosystem by adapting its consumer communications to be more direct and personalized than ever. In this session, Nick Falzon, VP Sales and Analytics of Disney Theatrical Group, walks us through how the brand adapted its strategy in a post-COVID New York to stay connected to audiences by leaning heavily on relevant personalization.
These Sessions are Just the Beginning
It's hard to pick just five sessions from three jam-packed days of marketing insights, walkthroughs and more. If you're looking to refresh your marketing tools and need a boost of enthusiasm and energy in your marketing mix, look no further than the Power to the Marketer Festival. Although the live events have passed, the sessions are streaming on demand. Watch these five, or watch them all!
Handpicked Related Content: