The secret to a successful customer loyalty program? DATA. It all always comes back to that four-letter word, and for good reason — re-arrange those letters and what do you get? TA-DA!
Makes sense, right? With customer loyalty, it actually does. And loyal customers represent the most lucrative segment — usually the most engaged, highest-spending, and most frequent buyers in your database. It stands to reason that you'd want to know them best (and they're probably giving you the information needed to make that happen).
Why, then, are so many companies failing to put together personalized experiences for loyal members? And what would a data-driven, personalized B2C loyalty program look like?
The Importance of Customer Loyalty
Did you know that loyal customers spend 67% more on products and services than new customers?
If you focus on your existing customers' needs, they'll continue to buy from you and will spend more over their lifetime with your company — that's why customer loyalty programs are so beneficial. Investing in a successful loyalty program can help you retain existing customers, increase customer referrals, and gain more user-generated content from happy customers.

To further understand the importance of customer loyalty, click here.
Creating Data-Driven Customer Loyalty Experiences
It's easy to spin up a loyalty program and an accompanying app. But it takes a strategic, well-planned approach to do so in conjunction with all the customer data you have in your database. It is this two-sided dynamic that will, in effect, let you create more personalized experiences for your most devoted segment of customers.
The most progressive brands leverage a data management platform to stitch together an omnichannel experience for data-conscious consumers. Here are five examples of successful loyalty programs that use customer data to enrich their customers' experience.
5 Examples of Amazing Customer Loyalty Programs
Below, we explore 5 real-life each examples of successful customer loyalty programs and provide tips to replicate their successes.
1. REI Member Dividend & REI Co-Op
REI doesn't have your typical loyalty program — it's a lifetime membership that pays off. A $20 signup fee comes with an instant 20% off, in-store garage sale and exclusive event invitations, and 10% in member dividends on all eligible purchases paid once a year.
While their loyalty program is not free, the return on this small investment is well worth it. Let's say, you spent $100 on running shoes, $500 on a winter outfit, and $400 on trekking or hiking gear. That's $100 in rebates at the end of the year you can get as cash, a check, or apply to any future purchase.
The REI Member Dividend is a timely example because REI Co-Op members receive their share of the company's profits every March. The two-part reward program offers both a small portion of the company's earnings and also rewards from purchases made with REI's custom MasterCard — which carries other benefits-of-use, too.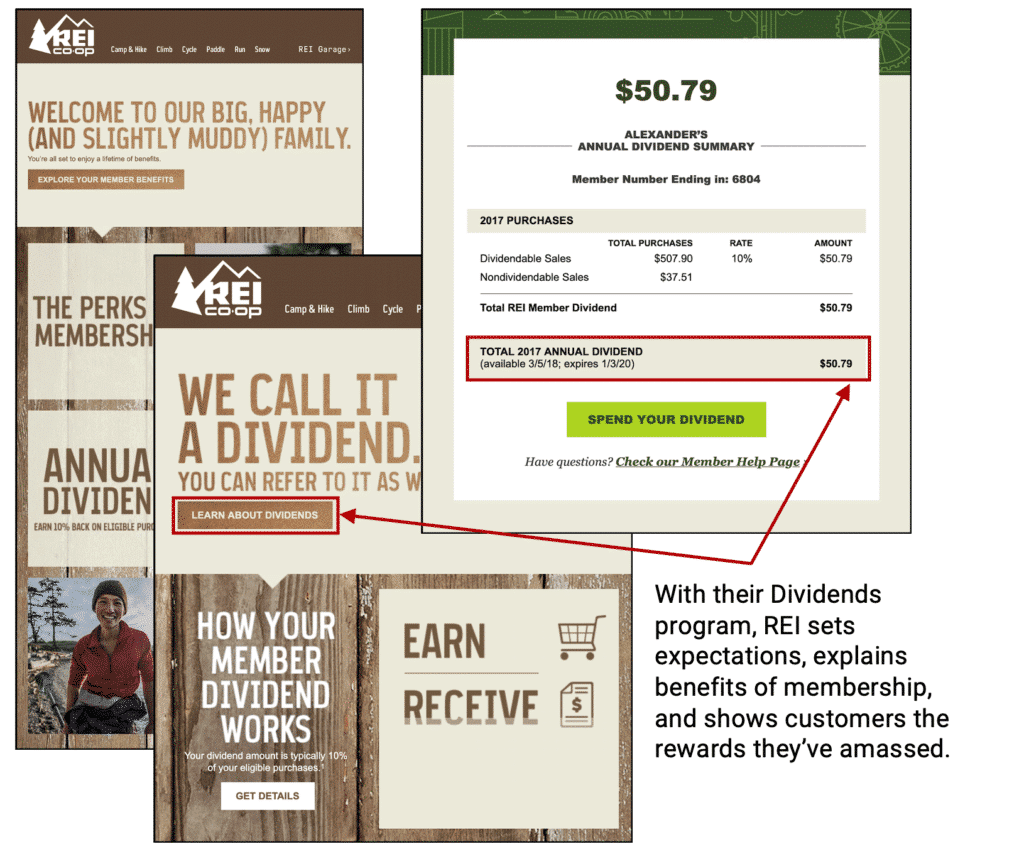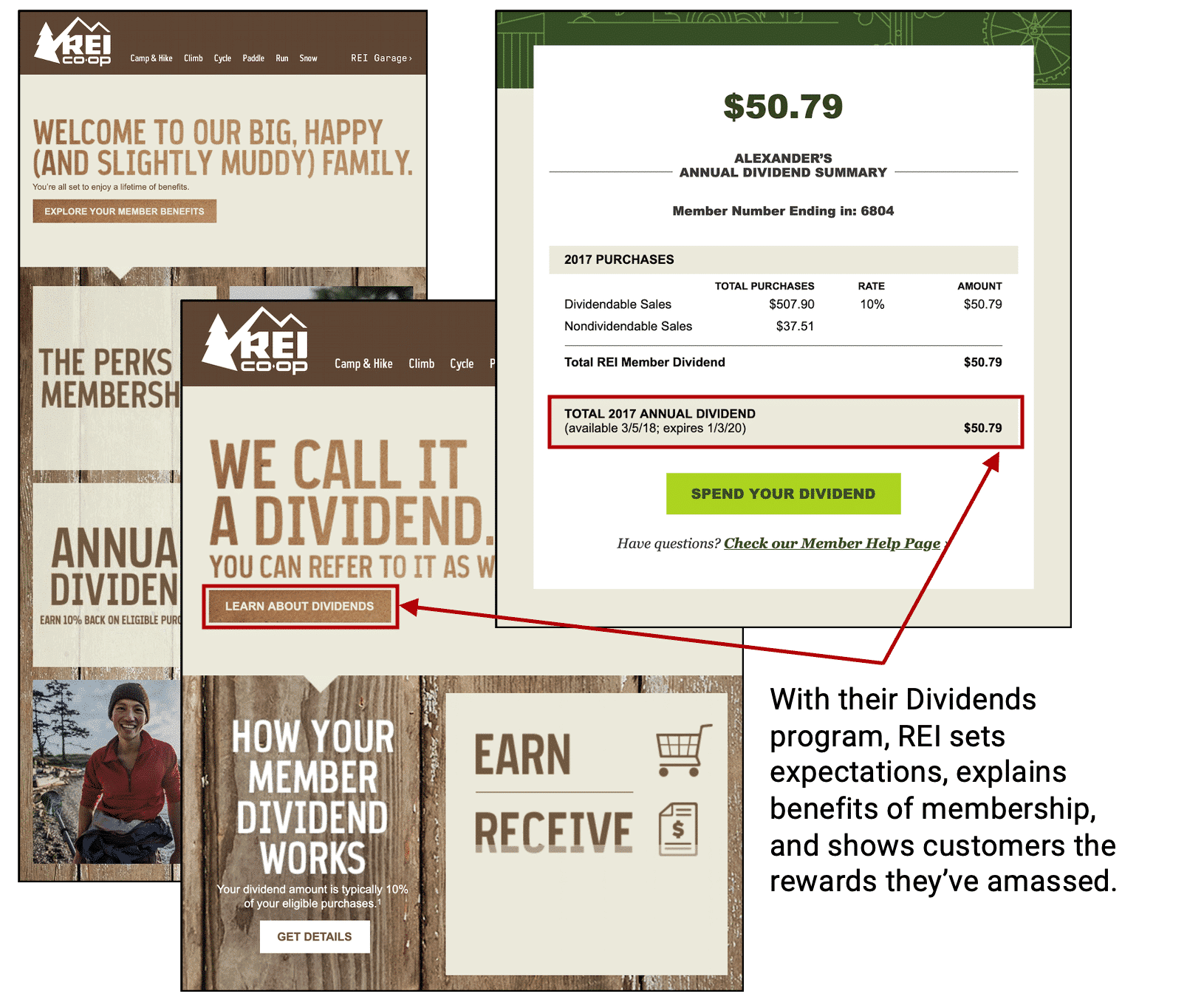 Through these efforts and its app, the brand can collect mounds of useful customer data to understand more about customers. Most people use their membership ID with every purchase which gives REI a handful of purchase information.
In addition, the company collects data online, offline, and via their mobile app. That includes device and location information, web behavior, personal preferences, financial and demographic information, and sometimes even fitness condition and physical characteristics.
That's a lot of data, which helps REI understand their customers better and improve company communications. There are additional advantages members can reap throughout their interaction, such as:
Earning a $100 gift card just for applying for their Mastercard
Custom discounts for subscribers
Specific deals tailored to individual members as they interact more with the company
Customers have a lot of control over what to share and what not to. With REI, it's not just about sales; it's also about building a brand experience through events and even allowing customers to vote on the REI board. At REI, loyalty is a way of life.
2. Starbucks Rewards
The world's most recognizable coffee brand has one of the best (and most used) loyalty programs among today's consumers. Starbucks leads the way among all major U.S. restaurant chains with 14M+ active U.S. members on the app. It's not only free and easy to use, but it also covers multiple aspects of business.
Starbucks' app-enabled rewards program lets loyal customers earn stars by getting coffee at Starbucks stores, but also by buying the brand at supermarkets, ordering goods online or via the mobile app, and by completing bonus assignments (Star Dashes).
The Starbucks Rewards™ initiative allows their biggest brand fans to accumulate rewards through a number of specific activities, including:
Purchases to earn eventual free drinks and food
Birthday rewards
Pay-ahead options
Member events and offers
An even further "personalized" experience with the Gold Status membership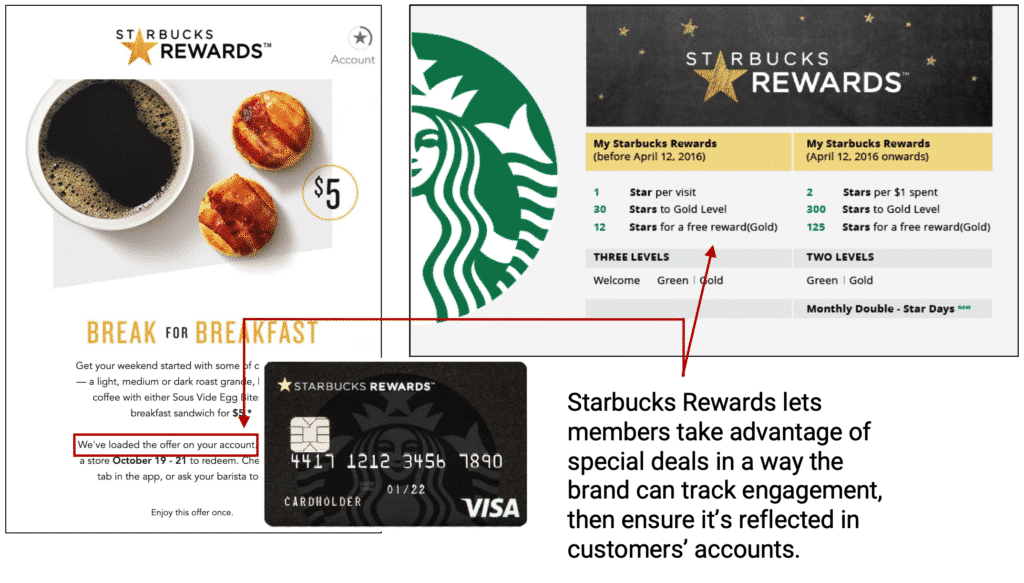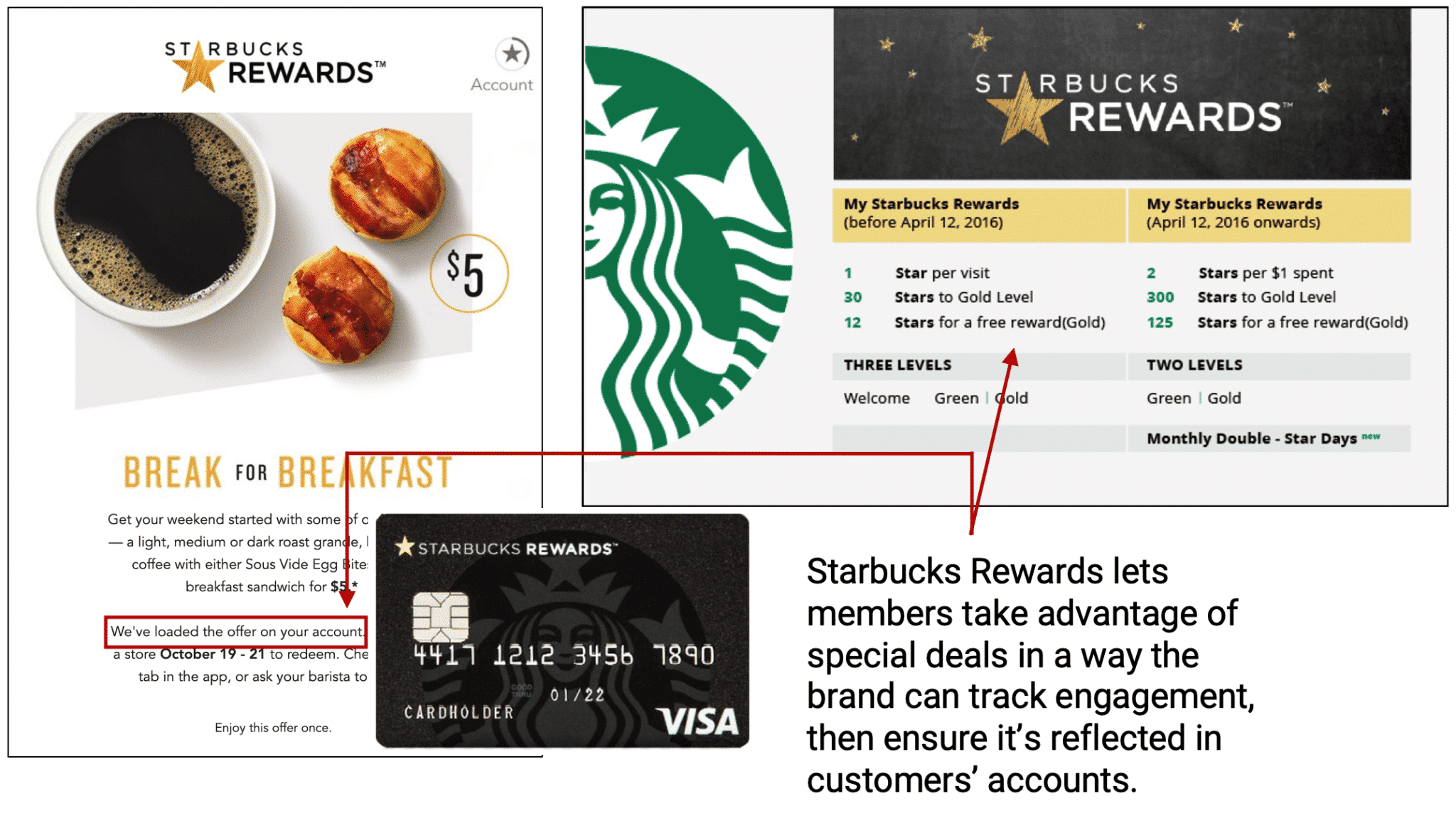 With the app, loyalty customers get two stars for every $1 spent. Once you hit 25 stars, you can unlock a free reward-of-choice. Emails are personalized with order options based on purchase history, and mobile order-ahead options are a nice perk for app members.
With such a complete ecosystem that spans physical stores, a mobile app, and online, Starbucks is leveraging purchase, location, device, iBeacons, financial, and demographic information to improve their customers' experience. Like REI, the loyalty program offers member events and exclusive discounts. Members also get free in-store refills… and the ability to order ahead (my mom's personal favorite perk)!
3. Meijer's mPerks
mPerks, Meijer's customer loyalty program, allows customers to take advantage of coupons without the need to cut them out, print, or present anything in-store. The company thoroughly collects information online and in the store by inviting customers to enter mPerks at the POS, and earn rewards with every purchase.
Meijer's mPerks online loyalty program is leveraged at checkout, and, although its primary benefits are at the POS, the brand proves it knows customers by personalizing communications and inspiring store visits. But how does the brand know so much about customers?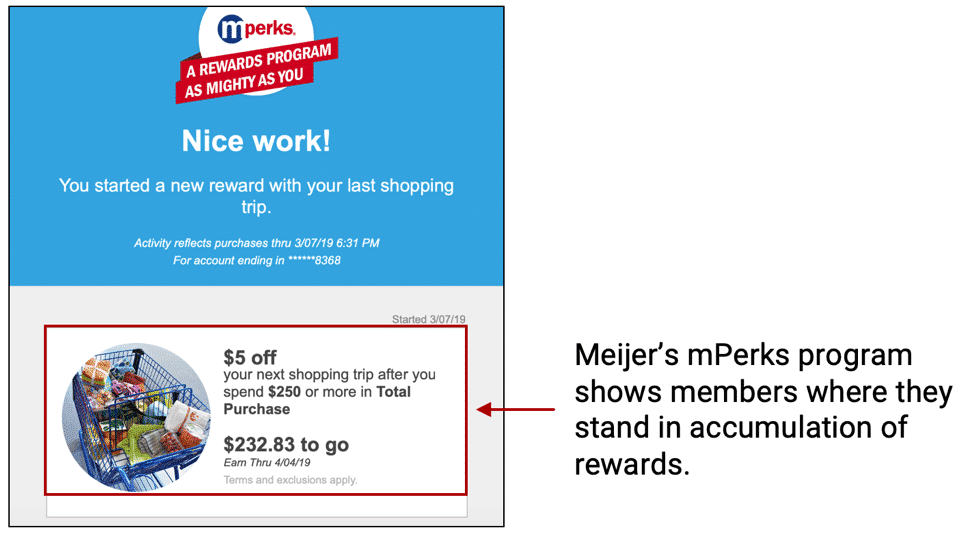 Meijer gathers information about past purchases, device information, online browsing habits, demographic, and financial information, as well as information provided by third parties. Members earn 2% back on eligible purchases, get discounts on drug refills, and gain access to exclusive offers and special deals. You also receive "digital receipts" for easy record-keeping, and a custom, digital credit card (that shows progress toward rewards) takes up zero space in shoppers' pockets.
4. American Airlines' AAdvantage
The airline industry is one where attention to detail goes beyond just ensuring logistics, flight maintenance and preparation, and itineraries and schedules that are nearly perfect. You need to show loyal customers (who fly with you often) that you truly know them on an individual level. The value of personalized messages — that inform and educate passengers — cannot be overstated!
American Airlines' Aadvantage rewards program shows frequent flyers exactly how far they are from their destination of becoming a Gold member, plus how many award miles they have left and destination content.
The program pulls customer data to ensure that information is front and center in all communications with loyalty members, and it serves as a best-in-class example of how to bring customer-centricity to fruition.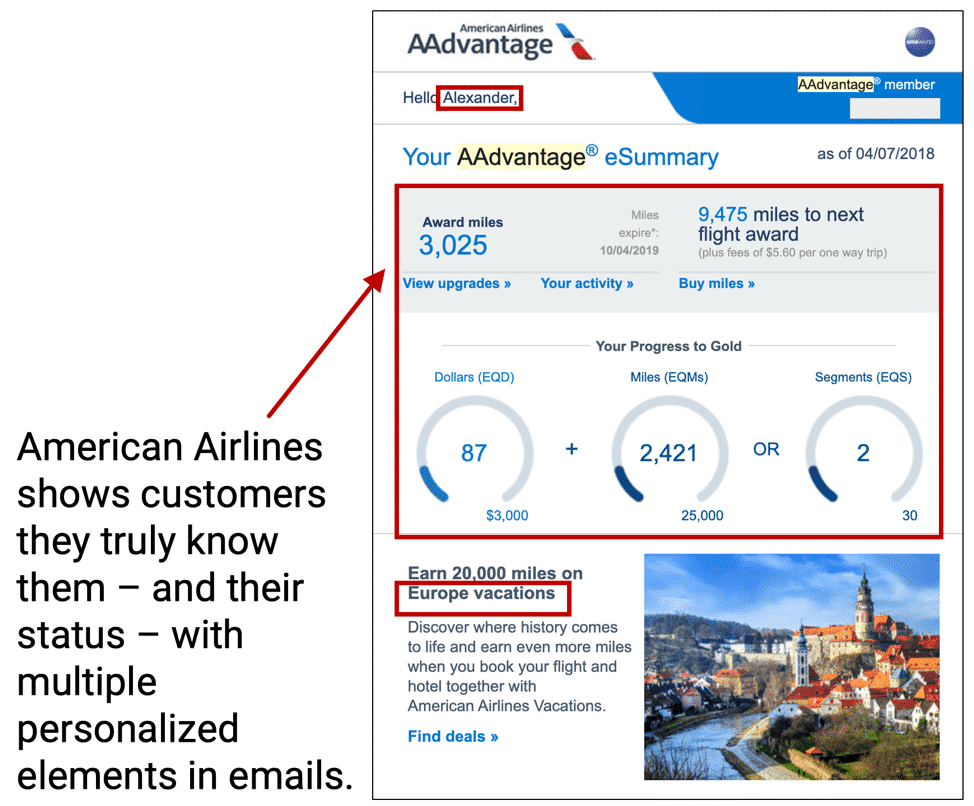 American Airlines' AAdvantage rewards program shows frequent flyers exactly how far they are from their destination of becoming a Gold member, plus how many award miles they have left and destination content.
5. Lancôme's Elite Rewards
Lancôme offers a nice use case. Let's say there's a certain group of customers who made a few purchases in your store at one point. They could have been loyal customers, but for some reason, they stopped purchasing your products months ago.
According to Accenture, 80% of customers who left a store felt that the company could have done something to retain them. Lancôme entices these customers back by offering them 100 loyalty points (equal to $10) and a chance to express their reasons for leaving and thoughts on what would make them stay.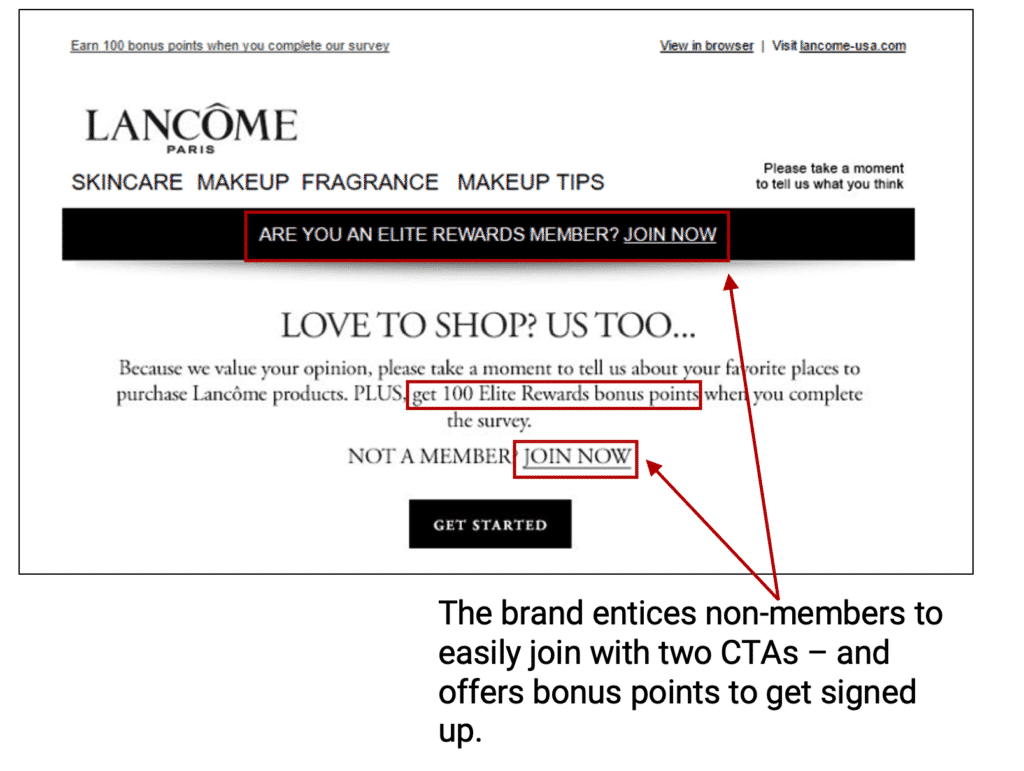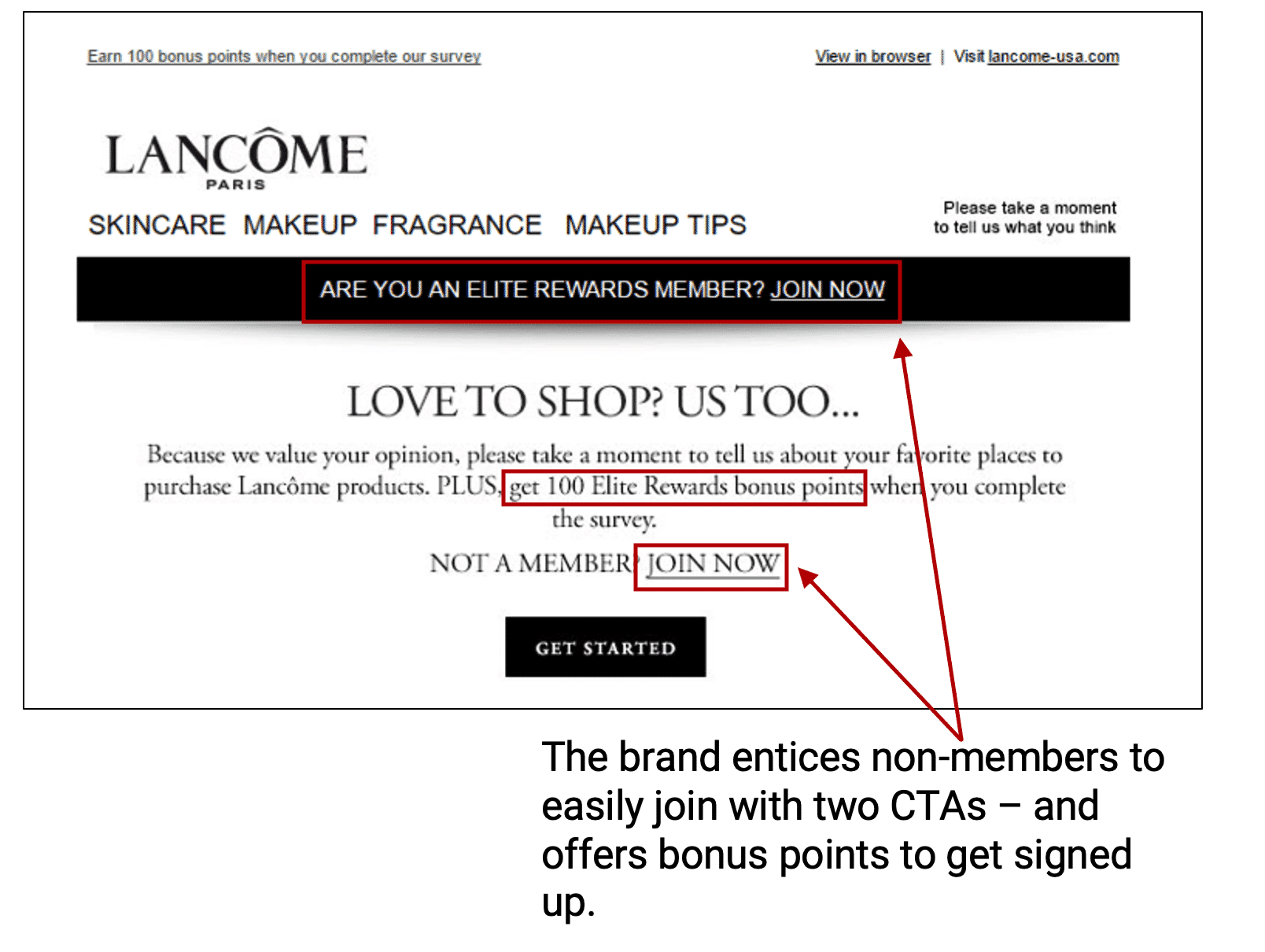 Once customers complete the form included in Lancôme's email, they receive a coupon code that they can enter to claim the promised loyalty points.
Why Do Customer Loyalty Programs Fail?
Customer loyalty is the end result — the intended behavior by customers — to a LOT of pre-work as choreographed by your entire organization. It's the culmination of all of the energy your entire organization has put forth, including (but not limited to):
Orchestration of a seamless customer experience
Creation of consistent, engaging, personalized content
Marshaling all of your resources and centralizing all of your customer data
Training your customer service reps
Monitoring each individual customer's specific stage in their lifecycle
The best, highest-buying, long-time customers are your bread and butter! This segment constitutes your "VIP members," "rewards club," etc. If these customers are worth so much, why, then, do 77% of loyalty programs fail within two years of launch (Capgemini Consulting)?
Many organizations offer loyalty points to customers only when a purchase is being made — reducing the frequency with which some buyers can accumulate rewards. But, there's more to it than just the transactional nature of these programs. Chances are good that these brands didn't fully stitch together the entire picture based on the data they had (or didn't have, as it were).
And sure, a good loyalty program should reward a wide range of value-adding activities that a customer might partake in — like following social accounts, inviting friends that convert, watching videos, joining other rewards programs or email lists, etc. Case and point:
Marvel's Insider Program rewards fans for following the company's social channels, inviting their friends, and watching the latest product videos. This model is not unlike many others.
Yet for many brands, a missing link still remains… you might not be able to put your finger on it… but you know it, and your customers certainly feel the effects.
The answer: consistent, personalized experiences across every channel based on data. And with whom is it more important to get this right than your most loyal members?
Conclusion
Customer loyalty is not an area to skimp on, and it's not that difficult to create rewards programs that show customers why you care about their business.
With technology as a partner and a task team that's as committed as you are to make a data-driven loyalty program a reality, you're well on your way.
Handpicked Related Resources: