The Business
Total Tools is Australia's largest professional tool retailer, selling to customers of different trades. They are a franchise network with more than 100 stores across Australia and an online offering of more than 20,000 products.
Retail & E-commerce, Home & Garden
Australia
100 retail stores
Online offering of 20,000+ products
The Challenge
Data in silos
Agile execution
Personalizing based on different personas
Consistent messaging across multiple channels
Integrating loyalty throughout omnichannel experiences
Before Emarsys, Total Tools' martech stack wasn't able to drive a seamless omnichannel experience and a unified customer view.
Although they were engaging with customers across multiple channels (email, SMS, online search) they weren't having a coordinated conversation about the customer and the products that they were showing interest in, because they weren't sharing any customer data between channels. Because their customers engage in different trades, Total Tools needed a solution that helped them learn customer behavior to effectively personalize their strategy.
Additionally, because they stored data in silos, Total Tools faced friction in their loyalty program. Customers didn't feel they were getting sufficient value for their participation.
"We wanted to deliver value in real time. So when our customers show interest in a product and they have a need, we're there with the right message in the right channel. And we also wanted to deliver more tailored product recommendations based on what we knew about our consumer."
The Solution
With Emarsys, Total Tools stitched together all of their data points into one unified customer view, allowing them to accelerate their 1-to-1 personalization maturity. By using the Emarsys automation center and pre-built tactics, Total Tools was able to create a more engaging loyalty experience and enhance their omnichannel capabilities.
Omnichannel Loyalty
With a holistic view of the customer and all the data in one place, Total Tools was able to use tactics to launch 20 key data-driven automations almost immediately. They also were able to reduce their reliance on email and become more channel-agnostic, building synergy across communications and unifying multichannel delivery.
With these new capabilities, Total Tools relaunched its loyalty program, Insider Rewards, now fully integrated into each channel and interaction. This freed up the team to use their loyalty program to drive more relevant engagements with customers.
Agile Execution
Total Tools wanted a solution that was marketer-friendly so they could be agile in their delivery to market. The ease of Emarsys' drag-and-drop tokens and AI insights freed up their marketing team, allowing them to amplify the data they had access to and bring it to the forefront for customer engagement and personalization.
Data powers personalization
With Emarsys' Integrated Data Layer, Total Tools was able to unify, cleanse, remove duplicates, and analyze first-party data from business applications, customer data, and commerce solutions to create a holistic view of each customer.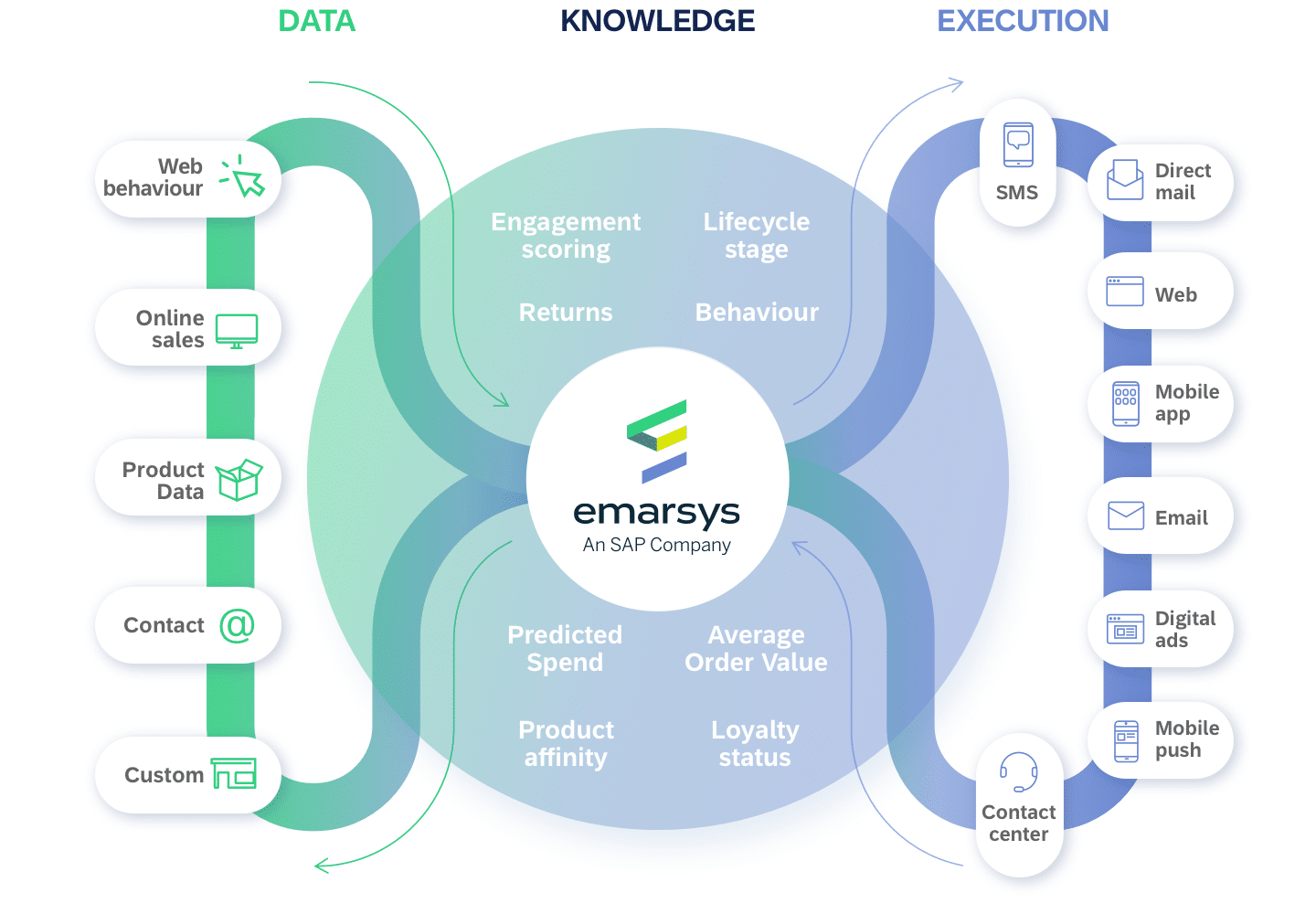 Activate the data to personalize campaigns
With unified data, Total Tools was able to easily scale personalized product recommendations reflecting a customer's lifelong loyalty, as well as trigger meaningful personalized campaigns like welcome messages for first-time buyers, and more.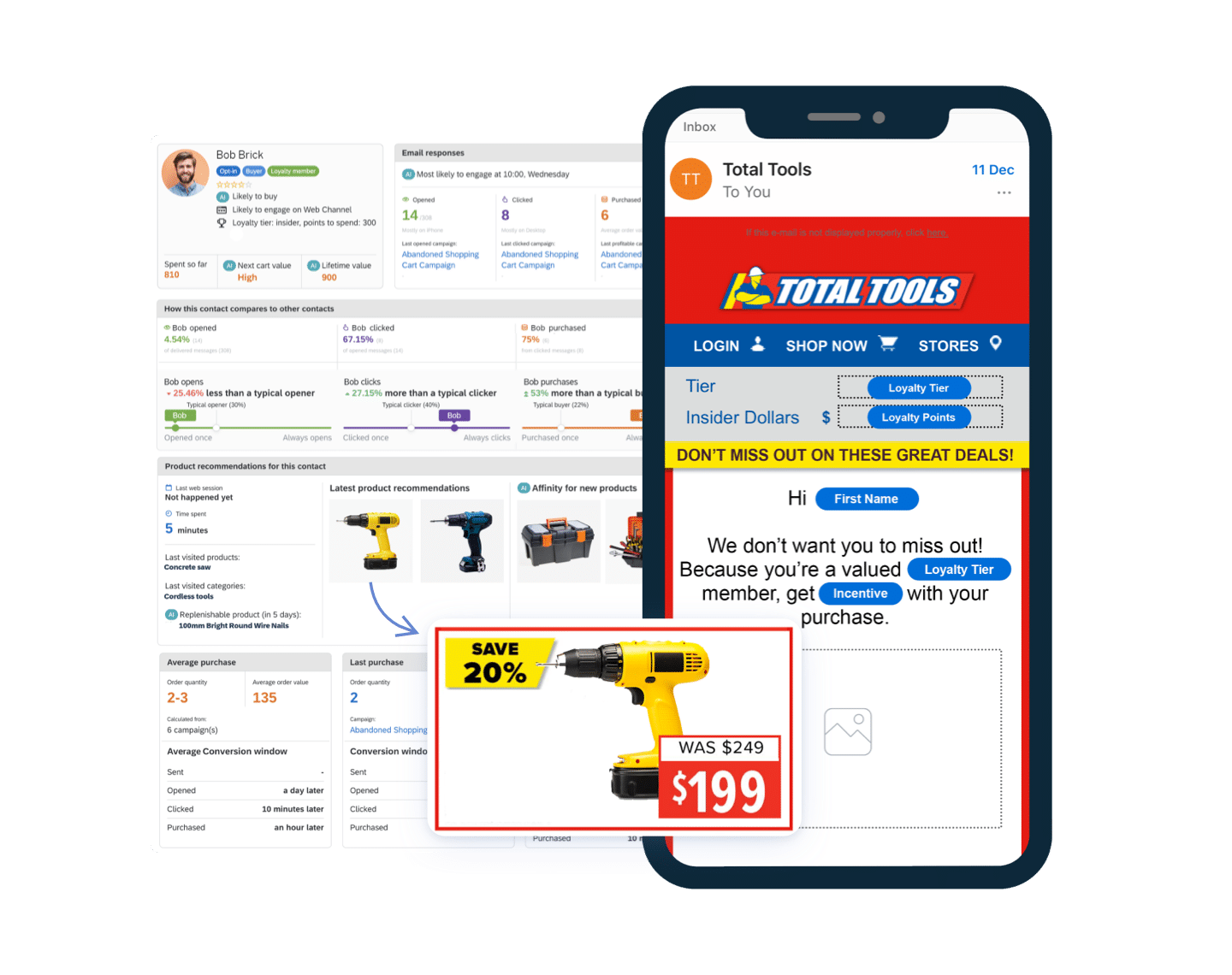 Agile execution with Emarsys Tactics
"One of our core focuses was to utilize the Web Channel feature in Emarsys to work on tactics to drive online signups and boost overall conversion. This really freed us up and allowed us to amplify the data we had access to and bring it to the forefront for customer engagement and personalization."
Sarah Neeson, Loyalty Manager, Total Tools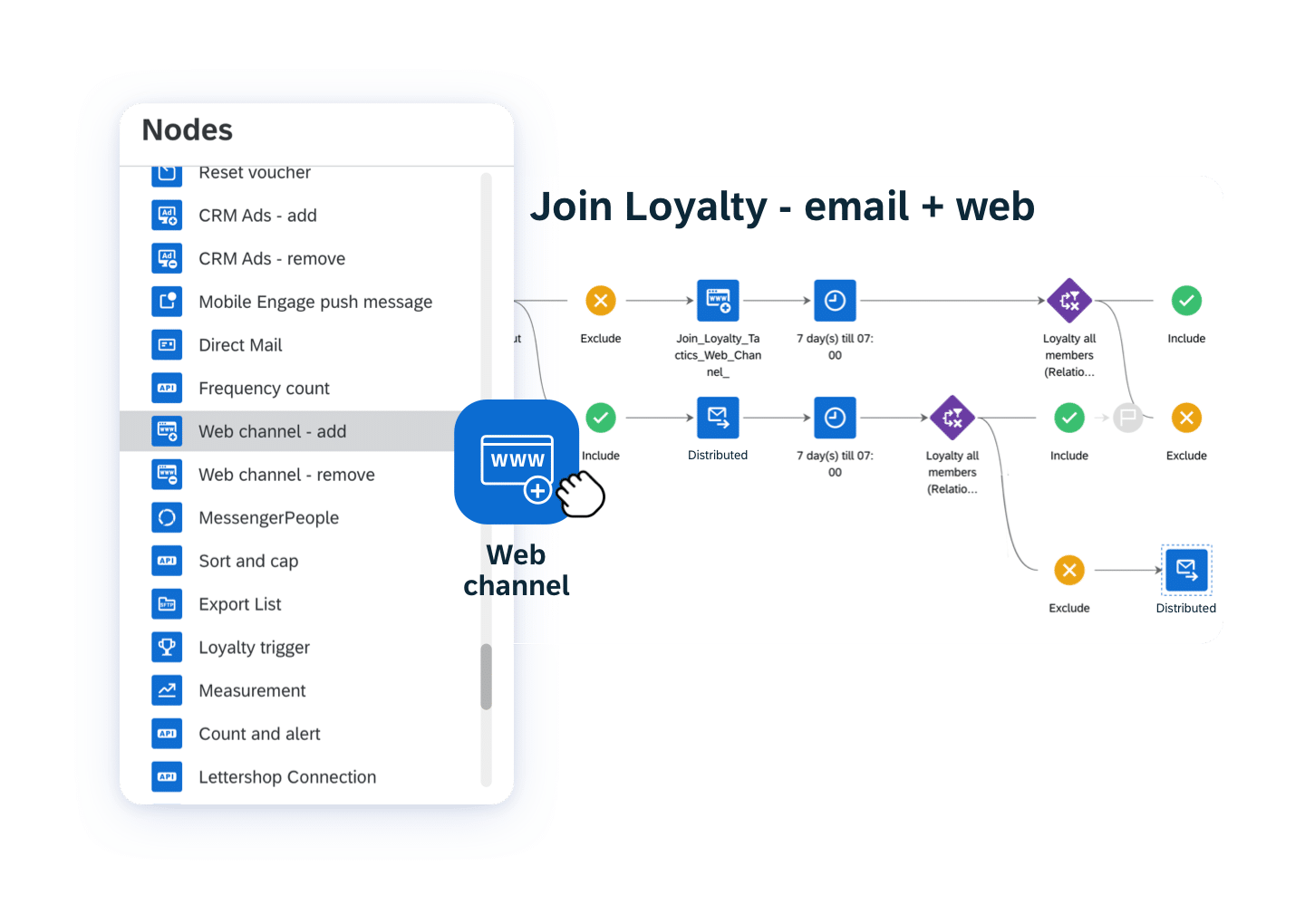 Guided to achieving better results with AI Insights
With the help of the Emarsys team, Customer Lifecycle Analytics, and the Strategic Dashboard, Total Tools was able to understand how to target customers with differentiated journeys based on where they came from and where each customer was in the lifecycle. These optimizations resulted in a 16% increase in open rate compared with everyday campaigns.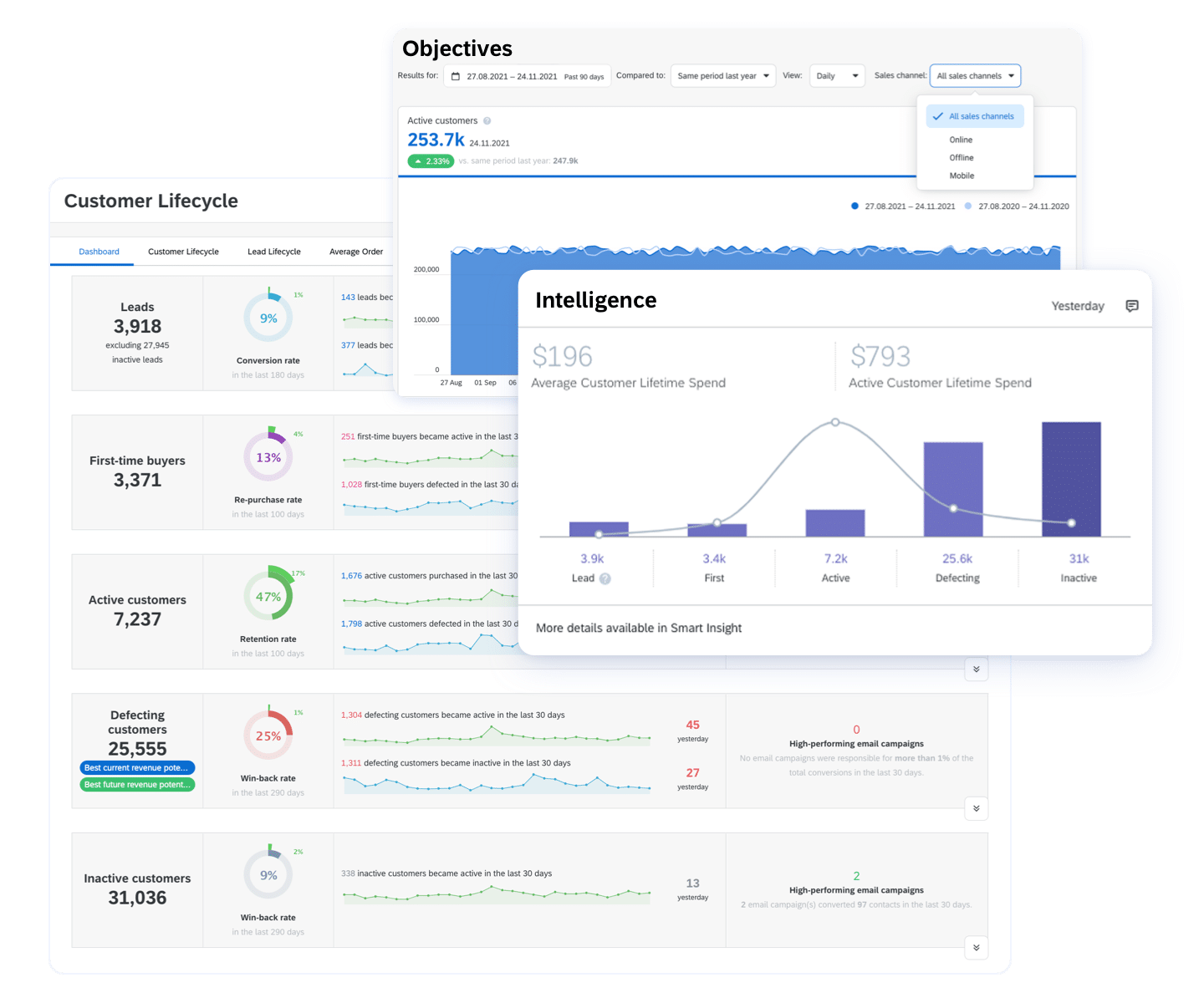 Experimenting with cross-channel to improve results
With clear visibility into their data, Total Tools experimented with reducing the time between when the customer first abandoned their cart and when they received an email. Total Tools also added cross-channel touchpoints throughout the purchase based on product and engagement data, overlaying CRM ads so that if the targeted customer didn't open their email, the product was displayed to them on social.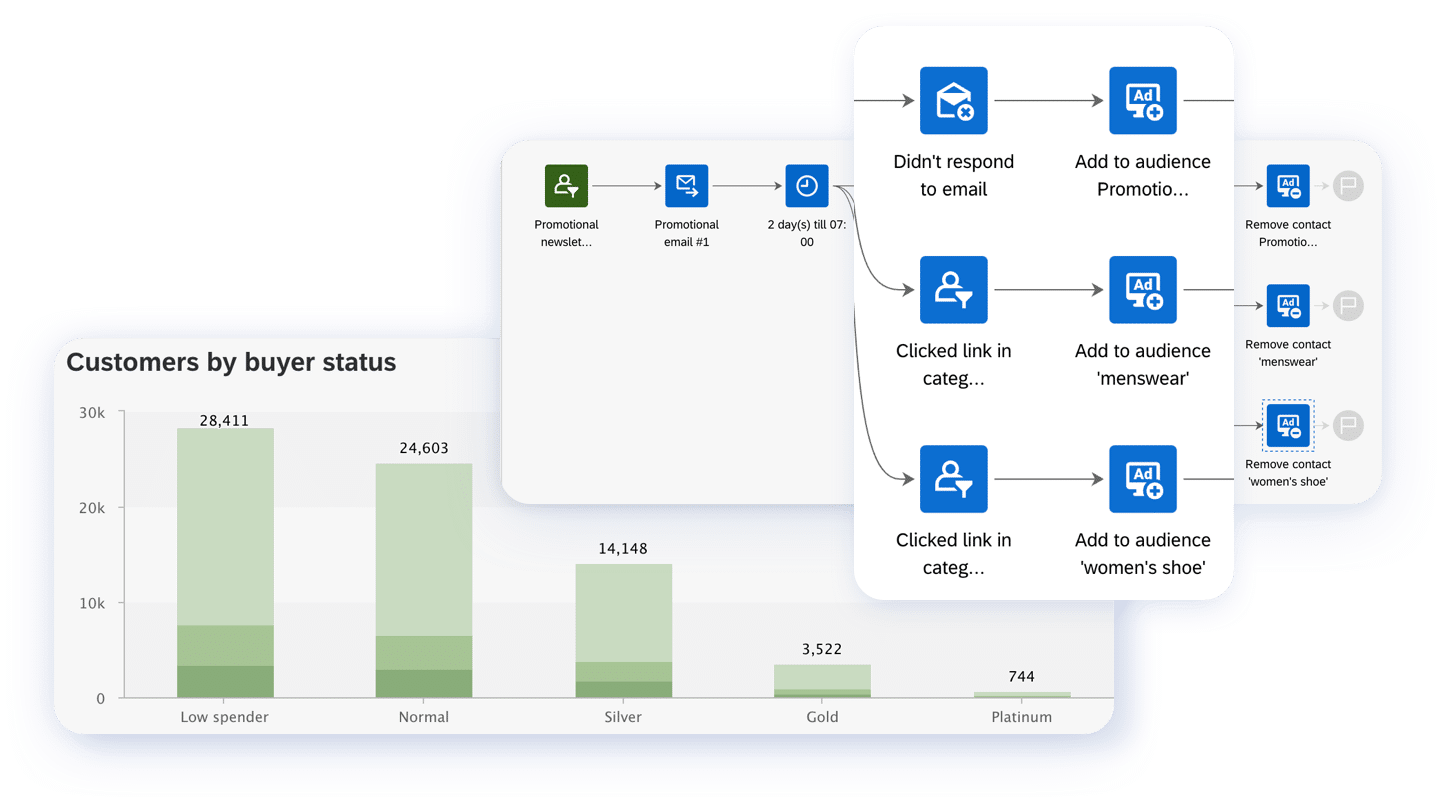 The Impact
200%
increase in loyalty sign-ups online
15x
return on investment for CRM ads (Google and Facebook)
30%
increase in active customers in based on the Emarsys Smart insight definition of active
2x
increase in click-through rates from adding AI product recommendations
16x
increase in open rates on lifecycle automations compared with everyday campaigns
20%
uplift on automation driving retention
"Emarsys has become the center of how we orchestrate the conversation with our customers. We're using the customer's interactions with our brand to drive a conversation with them.

And with AI and machine learning doing the heavy lifting for us, driving personalization at scale, we can focus on delivering a more rewarding customer experience."
Deliver the


predictable, profitable

outcomes that your business demands with our omnichannel marketing solution
Request a Demo