The Business
Feel Good Contacts is the UK's most popular online contact lens retailer. Founded in 2008 by optometrists, it provides contact lenses and eye care products at affordable prices. Over time, they added designer sunglasses in well-known and respected brands like Prada, Ray Ban, and Gucci and launched a mobile app with the intention of improving customer experience and allowing for more touchpoints with the customer. In 2020, they again expanded the business by offering prescription glasses.
Retail & E-commerce, Health & Beauty, Fashion and Accessories
London, UK
Founded in 2008
The Challenge
Scaling Personalization with automation
Increase basket upsells
Increase company retention
Understanding the customer
Before partnering with SAP Emarsys, Feel Good Contacts was looking to improve their understanding of their customers' needs to get them the right products at the right time in their buying journey. Their personalization was not automated or efficient, and they wanted to increase basket upsells. They wanted to create a seamless experience that kept their customers coming back for all their eyewear needs.
"Ensuring that they feel valued from the get-go and ensuring that you can better personalize the welcome journey to capture all their needs is a very hard task, easier said than done. We were able to personalize the welcome journey in such a way that the customers found it insightful but also for them to understand that we understood their needs."
The Solution
Feel Good Contacts was aiming to engage their existing customers, as well as acquire new ones. To achieve this, they took a multi-step approach. Integrating data across channels and gleaning wisdom from customer buying patterns. With this newly uncovered information, they built customer journeys to present better buying opportunities to existing customers, upsell and increase cart size. With Emarsys' abandoned cart journeys, they made sure to offer the right reminders at the appropriate times to win back customers. They also focused on upselling on their website, checkout pages, and the emails customers receive along their journey.
Automating customer journeys
Using SAP Emarsys tools, Feel Good Contacts was able to create a cohesive, personalized welcome journey for customers. Integrating purchase and behavior data, they created a holistic picture of their customers, and built out recommendations and reminders at the right points in the customer lifecycle to drive purchase and loyalty.
Optimizing web checkout process and upsell strategy
Offering the right product for the customer was a challenge for Feel Good Contacts. They wanted to tailor recommendations while also automating them for scalability. Using SAP Emarsys' predict and customer lifecycle analytics, Feel Good Contacts developed the capacity to understand trending product categories for different key segments and use tactics and the automation center to execute the right upsell strategy. For example, they noted that a contact lens wearer is very rarely without a pair of glasses, and an eyeglass customer often also bought contact lenses for sports and other activities in which glasses might prove cumbersome. They thought about the ways seasonality might affect purchase behavior and began offering eye drops during hay fever season. They incorporated these insights into their upsell strategy.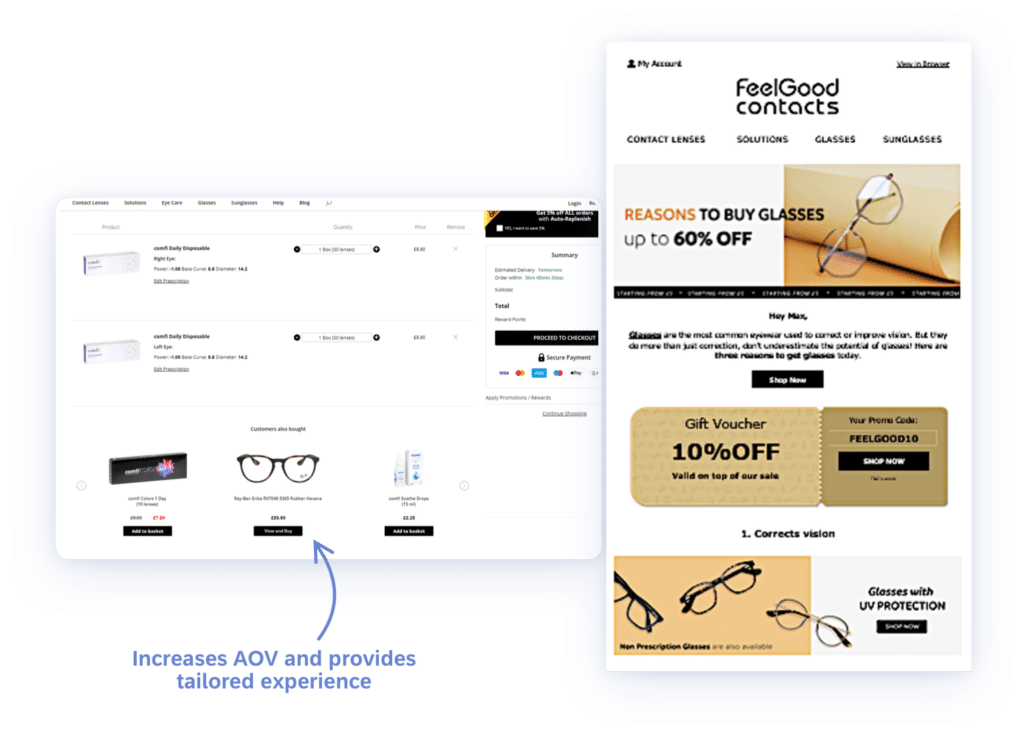 Connecting online and offline data with mobile
Feel Good Contacts wanted to build a first-of-its-kind app that would differentiate them from their competitors. Their goal was to use their app to build customer retention, reduce advertising costs of retention, offer convenience to their customers, and tailor the experience to them. Using the data they uncovered through SAP Emarsys insights, they were able to reach their sales goals with the help of targeted mobile app push notifications and in-app messages. With this integrated approach, they were able to learn and adapt their strategy over time to drive sales through their mobile app and increase average basket value.
"Having almost 24% of customers order through the mobile app is an achievement we're very proud of."
Understanding customers' collected insights around content and channels to improve retention
With integrated data on customers' purchase behavior, Feel Good Contacts drove purchase of their own line of branded contact lenses, along with eye drops and contact solutions. By understanding their customers and the products they were already using, Feel Good Contacts made smart, timely recommendations of their house brand. With the help of the insights they collected through Emarsys across email, social ads, web push and the mobile app, Feel Good Contacts was able to understand their customers so they were able to more easily communicate the main benefits of each product to clients.
Automated workflows lead to an increase in revenue
"Putting all that time into creating an automated workflow as well as adding personalization into that allowed us to see a year over year increase in revenue of 26%."
Nimesh Shah, Marketing Director, Feel Good Contacts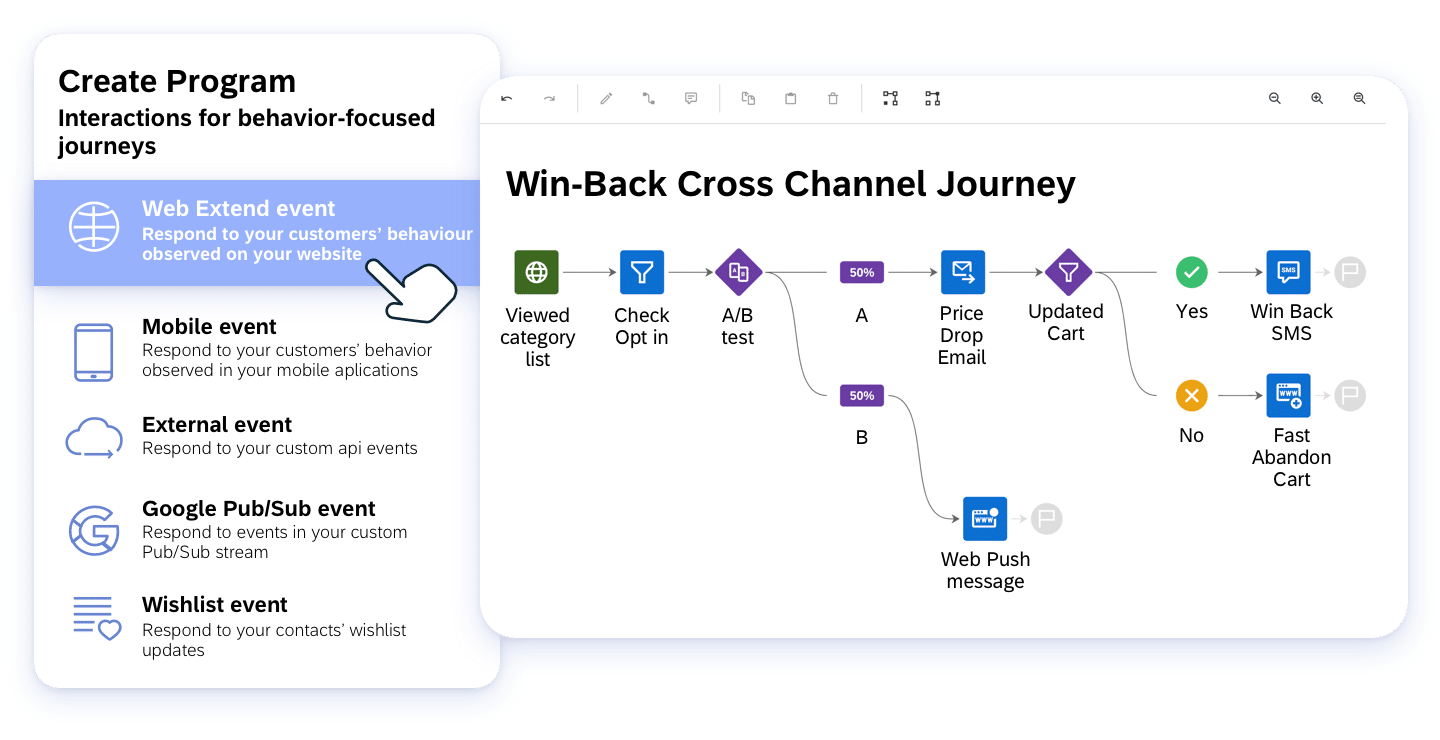 Increase in sales driven by abandoned cart communications
Utilizing Emarsys' abandoned cart functionality, Feel Good Contacts was able to win back 13% of otherwise lost customers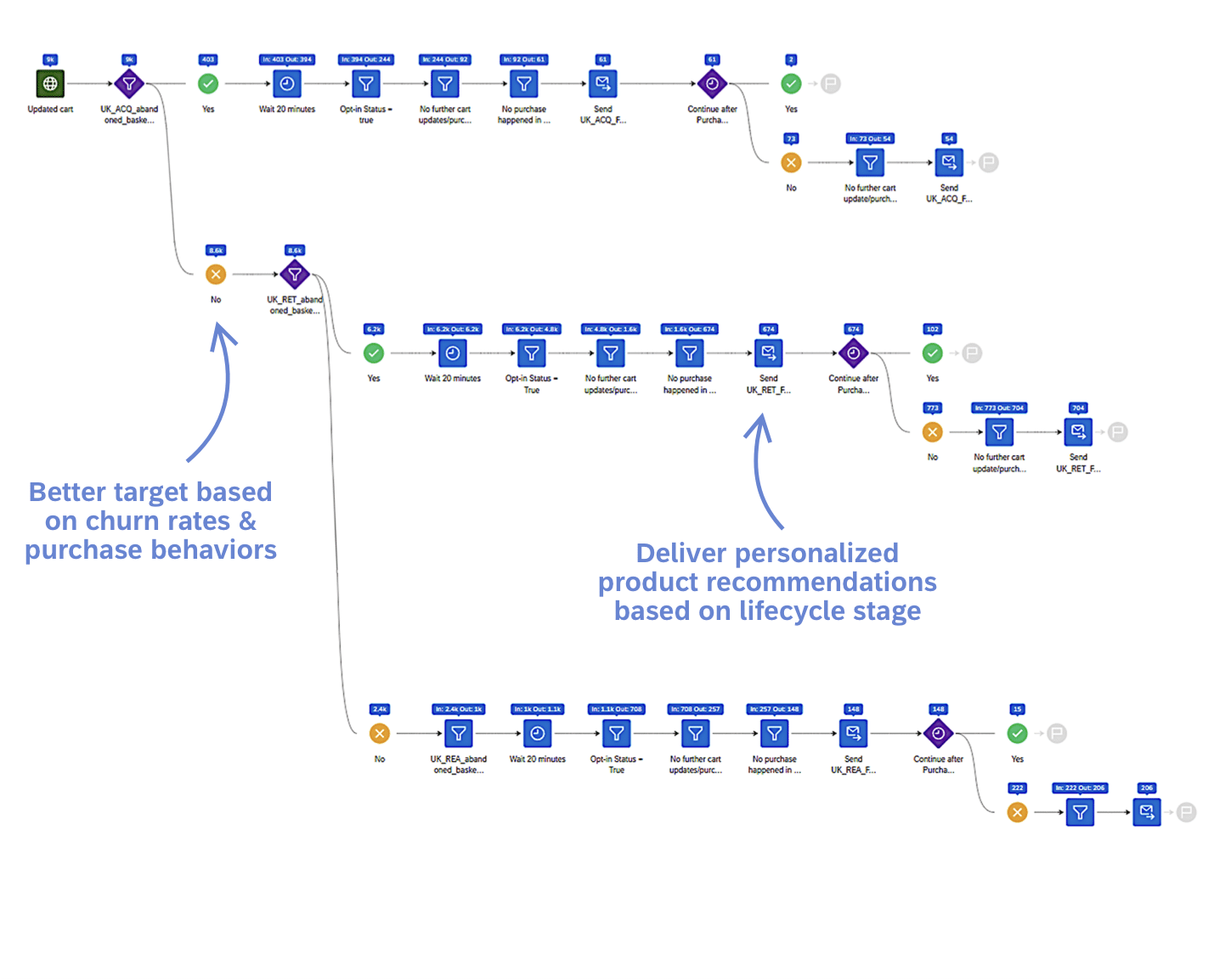 Connecting online and offline behavior
Integrating the customer experience by encouraging customers to download the app, the brand was able to drive 24% of customers to purchase on the app.
"With the help of Emarsys allowing different aspects of engagement, such as push notification and in-app messages, we ensured that the convenience factor was there for our customers. '"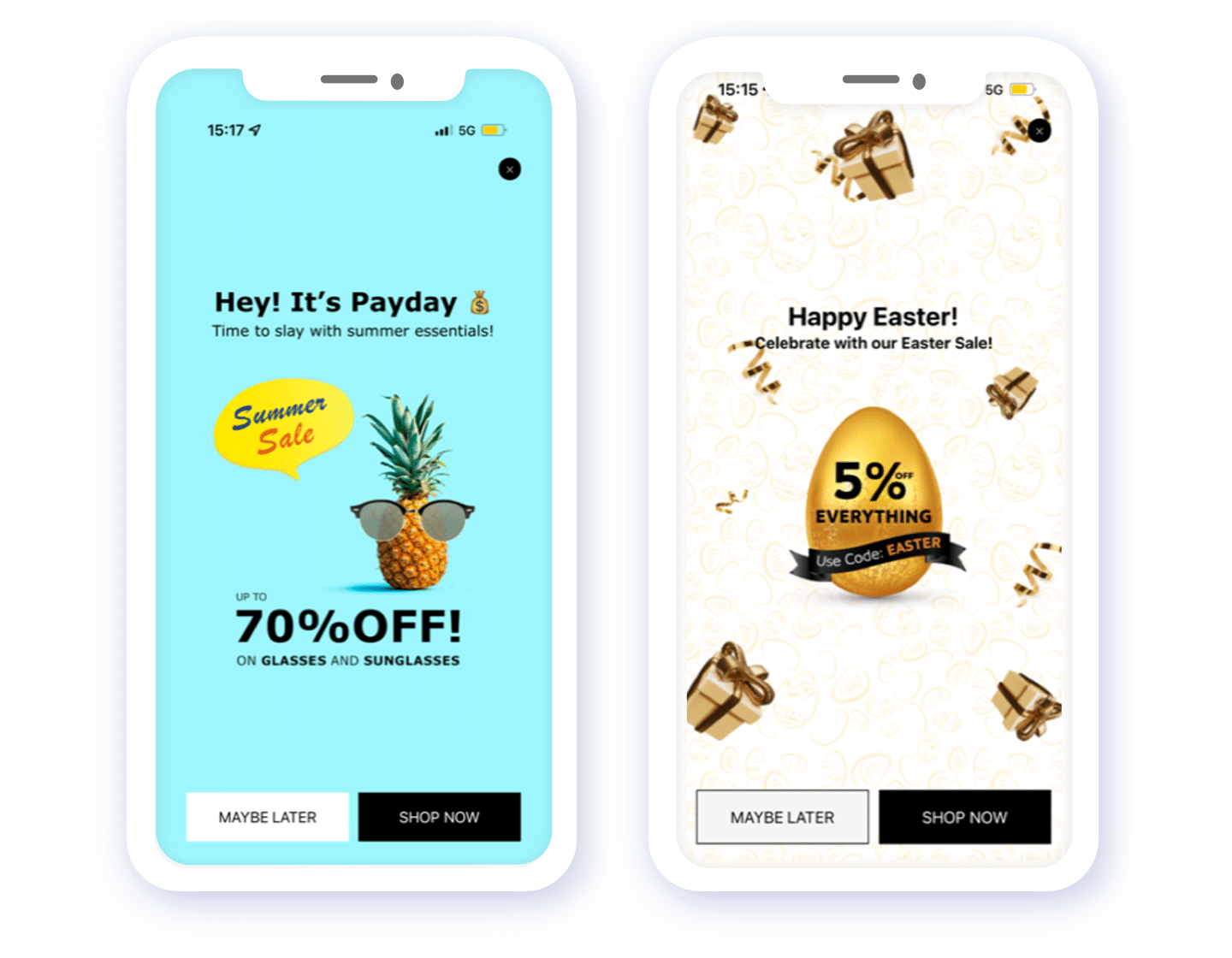 The Impact
By utilizing Emarsys Tactics to engage contacts across email, social ads, web push and their mobile app, Feel Good Contacts expanded their reach and increase sales. Their efforts to win back customers who had abandoned their carts, integrate purchase data for a more holistic view of the customer, and drive purchases through their mobile app helped increase revenue year over year by 26%, increase cart size by 40%, and convert 37.2% of existing customers to purchase their more profitable in-house brand.
24%
of monthly orders are now from their mobile app
37%
conversion rate of of existing customers purchasing in-house brand of contact lenses (comfi)
13%
increase in churning customers won back
+26%
revenue increase YoY in welcome journey and abandoned basket
40%
increase in average basket value
"With the Emarsys platform, we check, we run A/B tests, we find out 'does this resonate well with the customer?' We're then able to, anything that we have an issue with, we raise the support system, with Emarsys and we figure out with their expert knowledge, essentially, working out with them, where there's a will, there's a way. And we'll definitely find a solution."
Deliver the


predictable, profitable

outcomes that your business demands with our omnichannel marketing solution
Request a Demo