The Business
Beauty Pie, the exclusive luxury beauty buyers club, offers its members the opportunity to buy premium skincare and fragrances directly from the labs — no middle-men, no mark-up. With their rapid and experimental business model, the company disrupts the beauty industry by delivering high-value products to customers when they subscribe as members, with greater transparency and cost savings.
E-commerce, Health & Beauty
112,5355* Product reviews
Linkedin top 15 startup
Products from 59 world leading labs
The Challenge
Agile testing of membership models
Connecting and collecting relevant data
Driving business growth and conversion
Scaling email personalization to reinforce membership stickiness
Executing cross-channel automation with a small team
Before partnering with Emarsys, Beauty Pie was looking to scale up its email platform to support the rapid and long-term growth of the business. They wanted a solution that would allow them to collect all the relevant data that would then enable them to take personalization to the next level, scaling automated journeys and curated follow-ups, tailored to particular segments.
The Solution
By connecting zero- and first-party data and feeding business intelligence insights into Emarsys, Beauty Pie now has the ability to respond to a very agile business model and rapid testing strategy. By setting up strong foundational automation to identify and nudge members' next action, they are able to serve the right product and capitalize on behavior to build advocacy.
Responding to an agile business model and rapid testing strategy
With connected data from multiple sources and the flexibility to add, combine, and create custom segments, Beauty Pie enriches the level of personalization and adapts with agility. Over years of experimenting and iterating their membership model, Emarsys enables the team to rapidly create segments and design campaigns to offer different propositions to members and non-members, as well as all the different types of membership (like monthly vs. annual, UK vs. US, and different spend limits).
With Emarsys' segmentation builder, Beauty Pie can easily build and combine segments to deliver hyper-relevant communications for these vast membership variations, nudging new starters, upgrade, or lapsed members to take their next best action. Additionally, the team can quickly respond to data insights and new product testing with the user-friendliness of Emarsys' automation and content builders.
Serve the right product and build advocacy
Beauty Pie capitalizes on key moments in their customer journey where happy customers have engaged positively with the brand, aiming to reinforce their biggest advocates' experience and guide them further into the community. That may be through sharing their skin type data via an email click or taking part in a virtual beauty consultation and wanting to add it all to the basket. By using this data to trigger relevant communications, the CRM team can drive conversion and customer lifetime value (CLTV) by focusing on activating their most engaged audience.
Beauty Pie is also able to time replenishment communications appropriately for each customer's personal buying cycle and deliver a great, value-added experience of ensuring they don't ever run out of their favorite moisturizer.
By integrating with Bazaarvoice, Beauty Pie is optimizing the experience of their replenishment campaign based on past product reviews. The integration enables customers who reviewed a product negatively in a set period to be excluded from this specific communication, receiving an alternative nurture program to get their brand experience back on track.
"At Beauty Pie, we are all about being customer obsessed. Nothing is worse than having a poor product experience and then being prompted a few months later to rebuy said product. That is why as part of the optimization, we are looking to overlay Bazaarvoice review data to elevate that customer experience further."
Retaining customers by nudging them to their next best action
The biggest challenge for any membership-based business model is retention. Beauty Pie uses automated journeys and spend data to drive retention and loyalty, weaving in educational messaging by highlighting the value for the customer. For example, by calculating the remaining spending limit for new and active members based on their membership level, Beauty Pie is able to automate nudge communication for contacts showing signs of churn, using tokens to personalize content based on how much they have to spend. This educates members on brand unique selling propositions (USPs) and ensures customers continue to see the value in the products and their membership, making them less likely to churn.
Complex segmentation to drive differentiated communications
We've seen in the data that our monthly members aren't shopping as much, so being able to segment out and deliver personalized communications and promo codes to those specific customers to get them engaged and shopping is a really important part of our strategy."
– Chloe Pepper, Senior Email & CRM Manager
Hear their story
Customer savings, pulled in real-time
To drive retention and loyalty, Beauty Pie calculates 1:1 data to remind members of the value they've saved by shopping with Beauty Pie, quickly creating and easily surfacing in all communications using personalization tokens.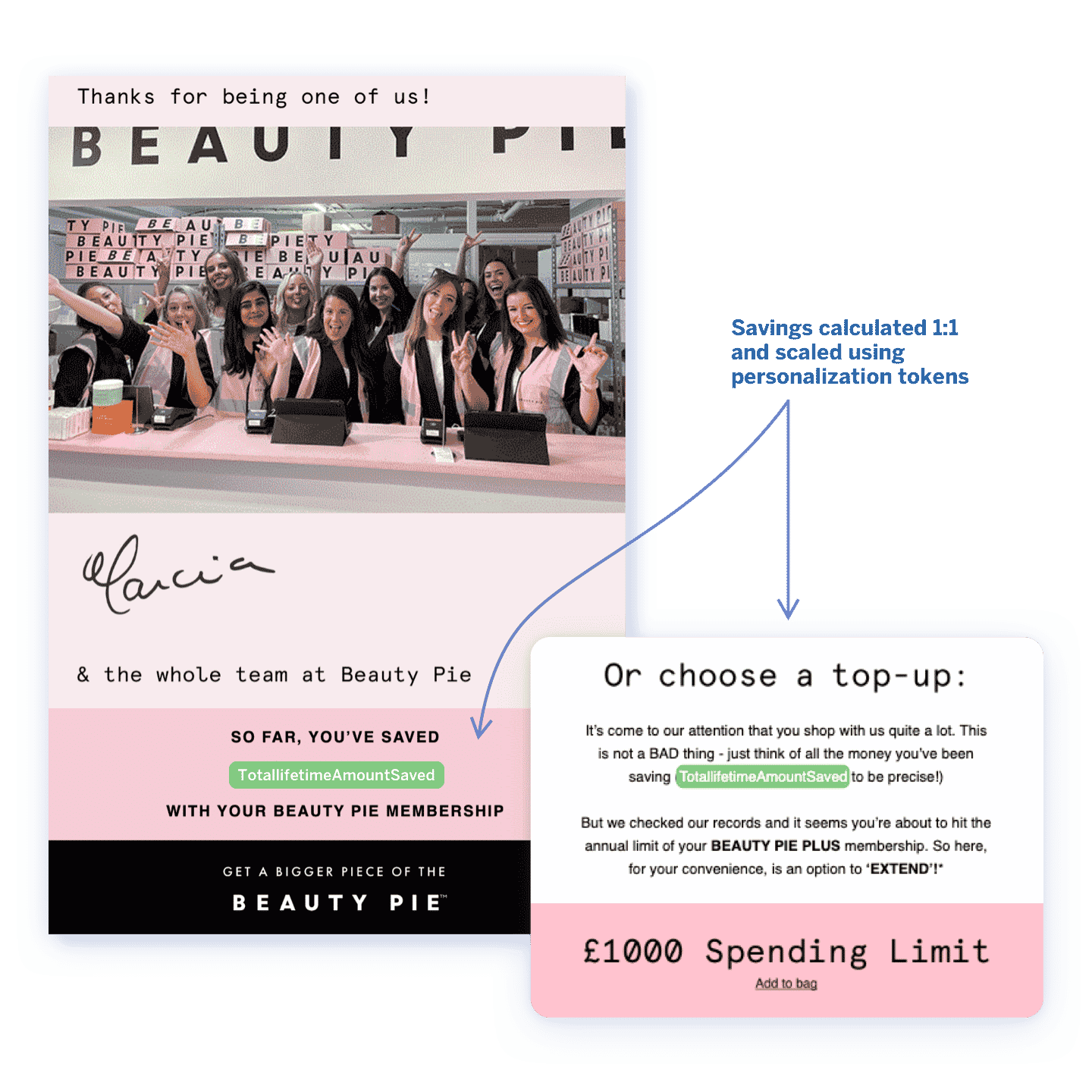 Using data in Emarsys to anticipate and prevent churn with nudges
Based on when they last shopped and their membership start date, Beauty Pie is able to automate nudge communications for contacts showing signs of churn, using tokens to personalize content based on how much they have to spend. This educates members on brand USPs and ensures customers continue to see the value in the products and their membership, making them less likely to churn.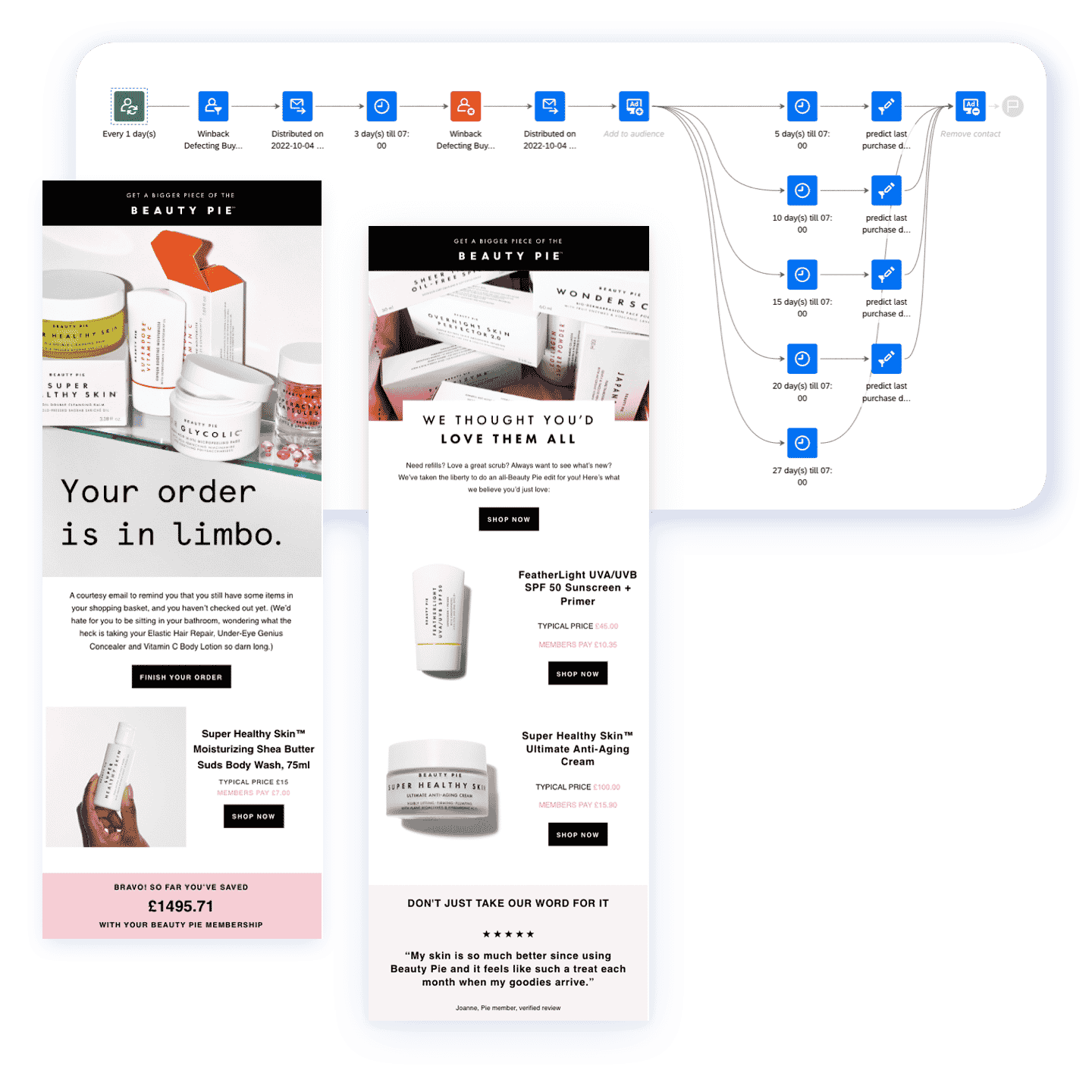 Enriching customer profiles with relational data integration
Beauty Pie integrated Emarsys with their analytical database, Snowflake, as well as Bazaarvoice Product Reviews. This gives the growth team better access to broad data in Emarsys, unlocking the ability to pull in and segment higher-value customers for specific communications, follow-up on product reviews, or interactions with Customer Service.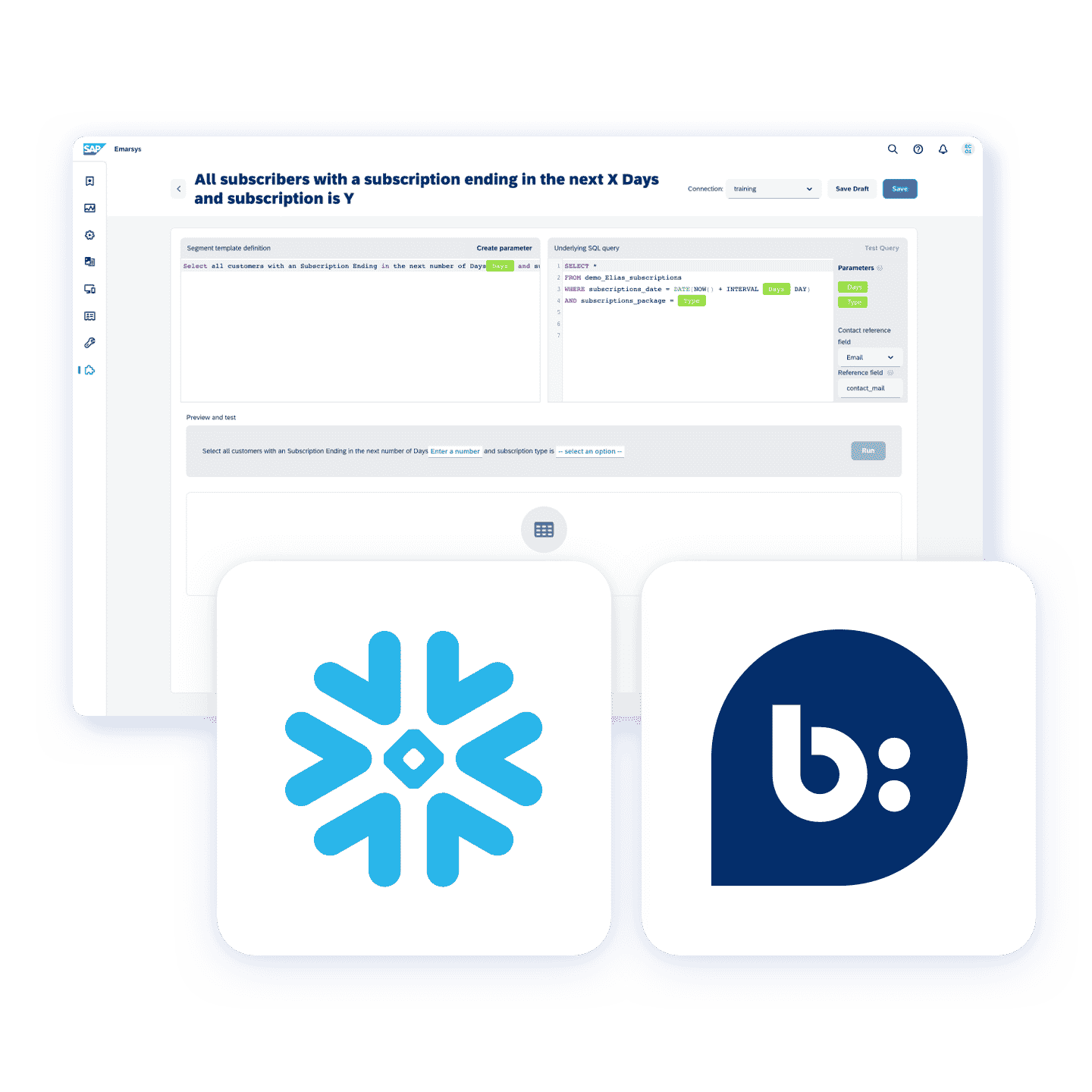 Driving replenishment through automation
Beauty products usually run out or potentially have a limited shelf life. To align with the brand's objectives of increasing monthly shopping rates and driving product revenue, Beauty Pie automates reminders to customers to replenish their products when they're due to run out based on their personal rate of buying those products, offering a truly 1:1 solution to repurchase.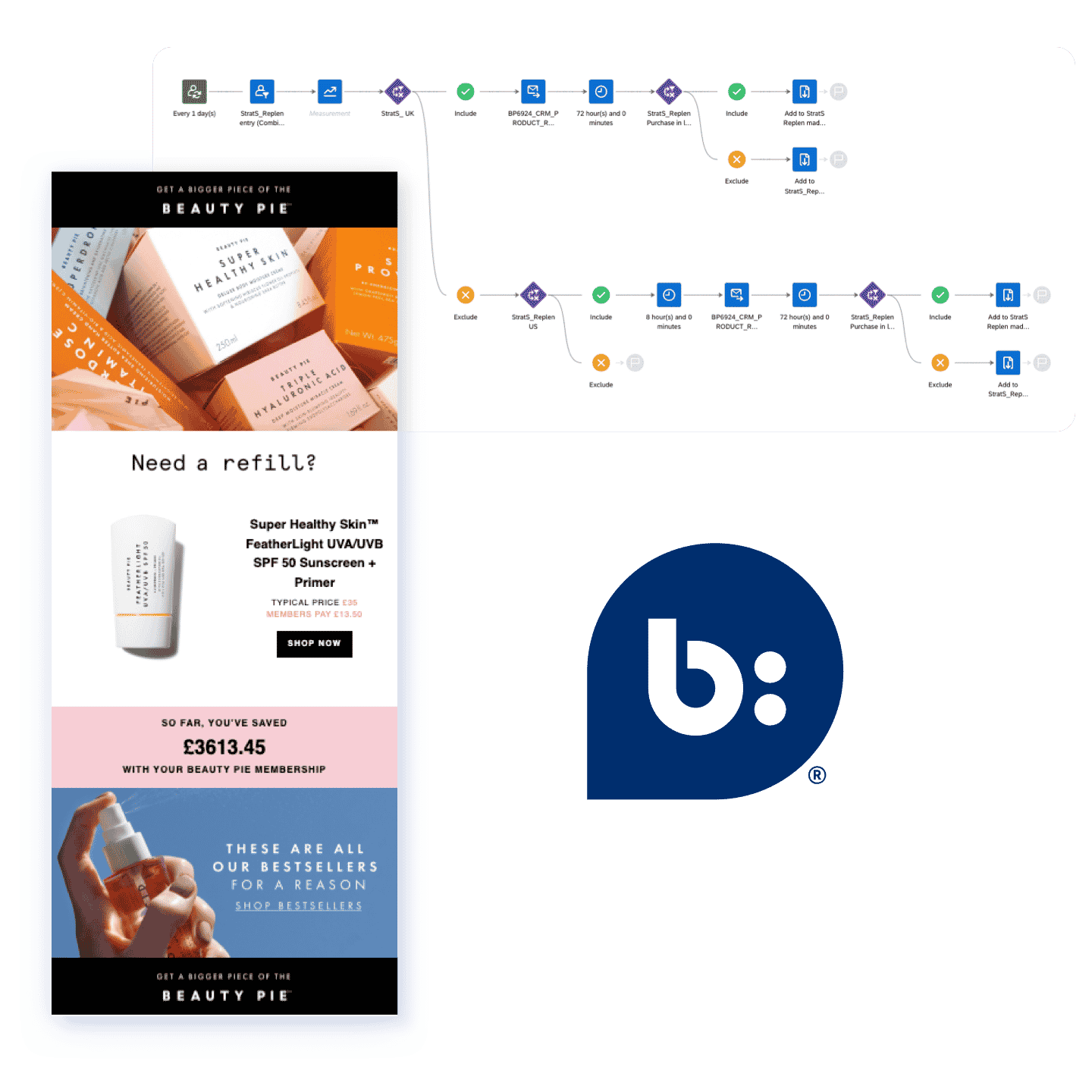 Profiling of skin type
By leveraging the ability to collect zero-party data via email engagement, Beauty Pie is able to personalize product recommendations and appropriate skincare kits and routines for members.
Hear their story
Automating follow-up on a beauty consultation
Using Emarsys forms, Beauty Pie consultants trigger personalized emails based on the products discussed in their 1-to-1 consultation. This enables personalization to continue after their consultation has ended and supports customers and members in a seamless shopping experience.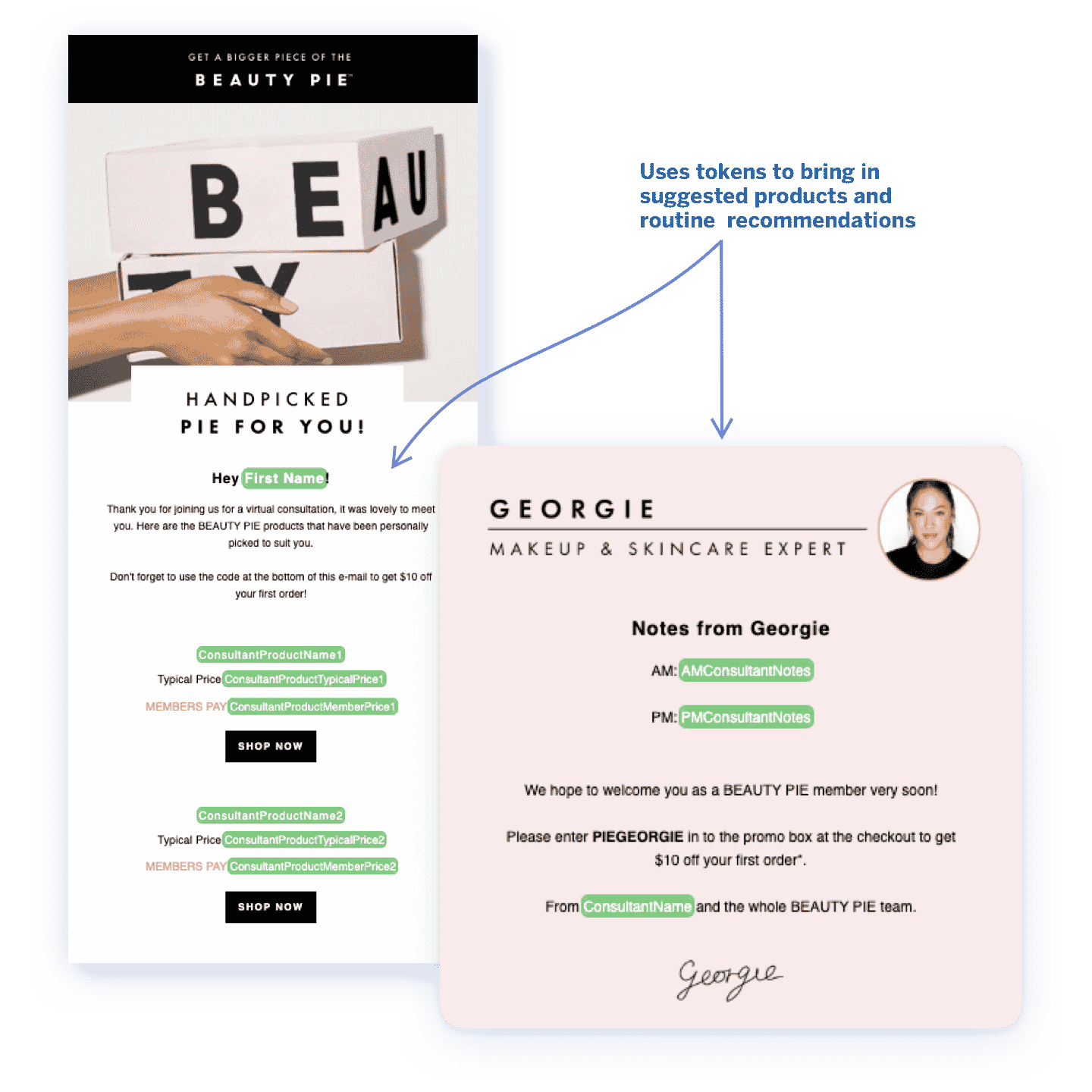 The Impact
By using multiple data integrations with Emarsys, Beauty Pie can enhance their segmentation, test strategies, and rapidly deploy automation to unlock a better experience for their members. With well-designed campaigns like replenishment and nudge driving revenue for the business, the team is able to focus on advancing and scaling their strategy.
35%
email revenue attribution
+88%
in revenue driven by automation year on year (20/21-21/22)
+32%
in web traffic via email clicks in one year
Emarsys's Strategic Services Team is an extension of our CRM Team here at Beauty Pie. This gives us more bandwidth to focus on initiatives that align with our OKRs. Having them on hand to challenge and bring in the expertise of how they've done it before with other brands has really helped us reshape initiatives and challenge the thinking of our approach.
Deliver the


predictable, profitable

outcomes that your business demands with our omnichannel marketing solution
Request a Demo