A 2020 McKinsey survey revealed that "Only 15% of CMOs believe their company is on the right track with personalization. Today's personalization leaders have found proven ways to drive 5–15% increases in revenue and 10–30% increases in marketing-spend efficiency — predominantly by deploying product recommendations and triggered communications within singular channels."
Marketers just need the right tools to make personalization work for their brands.
According to studies, web retention and e-commerce personalization are on the decline, but there's ample opportunity for growth by using web push alerts. Hootsuite and We Are Social found in a 2019 survey that we're averaging 6 hours and 42 minutes online each day — with half of that coming from activity on mobile devices. Overall, Instapage found in a survey of retailers that personalizing web experiences creates a 19% uplift in sales.
With that in mind, you have a growing opportunity to capture users' attention when they're actively scrolling on your website or app. How? By employing personalized web push notifications to capture customers' attention.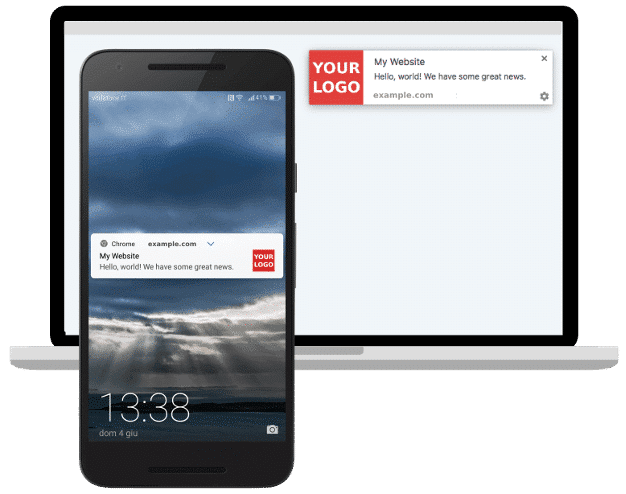 Real-Time 1:1 Personalized Web Push Alerts
Web push supports personalization, unlike typical standalone solutions that have stripped down batch-and-blast capabilities. It's integrated with automation and interactions, offering true real-time delivery of push notifications. Unlike batch emails that often fail to deliver or end up in spam folders, web push notifications are instantly sent to users and have a conversion rate 30 times higher than email. You're also able to send notifications even when the users are not active on the website, helping you capture mindshare.
By opting in to receive push notifications, your users can receive messages like new sales alerts. The advantage of opting in is that they have earlier access than the general public.
To see eight real-world examples, check out this piece written by PushEngage explaining how push notifications helped to increase traffic and revenue.
Advantages by the Numbers
Unlike mobile push notifications, web push notifications allow you to reach users even when they aren't active on your website in their browser.
You don't need their contact details either — a user simply has to visit your website and click "allow" on your pop-up to receive these notifications. The benefit of this is not needing an app to reap the benefits of native push notifications like on mobile devices.
Additionally, users are more likely to opt in to these notifications than to emails because they don't need to enter personal information, and unsubscribing is simpler than going through settings on their phones. They're also less likely to unsubscribe or opt out when initially prompted, with studies finding that fewer than 10% of subscribers who originally opted in for notifications unsubscribed within a year.
Using an Integrated Solution for Web Channel
Marketers can create cross-channel programs that include web push at any stage. It supports real-time triggers and smart segments, allowing marketers to use cases that maximize real-time web behavior and lifecycle segments.
Of the users who opt in, more than 5% engage with web pushes. Android users were the most likely to opt in, with a rate of 91.1%, while iOS users had a 43.9% opt-in rate and web users only 10%. When compared to email marketing, opening rates are 50% higher for click-throughs in these scenarios.
To capture those large audiences using iOS and web, marketers must provide a reason and call to action for users to want to subscribe to push notifications.
You will likely only have one chance to get your customers to quickly and easily subscribe to notifications; otherwise, they would need to manually allow the web pushes in their settings menu.
Typically, an instant notification when a customer first opens your app or website results in a majority of users clicking the "block" button without even reading it. To avoid this, we suggest giving users more time to explore in the app or website before the prompt appears. Ensure your call to action appears along with a reason to subscribe, like real-time deals.
Along the same lines as push notifications, in-app messages can also make an impact on mobile users when they open the app. Customize the look of these messages to be most effective for your audience, like a guide to resubscribe if they declined the initial request for an opt-in. This establishes trust with your brand. It's also wise to keep the language in mind for the region your app is widely used, especially since it has shown a 20% increase on opt-in rates.
Here are the most popular web push notification use cases:
Abandoned cart
A user has added items to their electronic cart but hasn't taken action and leaves the page. Studies show 75% of users are likely to complete the purchase when notified of the abandoned cart
Expiring deals, vouchers, or points
Alert users that current deals will expire in the next seven days or that current promotional items like points will soon expire. This activates the fear of missing out (FOMO) feeling.
Sales notifications or "new content" messages
Convince users to open your app or website because a new deal has appeared that appeals to them. You can also simply share new posts, videos, or other kinds of content in a non-invasive way.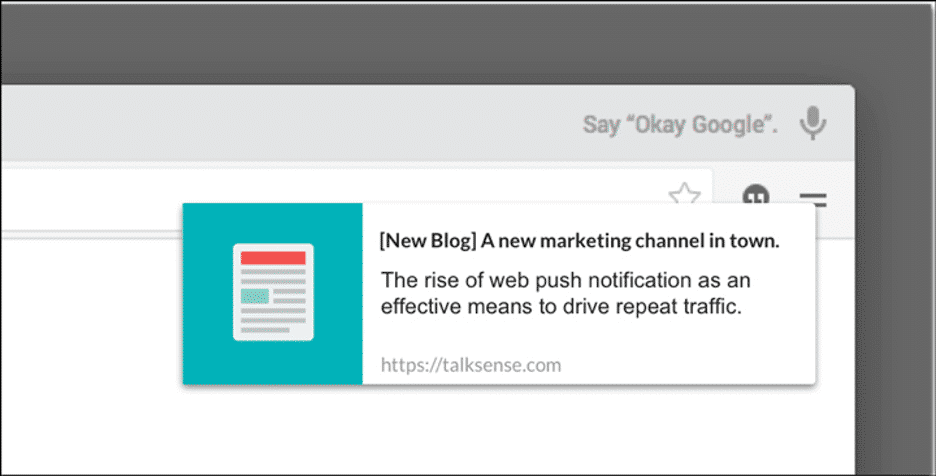 Lifecycle, loyalty, and brand notifications
Users who opt in are more likely to complete purchases when they feel they are part of something exclusive; this will also increase their brand loyalty.
Rewards and activity-related updates
When a user views a product, opens a post or article, or spends enough time on a single page, a notification pops up that relates to their experience on the current page.
Product announcements
Build anticipation for a new product by sending alerts reminding users of an upcoming opportunity to take action by selecting the notification.
These scenarios prompt an instant call to action to the user, creating urgency to buy now.
Offering messages that are helpful for the customer is shown to increase both purchase and repurchase rates, along with a 20% increase in cart sizes. By using these notifications, "15% of retailers saw 100–300% increase in new customer conversions. 41% of retailers saw 50–100% increase in cross-selling revenue," according to the McKinsey study. The challenge lies in making sure the personalization is relevant and not too generic, but at the same time, not so personal that it comes off as creepy.
A Segment survey found that 44% of consumers are likely to return for repeat purchases after a personalized shopping experience. They were also more likely to purchase a product they didn't initially intend to buy based on a personalized recommendation and 40% of users said they purchased a more-expensive item after receiving a personalized notification.
Conclusion
Establishing a relevant and effective strategy to employ web push notifications takes time because marketers must gather, integrate, and synthesize data, but doing so has shown a 5–8x improvement in return-on-marketing spend.
The only sure way to figure out where you should add your subscription notification is to check the analytics of your current push notification opt-ins. After you gather enough information to know where users spend the most time before taking action and your demographic, test the waters by adding those opt-in messages and see how users respond. Users average about three minutes on an e-commerce website, so make it count.
Handpicked Related Content:
➤ Join Nick Odom and Courtney Shaffer Lovold for a 20-minute talk on how to Use Web Push To Break Through the Clutter