Recent Emarsys data suggests that 2/3 of consumers remain loyal (and frequently purchase from a brand) due to personalized communications.
If one out of three consumers view their experience with your brand as less-than-relevant and move on to your competitor, personalized marketing becomes a non-negotiable.
In their Magic Quadrant report Gartner recognised 12 vendors in the Personalization Engines space. and SAP Emarsys was recognised as a Leader.
Since personalization is not the kind of thing you want to skimp on — and since we're coming up quickly on next year already — we're piggy-backing off the Gartner research to explore where personalized retail marketing is going.
The following are three personalization trends you should consider implementing soon as indicated by retail leaders who've already done so.
1. An Expansion… of Capabilities and Vendors
The global personalization software market is expected to grow from $6.7 million in 2020 to $1.8 billion by the end of 2025.
The 2020 edition of Scott Brinker's popularized "Martech 8,000" outlines 1,936 vendors who play in the Content & Experience space alone. The AI-enhanced personalization market will grow at a CAGR of 13%.
With so much tech to pick from, already-stressed retailers are on overload.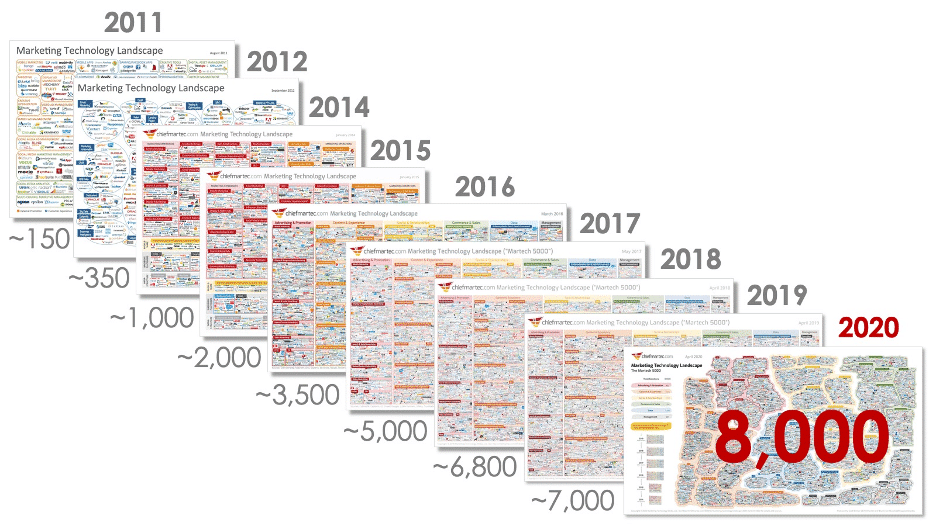 Most of these are also point solutions — tools designed to handle one specific use case rather well as opposed to a holistic omni-channel customer engagement platform.
Nonetheless, the sheer volume of tech and resultant addressable campaigns, content types, and channel capabilities continues rising sharply.
At this point, a marketing teams' main struggle isn't even selling better or scaling bigger… it's sorting through the messy martech maze and fluff to find the best solution for their customer needs.
That's compounded by rising consumer expectations and, of course, rising performance demands.
Don't be reactive (to the market or your customers), but proactive. Get ahead of the curve by investing in AI marketing to enhance personalization. Start by grabbing our 5 Steps to Artificial Intelligence Marketing Adoption guide.
2. Making 1-to-1 Come to Life
Retailers are now making true 1:1 experiences come to fruition… this isn't just something we're prophesizing anymore.
The fact is that three-fourths of retailers' business hinges upon their ability to personalize communications. 72% of consumers will only respond to personalized marketing messages.
Now, there are more than a dozens ways to personalize a single email… and consumers expect it.
Marketers are doing more than using a customer's name in content, showcasing complimentary products to previously-purchased items, or sharing location-specific store hours.
They ensure the entire customer journey (regardless of device, time, or stage in the life cycle) is customized — tailor-made to cater to what each individual is most likely to want based on all available data points.
Going forward, retailers can build closer 1:1 relationships than ever before. After just a handful of interactions, they can say with a high degree of certainty that, for example:
Jayden is going to churn if he doesn't receive a series of SMS and push messages offering a 25% off discount for jeans he buys every 6 months but hasn't in 8.
Elsa, who just joined the loyalty program, has purchased shoes exclusively, and is ready for a multi-touch cadence inviting her to check out other items to complement her attire.
Alan should get emails only when he abandons his shopping cart as he's opted out of all other communications.
Personalization that isn't predictive is likely to be problematic for your company because it'll be the same as what everyone else is doing.
3. Personalized Mobile Experiences (mCommerce)
Email, SMS, Push, and In-App mobile experiences are the next frontier.
According to our research, 75% of US consumers believe that apps don't understand their shopping habits. Meanwhile, 79% of smartphone users have purchased online using their mobile devices in the last 6 months, and m-commerce now accounts for around 73% of all online shopping.
Technologies like MMS (Multimedia Messaging Service), Mobile Inbox, In-app personalization, and geotargeting will soon be commonplace. Whatever you call it — on-the-go shopping, real-time interactions, or "commerce-anywhere" — consumers are officially and forever in charge of their brand interactions. They decide how to interact and not us, as marketers.
That doesn't render CX teams meaningless or reactionary; quite the opposite. It means we get to play purveyor of those special digital moments — curating, creating, and even predicting what kind of 1:1, content-first experiences each user has.
Now that marketers have improved capabilities for targeting and personalization, they can tap into consumers' attachment to their mobile phones in a way never before possible. You have a direct line of communication to your customers wherever they are, so use it to create meaningful relationships.
Final Thoughts
These three trends are not only important for marketers wanting to personalize their customers' experience, but all retailers who simply want to drive ongoing business in the future.
But, of course, it's a matter of piecing together your individual customer's experience with the right tech to match.
Our job is to support your personalized marketing initiatives… but it's yours to take the steps to make it a reality for those you serve.
➤ See where vendors placed in the 2021 Gartner® Magic Quadrant™ for Personalization Engines!