It was a mobile experience I won't forget.
I tried buying dress pants off a major retailer's mobile site. But I couldn't. The site didn't let me add the pants to my cart. Kept tapping the screen but nothing happened. I gave up… jumped to the competitor's site and bought there.
This negative experience pushed me away, and your customers may feel the same way if they have a bad experience.
They may abandon your brand, jump ship, and purchase from your competitors.
Keep reading to find out how you can protect customers from negative experiences, offer memorable interactions, and build customer loyalty.
1. Make convenience a priority
It's the new norm for grocery stores, supermarkets, and some retail stores. Buy online, drive to the store, and employees load your purchase into your vehicle.
No need to step inside the store. No more wrangling a child or two, or three… or more into the store. This is convenience.
The 24/7 gym member access.
The mechanic who comes to your garage.
The nurse who visits your home.
Food delivered to you from any restaurant in town.
In the age of immediate gratification where access to movies, music, apps, and games are just a click away, you have to get your product or service to customers as quickly as possible.
2. Provide a seamless experience for customers
There I was in the middle of my morning routine, brushing my teeth when suddenly I remembered to order a new toothbrush. So, while brushing away, I opened the website on my phone, selected the toothbrush, and paid with Apple Pay. That was it. I didn't have to fill-in my address, or my credit card number, my shipping address… Apple Pay filled in all my information. A frictionless experience.
Your customers want the same mobile experience. Take a look at the Walgreens mobile app.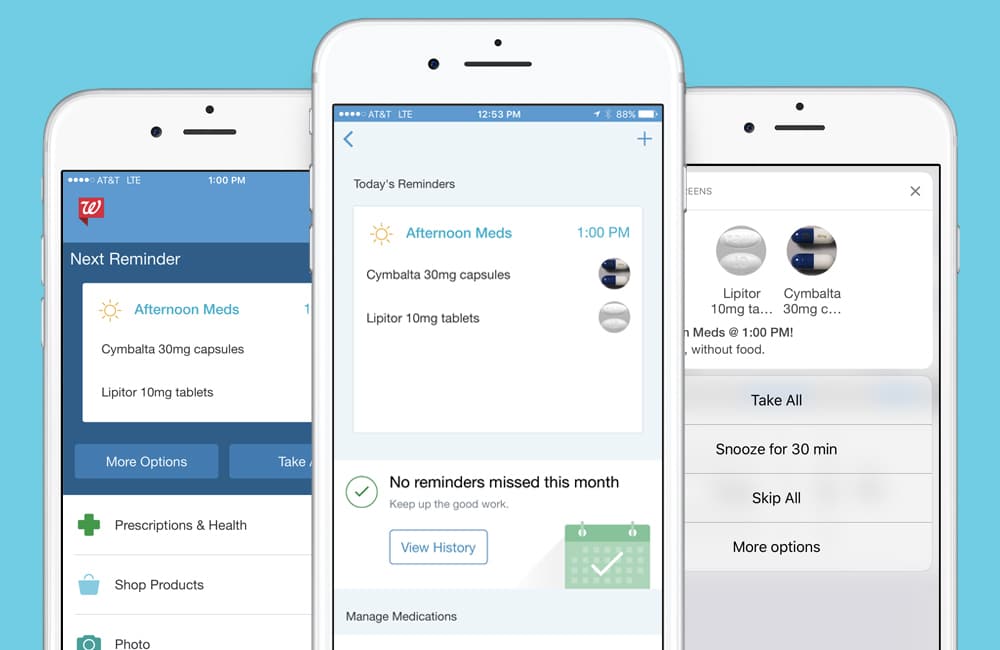 Customers can:
Refill prescriptions in seconds and set alerts for pickup.
Clip coupons and track rewards.
Video chat with a live doctor.
Use the iPhone wallet to store the loyalty rewards and use Apple Pay at checkout.
---
Want to increase your customer lifetime value by 306%? Find out more in the Customer Loyalty Whitepaper.
---
3. Communicate with customers
There's a trick you can implement right away to make your company even better. It costs very little and customers would love to help out.
What am I talking about? Feedback. A way your company becomes better is by asking customers how you could improve service.
I remember an experience at a local restaurant. I paid the bill and my receipt had a massive QR code. I scanned the code and my webpage opened up on my phone with three simple survey questions. I spent maybe two minutes on the questions. The restaurant owner emailed me the next day thanking me for the feedback.
Customers would love to share their experiences. Ask them and make sure your company is willing to make things better… to make the requested improvements.
4. Solve your customers' problems
Customers want their problems solved. Maybe what they bought isn't working, or maybe they have a question about service. Either way, they need answers.
According to a recent Gartner survey, only 9% of customers had their problems solved with self-service.
Phone, email, online chat, social media… these are the different channels buyers use to reach customer service. What does this mean? You need qualified and well-trained customer representatives to solve your customers' issues. Automation helps if you have the right answers in place for customers, but a real person on the customer service line creates a frictionless experience.
5. Develop a unique customer loyalty program
You have loads of customer data you can use to create a loyalty plan.
You could copy what the competition does… or you can stand out from the crowd with a unique loyalty plan.
Create a unique experience for your most loyal customers, provide access to a new product or service, give away VIP access to an event, and much more. Make the experience as personal as possible.
You can quickly set up your loyalty program with the Emarsys Loyalty module. There are several pre-built tactics so you can start offering various rewards to customers.
Final thoughts
Customer loyalty is more than a program. It's about connecting with the customer on different levels to provide the best experience.
Convenience combined with a simple mobile experience backed by great customer service is powerful. Be sure to make it super simple for customers to buy from you, provide great service, and create a frictionless process.
Handpicked related content:
---
Did you know that just a small change in customer loyalty can have a major impact on your bottom line? Find out more in the Customer Loyalty Whitepaper.
---