As a so-called millennial (and marketer) myself, I'd like to think I have a somewhat distinct perspective on what it takes to actually create and maintain a loyal millennial customer. But I wanted to dig deeper — so I dove in and asked a few millennials to share their thoughts.
As of 2019, this demographic of 23- to 36-year-olds requires an interesting and engaging brand experience.
There's a huge opportunity here, especially on mobile and when moving from online to offline. According to Retail TouchPoints and Groove, 68% of millennials desire a combined online and offline brand experience. 96% view their mobile devices as the most important items in their lives, so it's no wonder that they expect seamless experiences from brands.
Tapping into the Millennial Mindset
As if to perpetuate the "stereotypes," here are a few common loyalty-related statements you might hear from the mouths of your millennial audience from time to time:
"I don't want to buy the 700-channel package when I only watch five — I want to buy only those five."
"I want to be able to browse your online store in-app while flipping between Instagram and texting my friends… and then buy with a click of a button when I'm ready."
"Oh yeah, one bad brand experience, and I'm done. On to the next!"
Millennials also want to identify with the brands they buy from. This segment wants their voices to be heard, and, as a group, they are not afraid to voice any dissatisfaction in the loudest of ways (whether on social networks, Yelp, Google Reviews, or with your customer support team).
So while getting a first-time purchase from a millennial isn't actually all that difficult, earning their trust, encouraging repeat business, and driving customer loyalty is extremely challenging.
The good news is that millennials will also be your best advocates if you treat them right. So, what does it take to create loyal, high-spending, actively buying millennial customers? Here's three tips.
1. Understand the activities and rewards your millennial audience prefers – and deliver
Millennials are tired of old-fashioned online ads. They install ad blockers at a higher clip than any other demographic — two-thirds use them for a smoother browsing experience.
A change needs to be made as we move from interruptive advertisers to experience creators. That change means you have to meet millennials where, when, and how they choose to opt-in for experiences with your brand.
When it comes to loyalty programs, it means creating omnichannel accessibility and, especially, understanding what kinds of rewards this audience likes — which will depend on your business model, your goals, and what you have to offer. While a fashion retailer might help their millennial audience accumulate points for redeeming, a travel company might provide free flights every so often.
"It's hard to get millennials' attention with all the content out there. You have to focus on rewards that resonate with what this demographic wants. For us, it's free flights to the most exciting destinations in the world. Millennials will jump at the chance to tell their friends about this kind of thing. That's how you go viral — give the people what they want and what they care about. If you take these steps, you'll find yourself with an 80% referral rate among your audience." — Jesse Neugarten, Founder, Dollar Flight Club
American Eagle, for example, rewards loyalty members with a point system: for every 1,500 points amassed, members get a $10 or $15 (for extra access members) certificate to use. For every dollar you spend, you get 10 points — which creates a perception of greater value than most companies who simply offer $1 for one point.
Use case: Marvel
Take a look at the Marvel Insider program.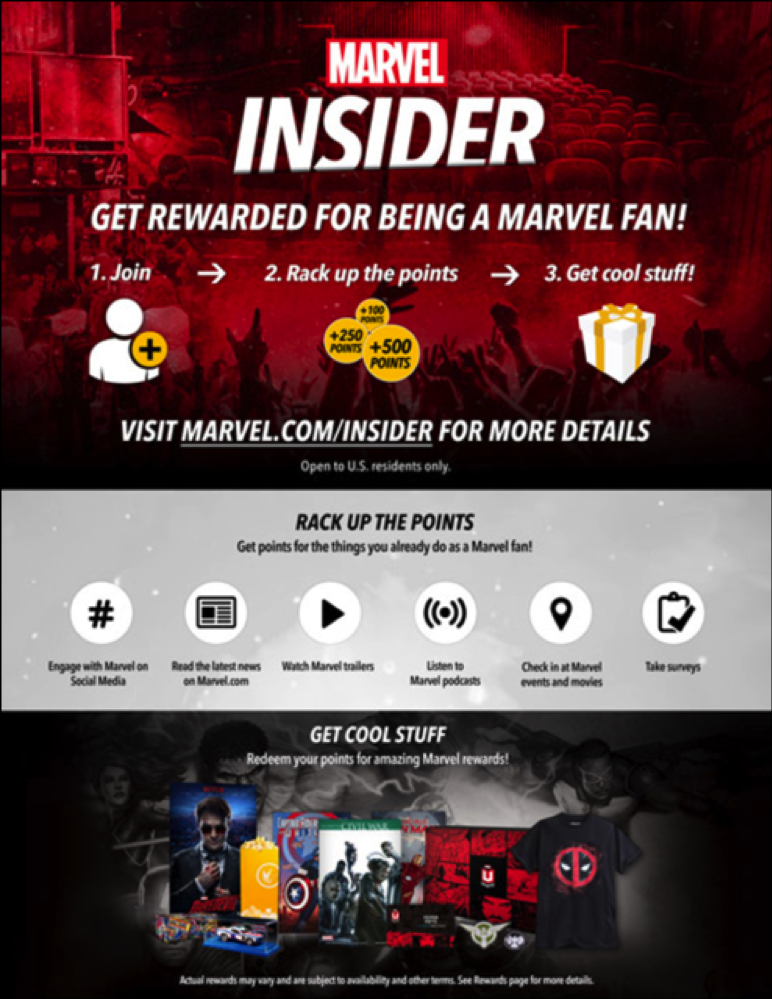 With their loyalty program, Marvel rewards customers who connect their Twitter, Facebook and Foursquare profiles, and those who follow Marvel on Snapchat. They even reward fans for watching video trailers for their upcoming movies and give away points for checking in at Marvel's live events. This is what I call the perfect combination of great online and offline brand experiences!
2. Give cutting-edge offerings, creativity, convenience, and customization with your customer loyalty program
The right mix of cutting-edge, convenience, and customization/personalization will put you a step ahead of the crowd.
Specifically, you need to master the following to keep U.S. millennial consumers engaged with your loyalty program:
Being there when they need you but otherwise leaving them alone (convenience)
Keeping them on the cutting edge of services, products, and new developments
Personalizing both channel interaction AND product/preferences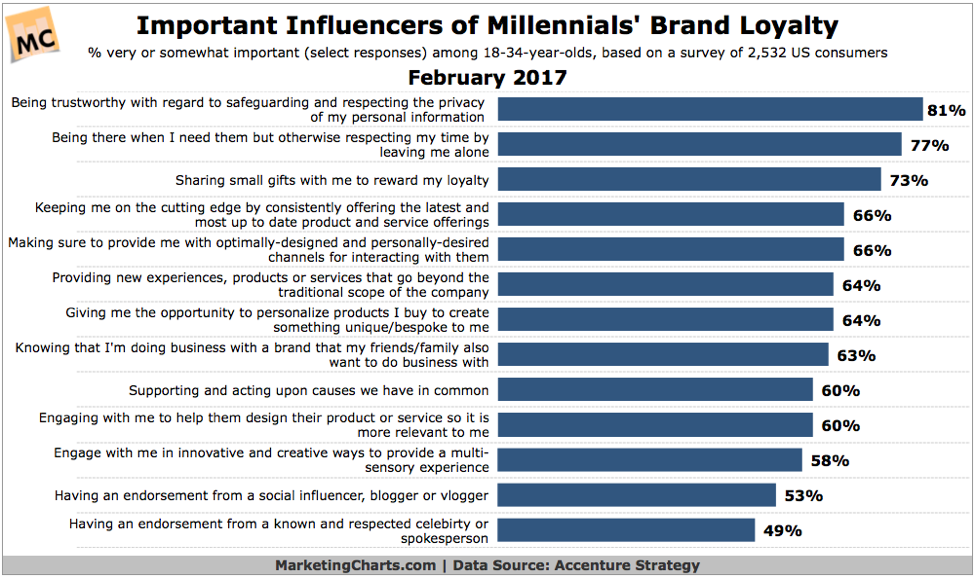 Brands that can truly be omnichannel and give millennials a personalized experience will win.
"With the Millennial generation — and the growing Generation Z — speed and simplicity is crucial; so while it may be more complicated and time-consuming to set up rewards via email (or even within your [connected] mobile app), it will be more than worth it!" — Joe Perin, Promotions & Marketing Manager, Indianapolis Symphony Orchestra
3. Take advantage of any cause-related campaigns and watch millennials take advantage of your incentives.
Jumping on popular social movements is a strategy that's worked well for connecting to millennials. Millennials genuinely care, more than any other segment or generation, about what the brands they buy from stand for — whether sustainability, human rights, or environmental betterment.
Which social efforts, generational movements, or cause-related ideas are sparking a growing flame among your millennial buyers? Social causes present a great opportunity to align your brand with things that customers care about outside of your products and services — it's a win-win-win.
"When it comes to loyalty programs, perks and rewards are far less important to me than feeling a sense of shared purpose, appreciation, and belonging. I'm much more likely to engage with a brand that genuinely cares about — and takes care of — its customers, employees, and community." — Erica Marois, Content Manager at UBM plc
39% of millennials are willing to do their research on a company's sustainability efforts before making their purchase. Furthermore, Access Development found that 4 out of 5 millennial customers said that they are more likely to purchase from a company that supports a cause they care about.
Use case: TOMS Shoes
TOMS has literally built an entire business around this idea of supporting causes that customers care about — for every product you purchase, TOMS donates a pair to a person in need.
The brand also creates other ways besides purchasing for members to earn rewards, including interacting online and sharing news about the brand. TOMS is as much of a humanitarian group as a retail company.
If you give the impression that all you're out to do is make money, millennials will sense that and turn away. But if your brand is all about making the world a better place — now that's a train we can all jump aboard.
➤ Pro Tip: You can also set up a reward opportunity within your loyalty program so that when a customer makes a purchase, they receive points that they can spend on donation opportunities. You can also give a portion of proceeds to a charity organization if you can't quite be one yourself (like TOMS is), or create finite campaigns where you match customer purchases by partnering with charitable organizations.

Final Thoughts
Two-thirds of millennials sign up for rewards/loyalty programs to receive discounts or earn points for dollars spent. At the end of the day, you've got to offer them more bang for their buck — and deliver timely, relevant, personalized experiences while you're at it.
When you also incorporate the sort of intangible aspects — creating an emotive experience and aligning yourself with a movement that they care about — you take your brand and loyalty experience to an elevated dimension where millennials prefer to live. Make that experience blissful, and they're yours for life.
Handpicked Related Content: