The Business
Launched in 2001, Adore Beauty is Australia's first cosmetics retailer to sell exclusively online. The business has grown over the past two decades and now carries 11,000 products from more than 200 brands, including high-end department store brands, professional salon brands, hard-to-find cult brands, and everyday affordable brands.
E-commerce, Beauty/Skincare
Australia & New Zealand
100-200 Employees
876K Active Customers
The Challenge
Maintaining leading CX
Fostering loyalty and increasing retention
Driving second purchase
Although Adore Beauty was already ahead of the pack in terms of personalization, to remain competitive, the brand needed to stay on top of their customer experience. When Adore Beauty first launched, they invested in customer acquisition to gain market share, and as customer retention became a key objective, they gradually built lifecycle automation. However, over time their user journeys became disjointed and did not always take into account the customer's experience as a whole.
The brand also experienced a surge of new online customers during the pandemic, but as retailers began re-opening their physical locations, there was a risk that customers who still preferred a brick-and-mortar shopping experience could churn. Adore Beauty needed to fully capitalize on this with a solution to engage and retain newly acquired customers. The brands also saw an opportunity to better engage their growing segment of customers who had only purchased once or twice.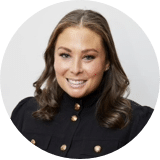 Miranda Bliss
Head of Loyalty and Retention
"During Covid, we acquired a significant number of new customers, and now more than ever, retention was critical. The launch of the Emarsys loyalty add-on allowed us to deliver a loyalty program in a very timely and cost-effective way, while seamlessly integrating into each cross-channel engagement to enhance relevancy and personalization for our customers."
The Solution
With help from the Emarsys Strategic Services and Client Success Teams, Adore drove adoption of their loyalty program, taking their marketing strategy to the next level.
Delivering a Leading Experience
A brand can't foster loyalty without first focusing on delivering positive customer engagement through relevant content and experiences. Adore Beauty set out to further improve theirs by creating new templates and cross-channel journeys that delivered more inclusivity and clearer information. Adore designed their emails to provide all the benefits and information a customer might need. Their Welcome Journeys were improved to include Adore's unique selling points upfront, which kept customers engaged for longer in the journey.
With email, web, and mobile channels natively integrated into Emarsys, Adore Beauty was able to personalize their customers' experience before, during, and after shopping with the brand using targeted blocks, web personalization, and CRM ads. This gave the customer information about tailored beauty tips or recommended products based on what they have been recently browsing or purchasing. Personalized product recommendations were integrated into every email, with a 'Your personal edit' block, to drive positive experiences and revenue.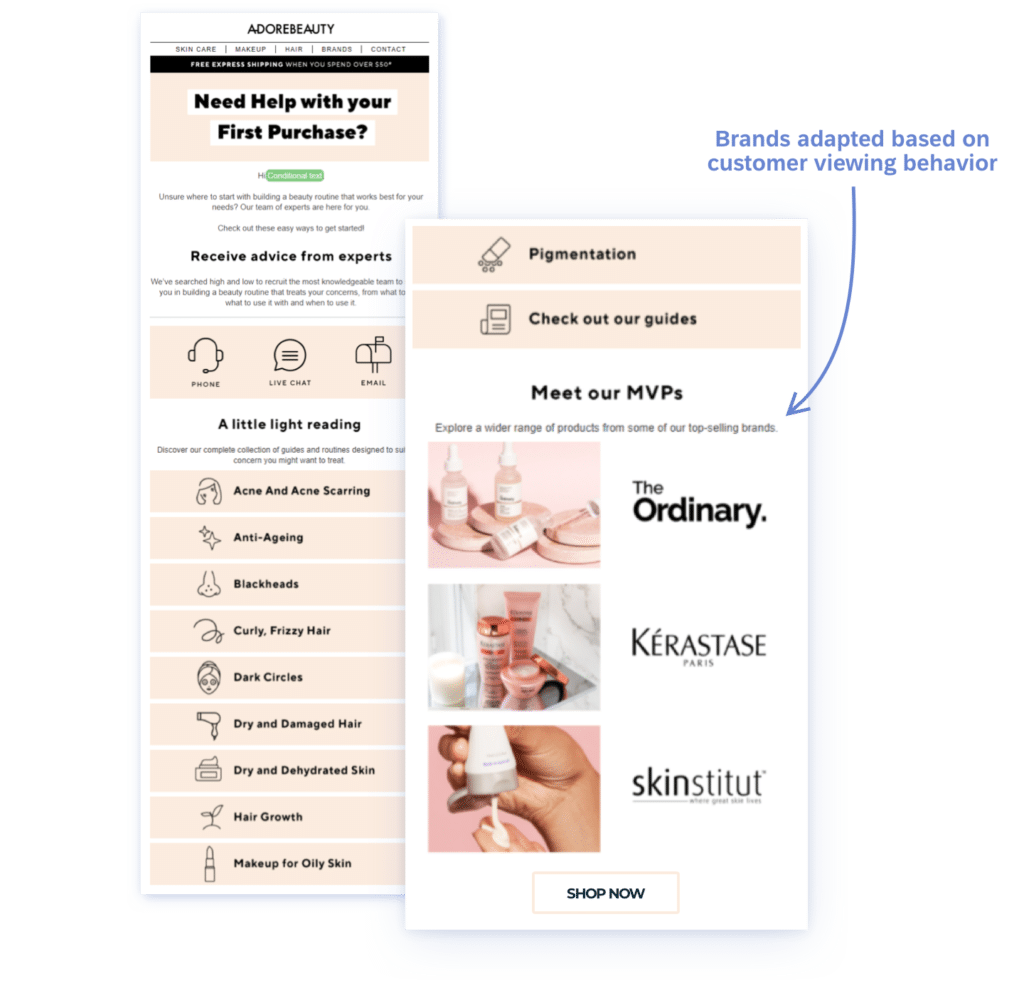 Targeted blocks displayed the best category based on customer affinity/browsing behavior. MVP brands would be updated if browsed by the customer.
Adore Beauty improved the effectiveness of their BAU lifecycle journeys by mapping out the full scope of their automation, scaling their journeys back, and focusing on the ones that would deliver value to their customers. Using Emarsys' insights, they focused on strengthening their first- and second-purchase stimulator and the win-backs to further improve retention. The brand also optimized all of their lifecycle communications and automation to work and complement each other in a logical way for a cohesive customer experience. Adore Beauty worked closely with the Strategic and Production service team in rolling out this significant make-over of their lifecycle communications.
Taking CX from good to great by integrating a loyalty program
Alongside their ambitious and successful revamp of the lifecycle communications, Adore Beauty developed a very exciting Loyalty plan and had very ambitious timing for rollout. The Emarsys Services team worked hand in hand with Adore Beauty in project managing implementation of the plan in Emarsys, and rolling out a phased launch to drum up excitement amongst their existing customers. Together, they rolled out over 20 automations across two accounts in the space of just a few months.
Adore Beauty used Emarsys' Loyalty product to launch a spend-based loyalty program, where customers unlock benefits such as birthday or anniversary rewards, free shipping, exclusive promotions, and access to money-can't-buy experiences based on their 12-month spend.
Using dynamic loyalty blocks, Adore Beauty was able to drive engagement in a way that added contextual relevance to every email. Loyalty customers would receive different rewards based on where they were in their loyalty journey, encouraging them to make their next purchase, whether it be to maintain their current level or move to the next loyalty tier.
Personalized Loyalty Banner
Level 1 Loyalty Members get a dynamic, personalized header to show how much they need to spend to either maintain their loyalty level or unlock Level 2, along with offers relevant to the customer.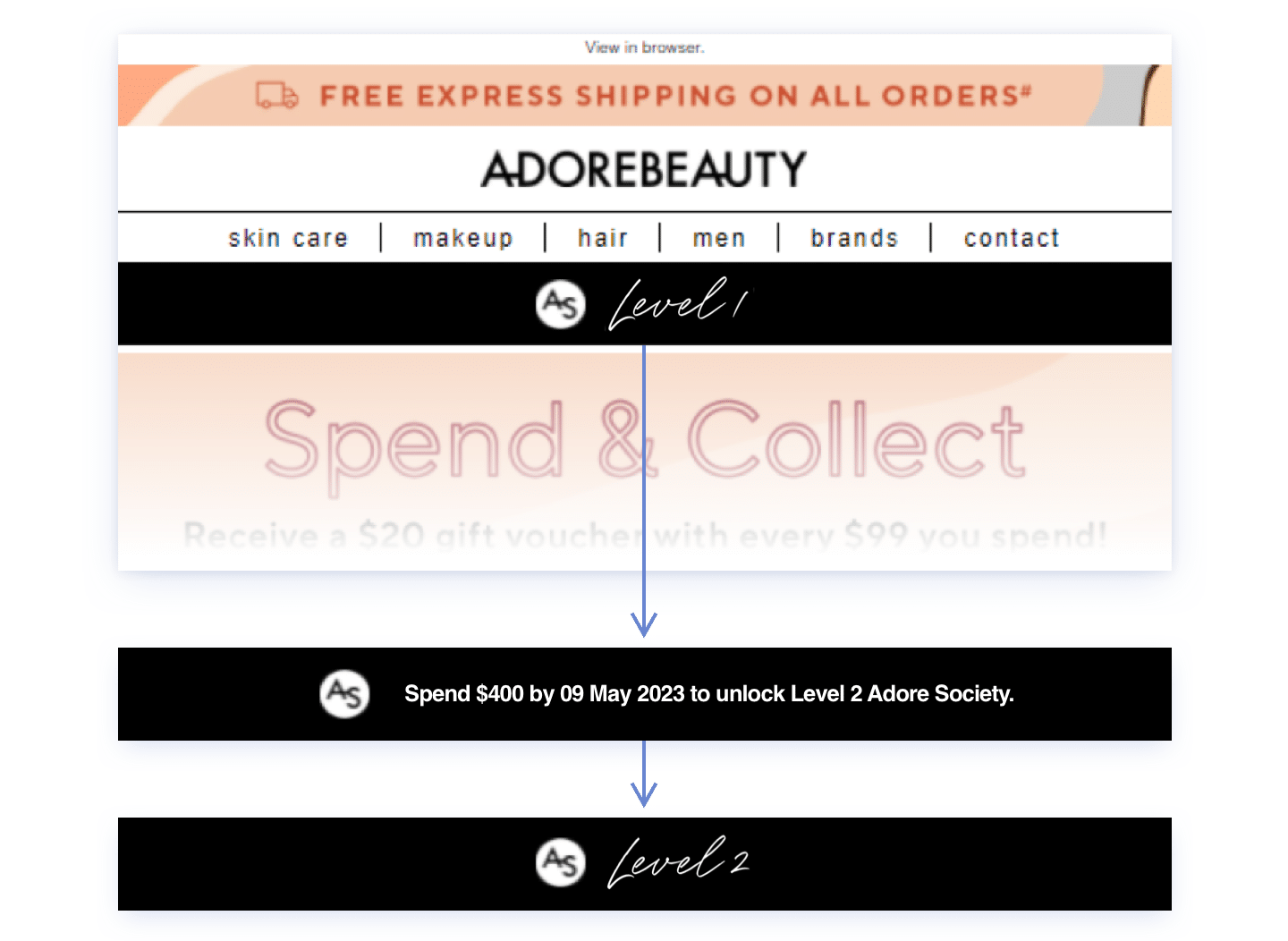 Fully-Integrated Loyalty Program
Adore Beauty used the Emarsys Loyalty API integration to power their loyalty program through the Adore Society rewards page. Here, loyalty members can see their current yearly spend and understand how far they are from reaching the next level. They can also receive personalized voucher codes, and gain additional benefits when they refer a friend.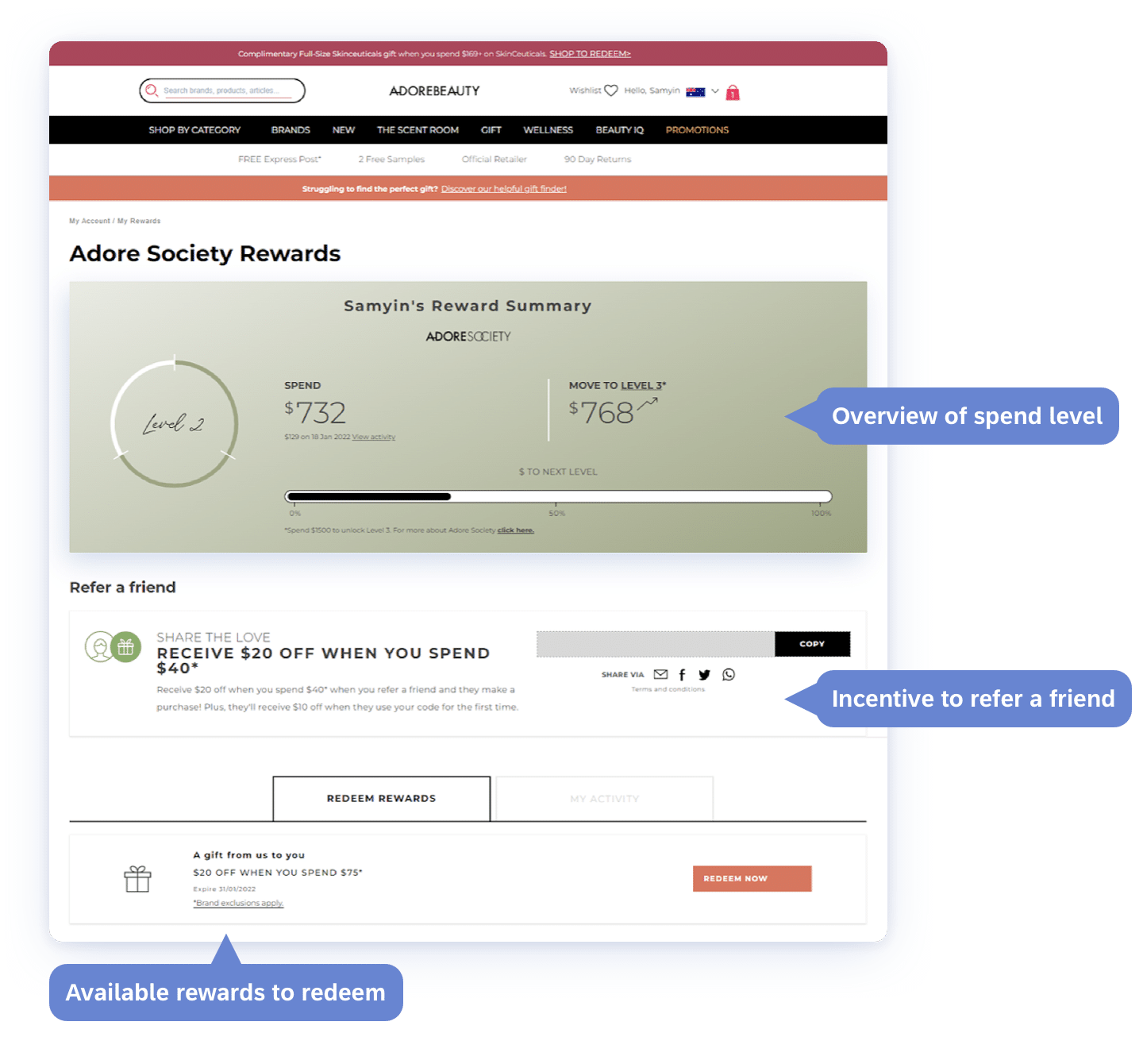 Loyalty Drives Contextual Relevancy
Adore Beauty weaves loyalty throughout their omnichannel experiences with high-quality information to guide customers through the buying journey, inform them of benefits, and help them find the right products.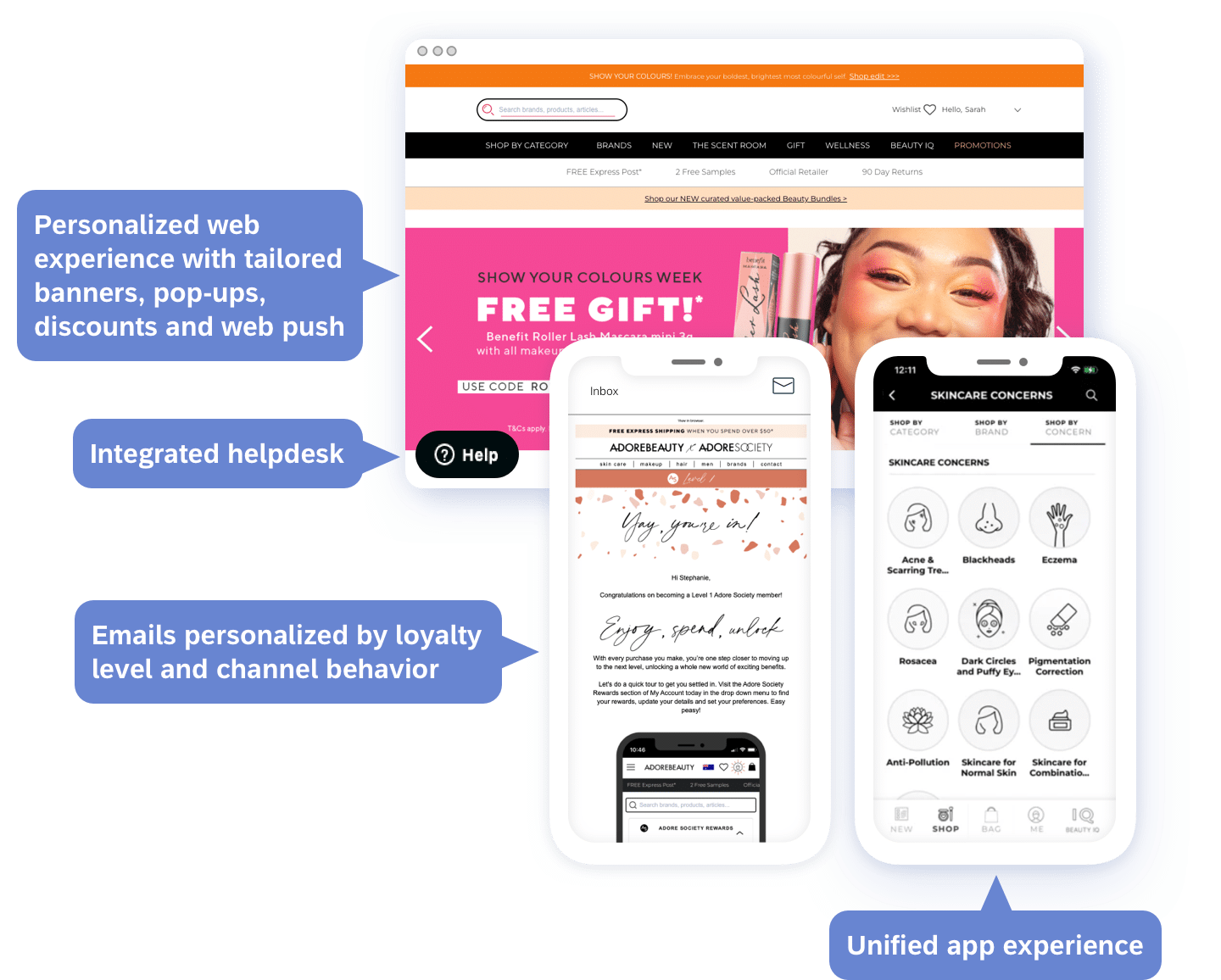 Integrated Data Gives Transparency
By using a loyalty program integrated with Emarsys' data engine, Adore Beauty is able to understand the impact their program has on overall loyalty growth. Trends in average order value, number of purchases, and enrollment of loyalty members are all tracked in Emarsys' pre-built loyalty dashboard.
The Results
With service from the Emarsys support team, strategic services, and client success, the brand drove up adoption and took the marketing strategy to the next level. Adore Beauty was able to not only launch a highly successful loyalty program, but also seamlessly integrate it into their overall marketing strategy, earning industry recognition as a finalist for Inside Retail, Power Retail, and International Loyalty Awards for Loyalty Program of the Year.
These results are testament to how a brand can elevate customer loyalty beyond points and prizes. By integrating a loyalty program with an overall focus on personalization and positive customer experiences, brands can add powerful and influential relevancy throughout the customer journey, and keep customers engaged with extra benefits, reminders, nudges, and personalized content.
+47%
revenue and +43% active customers in the last 2 years
80%
of revenue from returning customers
5.5x
customer lifetime value over the customer acquisition cost
+56%
Returning customers compared to previous year
71%
of revenue from returning customers who order 3x a year
>95%
of most valuable customer tier was captured by loyalty program
"Customer confidence is one of the key pillars of every successful business. We show reciprocity to the customers willing to share their zero-party data by delivering a more tailored and relevant experience."
Deliver the


predictable, profitable

outcomes that your business demands with our omnichannel marketing solution
Request a Demo