The Business
Founded in 1985, City Beach has established itself as Australia's premier lifestyle fashion retailer. Today, the business has expanded to 68 physical stores and a thriving online business that serves a global audience.
Retail & E-commerce Apparel
Australia
Founded in 1985
Products from over 300 global and local brands
City Beach has grown their database to roughly 3M+ contacts representing a wide range of customer segments and demographics, and boasts a devoted base of customers that return to the brand time and time again to purchase for themselves and their families.
The brand realized that, with so many returning customers, they had an opportunity to cultivate greater customer loyalty and nurture long-lasting relationships by launching a dedicated loyalty program. Not only would a loyalty program increase customer retention, but it would also allow City Beach to capture vital customer data and insights from both online and in-store shoppers to help connect the online-to-offline shopping experience, fuel scalable data-driven personalization, and drive customer lifetime value.
The Challenge
Connecting the online to offline shopping experience
Scale personalization and retention through loyalty
Increase engagement beyond just AOV and purchase frequency
Prior to launching the SAP Emarsys loyalty solution, City Beach was looking for a way to effectively increase their average order value and purchase frequency from their most devoted and frequently returning customers. They sought out a solution that could capture rich customer data — including purchase history, zero-party data (e.g., customer preferences, profile information) — and foster greater loyalty from customers shopping online and in-store. They needed a solution to allow them to better tailor personalized experiences for their customers and deliver more relevant engagement using data-driven insights.
"We had a few major goals in mind to launch the City Beach Rewards program, first being increasing our average order value per customer and purchase frequency. It was a natural next step in our customer engagement strategy so that we are touching on all parts of the customer journey turning them into advocates of the brand across our broad range of demographics."
The Solution
City Beach chose SAP Emarsys to help them address their business challenges and launched the SAP Emarsys Loyalty Solution to enrich and enhance customer experiences from online to in-store. The loyalty solution allowed them to better identify customers and capture critical data and insights from customer interactions across every touch point. Empowered with these data-driven insights, the brand could attain a holistic view of their customers, build highly relevant personalized campaigns at scale, better anticipate their customer's next-best action, and ultimately serve customers with the right product at the right time — and on the channels that they prefer.
Driving Loyalty with Omnichannel Execution
To best serve their customers, it wasn't enough to personalize. City Beach needed to meet customers with 1:1 engagement on the channels they preferred, and provide seamless shopping experiences as customers moved across channels. The brand had already mastered an orchestration of email, web, Digital Ads, and SMS as part of their omnichannel communication, but since launching their rewards program, they've expanded their breadth of channels to include Mobile Wallet, helping to make the digital to in-store customer journey more seamless.
Now, City Beach can offer loyalty-based content across all these touchpoints to keep customers engaged and active. For example, the brand offers loyalty program members the opportunity to add their loyalty membership card directly to their mobile wallet, which allows in-store shoppers to conveniently scan their loyalty pass at the point of sale. Not only does this make it easier for customers to rack up loyalty points and redeem rewards, but it also reduces the friction of in-store identification.
By leveraging Mobile Wallet, City Beach can drive greater customer loyalty and increase retention — while also reaching a broader audience of mobile-first customers who value the more unified, seamless shopping experience that mobile wallets help facilitate.
Acquiring, Engaging, and Retaining More Loyal Customers
Sustaining long-term loyalty is one of the biggest challenges faced by retailers. Even loyalty program members are susceptible to the traditional customer journey cycle — which means that, without care and attention, they are at risk of churning or defecting.
City Beach uses the SAP Emarsys loyalty solution to mitigate this risk by offering loyal customers incentives with their purchase. For City Beach Reward customers, they earn points on every dollar spent. Once a customer has reached 1,000 points, they are eligible for a $10 coupon that can be applied to future orders. Other incentives include offering a 20% discount to customers just for signing up and joining their loyalty plan. By offering customers value in exchange for their loyalty, City Beach can retain more customers and secure long-lasting relationships, resulting in higher CLTV.
Another benefit of the loyalty solution is in the form of data. Through the rewards program, the brand is able to capture and track the behavior of customers moving from online to in-store. These data insights mean the brand can identify segments of customers who are most active and highly engaged. With this knowledge, the City Beach team can streamline their workflow and create more personalized campaigns and meaningful incentives that yield higher return on advertising and conversion.
"The Emarsys platform and loyalty solution offered versatile ways of connecting with our customers across dynamic touchpoints. This also provided valuable insights into customer behavior both online and in-store through enriched first-party data.
Our strategy centered around leveraging these valuable customer insights and robust first-party data to drive better personalized experiences for our customers. This experience-first approach led to increased uplift across purchase frequency, store visitation, and conversions."
Connecting the Online and Offline Experience
For City Beach, SAP Emarsys loyalty was the missing link that helped them enhance the in-store experience. With easy-to-scan digital loyalty passes that members can keep in their mobile wallets, it's easier for the brand to identify when shoppers are coming into their stores to complete a purchase. Additionally, the in-store identification helps the brand measure and attribute the impact of a marketing campaign to the purchase, while capturing a large portion of their customers who shop both online and offline.
SAP Emarsys loyalty is also integrated into their POS systems enabling sales associates to open their customers' profiles and provide personalized experiences based on redeemable points, offer tailored incentives, and conveniently send e-receipts. For example, City Beach can extend personalized experiences beyond digital by providing services such as points redemption and communication opt-in while customers shop in-store, furthering meaningful connections and fostering City Beach customer loyalty.
Activate retail and loyalty specific use cases
To drive average order value and purchase frequency strategies, City Beach launched campaigns such as those aimed at getting customers to join the loyalty program, along with welcome messages and those crafted to get customers to complete purchases on abandoned carts.These were triggered to their customers based on engagements and behaviors across web, email, and digital ads.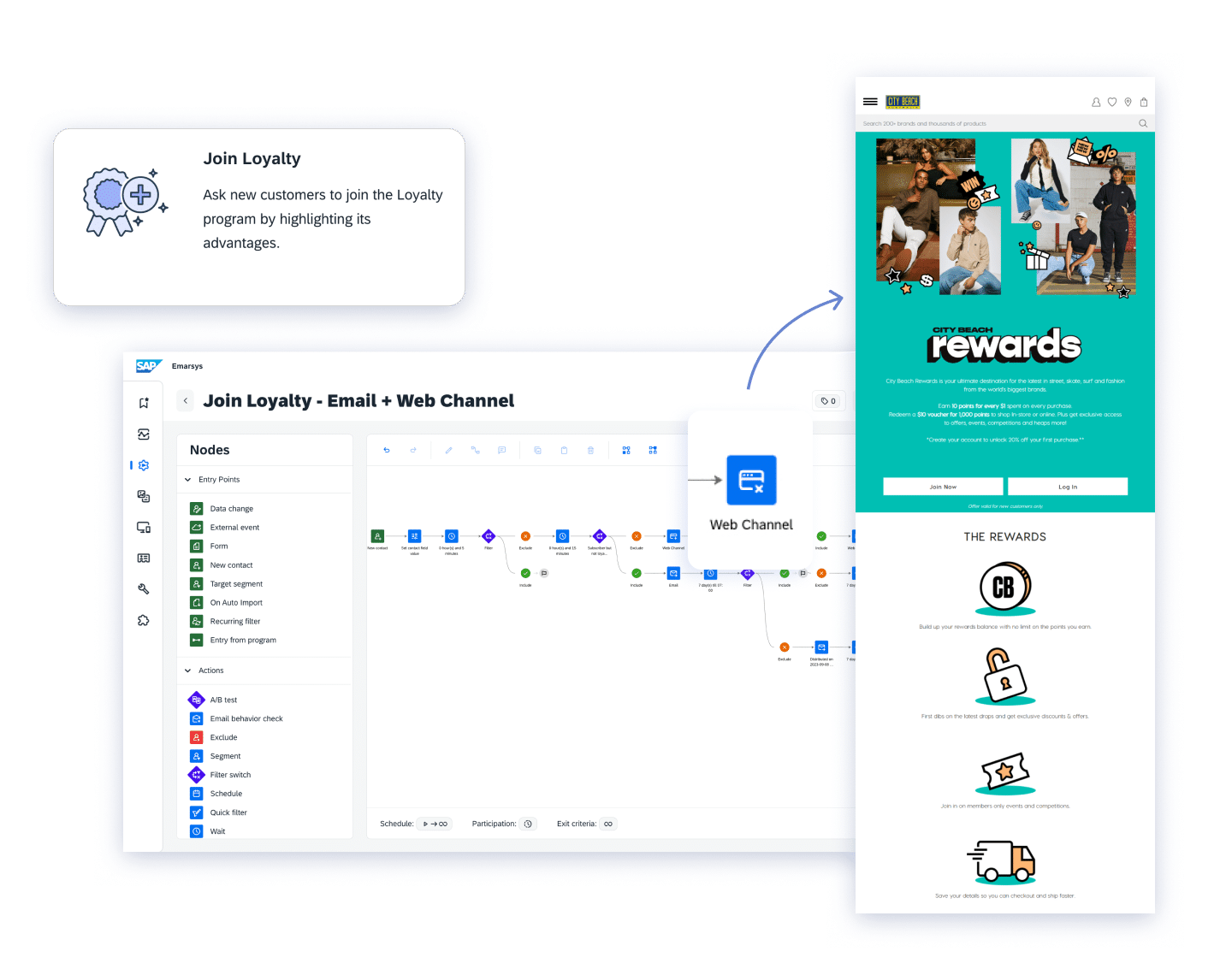 Create highly targeted loyal customer segments
Using the loyalty solution, City Beach identified who their most loyal are to curate specific email campaigns such as discounts on next purchase, points redemption reminder, and exclusive access.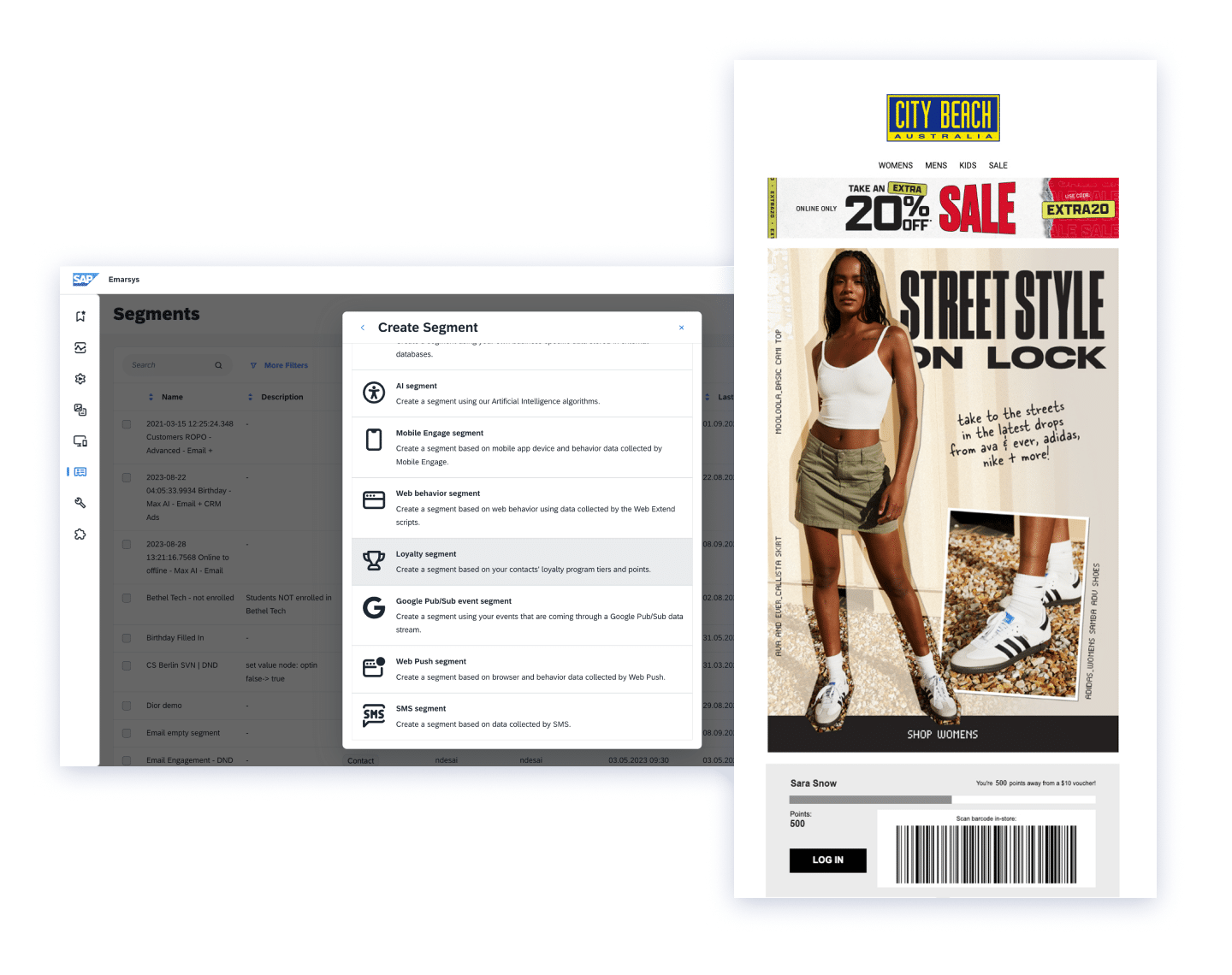 Enriched data to impact conversion across online and offline
Activated customer insights with first and zero-party data from in-store and offline allowed for hyper personalization and recommendations for highly relevant engagements.
The Impact
By leveraging SAP Emarsys loyalty, City Beach is able to capture rich customer data that helps them fuel deeper personalization, and deliver those highly relevant 1:1 experiences at scale. Capturing customer behavior from online and in-store provides a clearer understanding of who their customers are and how they engage with the brand, resulting in incremental business wins. The loyalty solution also empowered City Beach with more opportunity to nurture and connect with their already robust base of devoted shoppers, resulting in greater engagement across channels, increased retention, and higher AOVs across generations of shoppers.
+10% increase in average order
value on loyal shoppers
vs non-loyal shoppers
35% open rate for loyalty
campaigns
+34% increase in customer
purchase frequency
7.4% conversion rate for
loyalty campaigns
"Keeping the engagement of our online and in store customers is on the top of our priorities, and the City Beach Rewards loyalty program is an important tool that could not only help us maintain but also grow this. We wanted a solution that could easily be integrated within the Emarsys platform and connect the overall customer experience from digital to in-store. Since launch, we've seen exponential engagement and have converted about 50% of our database to our rewards customer."
Deliver the


predictable, profitable

outcomes that your business demands with our omnichannel marketing solution
Request a Demo