Gary Halbert, the genius marketer and copywriter, would occasionally host a seminar where he would first ask the high-paying students, "If you and I both owned a hamburger stand and we were in a contest to see who could sell the most hamburgers, what advantages would you most like to have on your side to help you win?"
Answers from the students were all over the place, from acquiring the best location, to the best tasting burgers, to the lowest price, and so on. Gary would tell everyone they could have whatever advantage they wanted, but he'd still beat their hamburger stand. Why? Because Gary said, "The only advantage I want is a starving crowd!"
As a marketer, especially one in direct marketing, you understand the value of reaching your "starving" crowd, yet because of the various channels and devices your customers use to make a purchase, it can be difficult to showcase the value of your team to the C-Suite.
Thankfully with the new features and enhancements inside the Emarsys Summer Release 2021, marketers will be able to quickly identify how their marketing efforts influence overall business results and how they've contributed to revenue.
Valuable Analytics
More than 8,000 stores closed during the pandemic in the US, and this trend seems to be ongoing. Stores like JCPenney, Macy's, and Pier 1 Imports have all had to shutter hundreds of brick-and-mortar locations. More than ever, brands are relying on marketers to discern changes in customer behavior, manage resources intelligently, and leverage data to drive growth.
When you understand the sales generated by your marketing activities, you can demonstrate the significance of your efforts to your organization. With the current Emarsys Customer Engagement Platform, marketers can access dashboards that easily showcase the marketing activities that generate sales.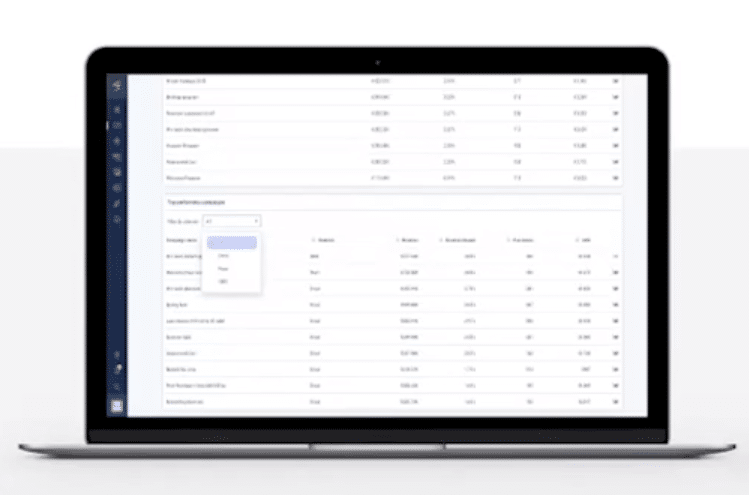 But Revenue Analytics inside the Emarsys Summer Release 2021 goes deeper by providing your team the ability to create reports for specific channels so they can quickly prove their value and worth and tie it all back to the revenue they're generating for the company.
Uncover Your Revenue Drivers
According to Gartner's CMO Spend Survey, spending on marketing technology is up, but because marketers tend to only use 58% of their existing technologies, a major concern for many CMOs is their ability to optimize the use of that tech.
Each marketing campaign involves multiple moving parts. This complexity makes it difficult to quickly uncover which campaign is working best — and why it's working — when compared with other concurrent campaigns. What marketers want to understand is the uplift they generate through a specific campaign, automation, customer group, and product line..
Inside our latest release, the Value Measurement feature provides your team a way to see how AI is helping to optimize your automated campaigns that are driving revenue, by how much, and whether the changes your team makes has an impact.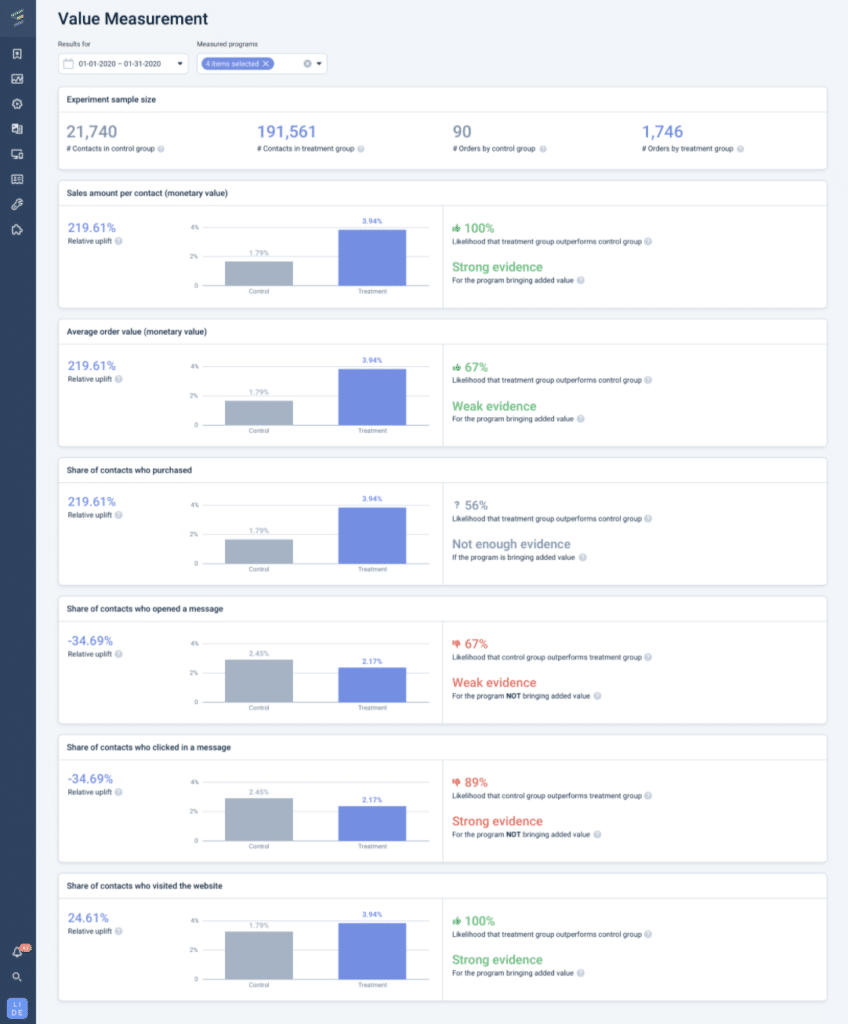 You may not have the budget or bandwidth to run every marketing campaign you wish. Lean operations require you to quickly determine which of your campaigns are delivering positive business results. Value Measurement provides the insights your team needs to remain nimble and decide whether to adjust a campaign, invest more into it, or stop it altogether.
Your team gains valuable and insightful metrics very quickly without relying on other internal teams to provide these analytics, often days or weeks down the road. Value Measurement helps brands determine which programs and campaigns are actually generating revenue, how likely uplift is to occur, and which campaigns and programs should be scrapped or retooled.
For example, you can use Value Measurement to:
Calculate the uplift generated by abandoned carts or abandoned browse campaigns.
Track the impact of welcome programs (for instance, if the customer dropped off after 1 or 5 emails).
Optimise marketing content for maximum results.
Why Marketing Analytics Are Valuable
Shoppers went online in droves in 2020. With these huge increases in e-commerce, marketers are pressured to deliver results. In the coming year, Forrester estimates that most brands will increase the volume of their marketing messages (email, SMS, push messages, etc.) by 40%.
In addition to revenue growth goals, marketers are increasingly under pressure to be efficient, agile, and able to track their performance. By tying customer engagement to revenue metrics, you'll have more clarity into which campaigns are working for specific segments, and how your marketing activities result in sales. These insights provide you with the ability to decide where your time, energy and attention is best spent to achieve your desired business outcomes.
Final Thoughts
The 40+ new features this year have been tailored to your business needs. With the Emarsys Summer Release 2021, your company will be able to retain, grow, and attract customers with these new enhancements.
You work hard to improve business outcomes for your organization, and we want to empower you to continue doing that and more. With the Emarsys Customer Engagement Platform, it's easier than ever to reach customers across multiple channels, demonstrate the value of your marketing initiatives, and highlight your business outcomes.
Handpicked Related Content: