Customer experience is the battlefield upon which loyalty will be won. We've been singing (and hearing) this tune for at least three or four years now. Technologically advanced brands on the leading edge are already bringing experiences to life. The future of brand activation — of consumer engagement — may just lie in the execution of these unique, engaging interactions.
Experiential marketing means creating emotive, immersive, co-creational (with consumers) brand memories.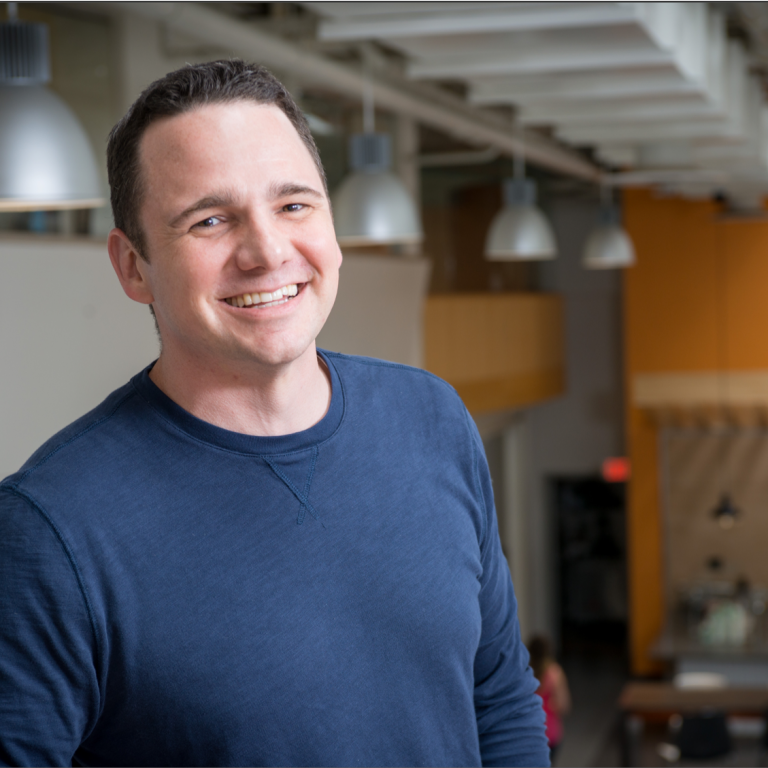 "The role of emotion is critical in how people connect with a brand… You can move sales when you do a live event, a mobile tour, a street team — that's why you do a lot of those things. But the underlying purpose in event marketing, in experiential marketing, is in meaning, emotion, community, and bringing people together to make them feel part of something larger. It's built on that undercurrent of emotion. True personalization and true meaning comes when somebody is creating their own experience by being active in it, and having a shared experience with others."
Brent Turner • SVP, Solutions, Cramer • @brentrt
"The underlying purpose in #event or #experientialmarketing, is in meaning, emotion, community, & bringing people together" says @brentrt CLICK TO TWEET
Traditionally, big-name consumer brands like Coca-Cola, Volkswagen, Guinness, Red Bull, Snap, Tesla, Disney, Amazon, and others have set the bar high when it comes to virtual, real-world events and experiences. These brands have broken through and become globally renowned, top-of-mind companies.
But with technology — and creative, inventive marketers — as today's great equalizer, that doesn't mean you can't do the exact same thing. Resources are no longer a primary determinant… you can create awesome in-person experiences, too.
Experiential Marketing Done Right: 5 Amazing Examples
We'll explore five of the best experiential marketing use cases, along with key takeaways for e-commerce companies of any size to take, learn from, and implement.
1. Tropicana freshens up the day
Tropicana creates juicy experiences like pop-up events to share their brand message of positivity and optimism. These stands or booths offer a fun and unexpected opportunity for consumers to try their fresh orange juice. A popup event in NYC even included self-recording video booths for people to record custom messages to send to friends for an added share-ability element.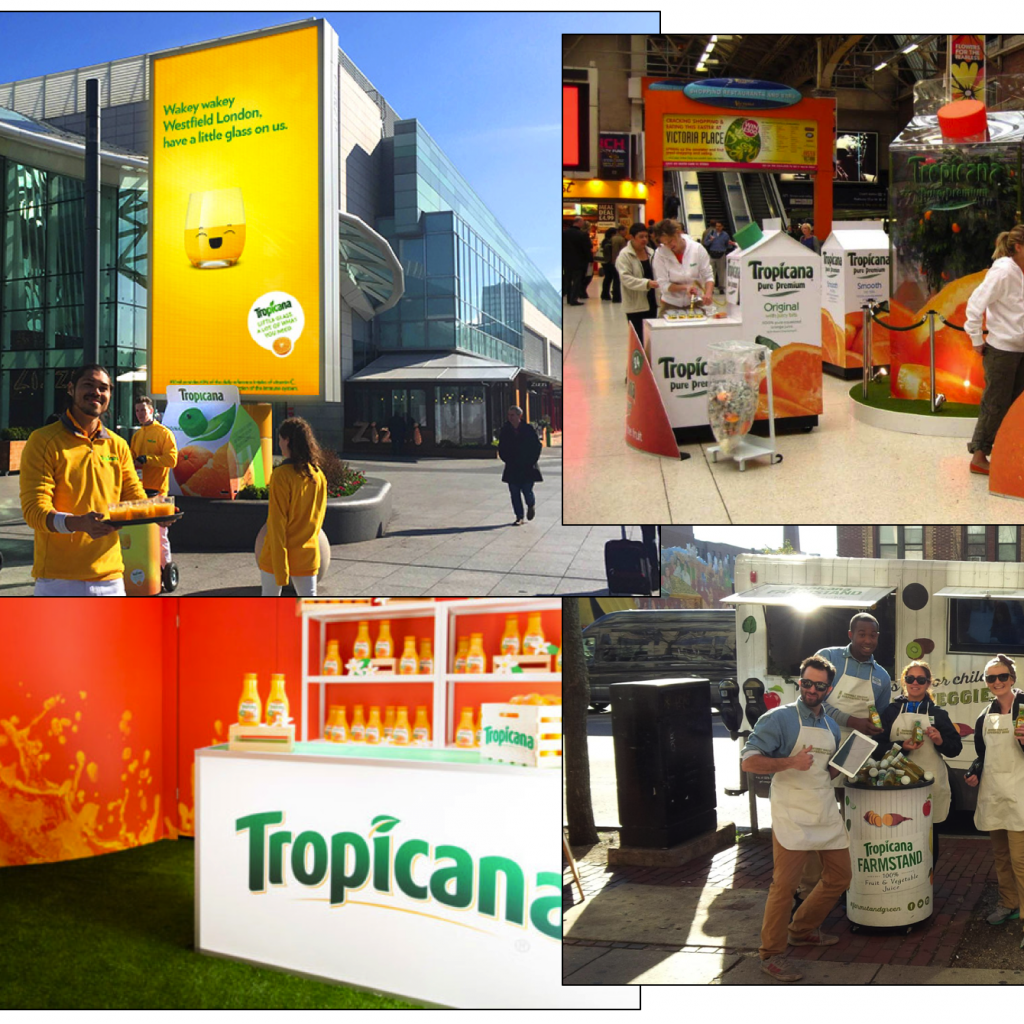 Related Content: The Anatomy of Successful Brands: Integrating Product, Marketing, and Experience [+3 Examples]
Key Takeaway: Whether in the middle of Times Square, by the side of a subway, in the center of a mall, or just along the street, Tropicana understands how to deliver more than just a refreshing glass of OJ when people least expect… the brand also delivers an experience that will enrich them, too.
2. Snapchat is omnipresent
Social media goes hand in hand with events. Snapchat is a particularly intriguing use case because, while the brand might not execute many of their own popup events, they're (maybe not so) quietly one of the most integral pieces of every other brand's experiential program.
If the future of experiential is AR — as many experts foresee — then Snapchat will become an indispensable ingredient in any visually appealing event. Using lenses, location data, and other cutting-edge tech, users can pull out the app and create dynamic content as well as follow the live community around any event by following a hashtag. Snapchat's crafted their app, specifically, to be brand-friendly… and you can bet, wherever there's a brand event, there, too, is Snapchat!
Key Takeaway: Unless you're a global content-sharing platform, you probably can't be everywhere at once, like Snapchat. But you can leverage technology, data, and an omnichannel approach to be there for your consumers… like, you know, during your in-person events. Whether via your app, website, or social accounts, encourage social sharing, image posting, and a smooth experience whenever attendees or guests do decide to learn more.
3. BBC Earth comes to life
BBC Earth offers a great use case when they launched a new product (BBC Earth in Norway) back in 2015. The brand leveraged technology to create AR-enabled video screens in bus stops in Oslo. Talk about getting up close and personal with unsuspecting passengers.
After getting past the initial shock of seeing animals running loose on the street, everyone the campaign touched immediately smiled.
Key Takeaway: Experiential marketing is one of the best tactics for launching a new product or category. Consider how organizing even a unique popup booth outside of or within your retail store might help drive brand awareness.
4. Flying high with Red Bull
Red Bull has built their brand on experiential marketing (and content marketing and product marketing), and they do it perhaps better than anyone else. The brand successfully connected storytelling with brand building with experiences with events. They're well-known for their street teams where brand ambassadors toss free drinks to passersby. But these aren't nearly as exciting as its various branded events such as Red Bull Air Race, Red Bull Kluge, Red Bull Downhill Race, and the Red Bull Stratos Jump.
Red Bull has clearly become synonymous with action/extreme sports, and is pioneering experiences in this realm, too. Whether gaining consumer attention by sponsoring world-record-setting events, gamifying/sponsoring unique fitness classes, or organizing everyday, run-of-the-mill (I'm being funny) events like motorcycle races, road rampages, or cliff jumping, almost everything is both experiential and reflective of their core brand message. As if that's not enough, their media arm, Red Bull Media House, aims to boost revenue and gain "eyeballs" to drive revenue separate from the brand's main product line (energy drinks):
"It's [about] having the right events, with the right feel, at the right time, with the right consumer and audience. At the end of the day, we're storytellers. It's about telling your story in an authentic way that drives engagement." — Greg Jacobs, ex-Head of Revenue, Red Bull
Red Bull epitomizes what it means to create a consistent, engaging brand experience.
Key Takeaway: Wherever you see the Red Bull logo — whether at an event, as a sponsor, a video, a street team, or one of the dozens of other places — the look, feel, tone, energy, and vibe is always consistent. Red Bull makes consumers want to participate in a community of action sports lovers. Even without the resources and recognition of Red Bull, can you create the same sense of belonging for your brand fans? Absolutely.
"The @redbull #brandexperience makes consumers want to participate in a community of action sports lovers" CLICK TO TWEET
5. Relationship-building with Coca-Cola
Coca-Cola is pretty widely known for its experiential marketing success. Coca-Cola gave away more than four million free drinks in the U.K. back in the summer of 2016 as part of the "biggest ever" experiential campaign.
The brand has a lot of tricks up their sleeve, including this recent Holiday sweepstakes they ran to place winners inside of a giant Coca-Cola truck, decked out with holiday cheer.
No narrative about Coca-Cola's experiential marketing work would be complete without mention of their just plain awesome personalized brand experiences. Whether the voice-enabled vending machines, the personalized Coke bottles, or the plethora of other initiatives (um, like the interactive Happiness Factory), Coca-Cola understands how to build relationships with their massive audience.
Related Content: e-Commerce vs. Brick-and-Mortar: Brands Share How to Find Your Balance
Key Takeaway: Coca-Cola leverages interactivity, voice marketing, and more to personalize brand interactions with individual consumers. As one of the most well-known names on our list, they show what relationship-building is all about. Take a hint from Coca-Cola: make people smile, make people happy, evoke emotion, and create riveting experiences that will forever be remembered.
Conclusion
When it comes to experiential marketing, the key is to create unusual, emotional brand experiences by thinking outside of the box, while remaining true to yourself. Every consumer demands personalization, so the more memorable your experiential efforts can be, the better.
Remember, as Brent Turner alluded to, revenue spikes and sales are great; but the aim behind any experiential marketing play should be to foster a sense of belonging, of community, and unite the world around a common ideal… one which you're pioneering, by bravely leading the way.
➤ Love great events and experiences? Join us at IRCE coming up June 25-28 in Chicago!
Handpicked Related Resources: