Data-driven advertising can be looked at as a subset of data-driven marketing.
Our focus for this mega-post will be mainly on e-commerce and will include tips for B2C brands looking to optimize ad spend and performance and who want to understand how data comes into play.
Here's an outline — feel free to jump around to the section(s) most relevant for you:
Let's explore what data-driven advertising means, look at some innovative ways you can start using data to drive your online advertising strategy, how you can save money along the way, improve customer relationships, and increase conversions.
How Advertising Is Changing
For all intents and purposes, classic advertising in the way we think of it really began in the 1920s with those old-time cigarette and car ads. Edward Bernays, considered the founder of modern "Madison Avenue" advertising, and David Ogilvy, the "Godfather of Advertising" are generally renowned as the pioneers that really brought the age of ads to fruition.
I don't know about you, but I love those classic advertisements. I'm an Ogilvy-schooled, "Advertising 101" fanboy — and going through college, all I'd ever been taught about advertising was how to create catchy slogans, write cunning copy, and do campaign planning. Media, measurement, and mixing in data didn't really cross my mind. These are central pillars today.
"Half the money I spend on advertising is wasted; the trouble is I don't know which half."

— John Wanamaker
But now B2C advertisers know they have to face the facts: consumers are on overload, everything is online, and targeting, measurement, and tying performance to revenue is really what matters most.
Advertising doesn't work like it used to. Methods that used to work just fine in the past — mass promotion like billboards, pamphlets, truck signage, magazine placements, radio spots, TV commercials, and even YouTube pre-rolls — are mindlessly ignored and skipped by today's distracted consumer.
Related Content: The Perfect Advertising Campaign Starts with Personalization
Most of us are subjected to constant sensory overload each day. Digital marketing experts have projected that most Americans are exposed to 4,000 to 10,000 ads every day!
So, while creativity will always reign supreme for content creators, advertisers know that intelligent placement of ads backed by data is already the way of the world.
Tweet: Consumers see 4k-10k ads every day – so intelligent placement of #datadriven #advertising is the way of the world
What Is Data-Driven Advertising?
Traditional "spray and pray" advertising modalities — including conventional online display — are declining in terms of effectiveness. Data-driven advertising goes beyond this "ready, aim, fire" mentality with higher levels of targeting, personalization, placement, and timing.
Here's a brief definition:
Data-driven advertising means using automation, AI, and machines to mechanize and scale the delivery of communications or messages to customers on a 1-to-1 level. It takes into account all of the data you have about customer behavior and applies it for more meaningful interactions.
Experiential marketing is its own beast, so our discussion today will exclude experiential methods. This is partly because a good portion of what constitutes advertising today also means it's online. Most digital marketing teams are tasked with driving conversions and revenue across web-based, online channels.
The lines are also becoming blurred between what's an ad and what's legitimate content — enter "native advertising." Advertisers are also beginning to understand the distinction between interruptive vs. permission-based marketing. I'd argue that all online advertising should be either permission-based or at least native (in-stream) where your consumers are likely to be receptive to such messaging.
First, let's explore three of the most prominent options for B2C brands to use in order to acquire new customers (or get old ones back) with advertising methods that leverage data.
Benefits of Data-Driven Advertising
Here are just some of the benefits of using data-driven advertising strategies:
Strengthen Emotional Connections With Your Audience
With data-driven advertising, you can gain more insights into how buyers engage with your brand. 
You have the ability to create highly-targeted campaigns with personalized messaging to resonate with consumers. Data enables you to target the right prospect in the right way across multiple touchpoints in the customer journey.
Reduce Costs and Risks With Predictive Advertising
Predictive analytics involves using data, AI, and statistical algorithms to predict outcomes and consumer responses. With predictive analytics, you can develop accurate and targeted marketing strategies based on insights gained from past campaign performance. Essentially, predictive advertising can help you fully utilize data sets to drive business decisions that reduce costs and risks.
More Efficient Media Buying Strategy
Data analytics provides valuable insights into your prospects' spending habits, demographics, behaviors, passions, and more. Data removes all of the guesswork so you can build a media buying strategy based on what works and avoid what doesn't.
3 Data-Driven Advertising Strategies for e-Commerce
Brands across the globe are leveraging search data, browsing and buying behavior, historical data like past purchase history, engagement trends, location data, and more to deliver personalized online advertising. There are literally dozens and dozens of ways to use data for online advertising. But we'll focus on a core few, here.
Creating a data-driven strategy can include these three elements depending on how they fit into your overall marketing strategy.
① Advertising on your website
Attracting audiences to your owned "land" is emerging as a go-to acquisition method for brands that prioritize quality over quantity. It's about converting visitors that arrive at your site, either organically or from paid methods. And there are a few notable ways to do it once visitors arrive.
► Banner overlay
Consider banners at the top of your web pages as a minimally intrusive form of permission-based advertising.
Obviously, these bars don't restrict the customer experience, yet they're prominent and bold enough to catch attention when someone is visiting your website. You can leverage data to ensure that visitors already in your database wouldn't see the subscription bar.
► Exit intent overlay
I've seen lots of articles explaining ad-nauseum this modality, but that's because they work when done well. When known contacts show exit intent, you can use their data to show product recommendations to drive engagement and next best action. For anonymous visitors, include a promotion and request for an email address.
These can also be shown to visitors upon entering the website.
► Web acquisition box
Like sticky bars atop your pages, acquisition boxes are a subtle, non-interruptive form of advertising that lets consumers decide if they want to join your club.
You can use what you know about browsers to distinguish between subscribed and unsubscribed users, and set the content within the box to change based on the visitor.
② Facebook Lead Ads and Lookalike targeting
It's time to take to the social spheres to get the word out, and target people most likely to want to interact with you… all based on data you already have. Social media and the Google Display Network provide an excellent opportunity to reach your audience in-stream as they're browsing their feeds.
► Lead Ads
Facebook Lead Ads allow you to reach existing or new audiences with relevant content that's aimed to drive an action like a conversion then and there.
For example, let's imagine a member of your target audience is a travel enthusiast who recently booked a vacation ski trip in Colorado. From this data, you could automatically offer relevant deals on lessons, lodging, airfare, and similar vacation ideas that would appeal to that target audience. Fashion retailers can create ads showing off their hottest items, either seeking a subscription or click-through.
Lead Ads are one way to connect with your audience by allowing them to sign up and receive more information (or purchase) with just one click.
Related Content: How CRM Ads Can Help You Retain More Customers
► Lookalike Audiences
Similar to retargeting ads, you can use social media to your advantage by creating Lookalike Audiences for more personalized ads across Facebook, Twitter, and Instagram.
These new audiences look like your existing CRM database contacts and will be more likely to engage for that reason. The best part? There's no guess (or manual) work involved… it's all based on data.
By turning your social media outlets into a vehicle to build your email list, you can build your database via a new stream of potential buyers.
③ Mobile advertising
Mobile, in general, is more of a push channel – however, let's focus on your mobile app, for a moment, and how you can use it to advertise to engaged users.
► Push notifications
Push is a great way to attract existing users into the app and engage dormant or high-frequency users.
Sandra Wroe at WorldRemit described how their app users can sign up for daily push notifications to see daily transfer rates in lieu of emails. These notifications alone drive nearly 8% of their app traffic, providing another option or outlet to receive communications.
Push notifications aren't as intrusive as, say, old-fashioned banner ads, and they can be personalized for each member.
► In-app messaging
Leveraging data you have about app users, you can understand which kind of content will be most relevant for specific users when they're using the app.
If one demographic, for example, has an affinity for a certain category, you can use in-app messages to notify them about new products that become available. You can also personalize in-app messages based on location, weather, actions being made in real-time, and more.
Bonus! In-store to mobile
For retail brands with physical stores: use in-store signage to encourage shoppers to get engaged with you online so you can build your database and engage with them via digital channels.
Turn anonymous in-store browsers to known CRM database contacts with incentives and deals that get them involved via SMS, the app, and email. Then you can begin not only building your email or SMS list, but start generating data about new contacts.
Related Content: 3 Ways to Drive Mobile Conversions to Make Brick-and-Mortar Shoppers Loyal Lifetime Customers [Plus Brand Examples]
The Role of Data in Personalized Advertising
Personalized advertising — a term I never expected to be writing about even five years back — is the only way to advertise effectively, especially online. Doing so requires legally obtained, high-quality, and a relatively high quantity of clean data in order to work in a functional way.
Related Content: 5 Big Data Examples to Boost Your Next Email Marketing Campaign
Ridiculous amounts of data are being produced each day — an estimated 2.5 quintillion bytes globally, in fact. Advertisers can use this data to execute individualized marketing.
Getting granular with data
This is where deciding what data to use, along with AI, machine learning, and automation comes into play.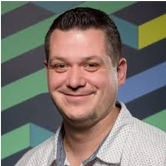 "Where are your customers engaging with your brand, and how are they engaging with you? These two simple questions give you the best starting point to [start doing data-driven advertising]. You should also ask:
Which channels are you prioritizing driving traffic from?
Which channels are driving consecutive product and content views?
Which channels drive profitable and repeatable conversions?
Once the consumer journey and all touchpoints are defined, determine which data points you want to use from those interactions. This could be a sign-up with a preference center to better understand leads, a mobile phone number at checkout in order to support a mobile shopping club, a product view to drive relevant content, dates when these events occur, and more.
Once the sources and interactions per source are identified, this is a solid foundation for machine learning products to start making predictions about who the right audience is, what content to serve to this audience, when to serve the audience with relevant content, and which channel is ideal for content."
Daniel Eisenhut • VP, Services & Support, Emarsys • @eisenhut_dan
Tweet: "When it comes to #datadriveadvertising, #machinelearning can help make predictions about who the right audience is, what #content to serve, when, & which channel is ideal," says @eisenhut_dan 
Advertising is part art, part science
Marketing and advertising has always been a mixture of art and science. With data as the key ingredient from the "science" aspect, you can zero in on who, what, and where you're spending your dollars. You can also understand the subconscious, emotional reasons consumers have for spending, converting, and returning.
In this way, data can help you:
Be more creative by connecting seemingly unrelated data points. Today's digital landscape yields a continuous flow of data. It's up to the brilliance of marketers to decode the data and make creative decisions by analyzing a disparate piece of information.
Use your website as a strategic channel by using data to personalize the experience. Ensure your website is as personalized of a "net" as possible, where individuals can find content, discounts, and products that are best suited to their individual interests — all based on the data they share.
Use your own customer data to inform your search. Paid search should be accurate, relevant, and interesting, ideally. While the vast majority of businesses today are bidding on keywords to appear atop the first SERP of Google, there's no real 1-to-1 targeting strategy behind paid search. You can gain a pretty stark competitive advantage by going beyond battling for placement based just on keywords.
Why is data-driven personalization exploding now?
The desire for personalized customer experiences has never been greater, both from consumers and for advertisers. The "Big 5" are really setting the bar high! Truthfully, brand advertisers have become more adept at understanding consumer behavior than ever with this influx of data because they have the ability to track just about everything.
Advertisers have to find the right mix of personalized vs. creepy by understanding what their consumers really want. Most consumers expect e-commerce brands they shop with to know exactly what they want to purchase, at exactly the right time and even depending on other factors like location, weather, and more. Some, of course, feel violated when things get a little too "creepy."
Some consumers want brands they interact with to know everything about them. They expect brands to remember details, like the last shoe brand and size they ordered and when it's time for a new pair, or the last replacement part they purchased for their 2009 Audi A4. Some only want certain data points known. A preference center, social listening, and continuous feedback loops are the best remedies for this conundrum.
With all the data customers hand over to brands, the general expectation is that all of that personal information is being used… somehow. Your audience and customers want to believe that their desires are your brand's sole focus. At scale, this kind of personalization and attentiveness seems daunting. However, the need for personalization far outweighs the cost of implementation, and the adjustment usually transforms a satisfied buyer into a loyal customer.
The Future of Data-Driven Advertising
Emerging technologies that are still relatively untapped and unexplored, like blockchain, are beginning to make an impact on the digital advertising and customer acquisition landscape. These technologies will only grow in relevance in the future.
Learning now how these kinds of high-potential technologies can benefit your digital advertising in the coming years will yield dividends for your business. Which technologies are worth learning more about? Here are several to keep on your radar:
Blockchain and how the strength and holistic view of its secure network (due to its decentralized data storage structure) can help marketing teams see every transaction made.
Augmented reality, virtual reality, and immersive experiences. In an age where our lives are impacted by tech from almost every angle — from online shopping to social media — using AR and VR to create immersive customer experiences can create fun, meaningful experiences for consumers. Talk about enhancing the shopping experience!
Most of today's top brands already use automation and AI at scale to operationalize, personalize, and enhance relationships with customers. This will become more sophisticated.
Geo-location. Pairing your mobile app and push notifications with the ability to tell where customers are will help you serve up ultra-relevant location-based offers.
Virtual assistants and chatbots. Chatbots are already being used by companies like Domino's Pizza and KLM Royal Dutch Airlines to drive sales and enhance the CX.
Editor's note: this list certainly isn't exhaustive, but it's a good place to begin. Get our most complete list of predictions for the next 5 years.
3 Data-Driven Advertising Trends for the Future
What does the future actually look like from a strategic perspective for brand advertisers? Let's consider three likely possibilities.
① Online/e-commerce brands will only advertise on digital channels — and just a few, at that
Channel proliferation is at an all-time high. The influx of vendors, technologies, and options for consumers to engage continue growing.
But, instead of trying to do a little in a lot of places, more brands will focus on a core few channels that their customers prefer.
This new mind shift isn't really new at all. It's just a realization that, "Hey, we can't be everywhere all the time, or everything to every person." So, in terms of advertising, look for brands to refocus on optimizing a core 3-4 paid channels (to attract), and another few owned channels (to cultivate and nurture).
② Less advertising, more permission-based strategies — email, mobile, social, website
Interrupting consumers isn't attracting them. Bothering audiences doesn't educate them. Annoying everyone makes no sense when we can soothe a few. Selling to people isn't working as well as letting customers choose you.
Channels like email, mobile, social, and even your website — along with intelligent systems — can be used to engage those who actually want to be there in lieu of mass messaging (essentially spamming) everyone at once.
③ Using data for real-time marketing, location-based targeting, and true 1-to-1 messaging
As tech continues to advance, things like real-time marketing, geo-location, and personalization will become even more effective. This means advertisers will be able to deliver messages with better timing, when and where a consumer is most likely to engage, and with content, offers, and products designed for exactly who they are.
Final Thoughts
From the old-time "one pagers" and classic newspaper ads that will forever live on in the annals of advertising greatness to modern-day experiential tactics and masterful online ad campaigns, the only constant in marketing is change.
Technology is quickly revolutionizing how brands advertise to their customers. Today, it's about much more than simply reach and creativity. It's about "wowing" a target audience by leveraging the tech that can help, and reeling them into your owned platforms where you can service them with personalized experiences.
With the right tech solution at the helm, you can finally flex your marketing muscles — creating the most awesome, attractive data-driven ads — like you've done never before. 
Handpicked Related Resources: